During WW2, about 25 land girls were billeted at Wickhamford Manor House. They were part of the Women's Land Army and worked for local market gardeners and farmers. They were paid £1-18s a week from which the cost of their digs was deducted.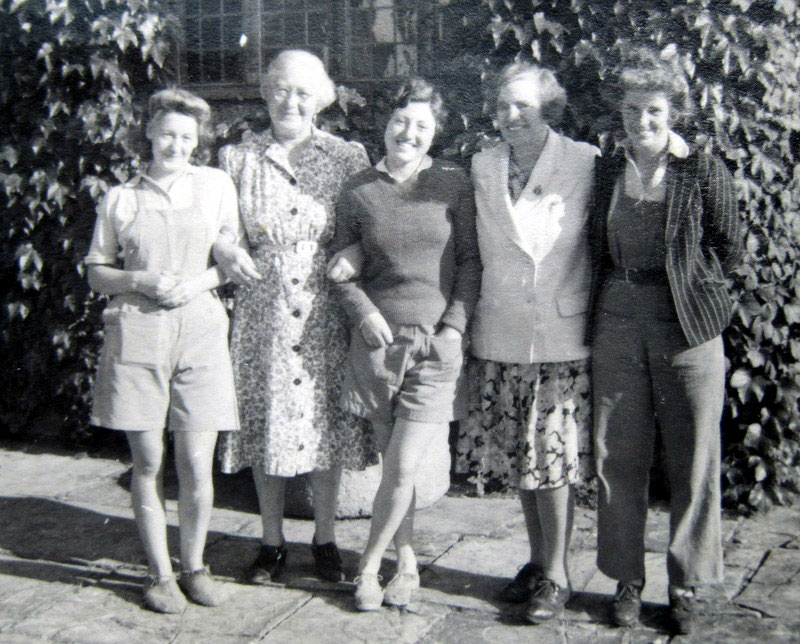 Jean Knight was a Birmingham girl and was recruited into the Land Army to do her War service. She travelled from Birmingham to Worcester and met up with numerous other recruits. About twenty of the girls were put into the back of a lorry that then travelled to various destinations dropping girls off. Jean and another girl Betty were the last two girls on the lorry when it arrived at Wickhamford Manor. They were taken in through an entrance at the rear not realising the grandeur of the premises they had just entered but were very surprised when they saw the front of the building. Jean was allocated the 'Green' bedroom which she shared with five other girls. There were over twenty land army girls living at the Manor and Mrs Osborne and Mrs Cotrell were in charge of them and a cook was also employed. Each morning the girls were picked up by lorry and transported to farms in the area where help was required on that day. The Lees-Milne family had by this time moved into Hody's Place but during Jean's time at the Manor the property was sold and Jean moved to live at Bickmarsh Farm, one of the farms she had worked on. During her time at Wickhamford, Jean met her future husband Peter Sutton the son of George and Annie Sutton of Pitchers Hill.
The girl on the far right is Jessica White, from Birmingham.  She married Allison DeWitt Rafuse, a Canadian airman and moved to Canada as a war bride in 1945.  Both spoke fondly of Mrs Osborne, but their son, Marc, has said that his father was a little afraid of her !
See also