In a prominent position in the Church of St John the Baptist, Wickhamford is a memorial tablet to Thomas Timbrill who died on 13th December 1731, aged 33.
The Timbrill family had lived in Preston-on-Stour, Gloucestershire for a number of generations before Thomas's family moved to Wickhamford in about 1703.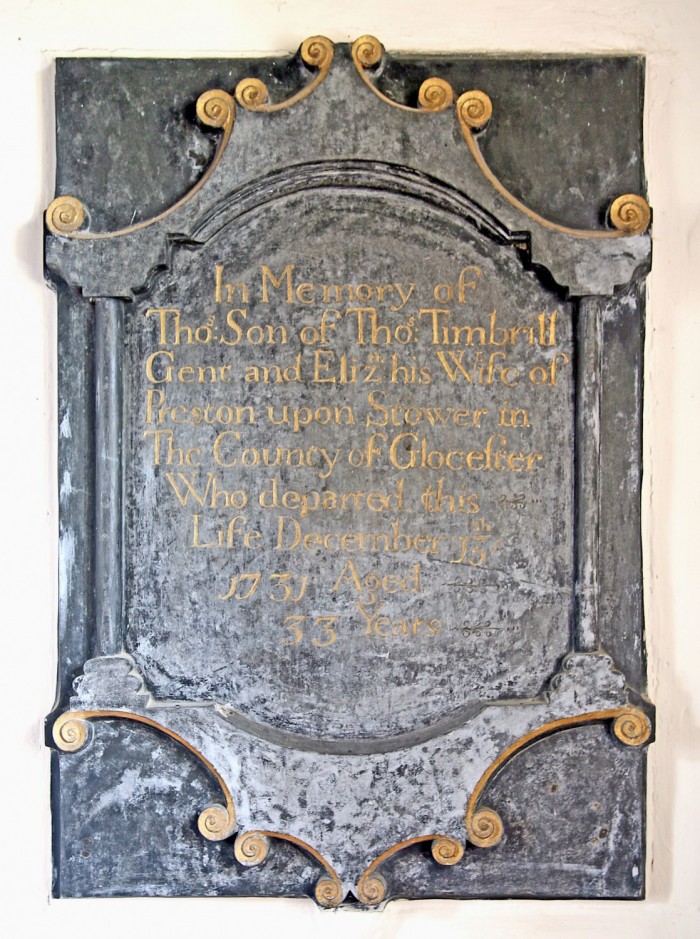 The Timbrill Family Background
In the book 'A Transcript of the Register of the Parish Church of Bretforton' by Shawcross, there is a genealogy of the Timbrill family. (In different documents that surname has a number of spelling variants but, to save confusion, 'Timbrill' is used throughout this article). Many generations of the family baptised a son with the name 'Thomas', and , for clarity, these are numbered in the following paragraphs.
The family were living in Preston-on-Stour, not far from Stratford-upon-Avon, in the late 1500s when Thomas Timbrill (1) married Elizabeth Yeate or Yates on 27 July 1563. Thomas died on 27th January 1607. Their eldest of four children was John Timbrill (1566-1622) who married Frances Tailer in 1596. This couple had eight children, of whom the eldest was another Thomas Timbrill (2) (1597-1637), who married Joane Collins in 1625.
The Family move to Wickhamford
The next generation starts to link the family to Wickhamford, as Thomas and Joane's eldest surviving son, of three, was also named Thomas Timbrill (3) (1628-1695). This Thomas married Ursula Plestre at Stratford-upon-Avon in 1651 and she was buried in Wickhamford in January 1709. Their first-born child, yet another Thomas Timbrill (4), married Elizabeth Smith in Preston-on-Stour on 20th October 1695. They had nine children, the eldest two – Elizabeth (1696-1774) and Thomas Timbrill (5) (1698-1731) were baptised in Preston-upon-Stour. The next child, a son named John, was born in 1702, but the location his baptism is not known. By the time the rest of the children were born Thomas (4) and Elizabeth Timbrill had moved to Wickhamford.
The Wickhamford registers record the baptisms of Anne (28th March 1704), William (5th October 1706), Mary (3rd August 1709), Edward (30th April 1712), Theodosia (27th October 1713) and Lucy (13th June 1716). Edward survived only a few days and was buried on 19th May, but the others reached maturity and details of their marriages and offspring are given in book by Shawcross referred to above (see Appendix for a genealogy of the family copied from this source).
Thomas Timbrill (4) may have lived at Wickhamford Manor or perhaps one of the village farms. He is recorded as paying a land tax of £3 11 9d at Bretforton in 1715, where he purchased the Loggin Estate and also farmed land owned by William Lutwych. Apart from the burial of his mother, Ursula Timrell, in 1709 – she was widowed in 1695 and accompanied the family to Wickhamford – and baby Edward in 1712, the only other family burial was that of Thomas Timbrill (5) in 1731, as recorded in the Church memorial. This would seem to show that he did not accompany the rest of the family when it moved from Wickhamford to Bretforton in about 1715/16. The family may have farmed in both villages for 15 years or so.
Thomas Timbrill (4) was buried in Bretforton on 12th April 1737 and his wife, Elizabeth died on 10th February 1752. Headstones for both are in the Churchyard at Bretforton. Their son, John (1702-1768) became High Sheriff of Worcestershire in 1760 and it buried in a vault at the Church in Bretforton. He married three times, firstly to Ann Wheatley in April 1727 but she died only four months later. He then married Mary Kingston, by whom he had five children. Mary died in 1741, aged 40, soon after the birth of her last child. John Timbrill lastly married Susanna Hornsby of Lower Quinton, the ceremony carried out in Wickhamford on 15th December 1748.
The only other connection to Wickhamford at this time is the marriage of the elder sister of Thomas Timbrill (5). Elizabeth Timbrill married John Ashwin of Bretforton in Wickhamford Church on 28th January 1717. Elizabeth Ashwin is buried in Bretforton.
Appendix
A Timbrill genealogy reproduced from book 'A Transcript of the Register of the Parish Church of Bretforton'.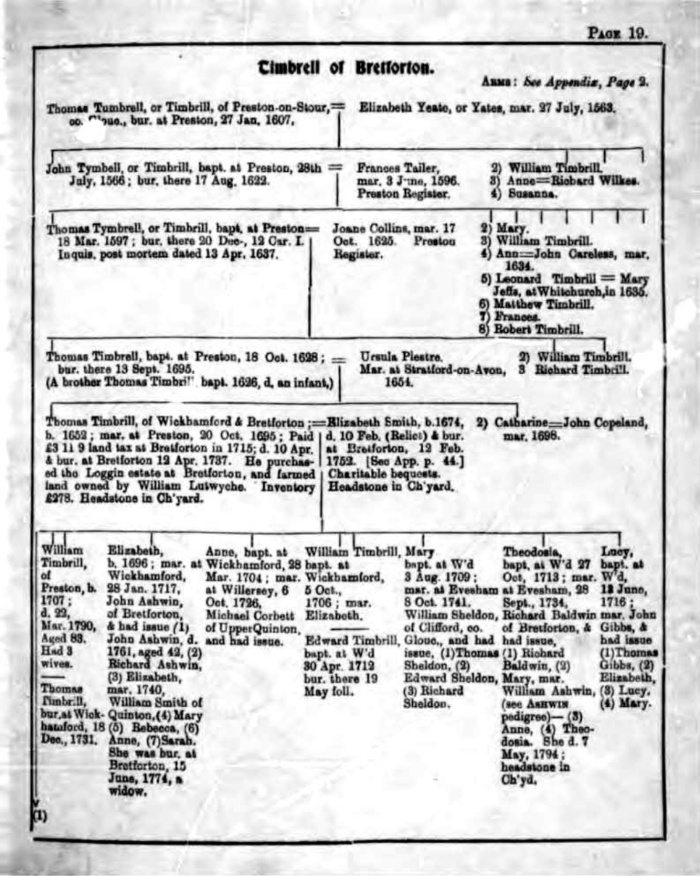 N.B. William Timbrill is recorded twice as a child of Thomas and Elizabeth nee Smith. He was baptised in Wickhamford on 5th October 1706 but also as 'of Preston, b. 1707'. Other sources give this later date as 1st January 1707, so it is likely that Thomas had the birth recorded in a register at his old parish church as well as at Wickhamford.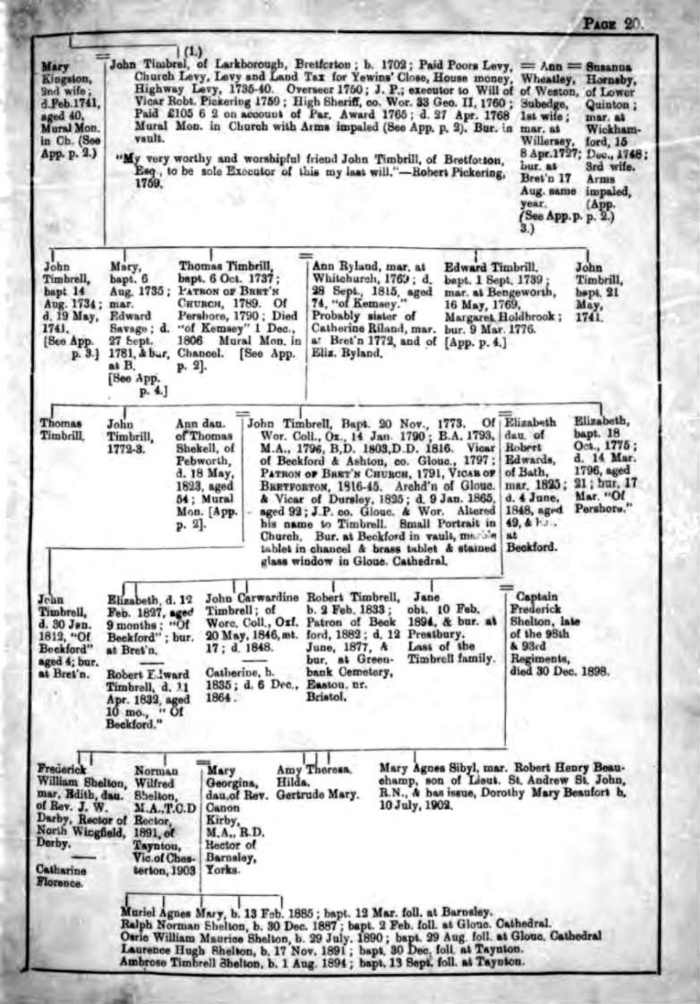 Acknowledgement
Thanks are due to Peter Stewart for supplying the photograph of the memorial tablet and the pages on the Timbrill genealogy.
Tom Locke – June 2013