The Romans invaded Britain in 43 AD and stayed for about 400 years. There is little doubt that people were living in the Badsey area at the time of the Roman occupation. A Badsey Society field walk added to the numerous local finds of coins, pottery and other objects from this period. Although there has been much speculation, nobody knows the precise location of a settlement or where roads passed through. There is much still to be discovered.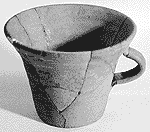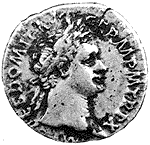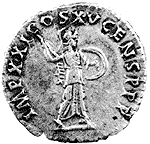 Above: Roman finds in the Badsey Area: (1) 4th century Glevum Ware made in the Severn Valley, (2) Two sides of a denarius coin showing the Emperor Domitian 86-96 AD, (3) Roman jewellery. With thanks to the Evesham Almonry museum and Peter Stewart who found the coin.
Where is the evidence?
Terry Sparrow in a Brief History of Badsey and Aldington wrote about the early occupation of the area:
"... Much more conclusive evidence is available to us relating to the time of the Roman occupation of Britain, which began in 43 AD. Largely as a result of the work of a Badsey market gardener, the late Arthur Jones, some half dozen sites have been located, yielding many different items, including various kinds of pottery, stone querns (hand mills), whetstones for sharpening tools and coins of about 20 Roman emperors, ranging from Claudius (41 to 54 AD) to Gratianus (367 to 383 AD). The large number of these finds, coupled with the fact that they were scattered over several sites throughout the parish, leads us to conclude beyond reasonable doubt that people were living here between 1600 and 2000 years ago, although probably not all of the sites were occupied simultaneously. Evesham was not a Roman-British settlement as far as we know and the nearest Roman road, Ryknield Street, passed through Bidford-on-Avon and Honeybourne and on to the Cotswolds, where there is abundant evidence of British and Roman occupation."
[See 21st century perspective for a different view on Evesham.]
Roman roads
Ryknield Street, or Buckle Street as it is called locally, is generally accepted as a Roman road running between Alcester and Weston-sub-Edge. It passes about 5 kilometres east of Badsey.
There has been no shortage of speculation about other Roman roads closer to Badsey. Writing in 1920, Arthur Savory made a case for several other Roman roads in the area.
A note of caution is offered by Neville Taylor of the Worcestershire Historic Environment and Archaeology Service. At a talk in 2003, he argued that only seven roads in the whole of Worcestershire could be proved to be Roman. His analysis was based on evidence from aerial photographs, excavation, field walking and place name analysis. One of his seven roads is Ryknield Street. The only other which comes close to Badsey is the road from Bidford-on-Avon to South Littleton, proved by excavation evidence in Cleeve Prior. If this Roman road continued further south it would pass through Blackminster and Badsey itself.
Arthur Savory and Roman Antona
Arthur Savory lived at Aldington Manor between 1874 and 1901 and wrote a book Grain and Chaff from an English Manor about his experiences there. In the final chapter, he describes the Roman finds at Black Banks and develops his own theory about Roman settlement in the area. He argues that the name Aldington is derived from the Roman Antona, mentioned in the Annals of Tacitus.
[See 21st century perspective for a word of caution on Savory's theory.]
21st century perspective
The notes below were kindly provided by a member of the Worcestershire Archaeology Unit in 2006.
"In a local context it is important to use sources such as Arthur Jones and Arthur Savory as their observations are just as valid now as they were then. Unfortunately their conclusions are almost always incorrect because much more evidence has been recovered and there is a more sophisticated understanding of Roman Britain than existed in the early 20th century For example - there most definitely was a Roman settlement on the site of the present town of Evesham but it would have been a farming and trading community not a "town" in the traditional Roman sense.
"Here are some general books on Roman Britain for people who would like a modern understanding of the period. For the general reader M Millett, Roman Britain (Batsford 1995) is very good. A lengthier book is P Salway, The Roman era (Short Oxford History of the British Isles; Oxford University Press 2002).
"For those who are prepared to work a bit harder then R Hingley Rural Settlement in Roman Britain (Seaby 1989) gives a better idea about what Badsey and Aldington may have been like and has a nice bit at the beginning discussing the old view of Roman Britain based on the model of the British Empire and why this is not helpful."
Peter Stewart's finds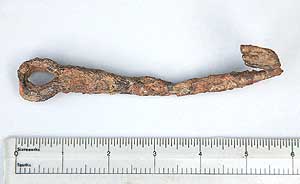 Two images of the Roman key - click on the photos to enlarge them.
In 2011 Peter Stewart returned to an area he had first investigated in the 1970s.
" ... I was once again back on my old sites in Badsey collecting pottery and trying out my new detector. Of interest I have been working a ploughed area in Badsey Fields where I was very active in the 1970s. I have been concentrating in one small area where there are more than usual a scattering of stones and pottery (all collected). A quick dig did not reveal the presence of anything significant beneath the soil and if there was a building it has long been ploughed out. I have been finding lots of nails which I suspect of ancient origins. I decided to work around the stony area again was delighted this week to reveal, 12 inches below the soil, a large iron key which I immediately identified as Roman. To me this is a significant find as it points at least to a building being either on this spot or nearby. Pottery sherds include Samian and Mortarium but mainly Severn Valley Ware and the very common Gray Ware. How these iron key survive in the ground cannot be explained but they are found during excavations elsewhere. Locks for these key were usually made of wood with some metal mechanism, therefore the metal parts could be found but probably not identified as being part of a lock. Of all the finds I have made over the years this is possibly the most exciting for me."
Peter has made many other Roman finds in the area including the denarius coin illustrated here. He has written an article about his finds in the Cotswold & Vale Magazine, April 2012.
Field walking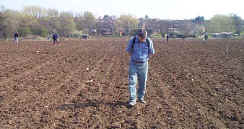 A group of around 20 enthusiasts took part in a field walk on a sunny spring day on April 12th 2003. Martin Dore kindly gave us permission to use his field in the Badsey Undergrounds. The field was marked out in 20 metre squares, each individual square being allocated to a walker. The walker would then walk up and down the square collecting bits of pottery, coins, flint, etc.. As well as the field walkers, there was also a metal detectorist. The day produced many pieces of Romano British pottery. Most of these were Severn Valley ware, with fewer pieces of glazed Samian ware, and a small number of earlier iron age shards. A couple of Roman coins were also found.
The field Walk was organised by the Badsey Society and the South Worcestershire Archaeological Group (SWAG).
Other archaeology
For archaeology from other periods see the page Badsey archaeology.
Here is an article about Roman Wickhamford.
---