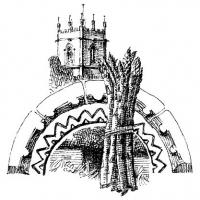 Welcome to the website of The Badsey Society where we invite you to enjoy photos, memories and historical research about the people and places that make up the village of Badsey, the hamlet of Aldington and the neighbouring parish of Wickhamford. To view, just browse and open the categories listed on the left, or enter text into the Search box.
118th Badsey Flower Show – Badsey Society Exhibition
Come and visit us on Flower Show weekend, Saturday 24th & Sunday 25th July 2021, 2-5 pm.  Our normal Badsey Society gazebo will be erected in the front garden of The Willows, 8A High Street, Badsey.  There will be new displays, including a first look at some of the photos taken in the recent photo survey of the village.  
The Big Badsey Dig – Small Pits, Big Ideas Project
If you live in Badsey, now is your chance to participate in an exciting archaeological project which will take place in May 2022. Find out how you can play your part in uncovering the past.  Who knows what exciting finds might be uncovered!
Recently Added Articles
In these strange times, when people may be spending long periods of time at home self-isolating, now is the time to explore the history of our villages.  Why not write something yourself?  We welcome well-researched articles relating to Badsey, Aldington or Wickhamford.  Please send as a Word document to history@badsey.net; photos should be sent separately as JPEGs.