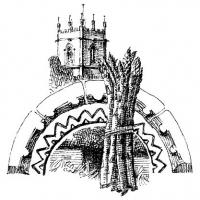 Welcome to the website of The Badsey Society where we invite you to enjoy photos, memories and historical research about the people and places that make up the village of Badsey, the hamlet of Aldington and the neighbouring parish of Wickhamford. To view, just browse and open the categories listed on the left, or enter text into the Search box.
Our new publication - "A History of Badsey Flower Show"
The Badsey Society's sixth book, "A History of Badsey Flower Show" was published on Saturday 29th July, the day of the 120th Flower Show.  To order a copy, please go to our publications page, which gives details of mail order or where to purchase locally.
Recently Added Articles
We welcome well-researched articles relating to Badsey, Aldington or Wickhamford.  Please send as a Word document to history@badsey.net; photos should be sent separately as JPEGs.