On Monday 27th July 1818, The Parks Farm at Aldington and Offenham was auctioned at The Rose and Crown Inn, Evesham.  The Parks Farm was the house known as Riverside, situated beside the River Avon.  The following notice appeared in The Worcester Journal: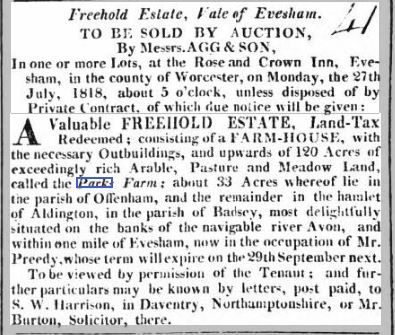 Freehold Estate, Vale of Evesham
TO BE SOLD BY AUCTION
By Messrs Agg & Son
In one or more Lots, at the Rose and Crown Inn, Evesham, in the county of Worcester, on Monday the 27th July 1818 about 5 o'clock, unless disposed of by Private Contract, of which due notice will be given:
A Valuable FREEHOLD ESTATE, Land-Tax Redeemed, consisting of a FARM-HOUSE, with the necessary Outbuildings, and upwards of 120 acres of exceedingly rich Arable, Pasture and Meadow Land, called the Parks Farm; about 33 acres whereof lie in the parish of Offenham, and the remainder in the hamlet of Aldington in the parish of Badsey, most delightfully situated on the banks of the navigable River Avon, and within one mile of Evesham, now in the occupation of Mr Preedy, whose term will expire on the 29th September next.
To be viewed by permission of the Tenant; and further particulars may be known by letters, post paid, to S W Harrison, in Daventry, Northamptonshire, or Mr Burton, Solicitor, there.
* * * * *
Six years earlier, in The Worcester Journal of 20th August 1812, this notice had appeared, but there were then no further details, so one assumes it never was put up for auction then:

The Parks Farm, near Evesham, it not previously disposed of by Private Contract, will be sold by auction, some time next month, of which further notice will be given in future papers.