Ronald William Ballard was born at Badsey in 1920, the second of four children and only son of Alfred William Ballard, a market gardener, and his wife, Emily Ada (née Hardiman).  He was a pupil at Badsey Council School from 1924-1932 and then gained a scholarship to Prince Henry's Grammar School.  He grew up at Sunnyside on Badsey Fields Lane.  For several years he was a member of the choir at St James' Church, Badsey, and he was well known locally as a good shot and a cricketer.
On leaving school, Ronald joined the offices of Evesham Rural District Council where he worked for the Surveyor to the Council.  He left that post in June 1940 to join the Royal Air Force (Service No 923698), employed as a wireless operator and air-gunner.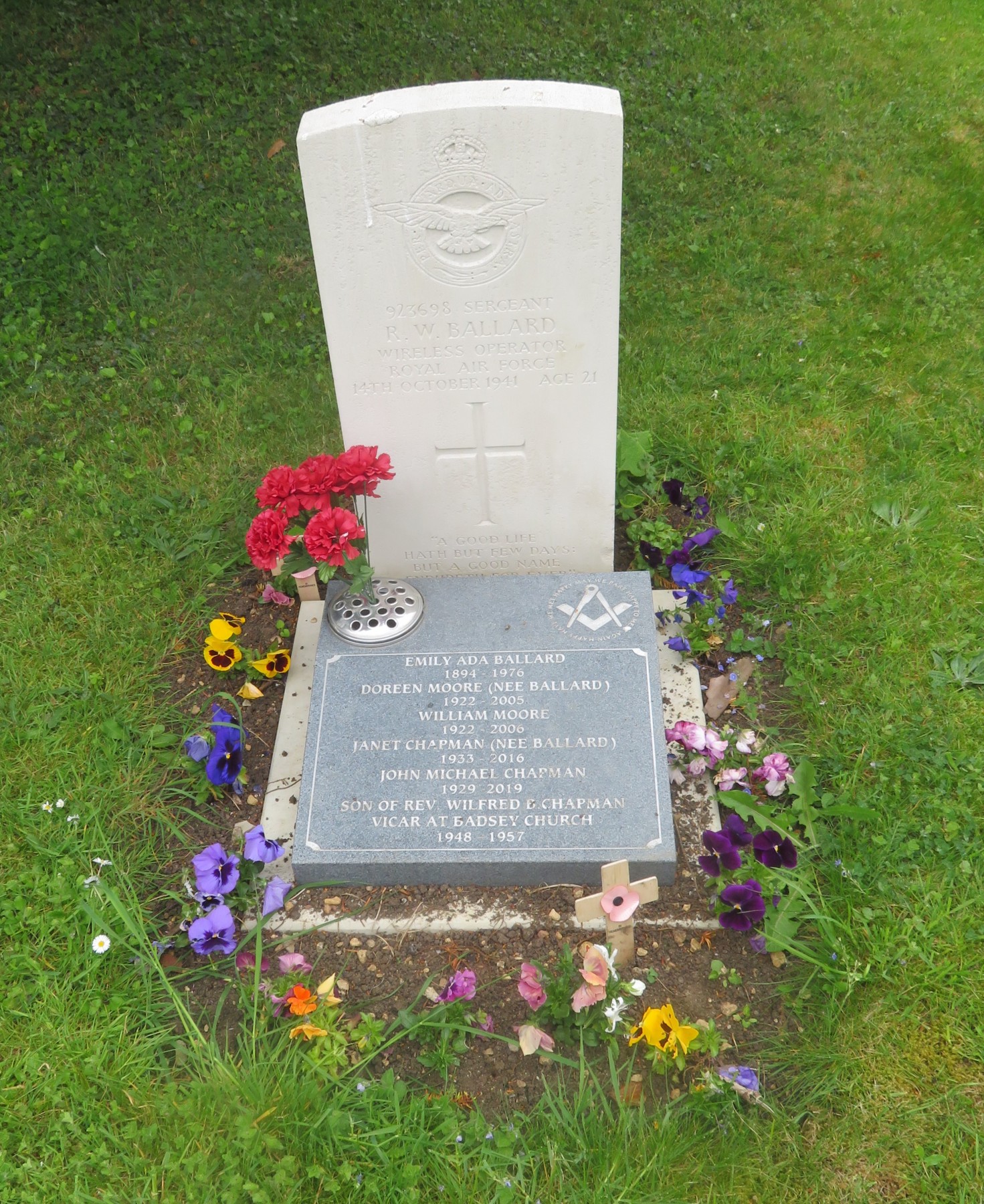 In October 1941 Ronald was posted missing from air operations.  His body was recovered on 14th October and a funeral was held the following month at Badsey Church, as reported in The Evesham Standard.  The coffin bearers were six sergeant pilots from his squadron.  At the time of his death he was described as a Sergeant with the Royal Air Force Volunteer Reserve.  The following words are inscribed on his grave:  "A good life hath but few days:  but a good name endureth for ever." 
In August 1946, after the war had ended, Mr & Mrs Ballard donated money to the church in order that electricity could be installed; the church had previously just been lit by lamps.  In a moving address, the Vicar dedicated the new lighting to the glory of God and the affectionate memory of Ronald William Ballard.
Ronald's mother lovingly tended her son's grave in Badsey churchyard until her death.  She also cared for the grave of a German prisoner of war, Johann Rosskopf, who had died at the end of the First World War.  She used to say that, whether or not he was the enemy, his grave should be cared for. He was somebody's son and, as his own mother was not there to look after his grave, she would take on this job.