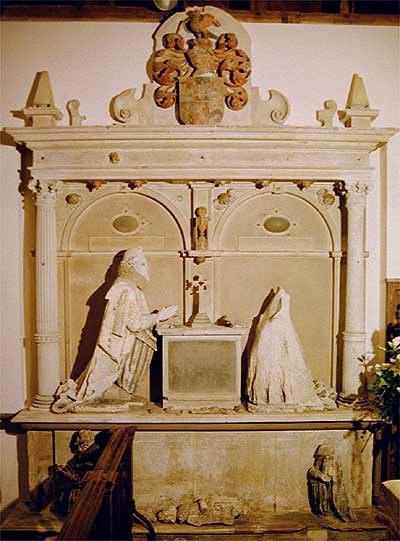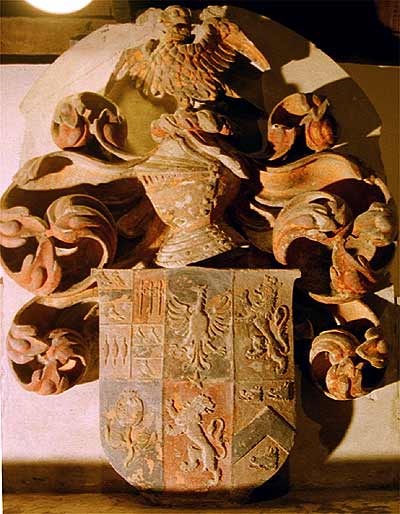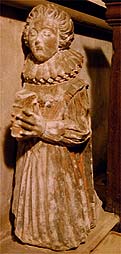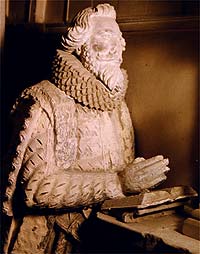 Above: the Hoby memorial in St James Church, Badsey. The memorial is misleading as it suggests Richard had no children of his own. His first wife and daughter, both called Elizabeth, are absent from the memorial. The memorial was erected by Richard's step daughter Margaret Delabere who remembered to include herself in the memorial as a child. Later she commissioned an even grander memorial in Bishops Cleeve church with effigies of herself and her late husband Richard Delabere.
---
Below: the arms of William Hoby, differenced with a crescent by his second son, Sir Philip Hoby at All Saints Church, Bisham, Berkshire.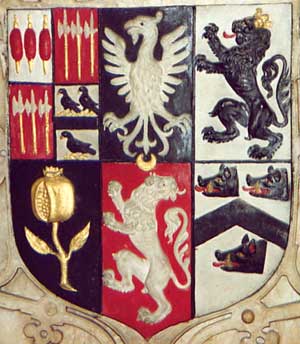 Here are the names of the various quarters in the Bisham version of the Hoby Arms. Starting at the top reading left to right:
1. Quarterly,
(i) Argent three fusils in fess Gules slipped and threaded Or. - BADLAND for HOBY (fusils are intended to represent weavers spindles),
(ii)and(iii) Gules three bills (halberts) palewise in fess heads Argent staven Or - BYLMORE,
(iv) Argent a fess Sable between three hobbies close Sable beaked and legged Or - HOBY.
2. Sable an eagle displayed Argent - LLEWELLYN AP GREGEUR.
3. Argent a lion rampant Sable langued Gules crowned Or - RHYS AP TUDOR.
4. Sable a pomegranate Or - MEREDITH GETH.
5. Gules a lion rampant reguardant Argent - AP RHYS.
6. Argent a chevron between three boars heads couped Sable langued Gules tusked Or - DOROTHED.
Stephen Kibbey
The photographs are of the Hoby memorial in St James Church, Badsey. This is a memorial to a wealthy Elizabethan called Richard Hoby who was buried at Badsey in 1617. The tomb, showing Richard Hoby and his wife Margaret, is supposed to be erected by his step daughter Margaret who married Richard Delabere.
Unusually there is no inscription on the memorial but the Hoby Arms appear above it . The parish records show Richard was buried in 1616/7 and his second wife Margaret on 4 July 1625.
This is the description given by Dr. Nikolaus Pevsner in his Buildings of England: "Richard Hoby 1617. Two kneelers, facing one another. On the prayer-desk a skull. Kneeling children below (facing west, not east, because her children are from a first husband). Two columns and two flat arches. An hourglass in relief between them."
Hoby family
This description of the Hoby family is from A Brief History of Badsey and Aldington -
Sir Philip Hoby, a Herefordshire gentleman, scholar, courtier, diplomat and soldier, was rewarded for his services to the Crown with monastic spoils, which included many of the possessions of Evesham Abbey; among these, were the Manor of Evesham itself (but not of Badsey), the Seyne House in Badsey and (for £30) Shrawnell Park in the Parish of Aldington. We have no knowledge what Sir Philip's intentions were for all his new estates; he may, for example, have planned to leave Herefordshire and build a residence for himself at Badsey; he may even have started to rebuild the Seyne House in roughly its present form. Alternatively, he may have been interested only in drawing the rents from his innumerable properties. In any case he died in 1558 unmarried, but with a number of brothers and half-brothers, less distinguished, but ready enough to inherit. First was Sir Thomas and then his son, Sir Edward Hoby, who found himself in serious legal dispute with his Manor of Evesham and sold his Badsey properties to his uncle, Richard, who already was established at nearby Elmley Castle."

"Richard Hoby probably came nearer than anyone else to assuming the role of Squire; he lived at Badsey and must have owned land there; for a brief period (2 years) until he sold it, he held the office of Lord of the Manor; he probably completed the rebuilding of the Seyne House and may even have called it 'Manor House'; Charles Binyon stated that he built the Stone House, but this is open to doubt. Richard Hoby was four times Church Warden and once Surveyor, so that he immersed himself in local affairs and, perhaps, deserved the place of honour in the sanctuary of Badsey Church which he has occupied since his death in 1617. But Richard Hoby failed to found a dynasty, his memorial having been raised by his step daughter, and the name of Hoby does not recur in Badsey history.
Some facts remain in dispute. Another account is given in 'The Seyne House' chapter in Aldington and Badsey: Villages in the Vale and also in this account of the will of Sir Philip Hoby, half brother of Richard Hoby.
Hoby Arms
Stephen Kibbey has kindly provided the following information on the Hoby Arms at Badsey.
In the top left hand corner are the paternal arms for Hoby: 'Argent a fess Sable between three hobies proper'. Their crest is 'A hoby rising beaked, legged, and belled Or'.
In plainer English, the arms are 'Silver (usually depicted as white) a black horizontal bar across the centre of the shield with two falcons above the bar and one below in their natural colours. The crest is a falcon in its natural colours with its beak, legs and tallons gold. A gold bell around its neck.
The gold mullet (star) in the centre of the shield denotes the bearer to be a third son.
Clearly the falcons, which are also known as hoby, or hobby falcons or sometimes just hobies or hobbies, are a play on the name.
In All Saints Church, Bisham, Berkshire, there is a superb tomb chest for Sir Philip Hoby and his half brother Sir Thomas Hoby. On the front of the chest is a near identical coat of arms to the one at Badsey.
The Badsey and Bisham versions of the Hoby Arms are fundamentally the same but for the arrangement of the four small quarters. In my view the Badsey arms are more correct as the paternal arms should always be in the first quarter. The variation in the Bisham arms is due to 'tinkering' by the relatives who had the tomb made. Clearly they wanted all to see how grand they were which is why some ignored the rules of heraldry and moved the quarters around.
You have to bear in mind that the first quarter is considered the most important and most honourable part of the shield. James VI of Scotland and I of England had the English lions in the first quarter when in England but exchanged them for the Scottish lion when in Scotland. This was to appease the Scots who refused to take second best from the English.
The tomb and heraldry in Bisham was designed by Elizabeth Hoby between 1566-70. She later married her second husband John, Lord Russell, second but surviving son of Frances, Earl of Bedford. We know that Elizabeth was very much into genealogy and hence heraldry. It is interesting that just before she died she wrote to Sir William Dethick, Garter Principal King of Arms requesting information as to the correct procedure for the funeral of a person of her station, she claiming to be a dowager. Dethick replied fully and it is an extremely valuable document as it gives details of how a funeral for a viscountess should proceed.
With its many quarters, the Hoby arms suggests a great family which goes back many generations, and indeed, this is probably the impression they wanted to give. However the rules of heraldry allow a relatively new family to use arms of this kind because of a recent marriage to an heiress.
---
A Hoby family tree. Owners of Badsey Manor House or the Seyne House are marked *. Reproduced from 'The Seyne House' chapter in Aldington and Badsey: Villages in the Vale which has further details.
There are several differences between this Hoby tree and that reproduced in Powell, E (1902) 'The Travels and Life of Sir Thomas Hoby Kt.'. Further research may establish which is correct.
(Note - the Margaret Hoby buried at Badsey is different from the Margaret Hoby who kept a famous diary about life in an English manor, although they are related by marriage. The diary keeper was Margaret Dakins, c. 1567-1633, wife of Thomas Posthumous Hoby.)