Sir Samuel Sandys, who died on August 18 1623, and his wife who died in 1629, are both buried in Wickhamford.  The Peerage of England, published in 1779, has the following description.
Sir Samuel, and his lady, who died in 1629, are both buried at Wickhamford, and on the North side of the chancel, have a double monument of alabaster, supported by five pillars of touch-stone; where lieth the portraiture of an armed knight, with his hands lifted up in a prayer posture, and at his feet a griffin.  By his side lays his Lady, Her hands joined in prayer; at her feet, on a wreath argent and azure, a harpy's head arm'd mane and beard, Or. Over these arms, on an escutcheon, Or, a fess dancette between three cross croslets fitchee, gules, quartering party per fess, gules and azure, a tower of castle argent. On a tablet, near the monument, were the following inscriptions, viz.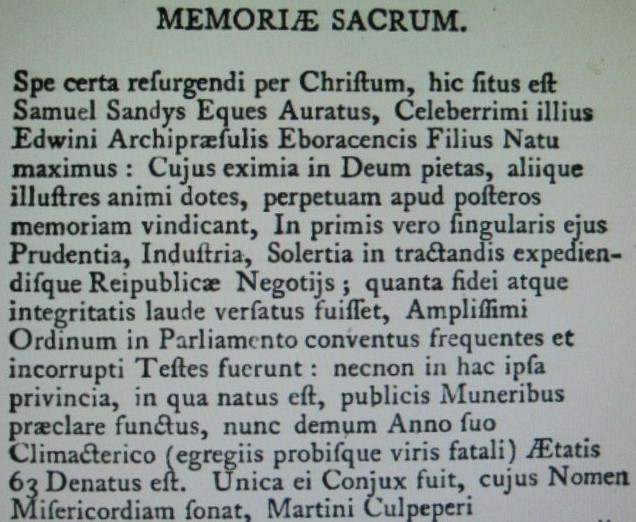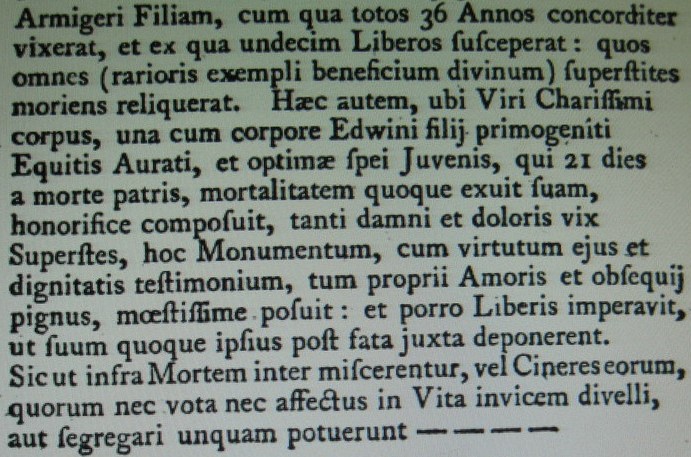 In the book, this is translated as:
Here, in Hopes of a Joyful Resurrection, resteth the Body of Sir Samuel Sandys, Knt. Eldest son to that famous Prelate, Edwin Archbishop of York; for Piety, and excellent Endowments of his Mind, deservedly justly to be remembered by Posterity; especially for his singular Wisdom, Integrity, and Industry, in the Affairs of the Commonwealth, of whom the great and frequent Assemblies of Parliament were approving Witnesses.  Being also to this County, that challengeth his birth, a principal Ornament.  He changed this Life for a better, in his Climacterical Year (a Year for the most Part fatal to excellent Men) having almost attained to 63.  The Wife of his Youth, and his Age, was Mercey, descended  of the ancient Family of the Culpeppers, and the only Daughter of her Mother; a wife and prudent Woman, who, together with her Husband, was a great Advancer of her Family; with whom he lived 36 Years, in exemplary Concord; and had by her eleven Children, all of them (an extraordinary Blessing) at his Death surviving; But she having honourably interred her Husband, together with her eldest Son, Sir Edwin Sandys, a Young Gentleman of great Virtues, who hardly 21 Days outlived his Father; a most sorrowful Widow, and Mother, erected this monument to their Memories, as a lasting Testimony of her Love and Affection; and hath commanded her Children, after her Death, to inter her by Body of her dear Husband; that so her Ashes may be mingled with his, from whom, in her Life, her Desires and Affections were inseparable, which is since accordingly accomplished; for she having piously breathed out her Soul unto God, here resteth in Peace, and assured Expectation of the second Coming of our Lord and Saviour, Jesus Christ.
This tablet is no longer in the Church and may have been removed in 1841.  A plaque over the chancel arch records that in that year Arthur Lord Sandys of Ombersley Court "Restored and Beautified" the Church and the Family Monuments.   
A book on the Sandys family published in 1930 makes mention of the tablet being in the church, but the author may have been quoting from the 1779 book?
There is plaque at the foot of the tombs which is now blank and may at one time have carried an inscription, but it is too small to have been inscribed with the amount of detail above.  It may perhaps have been inscribed with the Sandys family motto, Probum non poenitet, 'We do not repent of what is good' ?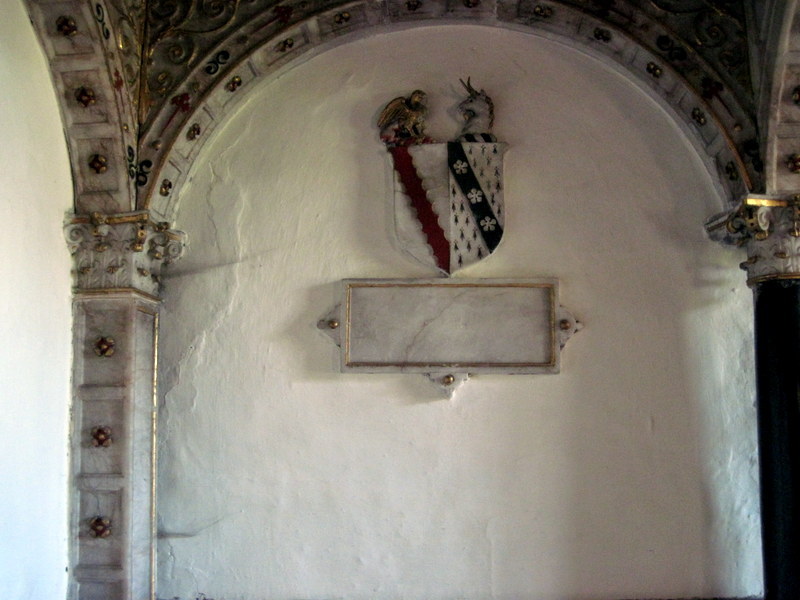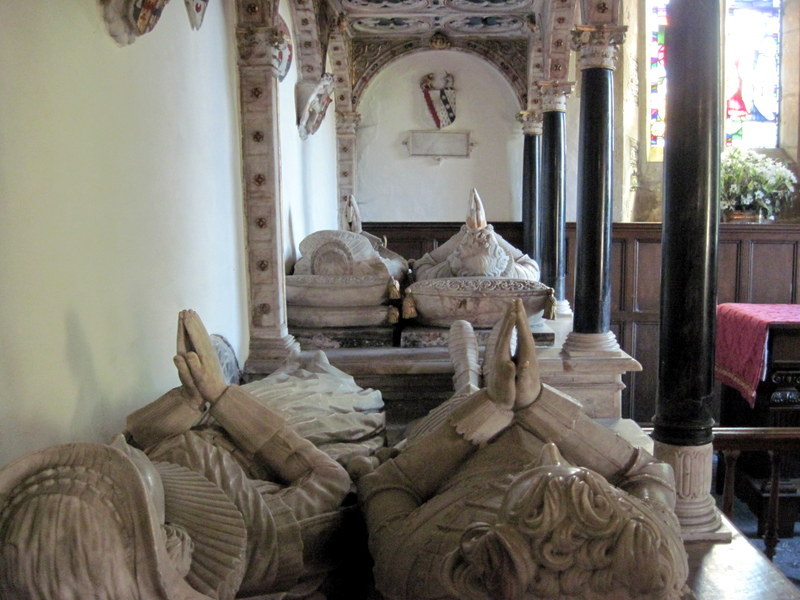 Notes
It is now thought that the pillars and canopy were part of the restoration of 1841, but the 1779 book refers to the five pillars being there at that time, but of "touch-stone".  This material is what?  Are the present pillars replacements, from 1841?    Given the details below, this seems very likely.
The date given above for the death of Sir Samuel is 18th August 1623.  The parish Burial Register gives the date of his burial as 20th August 1623.   His son was buried on 9th September 1623, according to the Burial Register, so the mention of them dying 21 days apart would be correct.
But the present inscription above Sir Samuel's tomb states that he died on 2nd September 1626, aged 63 and that above Sir Edwin states that he died on 23rd September 1626.   These are obviously  incorrect and must have been put there in 1841.
The description of a "harpy's head" at Mercy's feet, explains the beast that looks like a goat.
Tom Locke - July 2018