Clara Warner was born on 16th October 1851 at Childswickham, the fifth of seven children of Thomas Carter, a carter, and his wife, Louisa (née Beard).  She was baptised at Childswickham on 18th January 1852.
On 25th June 1869, Clara gave birth to an illegitimate daughter, Ashley, who was baptised at Childswickham on 24th July 1869.  A couple of months later Clara married Herbert Keyte at Childswickham on 25th September 1869.  Herbert is assumed to have been the father of Ashley as her surname sometimes appeared as Carter and sometimes as Keyte.  A son, Owen, was baptised at Childswickham on 7th January 1872.
At some time in the late 1870s, Clara and Herbert moved to Badsey with their children and Clara's widowed mother; they rented a part of the Manor House, where they were living in 1881 (their surname appeared as "Kite").  In 1886, Ashley married George Jelfs at Badsey and, by 1891, Herbert, Clara and Owen were living on Mill Lane, Badsey, with Ashley and George Jelfs and their young children. 
Herbert Keyte died in 1894 and was buried at Badsey.  In 1895, Clara Keyte married Edwin Warner, a Badsey-born market gardener, 18 years her junior.  At the time of the 1901 census they were living in a new house at Belmont Terrace.  Clara's eldest grandson, William Jelfs, was staying with them and Clara's son, Owen, was lodging with Elizabeth Hall at The Green.
In November 1906, Clara's daughter, Ashley Jelfs, died at the age of 36, leaving five children aged 1-17.  Annie, the eldest daughter, went into service, Edith stayed at home to look after her father, and the boys went to live with Clara at Belmont Terrace.  Clara had by now opened a shop in the front room of the house and was advertising in the Parish Magazine.  At the time of the 1911 census, Bert and John, the youngest two boys, were still with Clara.
Clara was mentioned in two of the Sladden family letters of 1916.  One was in relation to her grandson, Bert, who was serving with the Worcestershire Regiment in the Great War.  On another occasion, Mela Brown Constable, when helping out with fruit-picking with the villagers, told of an amusing story she had heard from Mrs Warner about her time as cook at the Vicarage – all written in Mela's attempt to portray the Asum dialect which Clara spoke.
According to Clara's great-granddaughter, Esmé Dennick (née Jelfs), Edwin and Clara's marriage was not successful and, in 1921, Clara took the daring decision to leave her husband and to emigrate to Canada where her granddaughter, Annie, was living.  Annie was Ashley's eldest daughter; she had emigrated in 1912 and was now married to a farmer, James Sellman.  Clara's son, Owen, and her youngest grandson, Jack, also decided to make the voyage.  They set sail from Liverpool on The Empress of Britain on 25th May 1921 bound for Quebec.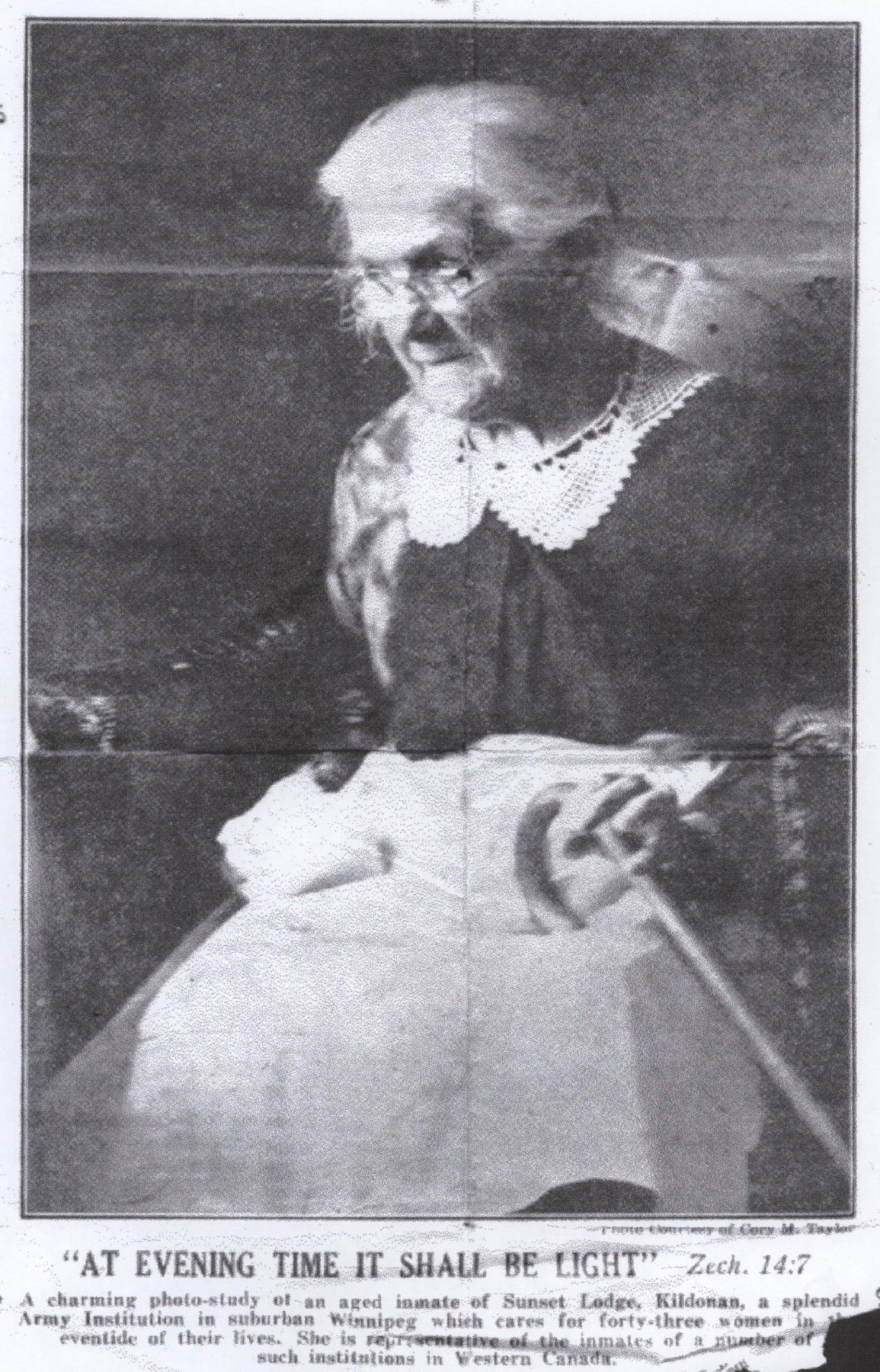 They had only just arrived in Canada when a census was taken in 1921.  Clara, Owen and Jack were shown as living at Westbourne, Manitoba, with the Sellmans and their four children.  Clara had moved into an Old People's Home, Sunset Lodge, Kildonan, by 1932; a photograph (right) of Clara appeared in "The Winnipeg Times" of 7th May 1932.
Clara died at Old Kildonan, Manitoba, on 22nd May 1940, aged 88.  A report of her death was published in "The Tewkesbury Gazette" of 22nd June 1940:
BADSEY, FORMER RESIDENT'S DEATH – News has been received from Winnipeg, Canada, of the death on May 22 of Mrs Clara Warner, a former resident of the village.  Mrs Warner was in her 92nd year.  After spending her early days in Childswickham, she later moved to Badsey, where she lived until she left the village with her son, Mr James Keyte, who died two years after leaving, and her grandson, Mr John Jelfs, to live with her granddaughter in Canada.  She was very well known in the Badsey district where she has many descendants still living.