Lieutenant Robert Bailey, who died on 1st December 1917, is buried in Cairo War Memorial Cemetery, Egypt.  The cemetery is within the Old Cairo cemetery area, which is situated approximately 5 kilometres south-east of the centre of Cairo.  There are 2,056 Commonwealth casualties of the First World War and 340 from the Second World War buried or commemorated in the cemetery.
At the outbreak of the First World War, Cairo was headquarters to the United Kingdom garrison in Egypt.  With Alexandria, it became the main hospital centre for Gallipoli in 1915 and later dealt with the sick and wounded from operations in Egypt and Palestine.  Lieutenant Bailey received wounds in the operations which resulted in the capture of Jerusalem and was thus sent to hospital in Cairo where he died.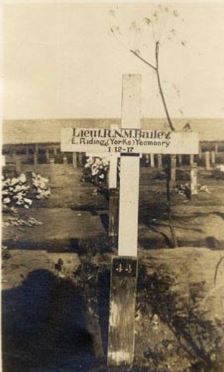 Cairo War Memorial Cemetery was formerly part of the New British Protestant Cemetery, but plots B, D, F, H, K, M, O, P and Q were ceded to the Commission in 1920 (Robert Bailey is buried in plot O 44).  Some graves were brought into these plots from elsewhere in the Protestant cemetery.  The original cross marking the grave of Robert Bailey is shown right (Parliamentary Archives - BAI/12).