Interview with Lorna Howarth (née Bayliss) the daughter of a market gardener
The recent discovery at Worcester Record Office of letters written by Badsey schoolchildren in 1933, has delighted local woman, Lorna Howarth (née Bayliss). One of the letters was written by her brother, Berwick Bayliss, who unfortunately died of a brain tumour in his forties.
Berwick and Lorna both grew up at "The Haven", Middle Littleton, where Lorna still lives today (she returned there in 1976 after the deaths of both her husband and mother). Their father, H Enos Bayliss, had been born in North Littleton, in 1881, where his father worked in the cornfields. Enos' father unfortunately died prematurely of a heart attack, so Enos, as the eldest child, was left to help his mother bring up the family.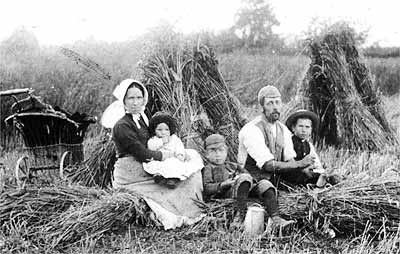 Enos Bayliss trained as a builder, and built many of the houses in the Littleton area. However, he changed track during the First World War. A strong-principled Quaker and pacifist, he was sent to Weston-super-Mare on condition that he did land work. Pacifists had a rough time during the war; Enos would reap a cornfield and set up all the sheaves in the field then go back next day and found someone had scattered all of them. Deciding that working on the land was to his liking, Enos returned to Middle Littleton at the end of the war, took over "The Haven" and became a Market Gardener. He had an acreage around the bungalow of about two acres, and he rented a small piece of land down the road towards South Littleton and worked that with a multitude of crops.
As well as the land, the other thing which dominated the lives of Enos and his family was music. Enos had a lovely baritone voice and sang at all the chapels in the area. He was completely untrained, but people still remember his lovely voice, which gave a lot of pleasure to a lot of people. The family were all very musical and there would frequently be an orchestra of about 14 people in the little front room of the bungalow. They worshipped at the chapel in South Littleton and sometimes at the Friends' Meeting House at Badsey (now the Dance Hall, Chapel Street).
Berwick and Lorna attended Badsey Council School. The reason for this seems to have been that, as a man of strong principles, Enos Bayliss, preferred to send his children to the Council School in Badsey with its excellent reputation, rather than the Church of England School in South Littleton. Lorna remembers the long cycle ride to school; her principal memory is of frozen hands and feet and thawing them on the pipes when they got to school and then putting the little bottles of milk they were issued to warm on the pipes, too.
On the day that I went to see Lorna (Friday 30th November 2001), she felt rather sad because it was the day that Littleton and Badsey Growers (LBG) was closing its Blackminster site. Lorna's family had, since its beginning, been involved with LBG. Her grandfather, R R Smith (her mother's father) was one of the founder committee members, her uncle was manager for a while, her brother worked there, and her father was on the committee.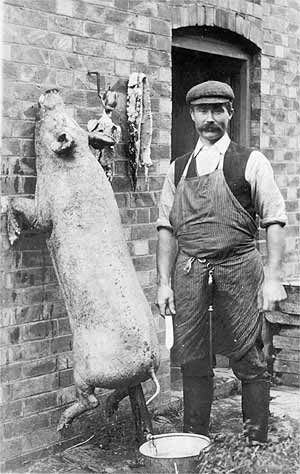 Lorna went on to describe her life as a Market Gardener's daughter, and has kindly given permission for extracts from a taped interview to be reproduced here (the interview was with Jim Swingler from the "Vale of Evesham Talking Newspaper for the Blind"):
Every season had its own harvest. The busiest times of course were the fruit harvest and the asparagus-cutting. It just took about six weeks, a very busy six weeks from the beginning of May until almost the end of June. My father did most of it on his own, with the help of my mother who in those days worked as hard almost on the land as he did. He had occasional help when we had harvesting with one man mainly who lived in the village and one or two lady helpers who came to help pick gooseberries and plums and raspberries, etc, but mainly he did it himself.
For the asparagus we had a special knife; it looks rather like a screwdriver with a wooden handle and the end of the steel blade is like a tiny saw which has to be dug into the asparagus bed about 2" below ground and when you pull up the bud, the bottom part that has been hidden under the earth is white and the top is green; but it's quite a specialised art to cut it in the first place. It was usually put into hampers on the actual plot where the asparagus was grown in the heaped-up beds which had been fertilised, hoed and kept clean all through the rest of the year, because nothing else can be grown where asparagus is, so it's a rather an economic crop in a way, no inter-cropping.
In very hot weather it had to be cut twice a day. If the weather was extremely hot, my father would be up at six o'clock, cutting it once over, and by about 4 o'clock in the afternoon it would have grown again and you had to have a second cutting; not the same buds would have grown again but others. It was a very exacting crop. Everything else had to go during "grass" time. We did rely on the well in times of drought. My father had the bucket that was let down with a rope and that was used quite a lot. We had one terrible moment when he almost fell down it. With shouts of alarm, he had to be pulled out, so I had it filled in when I came back.
But then it was brought up in the hampers to the big sheds, next to the bungalow here, where my mother put it into appropriate bundles, with probably occasional help from my father and one of the ladies in the village. First of all it had to be sorted: the big fat buds were put on one side, the average buds in another heap, and the small buds that we called "sprue" were put in another heap, and the very weedy bits and the ones that were crooked and couldn't be marketed, were put into the kitchen and we lived on asparagus day-in day-out for those six weeks; we ate it like cabbage. But I must say that having come back to the Vale, the first thing I did was to plant three rows of asparagus in my garden, because I couldn't bear to think I was back here and I couldn't eat asparagus, and I think the loveliest smell in the world is asparagus cooking with some mint in the water.
How to cook asparagus? Well, I don't know if it's the proper way. I don't stand it up in bundles or anything; I just put a piece of raffia round the bundle and when the water is boiling and the salt and mint are in the boiling water I just immerse it in boiling water for about ten minutes and then take it out and drain it.
There are special wooden boxes, and there again, it was a great art to have to place these buds carefully into the wooden boxes. The large buds were put into hundreds, I think they used to call it, where pieces of willow twig were put along the bottom slots of the box, raffia along the top of the box and all these had to be placed in carefully so that the buds gently went against the top of the box and once you had the required number in, you had to tie up this willow twig very tightly, and this was difficult (I think women must have had very strong fingers then because it was quite an art to keep that very tight round the bundle) and then with a sharp knife, you cut off all the white spears at the bottom so that they were all the same length.
A neighbour was telling me only a little while ago that my mother apparently went over to try and teach her how to tie asparagus because she married a market gardener and had no knowledge of how to do it and she found it very difficult but my mother was super at it, she said. She had plenty of practice over the years. I helped sort it more often than bundling it, and helped wash it, and helped take it up to the roadside to be marketed, because after it had been put into bundles and taken out of the box, it then had to go into a huge wooden vat with water and with special scrubbing brushes you scrubbed to make it clean. It was then placed on to a wooden pallet or a wooden tray so that it could drain and then the final thing was to put it into wicker-work "flats", we called them (like big picnic baskets, really) filled with straw and those were then tied down and carried up to the roadside ready for the LBG to collect it with their lorries. And I still remember the number of the ticket that had to go on every piece of marketing that went on to the roadside: 224 was my father's number. It's imprinted on my mind, because I used to quite often write the labels. No wonder it was a luxury crop.. I think it was probably one of the most assured crops for a fair price. Other crops sometimes had to be dug into the ground because there was no market for them. But asparagus, if you didn't get an early frost that could kill it all, or set it back a week or two, was quite a reliable crop.
All my family were connected with Littleton & Badsey Growers, so it was natural that they should send their goods to LBG. During the period that I remember when I was growing up, that was mainly their sole means of transporting it to the markets. They would collect it in their transport, and take it to Birmingham, Coventry, wherever, then you would receive through the post, saying how much your particular cargo had made.
What I do remember about the asparagus, too, when the season came to an end, it was let grow into bower, green bower, about three feet high, the fine lovely asparagus fern, and that was marketed. My mother and I spent a lot of time, cutting these bundles with about 24 small bundles in a huge one, that was tied up with string and that again was marketed. I don't think it has any demand for it now with all the modern flowers. That wasn't in crates; that was just loose. Pleasant work, like cutting flowers almost. As children, I remember when we were small enough to run through the asparagus beds, when the bower was high, we used to imagine we were Red Indians running through forests and with tomato canes we'd spear the stones and think we were spearing fish in the rivers; it was a lovely world of imagination.
Market gardening was a hazardous job. If you had a glut it was just as bad – not with asparagus, but certainly other crops. The war made such a difference. I remember growing up as a child when I was at school and living in this little bungalow and overhearing conversations between my mother and father when things were bad and saying how could they cut down on different things because prices were so bad and they didn't know how they would manage because this bungalow had to be paid off little by little. Unfortunately, it was the war which changed things. I remember my father saying with one crop of onions he paid off this bungalow, after years of debt and struggle. It seems a sad thing that the war was a means of doing it.
It was hard work; my father didn't have any machinery. When I look at his diary, which he kept faithfully every night when he came back in from working outside, with his little pencil writing down what he had done every day: day after day during the winter, it was digging, digging, digging, hoeing, hoeing, scattering, very back-breaking. And I always think that my mother shared 100% in everything he did: a wonderful partnership really. And when I was at College and came home in the holiday, it was lovely for me; I just loved being out of doors and helping.
We were self-supporting; w e lived very simply. All the vegetables and fruit we partook of every day. I remember, looking at my father's diary again, he only ever cycled into Evesham about three times a year, to have his hair cut after going to the bank to see how his statement was doing, or to meet the bank manager; he lived a very simple life. And my mother, we had a local grocery shop then, she used to put in her order on a Friday on a piece of paper, it was delivered to the door by van and paid for. And next Friday she did the same, and that was her shopping mainly; much easier than it is now when you have to trail round supermarkets. We had the baker, the butcher, oil, everything brought to the door then, with vans that supplied households without you needing to go very far. We had Valender's Bakery that came from Pebworth.
The high spot of every asparagus season was the Vale of Evesham Asparagus Show that was held at Badsey, the village next to us. Most of the market gardeners in the area used to save up their best asparagus buds for the Vale of Evesham Show; there was a great lot of competition as to who should have the best bundle; and my father used to share in this. During the weeks leading up to the show, he used to put on one side the best buds, they had to be about 13" long, and the straightest, and they were put down the well in my garden – it's now been filled in, it's under my drive somewhere at the moment – but then it was a deep well that had a platform at the top of it where my father used to place these buds for a week or two before the show so that they would be ready for the great day. And then they were put into bundles as I described and one of the things I've still got here is the little silver replica of the cup that my father won in 1924, the year before I was born. I've also got a certificate that I discovered that he won in 1953 for the best bundle in the Show. I've still got copies of the photo with him holding his big bundle of asparagus, looking very young and handsome then.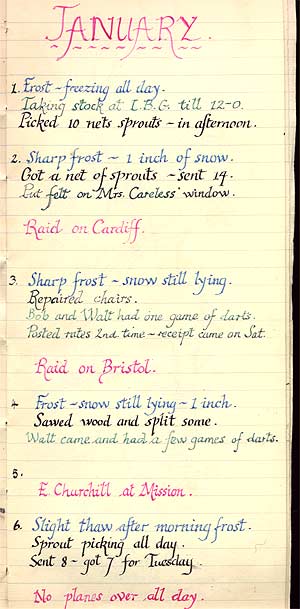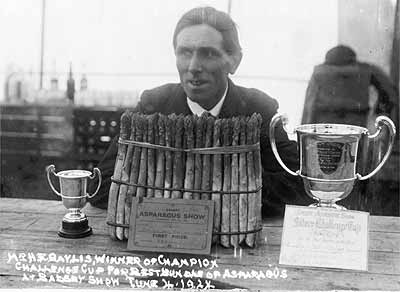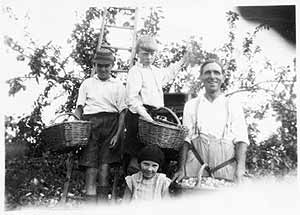 ---
Lorna Howarth was interviewed by Maureen Spinks in 2001.
For more information about what was grown see Market Gardening around 1920.
See also Digging for a Living: Market Gardening in Badsey and Aldington.
Details of the Asparagus video.