The census in Wickhamford on the night of Sunday 2nd April 1911 recorded 259 persons staying in the village. Most were permanent residents and a few were household visitors. Some permanent residents were away from home that night and were counted elsewhere. In the case of George and Helen Lees-Milne, of the Manor, they were probably overseas, as they do not appear on the returns for England, Wales or Scotland.
Field Farm
At Field Farm, Longdon Hill, the home of farmer Benjamin Carter, there were two young men as boarders whose occupations were given as 'Farm Pupil (worker)'. They were John Lawrence Siddorn, born in Heaton Chapel, Lancashire and Stanley Gordon Stephenson, born in Althorpe, Lincolnshire.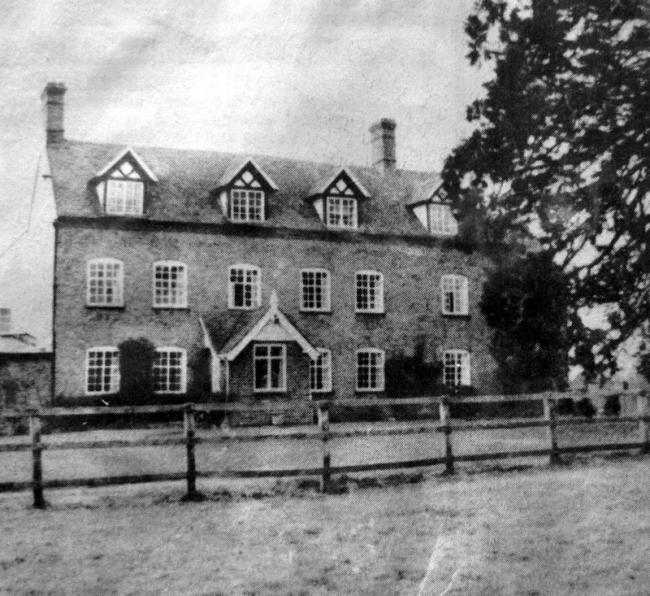 Benjamin Carter rented the farm from Trustees of the Estate of J.P. Lord and the Valuation Survey of 1910-15 described the house and recorded the land as consisting of 291 acres. Amongst the farm buildings listed were wood, iron and brick cow sheds, a granary and calf pen, cow stalls for 8 with a feeding passage and brick & tile cow stalls for 14. The livestock were dairy cattle and the farm pupils would have been learning the ways of tending and milking a dairy herd as well as the related farm husbandry – grass management, slurry spreading etc.
Stanley Gordon Stephenson
Stanley Gordon Stephenson's birth was registered in the June Quarter of 1891 in the Registration District of Doncaster, West Yorkshire. This covered parts of North Lincolnshire, including Althorpe. His age was given on the 1911 census form as '18' when Benjamin Carter completed it, but he was in fact 19 or just turned 20 by that time.
In the 1901 census, Stanley was living with father and step-mother, James and Susannah Stephenson at Brasted House, Althrop and his father was a farmer. (James' first wife, Clara Frances nee Adams had died in 1892. She was born in Brasted, Kent, hence the name of the farm). After his time in Wickhamford, which may have been a few months or perhaps a full year, the next reference to him is his marriage in 1917. This took place at the parish church in Llandrillo yn Rhos (Rhos-on-Sea), Denbighshire. His profession was given as 'Farmer' of 'Northlands, Winterton, Doncaster' (although nearer to Scunthorpe than Doncaster) and his father, James, was described as a landowner. His bride was Elvira Peltzer, a daughter of Charles Armand Peltzer, a 'Director of Machine Works'. Elvira had been born in Altrincham, Cheshire in mid-1891, but not baptised until 12th October 1892, in Christ Church, Accrington.  At the time of her marriage, she lived in Ebbeston Road, Rhos, but in 1901 her family were in Accrington, Lancashire, where Charles was a manager in a cotton mill. He had been born in Ghent, Belgium, in about 1854 (his father being Prussian) and had married Marienne Collier in Bury in 1883.

The Great War
Stanley Gordon Stephenson did not serve in any arm of the services as he had a heart condition and was also in essential work as a farmer.  Remarkably there is a record for Elvira Peltzer. She was a nurse in the French Red Cross and was awarded the Victory and British War Medals. She saw service not far behind the front lines and, after the War, sometimes told of shells passing overhead. 
Stanley met Elvira when she came home on leave from La Panne, in Belgium, where she was serving as a nurse with Stanley's sister, Lilian.  They married in North Wales, where the Peltzer family always took their Summer holidays.
Stanley was one of nine boys and three girls and seven of his brothers served in the Great War, three of them being killed - George, Eric Lionel and Urban Arnold.  Earlier, Frank (b.1881) and William Dalton (b.1879) were in the Imperial Yeomanry in the Boer War and were recalled to the colours in 1914 (William served in the West Yorkshire Regt); Reginald James (b. 1885) was in the Lincolnshire Yeomanry and Machine Gun Corps.  
Later Life
The birth registers show that Stanley and Elvira had six children whose births were recorded in the Glandford Brigg District of Lincolnshire, which includes Winterton. The children were Rhona E. (1918), Lydia (1919), Gordon K. (1924), Roy A. (1928), Shirley (1931) and Peter D. (1933). The Hull Daily Mail of 31st March 1920 reports that Stanley was elected in the Council Elections in Winterton. The Derby Daily Telegraph of 12th December 1922, reported on the tragic death of one his farm workers in a motorcycle accident. A newspaper report from 1925 in the Hull Daily Mail said that Elvira Stephenson came second in the Gold Medal Class of a piano competition.
Stanley Gordon Stephenson died, aged 44, on 20th August 1935. He had been playing with his three youngest children in his garden when he tripped and fell on a tree stump. His hand was lacerated and tetanus took hold. Despite some treatment he sadly died as a result of the infection. The Yorkshire Post of 24th August reported on the incident and mentioned that he had started farming in Winterton in 1914 and that he was the seventh son of James Stephenson of Althorp. Elvira died in 1982.
John Lawrence Siddorn
The second Farm Pupil at Field Farm, John Lawrence Siddorn, was born in Heaton Chapel on the border of Lancashire and Cheshire in 1893. He was the son of John Henry and Gertrude Hay Siddorn who lived in Heaton Norris, near Stockport in 1911. The Siddorn family came from farming stock in Tarporley, Cheshire and the obituaries for John Henry Siddorns' parents, in 1891 and 1897, both mention that they were celebrated cheese makers. They lived at Ox Heys Farm, Rushton near Tarporley.
He was farming by the time of the Great War and did not serve in the Armed Forces but he eventually settled in the Louth area of Lincolnshire.  He was recorded in the 1939 Register at The Grange, Beesley, as a farmer, born on 6th August '1891' (the year was wrongly recorded) and married to Marjorie; they had two children. He was noted in the Register as being an A.R.P. Warden.  He died in 1962.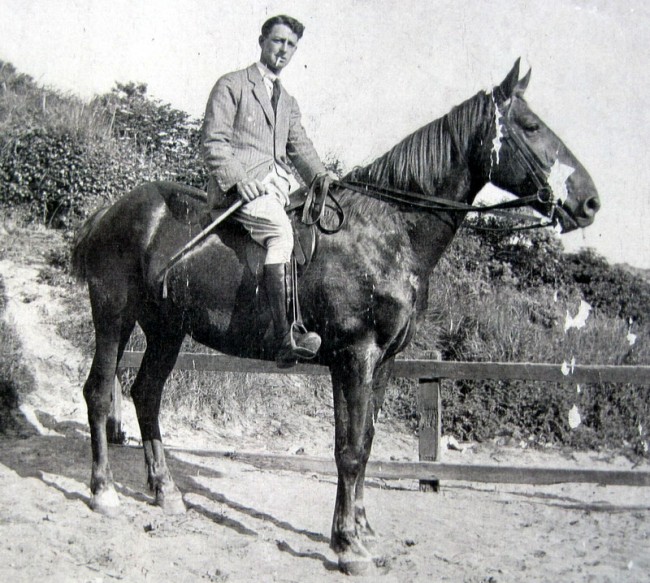 Acknowledgement
Thanks are due to Elizabeth Siddorn for kindly supplying the photograph of her father-in-law.   Amendments were made to this article thanks to Stanley Gordon Stephenson's son, Peter, getting in touch to supply more details of the lives of his father and mother.
Tom Locke: October 2014 (revised February 2019 and November 2020)