Wickhamford is an agricultural parish and has been so throughout recorded history. This article summarises the available information on land use in the parish.
Roman times
It is likely that a minor Roman road passed through the village on the route now marked as the bridle path from Manor Close to Honeybourne in one direction and from the Evesham- Broadway road to Hinton and on to Tewkesbury in the other. Roman remains have been found in various places in the village (see article on Roman Wickhamford).
Saxon and Norman times
Three'mansae' (houses or farms) in Wickhamford passed into the possession of the Monastery in Evesham as part of a foundation gift of Offa of Essex in 703 or as a joint gift by Offa and Kenred in 709. At the time of the Domesday Survey in 1086, Wickhamford was one of the villages held by the Church of Evesham. The entry for Wickhamford and Bretforton is combined and refers to 16 villagers and seven smallholders with 10 ploughs, and a mill.
In 1206 the mill in Wickhamford was leased for a rent of 8s, which was appropriated to the kitcheners of the Monastery.
Evesham Abbey Chronicle references to Wickhamford
There are only a few references to the village in the Chronicles in the period from 1214 to the Dissolution of the Monasteries in 1539. At that time the last head of Evesham Abbey, Abbot Lichfield, retired to live in Offenham Manor, where he died in October 1546.
An entry in the Chronicles in the time of Abbot Randulph (d. 1229) says that he "built granges at Willersey, Aldington, Wickhamford, Evesham, and Lenchwick. They were much better ones than had been before."  He also built three dove-cotes, at Wickhamford, Offenham and Hampton.
Abbot Thomas de Marleberge (d. 1236) was said to have "kept Wickhamford Mill for his own use, for its tenant had died while the king had custody of the abbey. He gave the king a certain sum of money, however, so that he would not give the mill to certain people who claimed it by hereditary right."
In 1291, the Abbeys' possessions in Wickhamford were valued at £9 6s 9½d.
Abbot Roger Zatton (d. 1435) was reported as the person who "re-built a tenement at Wickhamford called Hodysplace, in which building he spent at least twenty marks. These are some of the repairs and rebuildings of houses, though not all, due to the labour of writing them down." He also "ordained and granted that he and his successors should pay ten shillings a year to up to thirty-six monks, and not more, on the Feast of the Purification of the Blessed Mary, by virtue of lands then belonging to the abbey on the Badsey estate; and also three cartloads of straw a year, for the beds of the monks and the minuti there. That is, two cartloads on the Feast of the Annunciation and one on the feast of St. Michael, to be carried from the manors of Aldington and Wickhamford, and to be administered by the cellarer.
Other references indicate that Abbot Zatton erected a tithe grange next to the fishpond and afterwards built a great grange in the same court.
The fate of the Manor and village after the Dissolution of the Monasteries
Henry VIII took the Grange at Wickhamford into Royal ownership and the manorial rights were held by the Crown until granted to Thomas Throckmorton and Margaret, his wife, by Elizabeth I in 1562. They remained in possession until 1594, when they levied a fine, to which their son, John, was a party by which the Manor was conveyed to Samuel Sandys and his wife Mercy nee Culpepper. At this time it was described as consisting of fourteen messuages (i.e. dwelling houses and their outbuildings), 1,100 acres of land and a mill. Samuel was the son of Edwin, Bishop of Worcester and later Archbishop of York. After Samuel died in 1626 his widow held the Manor until her death in 1629 and her heir was her son Samuel. The Manor then passed down the Sandys family line for over two hundred years.
John Pickup Lord
Manor of Wickhamford remained in the Sandys family over a number of generations until about 1860. It was purchased at that time by John Pickup Lord. He was the son of John and Ann, and born in Lancashire in 1821. He married Constance Charlotte Hallett Thomson in London in 1858 and they had seven children, who were born in Cheltenham and Hallow, Worcs. He died at Hallow in 1877 and Charlotte died in 1884. John Lord owned property in Lancashire and at Hallow, Aldington, Badsey and Wickhamford. Final parts of his Estate were not sold until over 80 years after his death, to Christ Church College, Oxford in 1950. Trustees were appointed after his death to administer his estates and a succession of new trustees were appointed after 1878.
In 1893 the Trustees had gifted a small amount of land (ca 400 sq. yds) to the Church to extend the churchyard and give access to the north side of the Church.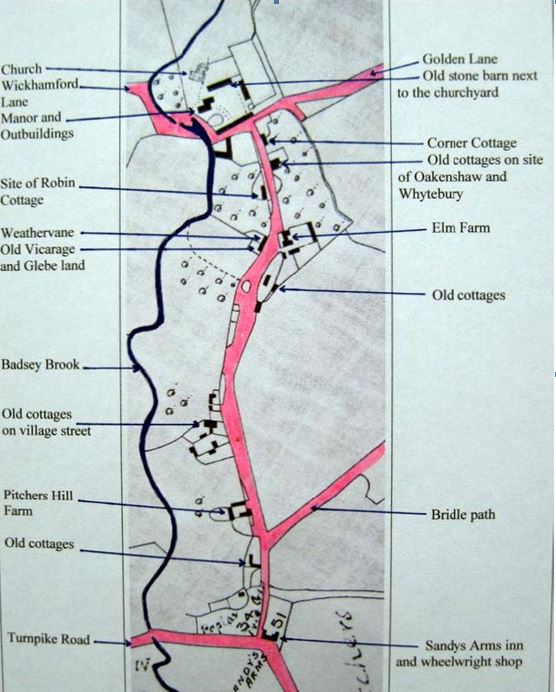 Land Valuation Survey
The extent of the holdings of the Trustees of J.P. Lord is revealed in the Land Valuation Survey of 1910-15. Each property and field is recorded for valuation purposes and the owners and tenants named. In Wickhamford parish the Church held a small amount of property – the Church of St John the Baptist and its associated churchyard, the Old Vicarage with a small piece of land behind, a strip of land near the Mill and the field alongside Willersey Road between Bully Brook and the land of the Manor. It also owned the new Reading Room on Manor Road, built in 1907.
Apart from this and some houses and fields that were in private hands, the village was divided between the Trustees of J.P. Lord and George Lees-Milne, who had bought the Manor and various other properties from the Trustees in 1906.
The Trustees still held Field Farm, Pitchers Hill Farm (now Wickham Farm), the Mill, Whitfurrows and a number of pairs of brick-built cottages on Manor Road, Pitchers Hill and Longdon Hill. They also owned Elm Farm (although this was leased by Lees-Milne) and the cottage that would later be known as Robin Cottage. George Lees-Milne owned the Manor and the field behind it, Corner Cottage, a row of four cottages (on the Hodysplace site), the house now numbered 10 Pitchers Hill and the newly built 1 & 2 Manor Cottages (now Whytebury and Oakenshore). (Details of this Survey are presented in the web-site article on this subject.)
Wickhamford Estate Auction
The Trustees of J.P. Lord finally put up the Estate for sale with an auction on 15th September 1930. A total of 631 acres of market garden land, pasture and ash coppice, 36 modern dwelling houses and three cottages were put up for auction by E. G. Righton & Son at the Town Hall in Evesham. The majority of the 85 lots were in Wickhamford, with some in land adjoining the village in Bengeworth, Aldington and Badsey. At that time the land and houses produced a gross rental value of £1,832 p.a.   Many of the auction lots were unsold and the remaining Estate was sold to Christ Church College, Oxford in 1950. In the years prior to the 1930 auction some tenants had taken the opportunity to buy cottages or strips of land. 
Farms in the Censuses of 1841 – 1911
Elm Farm
This farm, to the East side of Manor Road, was rented to John Taylor at the time of the 1841 and 1851 censuses. Born in about 1787, in Leicestershire, he was farming 295 acres in 1851 and employing twelve labourers. By 1861, his son Francis and his wife Letitia were in occupancy, together with John's widow, Sarah. At that time the acreage was 280 acres and there were now six men and two boys working there. The acreage had increased to 322 by 1871, under the same family and the workforce was 8 labourers and two boys.
In 1881 the farm was unoccupied, but in 1891 Robert Taylor, a carpenter, was living in the house with his wife, Sarah Kate and 2 year old son William Herbert.  Sharing the property with the Taylor family in 1891 were Daniel and Mary Sherwood and son, John.  He was employed as a farm bailiff, who may have been running the farm.  In 1901 Frederick Hooper Ingledew, his wife Lilian Jane and two daughters lived there and Frederick was a fruit farmer. Lilian and his eldest daughter had been born in America. In 1911, market gardener John Mason lived there with his wife, Elizabeth, who was Head Teacher at Badsey School.
Pitchers Hill Farm
Now called 'Wickham Farm', this farm lies to the West side of Manor Road. It was occupied by a widow, Alice Sawyer, in 1841 and she was still there in 1851, when she farmed 180 acres and employed five men. In the 1861 census, the farm was run then by William Smith (b. ca. 1813). At that time is consisted of 280 acres and William employed ten men and three boys. By 1871, the acreage was reduced to 183 but had almost the same workforce, there being just one less boy. In 1881, Robert and Jecolia Smith were there, together with eight children aged between three and sixteen. In acreage it was the same as ten years earlier, but only two men and two boys were employed. William had died by 1891 and Jecolia Smith was in charge, the farm passing into the hands of her youngest son, William, by 1901. He and his wife, Elizabeth, and seven children were still there is 1911. The brick farmhouse of Pitchers Hill Farm (now 'Wickham House') is Georgian and some of the farm outbuildings appear to be of a similar vintage.
Manor Farm
Wickhamford Manor was the centre of a farming operation for much of the nineteenth century. In was farmed by Samuel Taylor (b. ca 1798 in Derbyshire) and his wife, Ann, in 1841 and 1851. At the latter date there were an impressive 790 acres and twenty-five men were employed. In 1861, John Nind was farming there and the acreage had reduced to 344 and the workforce to 16 men and four boys. The occupant of the Manor in 1871 was cloth trade factor and agent, Frederick Smith, who was not running a farm, but by 1881 Edward Pope was in residence and he was farming 204 acres with four men and two boys. Edward's brother-in-law, John Pearce Pope was farming there in 1891. At the later censuses John Idiens, a coal merchant lived in the Manor in 1901 and George Lees-Milne in 1911. Neither were farmers.
Field Farm
This farm is to the West of the Turnpike Road, and in 1841 John Gibbs ran it. By 1851 there appeared to be two households in the property – those of William Cox, a farm bailiff and those of Thomas Mansell, a master carpenter. In 1861 Wickhamford born Robert Taylor and his family were in occupancy. It consisted of 403 acres and needed seven men and three boys to run. In 1871, the farm was of almost equal size and workforce but was now in the hands of George Burrows. Still roughly the same size in 1881, Edmund Bullock was the farmer and by 1891 it had changed tenant yet again. This time it was run by Somerset born Benjamin Carter, who lived there with his wife, Emily Jane, and six children. He was still there in 1901 and in 1911 and had bought the farm by the 1930s. In the 19th century this farm was sometimes referred to as 'Wickhamford Farm'
It is worth recording that the present farm at the South-East corner of the parish, Whitfurrows, was not recorded as a farming unit in these censuses. The farm buildings were only barns and cottages, which were occupied by farm labourers.
Market gardening and the effect on village population
Many of the fields in the parish were given over to market gardening from the end of the nineteenth century, being divided into the strips that can be seen on the map issued with the 1930 auction document. Twelve villagers listed their occupation as 'market gardener' in 1901, but 55 did so in 1911 (as market gardeners or labourers employed in that occupation). Only eight men were market gardening in 1891 and there was only one in 1881.
The table below gives the population of the village from 1841 to 1961. Prior to the first detailed census the estimated population from 1800 to 1841 was around 125.
| | | | |
| --- | --- | --- | --- |
| 1841 | 123 | 1901 | 175 |
| 1851 | 129 | 1911 | 259 |
| 1861 | 124 | 1921 | 305 |
| 1871 | 137 | 1931 | 338 |
| 1881 | 125 | 1941 | not available |
| 1891 | 137 | 1951 | 522 |
The numbers of villagers was at a steady level until the arrival of market gardening, with its increased labour demand. The population approximately doubled between 1891 and 1911, and increased steadily thereafter.
The Second World War
During the Second World War the Ministry of Agriculture and Fisheries sent 142 farmers and growers with land in Wickhamford four types of form, requesting information on their businesses. The replies are at the National Archives in Kew.
1) the types and acreage of crops grown, livestock & poultry numbers and horses used (form C47 – 4th June 1941 –about 100 completed forms available).
2) the labour employed, motive power available, rent paid if a tenant and length of time the land was held (form S.F. – 4th June 1941 – over 100 completed forms available).
3) a farm survey asking the soil types and condition of the farm or holding, the water & electricity supply and management effectiveness. This form was completed by MAF officials (form B496 – 1942-1944 – 40 forms completed).
4) a form asking about fruit and vegetable crops being grown (form C51 - 1941).
completed forms give an interesting insight into the condition of the Wickhamford farming and horticultural industry at a time of great National peril.
As an example of the detailed information supplied by one market gardener the following information concerns George F. Cox, who lived on Pitchers Hill and had an above-average holding of 17 acres of land. In June 1941 he was growing 4½ acres of maincrop potatoes, 2 acres of small fruit, 4 acres of vegetables and had 5 acres of bare fallow, 1 acre of grass for grazing and ½ acre of other crops. He employed one woman full time and one part time. He also kept 100 fowl over 6 months old and 80 under that age. Unusually for the parish he had two tractors, a 4½ h.p. 'Trusty' and a 2 h.p. 'Graveley'. His annual rent on 4 ¾ acres was £7 and £40 7s 0d on another 12 ¼ acres. He had been cultivating 10 ½ acres of his holding for 7 years, 1½ acres for 4 years and the remaining 5 acres for 2 years, so he had been gradually increasing his business as land became available. Some of the land he owned, but some he rented from R. Bloomer c/o New & Saunders of Evesham. At this time most of the growers in the parish who rented land did so from the Lord & Parker Estate.
The two acres of small fruit George Cox was growing in 1941 consisted of strawberries, raspberries, blackcurrants, red or white currants, loganberries and blackberries. His four acres of vegetables were Brussels sprouts, some other brassicas, carrots and onions.
In late 1944, a farm survey of the land George Cox cultivated was recorded as 50% heavy soil and 50% medium and the layout was considered 'moderately convenient'. All of his land was considered in good condition and had good access to roads and was fairly convenient for the railway. The condition of his buildings was good, as were his ditches and drainage; the farm roads and fences were described as 'fair'. There was no water supply to the farm buildings but the fields were supplied by a stream. There was no seasonal shortage of water but no electricity supply. The Ministry official who obtained this information considered the farm as well run, the arable land to be in good condition with adequate use of fertilizer.
In reply to MAF form C47 in 1941, Victor Daffurn of Elm Farm reported a wide range of crops and livestock on the farm he then owned. Mr Daffurn only employed one man on a part time or casual basis.
| | | | | | |
| --- | --- | --- | --- | --- | --- |
| Oats | 4.5 acres | Cows in milk | 6 | Ewes | 16 |
| 1st early potatoes | 0.25 acres | Cows in calf | 2 | Ram kept for service | 1 |
| Orchards | 4.75 acres | Heifers with 1st calf | 2 | Lambs under 1 year old | 25 |
| Permanent grass for mowing | 25 acres | Other cattle 1-2 years old | 7 | Pigs, 2-5 months old | 3 |
| Permanent grass for grazing | 28 acres | Other cattle under 1 year old | 4 | Fowls over 6 months old | 60 |
|   |   | Horses | 2 | Fowls under 6 months old | 20 |
|   |   |   |   | Ducks | 8 |
C. M. Oldaker, of Field farm, listed the following crops and livestock. Mr Oldaker employed three men, aged over 21, two full time and one on a part-time or seasonal basis.
| | | | | | |
| --- | --- | --- | --- | --- | --- |
| Wheat | 14 acres | Permanent grass for mowing | 24 acres | Pigs under 2 months old | 7 |
| Barley | 10 acres | Permanent grass for grazing | 129 acres | Fowls over 6 months old | 100 |
| Oats | 20 acres | Cows for milk | 18 | Fowls under 6 months old | 100 |
| Beans for stock feeding | 16 acres | Cows in calf | 2 | Ducks | 4 |
| Main crop potatoes | 0.5 acres | Bull for service | 1 | Horses | 3 |
| Orchards | 8 acres | Other cattle | 25 |   |   |
| Vegetables for human consumption | 10 acres | Ewes | 55 |   |   |
| Clover and temporary grasses for mowing | 22 acres | Lambs under 1 year old | 50 |   |   |
The Post-War decline of Market Gardening
as market gardening had started up and increased to a considerable acreage in Wickhamford in the late 19th and early 20th centuries, it slowly declined and then ceased as an industry in the late 20th century.
During the Second World War, returns for market gardening produce was high but in the 1950's there was a decline in prices realised for crops and some of the market gardeners sought employment where they were guaranteed a regular wage. Others continued but, as they reached retirement age, their land was often incorporated into the local farms. Pearce's glasshouse nursery on Manor Road, founded in 1906 by Mr Richards, was sold for building land in the late 1970s. At that time sizable housing developments took place to the south-east of the Manor Road/Pitchers Hill junction.
There were always a few people market gardening on a part time basis. Gordon Heritage, for example, had glasshouses and open land, on which he grew asparagus, at the rear of his house next to Leystones Garage. Some of the last full time growers to continue until their retirement were George Halford, Fred Martin, Clarence Willis and Fred Mason, all of Pitchers Hill and Bill Walters of Manor Road, who retired in the 1960's and 1970's. John Summers had a small plot of land within a large field to the west of Pitchers Hill which was incorporated into Mill Farm in the 1980s. Richard Harman at Longdon Hill Nurseries continued to grow glasshouse crops until the 1990s.
Tom Locke and Val Harman – March 2013