Publication
The Evesham Journal
Transcription of article
Old Trade Forged on the Anvil of Necessity
Badsey blacksmith David Caswell has just celebrated 40 years in the family business – and from the sound of it he could be there for 40 more.  "I suppose I'll be there 'til I kick the bucket," said the 56-year-old whose workshop is at The Forge in Chapel Street.  "I enjoy my job.  It's a traditional village trade and there's hardly and of them left any more.  Badsey used to have everything, but not any more.  It's the same everywhere, all the trades and crafts have moved out to the towns," he said.
Mr Caswell has run his blacksmith's by himself since his father Dick died seven years ago.  "Dad was in the business all his life and worked until he was 79.  My granddad Frank started it all off in 1909.  I still use a lot of the old traditional tools.  The anvil I use we must have had for 50 or 60 years and I think it was secondhand when we got it.  It's a very olde worlde little balcksmith's, one of very few left in the Vale."
Mr Caswell says he has had his quiet periods down the years but by and large he has not struggled to make a living.  Part of the reason is that he has some loyal customers who live in Badsey.  "I've got people who have been coming here for over 40 years.  they come to me for all sorts of things.  I do a lot of horse-shoeing and general repairs and also I make a few one-off things such as asparagus knives and hoes that people can't get elsewhere," he said.
They also pop into the workshop for a chat.  "I get a lot of visitors.  It's a sort of focal point for the village, I suppose," he added.
Most of the Caswell knives are sold locally, either through Littleton and Badsey Gowers or Midland Shires Farmer.  In addition to this local trade though, David Caswell does report having one interesting export order – from New Zealand.
"A grower there called in one day and asked me to make him two dozen special knives, extra large by our standard, to cut 30 acres of 'gras'.  Last year he wrote asking for another 40 so I suppose they must be doing the job."
Evesham hoes made at the Badsey smith are not only unique to the Evesham area, but they are also built to last.  In his broad Vale accent, which he calls Asum grammar, David Caswell says one local gent, now 83, is still using the hoe made by the late Frank Caswell over 70 years ago!
"There are different blades to fit the hoe, each one for a specific field job in the Vale," adds Mr Caswell.  "However, while the hoe is a very efficient weedkiller, it is time-consuming.  Sadly much of this hoeing work in the Vale has now been taken over by another type of weedkiller, herbicides applied from tractor-mounted sprays."
But while much has changed in the Vale, there are signs that some links with the area may now be strengthening.  "If anything, we seem to be making more knives for the asparagus groweres than we used to," adds David Caswell.  "It's my view that more asparagus is being grown, it seems to be making a come-back."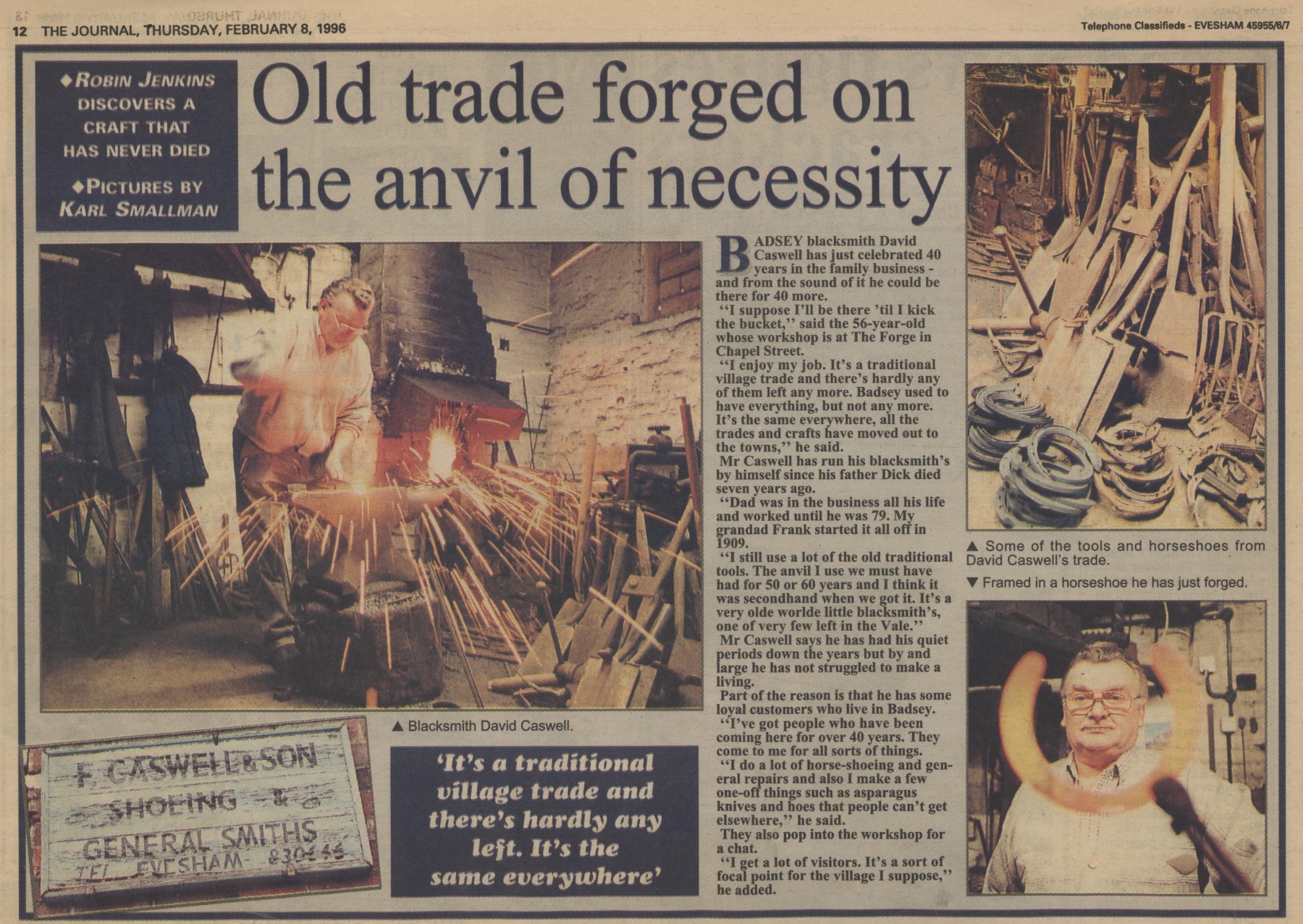 Comments
We are grateful to Becky Stanley, David's daughter, for lending us a copy of this article.