Publication
Evesham Standard & West Midland Observer
Transcription of article
IN GERMAN HANDS 
The German Radio station of Friesland announced last Friday that Corporal Sydney John Vale, 13 Synehurst Avenue, Badsey, and Gunner Reginald James Lamb of 32 Coronation Street, Evesham, were prisoners.  
A message stated to come from Vale and Lamb read: "Safe and well. Keep smiling. All my love." The German announcer pronounced the word Baddersley, instead of Badsey, and referred to "North Evesham" instead of "Near Evesham". The reason for this may have been that when Corporal Vale gave his address he wrote "Badsey, near Evesham" and the Germans mistook "Near" for "North".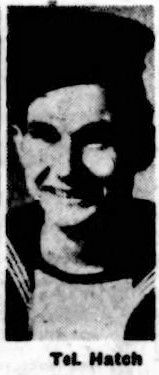 The announcement was picked up by the sailor son of Mrs William Hatch of Synehurst, Badsey, who was home on leave. 
Corporal Vale and Gunner Lamb were reported missing three weeks ago for the second time within seven months. They were serving with the Royal Armoured Corps in the desert. 
John Vale is the son of Mrs and the late Mr Charles Henry Vale of 12 Lime Street, Evesham, and he married Miss Kitty Shelley of Badsey. James Lamb is the second son of Mr & Mrs Frederick Lamb of 84 Badsey Lane, Evesham. His wife was formerly Miss Doris Ewers, of Bewdley Lane.