Publication
Evesham Standard & West Midland Observer
Transcription of article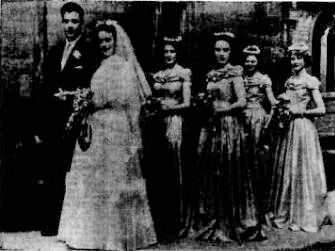 Married at St James' Church, Badsey, on Saturday, were Miss Doreen Elizabeth New, second daughter of Mrs A Shooter of 1 Synehurst, Badsey, and Mr Lawrence Anthony Dean Collins, eldest son of Mrs C Collins of 22 Victoria Avenue, Evesham.
The choral service was conducted by the Vicar, the Rev W B Chapman.  The hymns "Lead us Heavenly Father" and "The voice that Breathed o'er Eden" were sung, the organist being Mrs G W Marshall.
The bride, who was given away by her step-father, Mr A Shooter, was attired in a full length white nylon lace dress with ruched hemline embroidered with lilies of the valley, a tiara of diamante and white shoes and gloves.  She carried a bouquet of pale pink roses, lilies of the valley and fern.
She was attended by her sister, Mrs P Stephens, matron of honour, and three bridesmaids, Miss M Collins (sister of the bridegroom) and Miss P Owens and Miss S Bonehill (bride's cousins), all of whom were attired in full-length dresses of japonica pink with ice-blue accessories and headdresses and carried bouquets of pink carnations, blue iris and fern.
Mr Michael Collins, brother of the bridegroom, was best man.
As the bride left the church she was presented with lucky horseshoes and black cats by Mrs P Stephens, Master John Sullivan and Miss Julia Brown.
The bridegroom presented the matron of honour and each bridesmaid with a diamante necklace, and to the bride he gave her going-away outfit.  The bride's gift to the bridegroom was a dressing gown.
Seventy guests were entertained at a reception at The Royal Oak, Badsey.  Later Mr & Mrs Collins left for their honeymoon which is being spent in London.  The bride travelled in a charcoal grey costume over which she wore a white coat with red accessories.
Upon their return they will make their temporary home at 1 Synehurst, Badsey.
Both the bride and bridegroom are well known in the district, being members of the Worcester Auto Club and the Evesham Motor Cycling Club.  The bride is a native of Badsey, having been educated at Badsey School and Blackminster Secondary Modern School.  She has been employed by Messrs Richmonds in Evesham.
A native of Evesham, the bridegroom received his education at Prince Henry's Grammar School, Evesham, and for the past two years has been laboratory assistant at Messrs Dowty's, Cheltenham.  They were the recipients of numerous presents including some from the bride's fellow employees at Richmonds, Evesham.
During the afternoon and evening the ringers of St James' Church rang the church bells.