Publication
Evesham Journal
Transcription of article
Flag day at Badsey
Sir
Much interest has been caused by the flag that appeared on the top of the Wellingtonia poplar tree in Badsey on Jubilee morning.  To one who would not even climb an apple tree, let alone a tree 110 feet high, I rate this achievement as a local Everest climb and would like to congratulate the lads who scaled the  tree's difficult, sometimes hazardous, face.
Foolish they may have been from the safety point of view, but it is an effort like this that made the whole purpose of the climb – to put the Union Jack where it belongs right on top, flying proudly in the breeze on Jubilee day – ring true.
Well doe, lads, to see the flag there on Jubilee morning made many, many people very proud and happy.
Mr & Mrs A M C Lewis have very kindly given me permission to record this grand achievements.
Michael J Barnard
22 Sands Lane
Badsey
Evesham
Worcs
Jun 27 1977
* * * * *
Sir
I read with interest your report on the people of Badsey who conquered the tree in the garden belonging to Mr A M C Lewis to fly the Union Jack on the occasions of the coronation of King George VI in 1935 [sic – she meant King George V's Jubilee in 1935] and the present Queen's Silver Jubilee this year.
There was, however, no mention of my father climbing the tree in 1953 when Queen Elizabeth II was crowned Queen.  This effort was done for a £5 bet which, incidentally, was never paid.
The people involved were Bert Evans, Reg Walsh and the late Les Williams, all of Badsey.  The Union Jack on this occasion was tied on a broom stale and was placed right at the top of the tree.
It seems such a shame that this was not mentioned in your report or recent letters as this was the start of our present Queen's reign.  This was the same year that Sir Edmund Hillary and Sherpa Tensing climbed Mount Everest.
My father climbed the tree while Reg Walsh and Bert Evans stood on guard at the bottom.
(Mrs) M Wood (née Williams)
37 Hemming Way
Evesham
Worcs
June 27 1977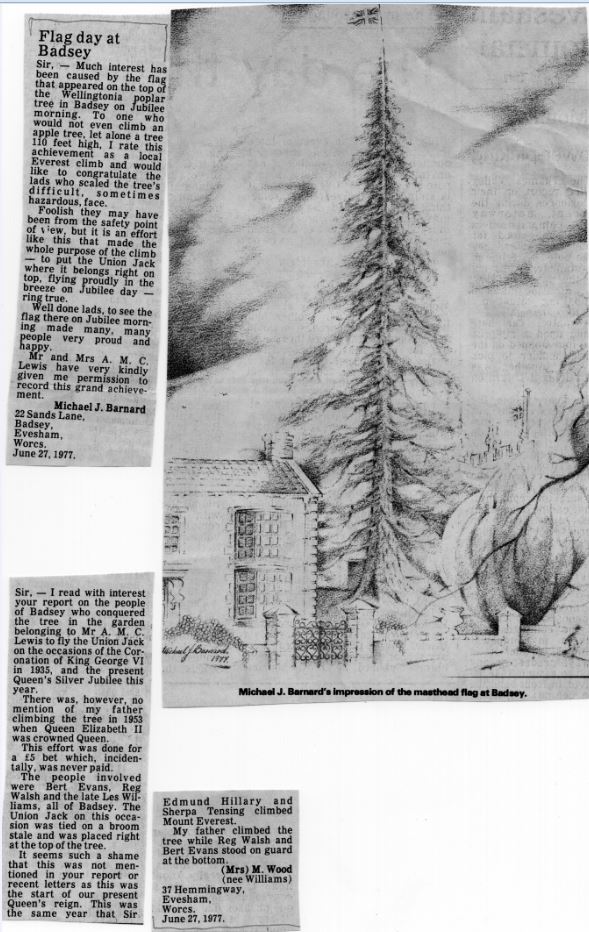 Comments
With thanks to Jonathan Granger for supplying this newspaper cutting which was discovered in a file belonging to his father, Denis.
See also: