Publication
Evesham Standard & West Midland Observer
Transcription of article
Blackminster Groom, Charlton Bridge – Miss S R Witchard and Mr B H Charlwood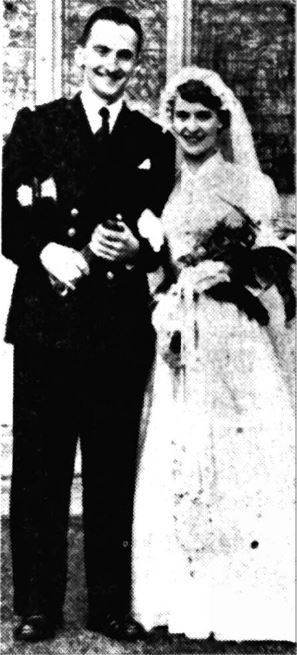 Miss Sylvia Rose Witchard, only daughter of Mr & Mrs G T Witchard of 2 Yessell Road, Charlton, was married at All Saints Church, Evesham, on Saturday to Mr Basil Henry Charlwood, only son of Mr & Mrs A T Charlwood of Blackminster.
The bridge, who was given away by her father, wore an ivory brocade dress with a veil held in place by a headdress of orange blossoms.  She carried a sheaf of lilies.
Bridesmaids were Misses Doreen and Beryl Haines and Miss Doreen Witchard (bride's cousins) all of whom wore mauve embossed taffeta dresses and silver head-dresses and carried posies of anemones.  Miss Gillian Grove (groom'' niece) wore a white nylon  dress and carried a white fur muff and Master Christopher Strain (bride's cousin) was dressed in purple velvet trousers and a white satin blouse.  Best man was Mr O Grove.
The service conducted by Canon T Charles Jones was followed by a reception for 60 guests at the Railway Hotel, Evesham.
The groom's present to the bride was a velvet housecoat and to the broom the bride gave a pair of binoculars.  The elder attendants received manicure sets and the young bridesmaid and pageboy were presented with prayer books.
The couple are spending their honeymoon in Bath.  The bride travelled in a gold and brown three-piece with brown accessories.
The bride has been employed by Messrs H G Green as a receptionist and she received two table cloths and a silver jam dish from her colleagues.  The groom is a refrigeration engineer with the New Zealand Shipping Company.