Baptisms – Wickhamford, 1813-1967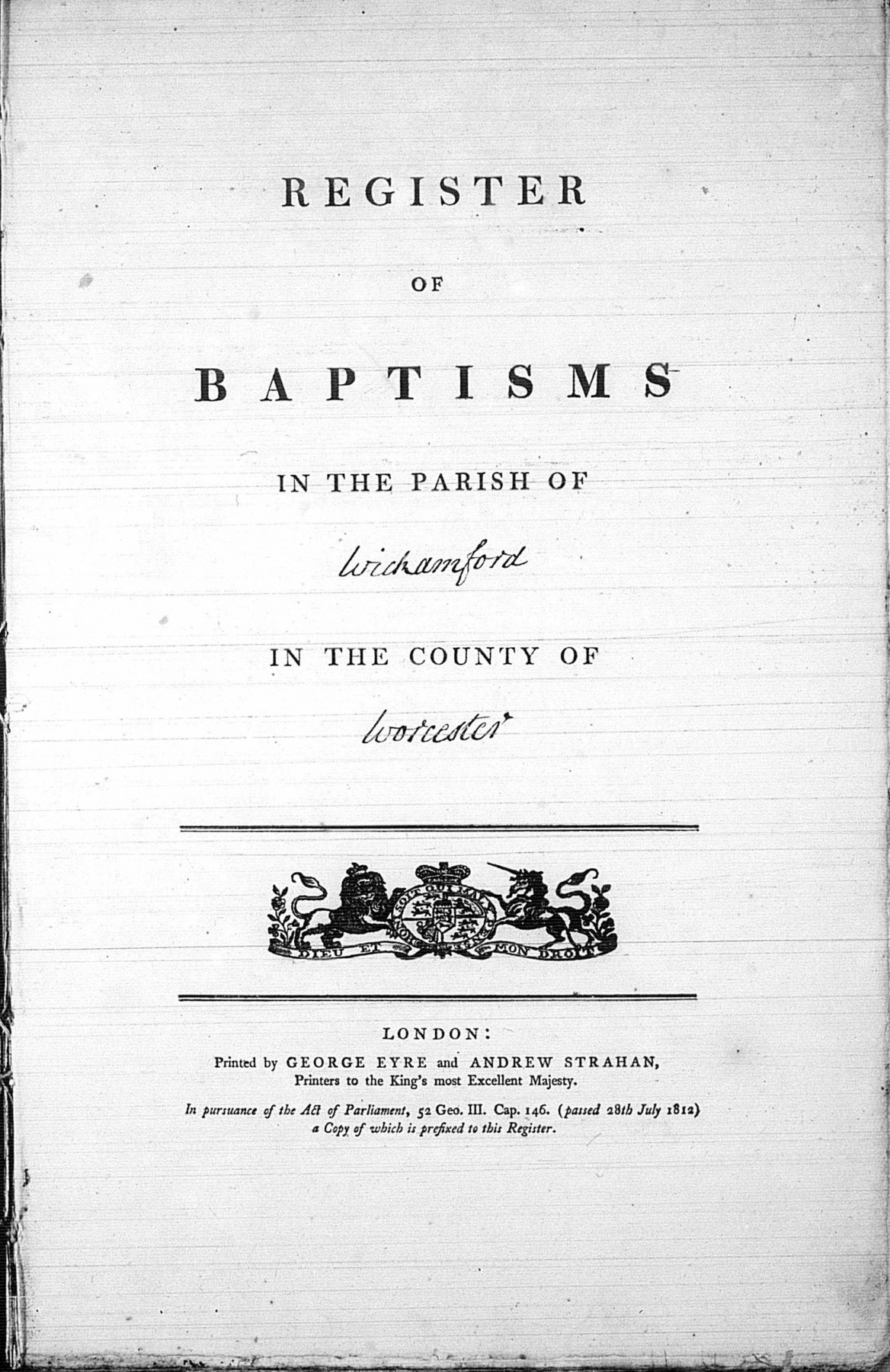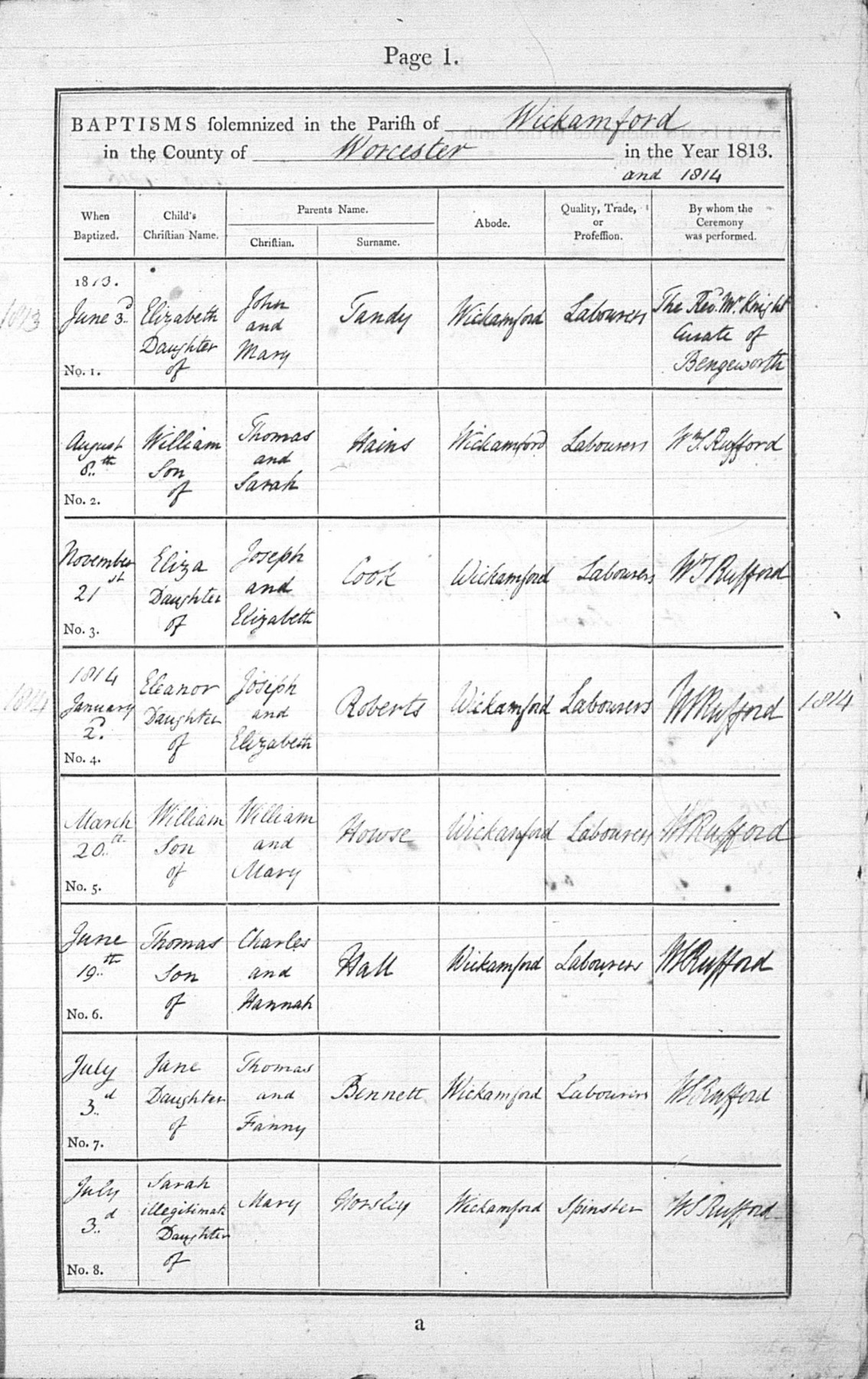 The register contains space for 800 entries, but ceases at No 684 with a baptism on 30th July 1967.  A new register was then begun which is still with the Vicar.  
In the latter years of his incumbency, Canon Allsebrook, who was Vicar of Badsey and Wickhamford from 1903 to 1945, neglected to keep the registers up-to-date. He made the last full entry (No 501) in 1929.  It was not until 1945 that baptismal entries commenced again when the Reverend Jeffreys arrived as the new Vicar; he began the entries at No 537.
For data protection reasons, only baptismal records from 100 years ago and earlier have been transcribed.
In the final "Notes" column, the notes in square brackets are Badsey Society comments. Other notes are as written in the parish register.
| Entry Number | Date of Baptism | Child's Forenames | Child's Surname | Son or daughter | Father's Forename | Mother's Forename | Abode | Father's Occupation | Officiant | Notes in Register |
| --- | --- | --- | --- | --- | --- | --- | --- | --- | --- | --- |
| 1 | 3 Jun 1813 | Elizabeth | TANDY | Daughter | John | Mary | Wickhamford | Labourer | The Rev Mr Knight, Curate of Bengeworth | |
| 2 | 8 Aug 1813 | William | HAINS | Son | Thomas | Sarah | Wickhamford | Labourer | W S Rufford | |
| 3 | 21 Nov 1813 | Eliza | COOK | Daughter | Joseph | Elizabeth | Wickhamford | Labourer | W S Rufford | |
| 4 | 2 Jan 1814 | Eleanor | ROBERTS | Daughter | Joseph | Elizabeth | Wickhamford | Labourer | W S Rufford | |
| 5 | 20 Mar 1814 | William | HOWSE | Son | William | Mary | Wickhamford | Labourer | W S Rufford | |
| 6 | 19 Jun 1814 | Thomas | HALL | Son | Charles | Hannah | Wickhamford | Labourer | W S Rufford | |
| 7 | 3 Jul 1814 | Jane | BENNETT | Daughter | Thomas | Fanny | Wickhamford | Labourer | W S Rufford | |
| 8 | 3 Jul 1814 | Sarah | HOWSE | Daughter | - | Mary | Wickhamford | Spinster | W S Rufford | Illegitimate |
| 9 | 13 Feb 1815 | Anne | CLARKE | Daughter | Joseph | Elizabeth | Wickhamford | Labourer | W S Rufford | |
| 10 | 21 Feb 1815 | Lucy | HOUSE | Daughter | William | Mary | Wickhamford | Labourer | W S Rufford | |
| 11 | 11 Apr 1815 | Elizabeth | HAINS | Daughter | Thomas | Sarah | Wickhamford | Labourer | W S Rufford | |
| 12 | 20 Aug 1815 | Mary Anne | PHIPPS | Daughter | James | Anne | Wickhamford | Tailor | W S Rufford | |
| 13 | 30 Jan 1816 | Joseph | COOK | Son | Joseph | Elizabeth | Wickhamford | Labourer | W S Rufford | |
| 14 | 15 Sep 1816 | Richard | IVINS | Son | John | Elizabeth | Wickhamford | Labourer | W S Rufford | |
| 15 | 20 Sep 1816 | Ann | ROBBINS | Daughter | James | Elizabeth | Wickhamford | Labourer | Rev J Knight, Curate of Bengeworth | |
| 16 | 4 Oct 1816 | Ann | STOCKFORD | Daughter | Charles | Elizabeth | Wickhamford | Weaver | W S Rufford | |
| 17 | 20 May 1817 | William | CRANE | Son | William | Mary | Wickhamford | Servant | W S Rufford | |
| 18 | 15 Jun 1817 | Sarah | BELCHER | Daughter | William | Elizabeth | Wickhamford | Blacksmith | W S Rufford | |
| 19 | 11 Jan 1818 | George | TANDY | Son | John | Mary | Wickhamford | Labourer | W S Rufford | |
| 20 | 1 Feb 1818 | Maria | SQUIRES | Daughter | John | Ann | Wickhamford | Carpenter | W S Rufford | |
| 21 | 8 Feb 1818 | Betty | WINNIT | Daughter | Richard | Ann | Wickhamford | Labourer | W S Rufford | |
| 22 | 15 Feb 1818 | Richard | HOWSE | Son | William | Mary | Wickhamford | Labourer | W S Rufford | |
| 23 | 13 Mar 1818 | Marianne | SAWYER | Daughter | Albert | Alice | Wickhamford | Farmer | W S Rufford | |
| 24 | 31 May 1818 | Hannah | IVINS | Daughter | John | Elizabeth | Wickhamford | Labourer | W S Rufford | |
| 25 | 9 Aug 1818 | Sarah | TAYLOR | Daughter | John | Sarah | Wickhamford | Farmer | W S Rufford | |
| 26 | 20 Sep 1818 | George | ROBBINS | Son | James | Elizabeth | Wickhamford | Labourer | W S Rufford | |
| 27 | 20 Jun 1819 | Mary | KENT | Daughter | John | Mary | Wickhamford | Farmer | Cudworth Bruch, Minister | |
| 28 | 28 Dec 1819 | William | STINTON | Son | Thomas | Elizabeth | Sojourner in Wickhamford | Grocer | Cudworth Bruch, Minister | |
| 29a | 6 Jan 1820 | John | TANDY | Son | John | Mary | Wickhamford | Labourer | Cudworth Bruch, Minister | Privately baptized, received into church Jan 30; twin |
| 29b | 6 Jan 1820 | Mary | TANDY | Daughter | John | Mary | Wickhamford | Labourer | Cudworth Bruch, Minister | Privately baptized, received into church Jan 30; twin |
| 30 | 16 Jan 1820 | Sarah | FAULKNER | Daughter | John | Elizabeth | Wickhamford | Labourer | C Bruch, Curate | |
| 31 | - | - | - | - | - | - | - | - | - | [Crossed out; Clerk had started to enter the Tandy twins again] |
| 32 | - | - | - | - | - | - | - | - | - | [No entry] |
| 33 | 2 Apr 1820 | Maria | IVINS | Daughter | John | Elizabeth | Wickhamford | Labourer | C Bruch, Curate | |
| 34 | 16 Apr 1820 | Mary | HOWSE | Daughter | William | Mary | Wickhamford | Labourer | C Bruch, Curate | Privately baptized |
| 35 | 27 Apr 1820 | Mary | BELCHER | Daughter | William | Elizabeth | Wickhamford | Blacksmith | C Bruch, Curate | Privately baptized |
| 36 | 30 Jul 1820 | Mary | WINNIT | Daughter | Richard | Ann | Wickhamford | Labourer | Charles Bloxham, Curate | |
| 37 | 8 Oct 1820 | Frances | TAYLER | Daughter | John | Sarah | Wickhamford | Farmer | E Herbert, Officiating Minister | |
| 38 | 25 Mar 1821 | Jane | ROGERS | Daughter | Thomas | Hannah | Wickhamford | Labourer | Charles Bloxham, Curate | |
| 39 | 19 Aug 1821 | Ann | SHARPE | Daughter | Thomas | Elizabeth | Wickhamford | Labourer | Charles Bloxham, Curate | |
| 40 | 23 Oct 1821 | Henry | ROBBINS | Son | James | Elizabeth | Wickhamford | Labourer | Charles Bloxham, Curate | |
| 41 | 27 Nov 1821 | Anne | TOMLINSON | Daughter | Thomas | Judith | Wickhamford | Labourer | The Rev Mr Bracher, Vicar of Church Honeybourne | |
| 42 | 24 Dec 1821 | Richard? | KENT | Son | John | Mary | Wickhamford | Farmer | Charles Bloxham, Curate | |
| 43 | 20 Jan 1822 | William | BELCHER | Son | William | Elizabeth | Wickhamford | Labourer | Charles Bloxham, Curate | |
| 44 | 21 May 1822 | William | BENNET | Son | Thomas | Fanny | Wickhamford | Labourer | Charles Bloxham, Curate | |
| 45 | 23 Jun 1822 | Kezia | IVINS | Daughter | John | Elizabeth | Wickhamford | Labourer | The Rev Mr Bonaker, Vicar of Church Honeybourne | |
| 46 | 11 Aug 1822 | Susannah | HOWSE | Daughter | William | Mary | Wickhamford | Labourer | Charles Bloxham, Curate | |
| 47 | 15 Sep 1822 | Mary | ROGERS | Daughter | Thomas | Hannah | Wickhamford | Labourer | Charles Bloxham, Curate | |
| 48 | 2 Mar 1823 | Robert | TAYLOR | Son | John | Sarah | Wickhamford | Farmer | Charles Bloxham, Curate | |
| 49 | 9 Mar 1823 | John | WINNIT | Son | Richard | Ann | Wickhamford | Labourer | Charles Bloxham, Curate | |
| 50 | 13 Jul 1823 | William | GISBORNE | Son | George | Hannah | Wickhamford | Labourer | Charles Bloxham, Curate | |
| 51 | 31 Jul 1823 | Charlotte | SHARPE | Daughter | Thomas | Elizabeth | Wickhamford | Labourer | Charles Bloxham, Curate | |
| 52 | 14 Sep 1823 | John | FAULKENOR | Son | John | Sarah | Wickhamford | Yeoman | Charles Bloxham, Curate | |
| 53 | 7 Dec 1823 | Ann | ROBBINS | Daughter | James | Elizabeth | Wickhamford | Labourer | Charles Bloxham, Curate | |
| 54 | 4 Jan 1824 | Sarah | BELCHER | Daughter | William | Elizabeth | Wickhamford | Blacksmith | Charles Bloxham, Curate | |
| 55 | 14 Feb 1824 | Alice Sophia | SAWYER | Daughter | Albert | Alice | Wickhamford | Farmer | Charles Bloxham, Curate | |
| 56 | 23 May 1824 | Mary | FAULKENOR | Daughter | John | Elizabeth | Wickhamford | Labourer | Charles Bloxham, Curate | |
| 57 | 27 Jun 1824 | William | IVINS | Son | - | Elizabeth | Wickhamford | Labourer | Charles Bloxham, Curate | |
| 58 | 7 Oct 1824 | William | TOMLINSON | Son | Thomas | Judith | Wickhamford | Labourer | Charles Bloxham, Curate | |
| 59 | 19 Dec 1824 | John | HOWSE | Son | William | Mary | Wickhamford | Labourer | Charles Bloxham, Curate | |
| 60 | 22 Mar 1825 | Ann | IVINS | Daughter | John | Elizabeth | Wickhamford | Labourer | Charles Bloxham, Curate | |
| 61 | 3 Apr 1825 | Thomas | ROGERS | Son | Thomas | Hannah | Wickhamford | Labourer | Charles Bloxham, Curate | |
| 62 | 28 Aug 1825 | Elizabeth | HUNT | Daughter | Solomon | Maria | Wickhamford | Mill Wright | Charles Bloxham, Curate | |
| 63 | 2 Nov 1825 | Anne | BELCHER | Daughter | William | Elizabeth | Wickhamford | Blacksmith | Charles Bloxham, Curate | |
| 64 | 12 Feb 1826 | Ann | WINNIT | Daughter | Richard | Ann | Wickhamford | Labourer | Charles Bloxham, Curate | |
| 65 | 26 Feb 1826 | Thomas Leigh | FAULKENOR | Son | John | Sarah | Wickhamford | Yeoman | Charles Bloxham, Curate | |
| 66 | 12 Mar 1826 | William | TAYLOR | Son | John | Sarah | Wickhamford | Farmer | Charles Bloxham, Curate | |
| 67 | 17 Sep 1826 | Henry | GISBORNE | Son | George | Hannah | Wickhamford | Labourer | Charles Bloxham, Curate | |
| 68 | 1 Oct 1826 | Dinah | FAULKENOR | Daughter | John | Elizabeth | Wickhamford | Labourer | Charles Bloxham, Curate | |
| 69 | 25 Feb 1827 | Phebe | HOWSE | Daughter | William | Mary | Wickhamford | Labourer | Charles Bloxham, Curate | |
| 70 | 29 Jul 1827 | Thomas | TOMLINSON | Son | Thomas | Judith | Wickhamford | Labourer | Charles Bloxham, Curate | |
| 71 | 21 Oct 1827 | John | COOK | Son | John | Hannah | Wickhamford | Labourer | Charles Bloxham, Curate | |
| 72 | 28 Nov 1827 | Mary Anne | TAYLER | Daughter | Samuel | Ann | Wickhamford | Yeoman | Charles Bloxham, Curate | |
| 73 | 30 Nov 1827 | Samuel Richard | ROGERS | Son | Thomas | Hannah | Wickhamford | Labourer | Charles Bloxham, Curate | |
| 74 | 16 Mar 1828 | Mary | BELCHER | Daughter | William | Elizabeth | Wickhamford | Blacksmith | Charles Bloxham, Curate | |
| 75 | 6 May 1828 | Francis | TAYLOR | Son | John | Sarah | Wickhamford | Farmer | Charles Bloxham, Curate | |
| 76 | 26 Oct 1828 | Emma | WINNIT | Daughter | Richard | Elizabeth | Wickhamford | Labourer | Charles Bloxham, Curate | [Wife's name 'Fanny' in census] |
| 77 | 5 Jan 1829 | Edward | HALL | Son | - | Hannah | Wickhamford | Labourer | Charles Bloxham, Curate | |
| 78 | 7 Jun 1829 | William | HOWSE | Son | William | Mary | Wickhamford | Labourer | Charles Bloxham, Curate | |
| 79 | 5 Jul 1829 | Alice Sophia | FAULKENOR | Daughter | William | Elizabeth | Wickhamford | Labourer | Charles Bloxham, Curate | |
| 80 | 24 Jul 1829 | Patience | FAULKNOR | Daughter | Charles | Phoebe | Wickhamford | Labourer | Charles Bloxham, Curate | |
| 81 | 4 Dec 1829 | Eliza | SHARP | Daughter | Thomas | Mary | Wickhamford | Labourer | W Byrd, Curate of Hampton | |
| 82 | 31 Mar 1830 | Fanny | BELCHER | Daughter | William | Elizabeth | Wickhamford | Blacksmith | Charles Bloxham, Curate | |
| 83 | 9 May 1830 | Sarah Roberts | TAYLOR | Daughter | Joseph | Amelia | Wickhamford | Yeoman | Charles Bloxham, Curate | |
| 84 | 2 Jan 1831 | Harriet | TOMLINSON | Daughter | Thomas | Judith | Wickhamford | Labourer | Charles Bloxham, Curate | |
| 85 | 18 Sep 1831 | Thomas | WINNIT | Son | Richard | Elizabeth | Wickhamford | Labourer | Charles Bloxham, Curate | [Wife's name 'Fanny' in census] |
| 86 | 16 Oct 1831 | Ruth | FAULKNOR | Daughter | Charles | Phoebe | Wickhamford | Labourer | Charles Bloxham, Curate | |
| 87 | 8 Jan 1832 | John | BELCHER | Son | William | Elizabeth | Wickhamford | Blacksmith | Charles Bloxham, Curate | |
| 88 | 20 Feb 1832 | George | HOWSE | Son | William | Mary | Wickhamford | Labourer | Charles Bloxham, Curate | |
| 89 | 20 Feb 1832 | Sarah | HOWSE | Daughter | William | Mary | Wickhamford | Labourer | Charles Bloxham, Curate | |
| 90 | 6 Jun 1832 | Maria | FAULKENOR | Daughter | John | Elizabeth | Wickhamford | Labourer | Charles Bloxham, Curate | |
| 91 | 10 Jun 1832 | Harriet | SHARPE | Daughter | Thomas | Mary | Wickhamford | Labourer | Charles Bloxham, Curate | |
| 92 | 21 Nov 1832 | Ann | SEARS | Daughter | William | Mary | Wickhamford | Labourer | Charles Bloxham, Curate | |
| 93 | 4 Mar 1833 | John? | FAULKNOR | Son | Charles | Phoebe | Wickhamford | Labourer | Charles Bloxham, Curate | |
| 94 | 20 May 1833 | Charles | ROGERS | Son | Thomas | Hannah | Wickhamford | Labourer | Charles Bloxham, Curate | |
| 95 | 9 Jun 1833 | William | COOK | Son | | Mary | Wickhamford | Labourer | Charles Bloxham, Curate | |
| 96 | 30 Jun 1833 | Charles | HALL | Son | John | Elizabeth | Wickhamford | Labourer | Charles Bloxham, Curate | |
| 97 | 30 Sep 1833 | Jesse | TOMLINSON | Son | Thomas | Judith | Wickhamford | Labourer | Charles Bloxham, Curate | |
| 98 | 4 May 1834 | Robert | WINNIT | Son | Richard | Elizabeth | Wickhamford | Labourer | Charles Bloxham, Curate | [Wife's name 'Fanny' in census] |
| 99 | 28 May 1834 | Alice Lewis | SEARS | Daughter | William | Mary | Wickhamford | Labourer | Charles Bloxham, Curate | |
| 100 | 7 Jul 1834 | Elizabeth Anne | TIPPING | Daughter | William | Elizabeth | Wickhamford | Inn-Holder | Charles Bloxham, Curate | |
| 101 | 16 Aug 1834 | Joseph | BELCHER | Son | William | Elizabeth | Wickhamford | Blacksmith | Charles Bloxham, Curate | |
| 102 | 21 Dec 1834 | Orpah | FAULKENOR | Daughter | Charles | Phoebe | Wickhamford | Labourer | Charles Bloxham, Curate | |
| 103 | 19 Feb 1836 | Mary Susannah | SEERS | Daughter | William | Mary | Wickhamford | Labourer | Charles Bloxham, Curate | |
| 104 | 25 Mar 1836 | Thomas | SEERS | Son | Thomas | Sarah | Wickhamford | Labourer | Charles Bloxham, Curate | |
| 105 | 13 Apr 1836 | Rachel Selina Farmer | BENNETT | Daughter | - | Jane | Wickhamford | - | Charles Bloxham, Curate | |
| 106 | 25 Sep 1836 | Richard | WINNITT | Son | Richard | Elizabeth | Wickhamford | Labourer | Charles Bloxham, Curate | [Wife's name 'Fanny' in census] |
| 107 | 8 Jan 1837 | Jamar? | FAULKNER | Daughter | Charles | Phoebe | Wickhamford | Labourer | W Byrd, Officiating Minister | |
| 108 | 9 Mar 1837 | Charles Silvester | TIPPING | Son | William | Elizabeth | Wickhamford | Inn-Holder | Charles Bloxham, Curate | |
| 109 | | - | - | - | - | - | - | - | - | Baptisms under the new Act |
| 110 | 2 Jul 1837 | David | THOMLINSON | Son | Thomas | Judith | Wickhamford | Labourer | Charles Bloxham, Curate | |
| 111 | 29 Apr 1838 | John | SEERS | Son | Thomas | Sarah | Wickhamford | Labourer | Charles Bloxham, Curate | |
| 112 | 27 Aug 1838 | Anna | SEERS | Daughter | William | Mary | Wickhamford | Labourer | Charles Bloxham, Curate | |
| 113 | 8 Dec 1838 | David | WINNETT | Son | Richard | Elizabeth | Wickhamford | Labourer | Charles Bloxham, Curate | [Wife's name 'Fanny' in census] |
| 114 | 8 Dec 1838 | Margaret | WINNETT | Daughter | Richard | Elizabeth | Wickhamford | Labourer | Charles Bloxham, Curate | [Wife's name 'Fanny' in census] |
| 115 | 3 Mar 1839 | Wingfield John | SMITH | Son | Samuel | Sarah | Wickhamford | Miller | Charles Bloxham, Curate | |
| 116 | 3 Mar 1839 | Henry Francis | TIPPING | Son | William | Elizabeth | Wickhamford | Inn-Holder | Charles Bloxham, Curate | |
| 117 | 1 Jul 1839 | Jane Amelia | ROGERS | Daughter | John | Ann | Wickhamford | Labourer | T R Griffith, Curate | Private |
| 118 | 15 Sep 1839 | David | HOWSE | Son | Thomas | Hannah | Wickhamford | Labourer | T R Griffith, Curate | |
| 119 | 21 Jan 1840 | William | TOMLINSON | Son | Thomas | Judith | Wickhamford | Labourer | T R Griffith, Curate | |
| 120 | 18 Apr 1840 | Alice | FAULKNER | Daughter | - | Elizabeth | Wickhamford | - | T R Griffith, Curate | |
| 121 | 26 Sep 1841 | Mary | CRANE | Daughter | William | Sarah | Wickhamford | Labourer | Charles Phillott, Vicar of Wickhamford | |
| 122 | 10 Jan 1842 | Emma | HOWSE | Daughter | George | Hannah | Wickhamford | Labourer | T R Griffith, Curate | |
| 123 | 13 Mar 1842 | Rachel | SEERS | Daughter | William | Mary | Wickhamford | Labourer | T R Griffith, Curate | |
| 124 | 15 May 1842 | Keziah | SHILLOM | Daughter | William | Sarah | Wickhamford | Labourer | T R Griffith, Curate | |
| 125 | 31 Jul 1842 | Martha | HOWSE | Daughter | - | Mary | Wickhamford | - | T R Griffith, Curate | |
| 126 | 12 Feb 1843 | Ann | ANDREWS | Daughter | William | Elizabeth | Wickhamford | Labourer | T R Griffith, Curate | |
| 127 | 9 Jul 1843 | Eliza | SEARS | Daughter | Thomas | Sarah | Wickhamford | Labourer | T R Griffith, Curate | |
| 128 | 20 Aug 1843 | Ann | PETHARD | Daughter | John | Amelia | Wickhamford | Wheelwright | W Byrd, Officiating Minister | |
| 129 | 20 Aug 1843 | Sarah | PETHARD | Daughter | John | Amelia | Wickhamford | Wheelwright | W Byrd, Officiating Minister | |
| 130 | 23 Jun 1844 | Ellen | SHILLAM | Daughter | William | Sarah | Wickhamford | Labourer | T R Griffith, Curate | |
| 131 | 14 Jul 1844 | Jesse | HOWSE | Son | Thomas | Hannah | Wickhamford | Labourer | T R Griffith, Curate | |
| 132 | 14 Jul 1844 | Louisa | HOWSE | Daughter | Thomas | Hannah | Wickhamford | Labourer | T R Griffith, Curate | |
| 133 | 3 Nov 1844 | Sarah | SEARS | Daughter | William | Mary | Wickhamford | Labourer | T R Griffith, Curate | |
| 134 | 25 Dec 1844 | Jane | HOWES | Daughter | Richard | Elizabeth | Wickhamford | Labourer | H Roberts, Officiating Minister | |
| 135 | 3 Aug 1845 | Oliver | ROGERS | Son | John | Ann | Wickhamford | Labourer | H H Victor, Curate | |
| 136 | 12 Oct 1845 | William | CRANE | Son | William | Sarah | Wickhamford | Labourer | H H Victor, Curate | |
| 137 | 1 Mar 1846 | Hannah | PETHARD | Daughter | John | Amelia | Wickhamford | Wheelwright | H H Victor, Curate | |
| 138 | 31 May 1846 | George | SMITH | Son | Samuel | Sarah | Wickhamford | Miller | H H Victor, Curate | |
| 139 | 21 Jun 1846 | Stephen | HOWSE | Son | Thomas | Hannah | Wickhamford | Labourer | H H Victor, Curate | |
| 140 | 6 Sep 1846 | William | HOWSE | Son | Richard | Elizabeth | Wickhamford | Labourer | H H Victor, Curate | |
| 141 | 13 Sep 1846 | William | TOMLINSON | Son | Thomas | Judith | Wickhamford | Labourer | H H Victor, Curate | Aged 3 |
| 142 | 13 Sep 1846 | Mary | ANDREWS | Daughter | William | Elizabeth | Wickhamford | Labourer | H H Victor, Curate | Aged 2 |
| 143 | 13 Sep 1846 | Hannah | ANDREWS | Daughter | William | Elizabeth | Wickhamford | Labourer | H H Victor, Curate | |
| 144 | 13 Feb 1848 | Rose | ANDREWS | Daughter | William | Elizabeth | Wickhamford | Labourer | H H Victor, Curate | |
| 145 | 11 Jun 1848 | Thomas | ROGERS | Son | John | Anne | Wickhamford | Labourer | Godfrey Faussett, Officiating Minister | |
| 146 | 25 Jun 1848 | Elizabeth | SEARS | Daughter | William | Mary | Wickhamford | Labourer | Godfrey Faussett, Officiating Minister | |
| 147 | 27 Aug 1848 | Eliza | CRANE | Daughter | William | Sarah | Wickhamford | Labourer | E Boggis, Curate | |
| 148 | 11 Feb 1849 | Jane Sophia | ROGERS | Daughter | Thomas | Eliza | Wickhamford | Labourer | E Boggis, Curate | |
| 149 | 22 Jul 1849 | Anne | HALL | Daughter | Thomas | Elizabeth | Wickhamford | Labourer | E Boggis, Curate | |
| 150 | 3 Feb 1850 | Richard | ANDREWS | Son | William | Elizabeth | Wickhamford | Labourer | E Boggis, Curate | |
| 151 | 17 Feb 1850 | David | SEARS | Son | Thomas | Sarah | Wickhamford | Labourer | E Boggis, Curate | |
| 152 | 27 Oct 1850 | Verina Ann | HOWES | Daughter | Richard | Elizabeth | Wickhamford | Labourer | E Boggis, Curate | |
| 153 | 30 Mar 1851 | Julia | ROGERS | Daughter | Thomas | Eliza | Wickhamford | Labourer | E Boggis, Curate | |
| 154 | 11 May 1851 | Thomas | CRANE | Son | William | Sarah | Wickhamford | Labourer | E Boggis, Curate | |
| 155 | 25 Jan 1852 | William | ANDREWS | Son | William | Elizabeth | Wickhamford | Labourer | E Boggis, Curate | |
| 156 | 27 Feb 1853 | Benjamin | SEARS | Son | Thomas | Sarah | Wickhamford | Labourer | Thomas H Hunt, Incumbent | |
| 157 | 31 Jul 1853 | George Thomas | BENNETT | Son | William | Sarah Ann | Wickhamford | Labourer | Thomas H Hunt, Incumbent | |
| 158 | 31 Jul 1853 | William | BENNETT | Son | William | Sarah Ann | Wickhamford | Labourer | Thomas H Hunt, Incumbent | |
| 159 | 9 Oct 1853 | John | CRANE | Son | William | Sarah | Wickhamford | Labourer | Thomas H Hunt, Incumbent | |
| 160 | 24 Sep 1854 | Sarah Ann | TEAL | Daughter | Henry | Mary | Wickhamford | Labourer | Thomas H Hunt, Incumbent | |
| 161 | 22 Oct 1854 | Sarah | HALL | Daughter | Thomas | Elizabeth | Wickhamford | Labourer | Thomas H Hunt, Incumbent | |
| 162 | 5 Feb 1855 | Alfred | HILL | Son | James | Ann | Wickhamford | Labourer | Thomas H Hunt, Incumbent | PB |
| 163 | 1 Apr 1855 | Edward | WINNETT | Son | - | Elizabeth | Wickhamford | - | Thomas H Hunt, Incumbent | Aged 12; illegitimate |
| 164 | 24 Aug 1856 | Edward Blew | FLOYD | Son | Edward Laugher | Elizabeth | Badsey | Labourer | Thomas H Hunt, Incumbent | Posthumous son |
| 165 | 1 Mar 1857 | William Henry | DRINKWATER | Son | Henry | Sophia | Badsey | Labourer | Thomas H Hunt, Incumbent | |
| 166 | 21 Jun 1857 | Harriet Bennett | BROOKS | Daughter | James | Marianne | Wickhamford | Labourer | A H Red, Officiating Minister | Vide Badsey Baptismal Register for 1857 (page 84) - THH |
| 167 | 9 Aug 1857 | John Samuel | NIND | Son | John | Jane | Wickhamford | Farmer | Thomas H Hunt, Incumbent | |
| 168 | 28 Mar 1858 | Samuel | WARNER | Son | William | Ann | Wickhamford | Labourer | Thomas H Hunt, Incumbent | |
| 169 | 30 May 1858 | Elizabeth | HALL | Daughter | Thomas | Elizabeth | Wickhamford | Labourer | Thomas H Hunt, Incumbent | |
| 170 | 12 Dec 1858 | William | HEATH | Son | Charles | Alice | Wickhamford | Labourer | Thomas H Hunt, Incumbent | |
| 171 | 19 Dec 1858 | Mary | TAYLOR | Daughter | Robert | Esther | Wickhamford | Farmer | Thomas H Hunt, Incumbent | |
| 172 | 18 Jan 1859 | Ellen Mary | HOWSE | Daughter | Richard | Elizabeth | Wickhamford | Labourer | Thomas H Hunt, Incumbent | |
| 173 | 10 Apr 1859 | Annie Selina | CLINTON | Daughter | William | Martha | Wickhamford | Labourer | Thomas H Hunt, Incumbent | |
| 174 | 14 Aug 1859 | Frederick William | NIND | Son | John | Jane | Wickhamford | Farmer | Thomas H Hunt, Incumbent | |
| 175 | 25 Mar 1860 | Ann Maria | WARNER | Daughter | William | Ann | Wickhamford | Labourer | Thomas H Hunt, Incumbent | |
| 176 | 31 Mar 1861 | George | HALL | Son | Thomas | Elizabeth | Wickhamford | Labourer | Thomas H Hunt, Incumbent | |
| 177 | 5 May 1861 | Harry | TAYLOR | Son | Robert | Esther | Wickhamford | Farmer | Thomas H Hunt, Incumbent | |
| 178 | 4 Aug 1861 | Richard | EVANS | Son | - | Margaret | Badsey | Domestic Servant | Thomas H Hunt, Incumbent | |
| 179 | 8 Dec 1861 | Joseph | WINNETT | Son | - | Margaret | Wickhamford | - | Thomas H Hunt, Incumbent | |
| 180 | 25 Dec 1861 | Arthur William | NIND | Son | John | Jane | Wickhamford | Farmer | Thomas H Hunt, Incumbent | Wednesday, Christmas Day |
| 181 | 5 Nov 1862 | Sarah Anne | TAYLOR | Daughter | Job | Ellen | Wickhamford | Labourer | Thomas H Hunt, Incumbent | PB, 2 years old |
| 182 | 21 Dec 1862 | Frederick George | PETHARD | Son | George | Mary Ann | Wickhamford | Carpenter | Thomas H Hunt, Incumbent | |
| 183 | 1 Mar 1863 | Thomas | HOWES | Son | David | Emma | Wickhamford | Labourer | Thomas H Hunt, Incumbent | |
| 184 | 1 Mar 1863 | William | TAYLOR | Son | Job | Ellen | Wickhamford | Labourer | Thomas H Hunt, Incumbent | |
| 185 | 17 May 1863 | George Henry | CLINTON | Son | William | Martha | Wickhamford | Labourer | Thomas H Hunt, Incumbent | |
| 186 | 26 Jul 1863 | Alice Sophia | HALL | Daughter | Thomas | Elizabeth | Wickhamford | Labourer | Thomas H Hunt, Incumbent | |
| 187 | 31 Aug 1863 | John | TAYLOR | Son | Job | Ellen | Wickhamford | Labourer | Thomas H Hunt, Incumbent | Private Baptism |
| 188 | 13 Dec 1863 | Ann Elizabeth | NEWBURY | Daughter | Reuben | Leah | Wickhamford | Labourer | R Lawson, Incumbent of Offenham | |
| 189 | 31 Jan 1864 | Frank | WARNER | Son | William | Ann | Wickhamford | Labourer | Thomas H Hunt, Incumbent | |
| 190 | 17 Jul 1864 | Job Fryer | WINNETT | Son | Richard | Rebekah | Wickhamford | Labourer | H G Faussett, Incumbent of Littleton | |
| 191 | 25 Sep 1864 | Clara Louisa | BUTLER | Daughter | Samuel | Mary | Badsey | Labourer | Henry S Wright, Officiating Minister | |
| 192 | 16 Mar 1865 | Amelia Ann | WALLACE | Daughter | Thomas | Mary | Wickhamford | Labourer | J Hartley, Vicar of Childswickham | PB |
| 193 | 16 Apr 1865 | Albert | HOWES | Son | David | Emma | Wickhamford | Labourer | Thomas H Hunt, Incumbent | |
| 194 | 24 Jan 1866 | William Henry | FURNESS? | Son | William | Mary | Wickhamford | Labourer | S E Marsden, Officiating Minister | PB |
| 195 | 4 Feb 1866 | James | GLOVER | Son | William | Sarah Ann | Wickhamford | Labourer | Thomas H Hunt, Incumbent | |
| 196 | 4 Mar 1866 | Emma | WINNETT | Daughter | Richard | Rebecca | Wickhamford | Labourer | Thomas H Hunt, Incumbent | |
| 197 | 1 Apr 1866 | Elizabeth | WARNER | Daughter | William | Ann | Wickhamford | Labourer | Thomas H Hunt, Incumbent | Easter Sunday |
| 198 | 23 Dec 1866 | Ann | FISHER | Daughter | David | Ann | Bucks, Stantonbury, Wolverton | Mechanic | Thomas H Hunt, Incumbent | |
| 199 | 23 Dec 1866 | Esther | FISHER | Daughter | David | Ann | Bucks, Stantonbury, Wolverton | Mechanic | Thomas H Hunt, Incumbent | |