Burials – Wickhamford, 1813-1966, Church of St John the Baptist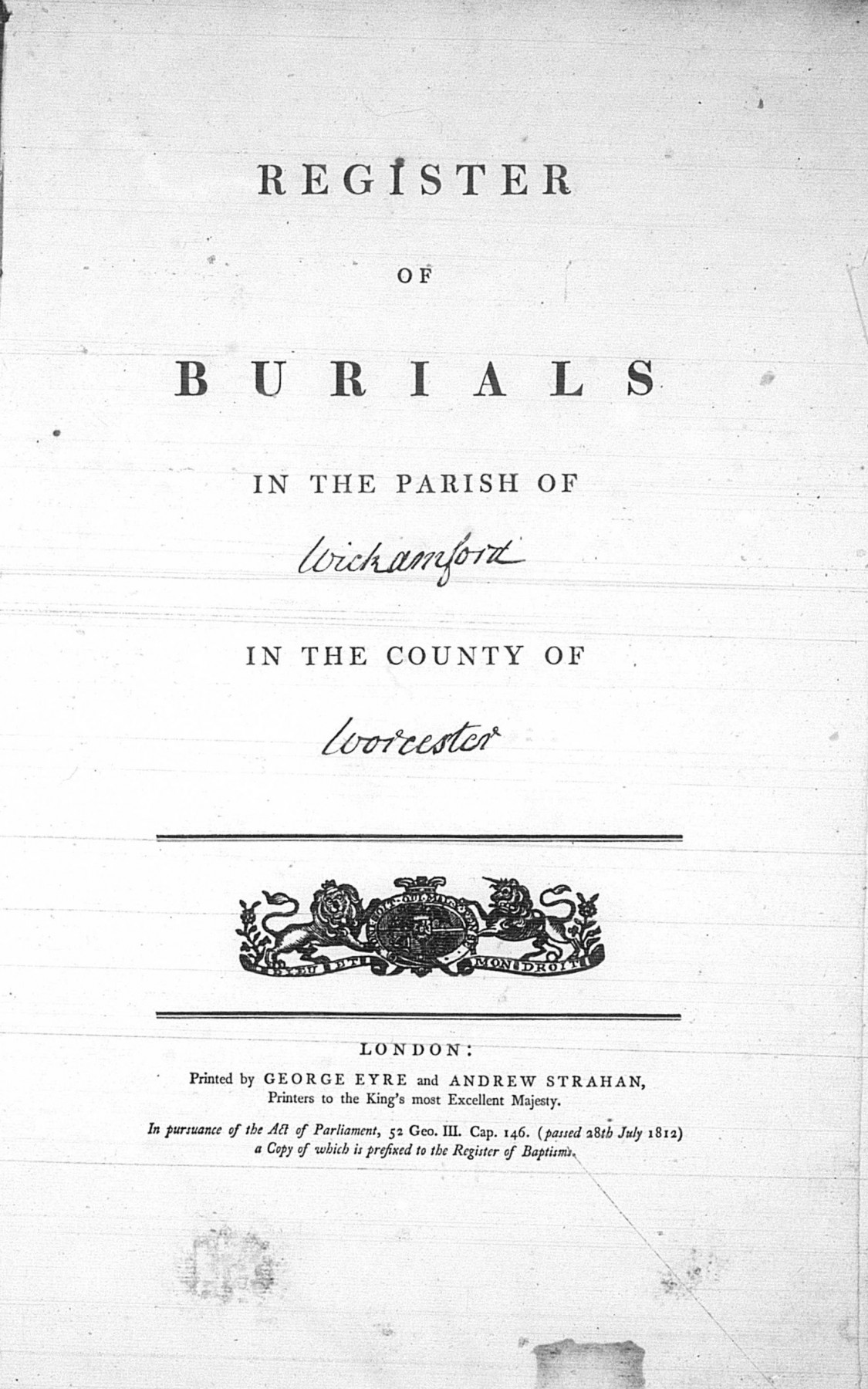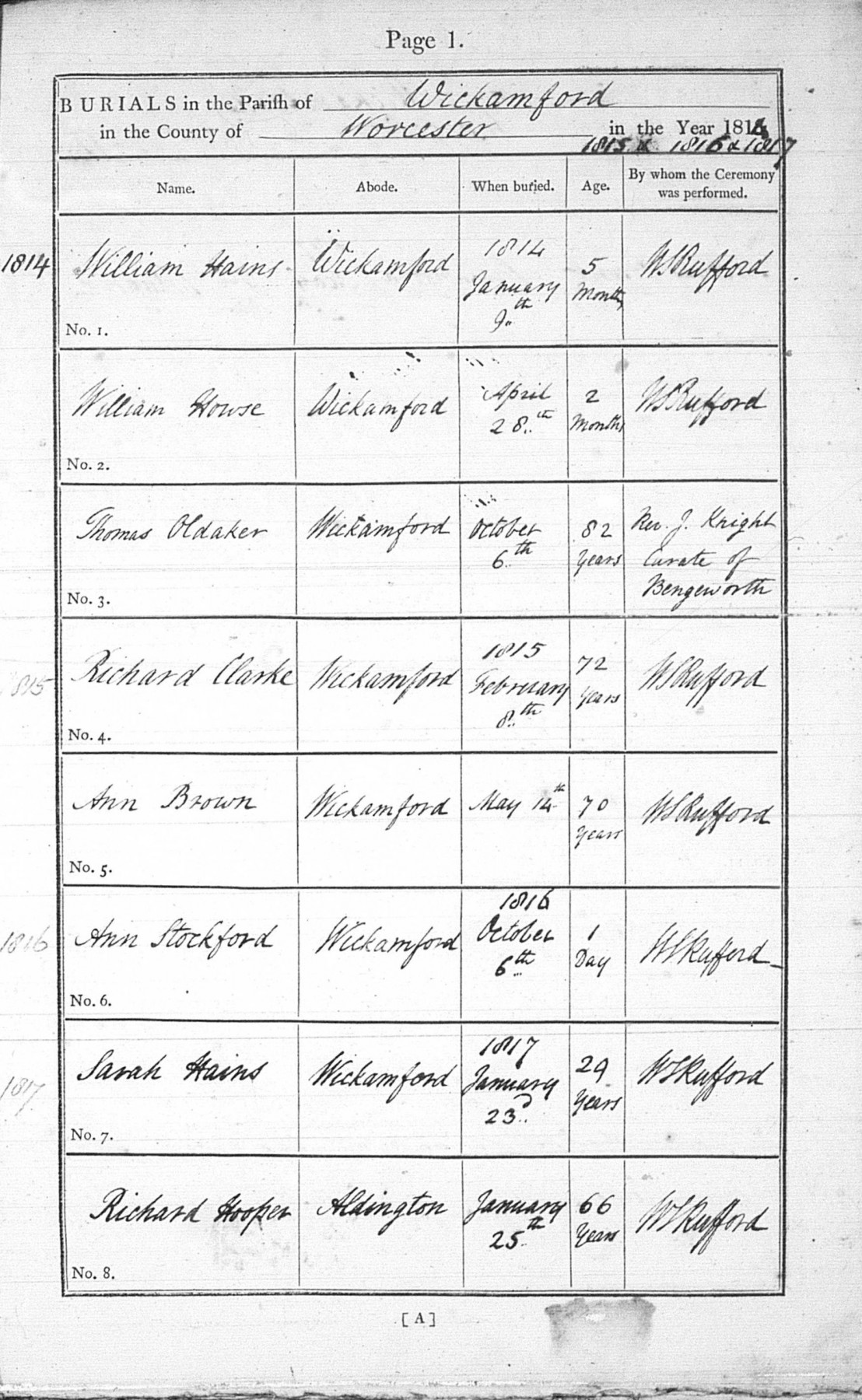 From 1814 the new style of pre-printed parish burial register was used.  The last entry was in 1966; by then, the new Parish Council Burial Ground, which had opened in February 1957, was being used increasingly for burials.
Information obtained from monumental inscriptions or from the Parish Magazine reveal that, after 1966, there were a few burials or interment of ashes in a family plot in the churchyard:  Theodore James Moisey (1969), Jesse Colley (1969), Gwendoline Emma Hancock (1976), Vera Winifred Lawley (1978), Ethel Colley (1978), Avice Marguerite George Murray-White (2000), Derick James Mitchell (2001), Arthur Raymond Bailey (2002), Barbara & Robert Sprintall (1994 & 2004).
In the final "Notes" column, the notes are as written in the parish register, unless they are in square brackets, in which case they are Badsey Society comments.
| Entry no. | Date of Burial | Forenames | Surname | Abode | Age | Officiant | Notes |
| --- | --- | --- | --- | --- | --- | --- | --- |
| 1 | 9 Jan 1814 | William | HAINS | Wickhamford | 5 mths | W S Rufford | |
| 2 | 28 Apr 1814 | William | HOWSE | Wickhamford | 2 mths | W S Rufford | |
| 3 | 6 Oct 1814 | Thomas | OLDAKER | Wickhamford | 82 | Rev J Knight, Curate of Bengeworth | |
| 4 | 8 Feb 1815 | Richard | CLARKE | Wickhamford | 72 | W S Rufford | |
| 5 | 14 May 1815 | Ann | BROWN | Wickhamford | 70 | W S Rufford | |
| 6 | 6 Oct 1816 | Ann | STOCKFORD | Wickhamford | 1 day | W S Rufford | |
| 7 | 23 Jan 1817 | Sarah | HAINS | Wickhamford | 29 | W S Rufford | |
| 8 | 25 Jan 1817 | Richard | HOOPER | Aldington | 66 | W S Rufford | |
| 9 | 20 May 1817 | Thomas | HUNT | Wickhamford | 74 | W S Rufford | |
| 10 | 5 Mar 1819 | Mary | FAIRFAX | Wickhamford | 11 | Rev Mr Cooper, Vicar of Evesham, Officiating Minister | |
| 11 | 22 July 1819 | Jane | FARFOX | Wickhamford | 20 | Mr Eeds, Harvington, Officiating Minister | |
| 12 | 17 Feb 1820 | Mary | SANDY | Wickhamford | 2 mths | C Bruch, Curate | |
| 13 | 13 Apr 1821 | Sarah | TAYLOR | Wickhamford | 84 | Charles Bloxham, Curate | [86 on gravestone] |
| 14 | 18 June 1821 | Mary | CRANE | Wickhamford | 38 | Charles Bloxham, Curate | |
| 15 | 28 Oct 1822 | Mary | TANDY | Badsey | 29 | Charles Bloxham, Curate | |
| 16 | 25 Aug 1823 | Mary | CLARKE | Wickhamford | 72 | Charles Bloxham, Curate | |
| 17 | 17 Oct 1823 | Mary | TAYLOR | Wickhamford | 63 | Charles Bloxham, Curate | [64 on gravestone] |
| 18 | 20 Aug 1824 | Elizabeth | SHARPE | Wickhamford | 27 | Charles Bloxham, Curate | |
| 19 | 11 Feb 1825 | Elizabeth | NEALE | Mickleton, Gloucestershire | 71 | Charles Bloxham, Curate | |
| 20 | 12 Mar 1825 | Elizabeth | SQUIRES | Wickhamford | 8 mths | Charles Bloxham, Curate | |
| 21 | 7 Apr 1825 | Ann | STINS | Wickhamford | 5 wks | Charles Bloxham, Curate | |
| 22 | 8 Aug 1825 | Elizabeth | STINS | Wickhamford | 40 | Charles Bloxham, Curate | |
| 23 | 28 Sept 1825 | Edward | FISHER | Childswickham | 48 | Charles Bloxham, Curate | |
| 24 | 7 Feb 1826 | Elizabeth | ROBBINS | Wickhamford | 40 | Charles Bloxham, Curate | |
| 25 | 12 Sept 1826 | Ann | WINNIT | Wickhamford | 4 mths | Charles Bloxham, Curate | |
| 26 | 12 Sept 1826 | Joseph | COOK | Wickhamford | 10 | Charles Bloxham, Curate | |
| 27 | 3 Jan 1827 | Anne | HUNT | Littleton | 77 | Charles Bloxham, Curate | |
| 28 | 27 Jan 1827 | Ann | WINNIT | Wickhamford | 37 | Charles Bloxham, Curate | |
| 29 | 29 Apr 1828 | Samuel Richard | ROGERS | Wickhamford | 5 mths | W Byrd, Officiating Minister | |
| 30 | 19 July 1828 | Jane | ROGERS | Wickhamford | 7 | Charles Bloxham, Curate | |
| 31 | 7 Jan 1829 | Ann | HALL | Wickhamford | 20 | Charles Bloxham, Curate | |
| 32 | 20 Jan 1829 | Edward | HALL | Wickhamford | 13 days | Charles Bloxham, Curate | |
| 33 | 8 Feb 1829 | Thomas | SEERS | Wickhamford | 67 | Charles Bloxham, Curate | By leave of the Coroner's request |
| 34 | 5 Apr 1829 | Sarah | TAYLOR | Wickhamford | 11 | Charles Bloxham, Curate | |
| 35 | 11 Sept 1829 | Charles Lot | FAULKENOR | Wickhamford | 10 mths | Charles Bloxham, Curate | |
| 36 | 4 Nov 1829 | William | TOMLINSON | Wickhamford | 5 | W Byrd, Officiating Minister | |
| 37 | 1 Dec 1829 | John | VINER | Wickhamford | 81 | Charles Bloxham, Curate | |
| 38 | 31 Mar 1830 | Mary | BARNES | Wickhamford | 77 | Charles Bloxham, Curate | |
| 39 | 11 May 1830 | Albert | SAWYER | Wickhamford | 45 | Charles Bloxham, Curate | |
| 40 | 13 Dec 1831 | John | SHARPE | Wickhamford | 65 | Charles Bloxham, Curate | |
| 41 | 14 Mar 1832 | Mary | HOWSE | Wickhamford | 39 | Rev Wm Byrd, Curate of Hampton | |
| 42 | 20 Mar 1832 | Marian | SAWYER | Wickhamford | 14 | Charles Bloxham, Curate | |
| 43 | 11 Apr 1832 | George | HOWSE | Wickhamford | 7 wks | Charles Bloxham, Curate | |
| 44 | 15 Apr 1832 | Sarah | HOWSE | Wickhamford | 8 wks | Charles Bloxham, Curate | |
| 45 | 22 Oct 1832 | Ruth | FAULKENOR | Wickhamford | 17 mths | Rev Wm Byrd, Officiating Minister | |
| 46 | 17 Apr 1834 | Mark | COOK | Wickhamford | 27 | Charles Bloxham, Curate | |
| 47 | 18 Oct 1834 | Mary | SHERWOOD | Aldington | 23 mths | Charles Bloxham, Curate | |
| 48 | 15 Feb 1835 | Luke | JENNINGS | Wickhamford | 75 | Charles Bloxham, Curate | |
| 49 | 4 May 1835 | Mary | SIMPSON | Wickhamford | 63 | Charles Bloxham, Curate | |
| 50 | 18 May 1835 | Job Charles | ROGERS | Wickhamford | 2 | Charles Bloxham, Curate | |
| 51 | 8 June 1835 | Mary | SHARPE | Wickhamford | 30 | Charles Bloxham, Curate | |
| 52 | 10 Nov 1835 | George | HALL | Wickhamford | 32 | Charles Bloxham, Curate | |
| 53 | 8 Jan 1836 | Joseph | COOK | Wickhamford | 65 | Charles Bloxham, Curate | |
| 54 | 14 Feb 1837 | Idy | SHARPE | Wickhamford | 77 | Charles Bloxham, Curate | |
| 55 | 21 Feb 1837 | Ann | PROVIS | Wickhamford | 83 | Charles Bloxham, Curate | |
| 56 | 12 June 1837 | Benjamin | SMITH | Offenham | 40 | Charles Bloxham, Curate | |
| 57 | 3 Sept 1837 | Alice | FAULKENOR | Wickhamford | 8 | Charles Bloxham, Curate | |
| 58 | 10 Mar 1838 | Catherine | ROBBINS | Wickhamford | 65 | Charles Bloxham, Curate | |
| 59 | 23 June 1838 | Mary Ann | SMITH | Offenham | 19 | Charles Bloxham, Curate | |
| 60 | 23 Nov 1838 | Alice Sophia | SAWYER | Wickhamford | 15 | Charles Bloxham, Curate | |
| 61 | 31 Apr 1839 | Amelia | SEARS | Wickhamford | 2 | Charles Bloxham, Curate | [Curate has written 31 April; presume he meant 30 April] |
| 62 | 17 Oct 1839 | Joseph | TAYLOR | Wickhamford | 41 | Charles Phillott, Vicar of Wickhamford | |
| 63 | 28 Jun 1840 | Alice | FAULKNER | Wickhamford | 2 mths | T G Griffith, Curate | |
| 64 | 16 Aug 1840 | Elizabeth | FAULKNER | Wickhamford | 47 | T G Griffith, Curate | |
| 65 | 10 Feb 1841 | John | STINTON | Wickhamford | 55 | Wm Byrd, Officiating Minister | |
| 66 | 16 Apr 1841 | Phebe | STINTON | Wickhamford | 83 | T G Griffith, Curate | |
| 67 | 27 Apr 1841 | Sarah | EDWARDS | Wickhamford | 65 | T G Griffith, Curate | |
| 68 | 13 May 1841 | Thomas | SHARPE | Wickhamford | 42 | T G Griffith, Curate | |
| 69 | 25 May 1841 | Thomas | TAYLOR | Wickhamford | 82 | T G Griffith, Curate | |
| 70 | 4 July 1842 | William | HORSLEY | Wickhamford | Not given | T G Griffith, Curate | |
| 71 | 20 Nov 1842 | John | SEARS | Cheltenham | 46 | T G Griffith, Curate | |
| 72 | 10 Jan 1843 | James | VINER | Wickhamford | 46 | T G Griffith, Curate | |
| 73 | 12 Nov 1843 | Joseph | SIMPSON | Wickhamford | 36 | T G Griffith, Curate | |
| 74 | 18 Feb 1844 | Henry | STANTON | Wickhamford | 78 | T G Griffith, Curate | |
| 75 | 17 July 1845 | Jesse | HOWSE | Wickhamford | 16 mths | H H Victor, Curate | |
| 76 | 10 May 1846 | John | EVANS | Wickhamford | 81 | H H Victor, Curate | |
| 77 | 4 July 1846 | Stephen | HOWSE | Wickhamford | 6 wks | H H Victor, Curate | |
| 78 | 24 Aug 1846 | John | FERNEYHOUGH | Wickhamford | 20 | H H Victor, Curate | |
| 79 | 20 Apr 1847 | Thomas | BARNES | Bretforton | 95 | H H Victor, Curate | |
| 80 | 6 Feb 1848 | Thomas | ROGERS | Wickhamford | 79 | H H Victor, Curate | |
| 81 | 7 Mar 1848 | Lydia | LEANETT | Traveller | 4 | H H Victor, Curate | |
| 82 | - | - | - | - | - | - | [A Badsey burial entered in error and crossed out] |
| 83 | 11 Apr 1849 | John | PETHARD | Wickhamford | 42 | E Boggis, Curate | |
| 84 | 24 May 1849 | Thomas | BENNET | Wickhamford | 67 | E Boggis, Curate | |
| 85 | 7 July 1849 | Betty | SEARS | Wickhamford | 82 | E Boggis, Curate | |
| 86 | 19 Aug 1849 | Elizabeth | PETHARD | Wickhamford | 15 | E Boggis, Curate | |
| 87 | 12 Mar 1852 | John | TAYLOR | Wickhamford | 64 | E Boggis, Curate | |
| 88 | 1 Nov 1852 | William | SEARS | Wickhamford | 53 | Thomas H Hunt, Incumbent | |
| 89 | 1 Mar 1853 | Sarah | TAYLOR | Alderton | 9 mths | Thomas H Hunt, Incumbent | |
| 90 | 14 June 1853 | Thomas | STEWART | Wickhamford (from Evesham Union) | 82 | Robert Lawson of Offenham | |
| 91 | 17 July 1854 | Sarah | TAYLOR | Wickhamford (from Murcot) | 27 | T H Hunt, Incumbent | |
| 92 | 27 Apr 1855 | Jane Amelia | ROGERS | Wickhamford | 15 | Robert Lawson, Officiating Minister | |
| 93 | 8 Apr 1856 | Sarah | CRANE | Wickhamford | 36 | T H Hunt, Incumbent | |
| 94 | 27 May 1856 | William | PETHARD | Wickhamford | 20 | T H Hunt, Incumbent | |
| 95 | 24 June 1856 | Samuel | TAYLOR | Wickhamford | 58 | T H Hunt, Incumbent | |
| 96 | 9 Oct 1856 | Francis | SMITH | Aldington | 44 | W Byrd, Officiating Minister | |
| 97 | 1 Nov 1857 | Richard | WINNETT | Wickhamford | 78 | T H Hunt, Incumbent | |
| 98 | 12 Nov 1857 | Amelia | TAYLOR | Oden | 66 | T H Hunt, Incumbent | |
| 99 | 4 Feb 1858 | Elizabeth | HALL | Wickhamford | 52 | G S Morris of Bretforton | |
| 100 | 25 Apr 1858 | Fanny | BENNETT | Wickhamford (Evesham Union) | 69 | T H Hunt, Incumbent | |
| 101 | 12 Apr 1859 | Joseph | WARNER | Wickhamford | 5 | T H Hunt, Incumbent | |
| 102 | 31 Aug 1859 | Jane | EVANS | Evesham Union | 73 | T H Hunt, Incumbent | |
| 103 | 21 Oct 1859 | Frederick William | NIND | Wickhamford | 15 wks | T H Hunt, Incumbent | |
| 104 | 4 Oct 1860 | Thomas | TAYLOR | Wickhamford (Evesham Union) | 44 | Charles R Powys | |
| 105 | 12 Dec 1860 | Henry | TAYLOR | Wickhamford | Infant | T H Hunt, Incumbent | |
| 106 | 22 Oct 1862 | Jane | NIND | Wickhamford | 64 | T H Hunt, Incumbent | |
| 107 | 10 Nov 1862 | Sarah Ann | TAYLOR | Wickhamford | 2 | T H Hunt, Incumbent | |
| 108 | 8 Sept 1863 | John | TAYLOR | Wickhamford | Infant | T H Hunt, Incumbent | |
| 109 | 17 Nov 1863 | Hannah | HALL | Wickhamford | 83 | T H Hunt, Incumbent | |
| 110 | 18 Dec 1863 | Elizabeth | COOK | Willersey | 88 | T H Hunt, Incumbent | |
| 111 | 15 Mar 1865 | Charles | HALL | Wickhamford | 85 | T H Hunt, Incumbent | |
| 112 | 22 July 1865 | Mary | SMITH | Wickhamford | 52 | T H Hunt, Incumbent | |
| 113 | 26 Jan 1866 | William Henry | FURNESS | Wickhamford | Infant | S E Marsden, Officiating Minister | |
| 114 | 23 July 1866 | Elijah | HOWES | Wickhamford | 28 | T H Hunt, Incumbent | |
| 115 | 3 Jan 1867 | Amelia | PETHARD | Wickhamford | Infant | T H Hunt, Incumbent | |
| 116 | 7 Jan 1867 | Sarah | SEARS | Wickhamford | 22 | T H Hunt, Incumbent | Died 2nd January 1867 |
| 117 | 19 Jan 1867 | William | HOWES | Wickhamford | 78 | T H Hunt, Incumbent | |
| 118 | 6 Mar 1868 | Mary Ann | PETHARD | Wickhamford | 28 | T H Hunt, Incumbent | |
| 119 | 9 Mar 1868 | William | TAYLOR | Wickhamford | 27 | G S Morris, Officiating Minister | |
| 120 | 18 Apr 1868 | John | GLOVER | Wickhamford | 3 | T H Hunt, Incumbent | |
| 121 | 19 June 1868 | Robert | WELLS | Wickhamford | 39 | T H Hunt, Incumbent | |
| 122 | 8 July 1868 | Rachel | PARKER | Wickhamford | 17 | T H Hunt, Incumbent | |
| 123 | 10 Jan 1869 | William | WARNER | Wickhamford | 59 | T H Hunt, Incumbent | |
| 124 | 5 Oct 1869 | Elizabeth Willis | ROBINS | Wickhamford | 83 | T H Hunt, Incumbent | [Robbins and aged 81 in Death Register] |
| 125 | 18 Mar 1870 | Fanny | TAYLOR | Evesham Union | 20 | T H Hunt, Incumbent | |
| 126 | 26 Mar 1870 | Caroline | BENNETT | Wickhamford | 16 | T H Hunt, Incumbent | |
| 127 | 28 Sept 1870 | Ann | TAYLOR | Wickhamford | 65 | T H Hunt, Incumbent | |
| 128 | 11 July 1871 | John | FAULKENER | Wickhamford | 77 | T H Hunt, Incumbent | |
| 129 | 22 Sept 1871 | Jane | GLOVER | Wickhamford | 2 wks | T H Hunt, Incumbent | |
| 130 | 11 Sept 1872 | Ann | COOK | Wickhamford | 68 | T H Hunt, Incumbent | |
| 131 | 7 Mar 1873 | Mary Elizabeth | WINNETT | Wickhamford | 9 days | T H Hunt, Incumbent | |
| 132 | 21 July 1873 | Thomas | TOMLINSON | Wickhamford | 74 | T H Hunt, Incumbent | Died 17 July 1873 |
| 133 | 25 Feb 1874 | Thomas | ROBERTS | Wickhamford | 11 wks | J G Knapp, Officiating Minister | |
| 134 | 7 May 1875 | Sarah Ann | GLOVER | Broadway | 37 | G S Morris, Officiating Minister | |
| 135 | 15 Jan 1876 | Mary Ann | TAYLOR | Smallbrook, Broadway | 29 | T H Hunt, Incumbent | |
| 136 | 9 Mar 1876 | Thomas | MARSHALL | Wickhamford | 15 | G S Morris, Officiating Minister | |
| 137 | 2 Apr 1876 | Martha | HOWSE | Wickhamford | 32 | T H Hunt, Incumbent | |
| 138 | 26 Apr 1877 | Thomas | HOWSE | Wickhamford | 65 | T H Hunt, Incumbent | |
| 139 | 30 May 1877 | Robert | WINNETT | Wickhamford | Infant | Wm Harker, Officiating Minister | |
| 140 | 1 Apr 1878 | Sarah | TAYLOR | Wickhamford | 83 | T H Hunt, Incumbent | |
| 141 | 18 Jan 1879 | William | COOK | Wickhamford | 73 | T H Hunt, Incumbent | |
| 142 | 22 Aug 1879 | Samuel | SMITH | Wickhamford Mill | 70 | T H Hunt, Incumbent | |
| 143 | 24 Sept 1879 | Richard | MALLETT | Wickhamford | 47 | T H Hunt, Incumbent | |
| 144 | 22 Dec 1881 | Lydia Jane Rebecca | WINNETT | Wickhamford | 3 wks | T H Hunt, Incumbent | |
| 145 | 31 Dec 1881 | John | HALL | Wickhamford | 76 | T H Hunt, Incumbent | |
| 146 | 6 May 1882 | Edward William | POPE | Wickhamford (Manor House) | 33 | T H Hunt, Incumbent | |
| 147 | 23 Apr 1884 | William Henry | SMITH | Broadway | 71 | T H Hunt, Incumbent | |
| 148 | 15 Sept 1884 | Mary Jane | FARMAN | Wickhamford | Infant | T H Hunt, Incumbent | |
| 149 | 20 Oct 1884 | Ann | DAVIES | Wickhamford | 56 | T H Hunt, Incumbent | |
| 150 | 30 Oct 1884 | Ann | TAYLOR | Beckford | 87 | G S Morris, Officiating Minister | |
| 151 | 20 Jan 1885 | Thomas | HALL | Wickhamford | 70 | T H Hunt, Incumbent | |
| 152 | 28 Sept 1885 | John | TAYLOR | Wickhamford | 70 | T H Hunt, Incumbent | |
| 153 | 2 May 1886 | Mary | HALL | Wickhamford | 83 | T H Hunt, Incumbent | |
| 154 | 1 July 1887 | Caroline | HARDIMAN | Wickhamford | 24 | T H Hunt, Incumbent | |
| 155 | 1 July 1887 | Caroline | HARDIMAN | Wickhamford | Infant | T H Hunt, Incumbent | Daughter of above buried in same grave |
| 156 | 11 Oct 1887 | John | GREEN | Wickhamford | 52 | Sealey Poole | |
| 157 | 4 Apr 1888 | George | SMITH | Wickhamford Mill | 41 | C G Gepp, Vicar | |
| 158 | 22 Sept 1888 | Walter | BROOKES | Wickhamford | 4 mths | C G Gepp, Vicar | |
| 159 | 1 Dec 1888 | Judith | TOMLINSON | Wickhamford | 87 | C G Gepp, Vicar | |
| 160 | 2 Mar 1889 | Elizabeth | GLOVER | Wickhamford | 85 | C G Gepp, Vicar | |
| 161 | 21 Mar 1889 | Israel | DAVIS | Wickhamford | 56 | C G Gepp, Vicar | |
| 162 | 6 May 1889 | Richard | SMITH | Wickhamford | 54 | P Cronin, Officiating Clergyman | |
| 163 | 6 May 1889 | Hannah | HOWES | Wickhamford | 79 | P Cronin, Officiating Clergyman | |
| 164 | 6 Jan 1890 | Elsie Elizabeth | BAILEY | Wickhamford | 5 mths | C G Gepp, Vicar | |
| 165 | 11 Mar 1890 | Richard | HOWSE (or HOWES) | Wickhamford | 72 | C G Gepp, Vicar | [Charles Gepp has added the alternative name in brackets] |
| 166 | 3 May 1890 | Arthur Ernest | BROOKES | Wickhamford | 6 mths | C G Gepp, Vicar | |
| 167 | 26 May 1890 | John | TAYLOR | Wickhamford | 6 days | C G Gepp, Vicar | |
| 168 | 24 June 1890 | John | FINCH | Wickhamford (died at Evesham Union Workhouse) | 63 | F S Taylor, Vicar of Littleton, Officiating Minister | |
| 169 | 21 Apr 1891 | Amelia | PETHARD | Banbury (formerly of Wickhamford) | 80 | W H Shawcross, Vicar of Bretforton | |
| 170 | 14 July 1891 | Sarah Jane | MASON | Wickhamford | 20 | C G Gepp, Vicar | |
| 171 | 26 Jan 1892 | John | GLOVER | Evesham Union (formerly of Wickhamford) | 89 | C G Gepp, Vicar | |
| 172 | 9 Aug 1893 | Rose Annie | AGG | Wickhamford | 7 wks | C G Gepp, Vicar | |
| 173 | 3 Oct 1893 | Edgar William | DAVIS | Greenhill, Evesham | 4 | C G Gepp, Vicar | |
| 174 | 5 Apr 1894 | Charles | FORD | Manor Farm, Wickhamford | 4 days | C G Gepp, Vicar | |
| 175 | 25 May 1894 | Jesse | TOMLINSON | Evesham Union (formerly of Wickhamford) | 60 | C G Gepp, Vicar | |
| 176 | 18 July 1894 | Sarah | SMITH | Wickhamford Mill | 81 | C G Gepp, Vicar | |
| 177 | 4 May 1897 | Robert | SMITH | Wickhamford | 26 | W H Price, Vicar Designate of Wickhamford | |
| 178 | 1 Feb 1898 | Lilian | BAILEY | Wickhamford | 2 wks | W H Price, Vicar | |
| 179 | 26 Mar 1898 | Dorothy Mary | GROVE | Wickhamford | 1 mth | W H Price, Vicar | |
| 180 | 7 Apr 1899 | Elizabeth | HOWES | Wickhamford | 76 | W H Price, Vicar | |
| 181 | 17 Apr 1899 | Hannah | FINCH | From the Evesham Union Workhouse | 84 | W H Price, Vicar | |
| 182 | 23 Aug 1899 | Charles | HARDIMAN | Wickhamford | 88 | Frank S Taylor, Vicar of Littleton, Officiating Minister | By Coroner's order |
| 183 | 4 Jan 1900 | Albert | ANDREWS | From the Evesham Union Workhouse | 57 | Frank S Taylor, Vicar of Littleton, Officiating Minister | |
| 184 | 25 Aug 1900 | Edgar William | PETHARD | Wickhamford | 36 | W H Price, Vicar | |
| 185 | 28 Oct 1901 | Sophia | PEARSON | The Mill, Wickhamford | 75 | W H Price, Vicar | |
| 186 | 12 Nov 1901 | Rebecca | STAITE | Wickhamford | 56 | W H Price, Vicar | |
| 187 | 11 Jan 1902 | Tom James William | FARMAN | The Fleece Yard, Evesham | 16 | W H Price, Vicar | |
| 188 | 26 Feb 1902 | Frederick Charles | ANDREWS | Wickhamford | 8 mths | W H Price, Vicar | |
| 189 | 15 Mar 1904 | Samuel | WHEATLEY | Wickhamford (died at Evesham Union Workhouse) | 80 | W C Allsebrook, Vicar | |
| 190 | 15 May 1904 | Maria | NEWMAN | Wickhamford | 63 | W C Allsebrook, Vicar | |
| 191 | 15 Dec 1904 | James Cecil | LLOYD | Wickhamford | 21 mths | W C Allsebrook, Vicar | |
| 192 | 17 Oct 1905 | William James | JONES | Wickhamford | 6 mths | W C Allsebrook, Vicar | |
| 193 | 5 Mar 1906 | John | LAWLEY | Wickhamford | 66 | W C Allsebrook, Vicar | |
| 194 | 3 May 1906 | Rebecca Fryer | WINNETT | Wickhamford | 62 | W C Allsebrook, Vicar | |
| 195 | 15 Nov 1906 | Annie Louise | HACKLETT | Wickhamford | 29 | W C Allsebrook, Vicar | |
| 196 | 9 Oct 1907 | - | MALIN | Wickhamford | 37 hours | No religious ceremony | The infant daughter of John and Louisa Malin; coroner's Order |
| 197 | 24 Ap 1908 | Lesley | STEVENS | Wickhamford | 11 days | W C Allsebrook, Vicar | |
| 198 | 6 May 1908 | William | HARTWELL | Wickhamford | 57 | W C Allsebrook, Vicar | |
| 199 | 21 May 1908 | John | AGG | Wickhamford | 20 | W C Allsebrook, Vicar | |
| 200 | 14 Oct 1908 | Doris | JONES | Wickhamford | 8 days | W C Allsebrook, Vicar | |