When Syd Carter died suddenly at his home in Wickhamford, on the morning of 16th February 1953, the village lost a true character. He was a well known personality famed for his lectures and his broadcasts on rural affairs for the B.B.C. The best way to record his life is to reproduce verbatim the obituary which appeared in the Evesham Journal of Saturday 21st February 1953.
Although the forename 'Sydney' or 'Syd' was used in his later life, he was given the names 'Sidney Benjamin' at birth and this was the spelling used in early references to him. At places in the obituary, notations have been added in parentheses by the authors of this article and these refer the reader to notes at the end of the article. Syd was know for the catch phrase 'Don't forget to shut the gate' to sign off his B.B.C. broadcasts. During the War another term he frquently used was 'Keep your powder dry' and this was picked up by a cartoonist in the Home Guard.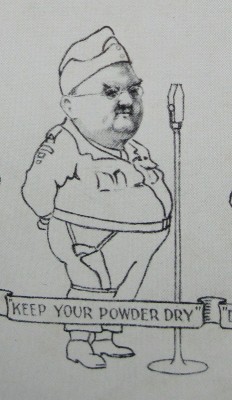 Evesham Journal – 21st February 1953
MAJOR SYD CARTER DIES SUDDENLY

THE AVON VALLEY LOSES A VIVID PERSONALITY

Major Sydney B Carter, a great Vale of Evesham character, who was known throughout Britain as a broadcaster and as a lecturer, died suddenly at his home, Shire End, Wickhamford, early on Monday morning, aged 56.

For many years he had suffered badly from asthma but he was in normal health at the weekend after recovering from a cold, and had been out of doors on Saturday and Sunday. Just before five o'clock on Monday morning he awoke and told his wife that he had pains in his chest. He died within half an hour.

Sydney Benjamin Carter was a big man in many ways. His bulk was immense and he also had a big voice and a big laugh; a big range of interests and a vast capacity for enjoying life and the companionship of his fellow men.

He was born at Bristol and for centuries his ancestors had been yeoman farmers in Somerset. He spent his boyhood on his parents farm near Chippenham, Wilts., and he went to the village school and then to Marlborough Grammar School. (1)

After leaving school he worked on his father's farm until 1914 when he joined the Royal Flying Corps. He served as a motor despatch rider in France and later as an observer. He was a Flight Sergeant when the Corps became the R.A.F. (2)

After the war he returned to his father's farm for a time but his health broke down and decided to give up farming.

For many years his grandfather had been farming in the Evesham district, first at Aston Somerville and then at Field Farm, Wickhamford. In 1922 he came with his parents (Mr. and Mrs. Edward Carter) to Pitchers Hill Farm, Wickhamford. His mother is still living. He was her only surviving son.

OPPOSED STANLEY BALDWIN

In the years immediately following the 1914-18 war he became actively interested in politics and, as a Liberal, he took part in several election campaigns. In the 1929 general election he fought the late Earl (then Mr Stanley) Baldwin for the Bewdley Division and polled 7,186 votes against Mr Baldwin's 16,593. Later he was for many years a leading member of the Evesham Division Liberal Association.

After experience in the wholesale fruit and vegetable trade in the Evesham district he joined the staff of the N.F.U. Mutual Insurance Co. Ltd. at Stratford on Avon in 1930, and it was when he was engaged in publicity work for the society that he began to be widely known, especially among farming communities.

He originated the society's film unit and pioneered the use of 16mm. films for farmers and direct recording on 16mm. film. He made documentary films on farming in all parts of Great Britain and in many parts of Europe and in the Baltic countries, and closely studied agricultural marketing problems at home and abroad; and he lectured to audiences of many kinds on a great variety of subjects. Usually his lectures and film shows were given to farmers' organisations, Women's Institutes and other country institutions.

''Czechoslovakia as I knew it,'' ''The Dutch system of marketing,'' ''The problem of rural children'' were titles of three lectures of 22 lectures that he delivered all over the country on behalf of his society.

HOME GUARD SERVICE

During the last war he was appointed training officer for the 4th Worcestershire Battalion Home Guard with the rank of Major (3) and in the 1943 New Year Honours he received the M.B.E. (Mil.) for Home Guard Services. (4) Recently he was appointed Officer Commanding the re-formed ''A'' Company, 4th Worcs. Bn.Home Guard.

In 1949 Major Carter was elected a Fellow of the Royal Society of Arts in recognition of his work as a propagandist of English country life and industry during his many lecture tours in Europe, particularly as a specialised lecturer on produce marketing problems; and also of his pioneer efforts in the production of documentary 16 mm. films about rural subjects.

As a young man he was keenly interested in the Boy Scout Movement and was at one time an assistant district commissioner.

He was a member of Stratford on Avon Rotary Club and did very useful work as a member of the Stratford National Savings Committee.

At Wickhamford he was a member of the Memorial Hall Committee. He was vice-president of the Badsey and Wickhamford British Legion Branch and commanded the legion parade at Evesham on Remembrance Sunday last year. He belonged to the Badsey N.F.U. branch.

He had a great love of the theatre and considerable skill as a producer of amateur dramatic and musical shows. The Dramatic Section of the Evesham Operatic and Dramatic Society has had the advantage of his enthusiastic support and ability for about 20 years. He produced many of their shows before the last war and all their shows since. His last production was ''Queen Elizabeth Slept Here,'' staged at the Public Hall, Evesham. He was to have been presented with the long service medal of the National Operatic and Dramatic Association on the occasion of the forthcoming production of ''Merrie England'' at the Evesham Public Hall.

Although he had little time for writing he could express himself fluently and forcefully with his pen and he had published several books. Last year he published a children's book, ''Down on the Farm,'' which described a city child's experiences during a year on a typical English farm.

ON THE RADIO

Major Carter was a natural broadcaster. His rich, rather strident voice, redolent of the countryside was unmistakable to listeners and it was not long after his broadcast, before the last war, that he became a radio personality.

He was best known for his Children's Hour broadcasts on country topics and his name became linked with his familiar appeal on behalf of the farmers, ''Don't forget to shut the gate.''

During the last war he broadcast regularly as a Home Guard Major and many people will remember his slogan, ''Keep your powder dry.''

Within the last few months he acted as question-master for a series of country quiz programmes in Women's Hour. He had also been the radio commentator for many agricultural competitions.

Major Carter did a vast amount of voluntary work for the general good, and farmers and country people have lost a stalwart champion.

In the Vale of Evesham and in the countryside for miles around his services as lecturer, chairman, after-dinner speaker and quiz-master were always in demand. He was capable of making a brilliant impromptu speech on almost any subject and he would conduct an annual meeting with remarkable efficiency and good humour, even when there were too many complicated items on the agenda. To the discursive speaker he was always courteous but firm and he could always restore frayed tempers with a joke that hurt no one.

He launched many useful organisations. Recently he took the chair of the inaugural meeting of the Evesham and District Young Growers Club, of which he was the first president.

SHOW COMMENTATOR

As a commentator of agricultural shows throughout the Midlands and the West Country he had a special place in the affections of many people. He will be warmly remembered for his Evesham Horse Show commentaries, which became one of the show's chief attractions on the popular day. (5)

He was a good companion, an interesting and amusing conversationalist, and an outstanding personality in any company.

His wife, Mrs Doris Carter, is a native of Malvern and they had been married over 26 years. She is a magistrate, the president of the Badsey W.I. and a member of the Parish Council. (6) Deep sympathy is extended to her and to Major Carter's mother, Mrs Louise Carter.

The funeral service took place privately at Cheltenham Crematorium on Thursday morning. A memorial service is being held this Friday at 3 p.m. at Wickhamford Parish Church.

APPRECIATIONS

''An Outstanding Officer,
A Delightful Friend''
-Brig. J. H. Sykes

The editor has received the following tribute from Brigadier J. H. Sykes, Sector Commander, South Worcestershire Home Guard.

''May I through your columns, render a small tribute to a big man in every sense of the word. I was only privileged to meet and work with him from the beginning of 1952. When it was decided to resuscitate the Home Guard the first man to be approached in this sector was Major Carter. He immediately responded and, as always with him, gave unstintingly of his experience and energy to the cause which lay so dear to his heart.

''Night after night, at the end of a wearisome and tiring day's work, he toured the villages in the Vale of Evesham to tell the men the object and aim of the new-born Home Guard and to enlist their active support for the 4th Worcestershire Home Guard Battalion.

''Syd Carter was the first enrolled member of the unit and was gazetted as Major Commanding the Evesham Company. He had great powers of leadership and this quality was combined with sound common sense, enterprise, boundless enthusiasm, and an unfailing good humour which endeared him to all who were fortunate enough to come into contact with him.

''The Home Guard has lost an outstanding officer, personality and advisor, whilst many of us will miss a truly delightful friend, with whom it will always be a privilege to have been associated.

---

Courageous Syd Carter

Mr John H. Bird, of Stratford on Avon writes:

In terms that the man in the street who knew him will recognise, ''Your Old Pal Syd'' has left us. Left us, and in the parade of personalities which forms in our minds when a friend and colleague of character falls out for the last time, there is a big gap.

The phrase will be swiftly echoed, for Syd Carter was a 20 stone person with as weighty a personality to match, of the bluff, breezy, occasionally brusque, always broad-minded, buoyant and kind.

He was a man of ideas and if you did ''Listen laddie'' when asking him a little advice about publicity, he would rattle off a string of suggestions at a second's notice. He was quick to grasp the essentials of any plan or policy and he knew how to ''put it over''. An outdoor man yet he was found to be gifted indeed and well-informed when he ventured among things artistic. A born impresario of the ready-made kind, dullness so deadly was his avowed enemy.

Soldiering and politics were in his life but in those capacities I knew him less well. My tribute is to a friend and colleague who was always prepared to ''have a go'' himself and encourage others with helpful advice from his experiences. And it must, if it is to be worthy, extol his courage.

Friends of the ''Farmers Mutual'' here in Stratford-on-Avon tell me that there are still 250 dates for talks and lectures in his 1953 diary. There were three or four this week.

I shall think of Syd Carter - and many others will do the same – setting out in sunshine and storm to keep a lecture engagement, lumbering up to the platform, completely forgetting his own discomfort and starting his talk cheerily and with a bang. No mumbled preambles for Syd. Then fortifying himself with half a dozen blasts from his anti-asthma atomiser going bravely on with wit, wisecrack, wisdom and Dogberryan guffaw, but always telling his audience something worth knowing and sending them home with a laugh worth remembering.

That was Syd Carter as I picture him, and now he has gone. We must close the ranks for there's no one left who measures up either way for filling the gap.

---

Colleague's Tribute

A business associate sends this appreciation

With each and every one of us at N.F.U. Mutual Insurance Society's head offices Syd Carter was most popular. It goes without saying that workaday life here will not be quite the same without him, for we know that there can be no one just like the big fellow who spent about 23 years with some of us.

When Syd Carter joined the ''Farmers Mutual'' in 1929 he was engaged mainly in helping to build up the society's life assurance connections. On this job he had a roving commission which suited his nature and he visited many areas in England and Wales. Travelling may have taken toll of his health, but he loved it and learned a lot from it. And although he was given an indoor job to relieve him of the strain he still explored the country, as we shall see.

His new job was in the records department and his work was eminently satisfactory, but it was in spare-time activities that he made his big impression in his world. He had so many spare-time interests and in the jovial, capable way he did them he gained great popularity with his colleagues and the general public.

When the arts, photographic and dramatic sections of the sports club needed guidance (as they often did), Syd Carter was there to give it. He ''nursed'' our sports ground from the moment the club acquired it, although on account of his health, he was unable actively to engage in sport. His film-illustrated lectures are too well known to need more than a reference to their quality.

With the approval and encouragement of his general manager, he conducted for many years a campaign of public speaking in some of the remotest places within a radius of 30 or 40 miles of Stratford-on-Avon. He was in such demand that at least four nights per week were given up by him in lectures to women's institutes and such like bodies and to making speeches to NFU dinners, meetings, etc. he could with little notice speak most expertly and entertainingly on practically any subject from religion to antibiotics. Wherever he went he was asked to go again.

Up to the last few days of his life Syd Carter motored many miles to talk to those he knew would be waiting. Icy roads could not stop him. Nothing could, once he had promised. That was his way of life and he loved it. It was that which kept him going.

It is to the lasting amazement of his colleagues that with physical handicaps he could give so profusely of his time and energies to the betterment and enjoyment of all.

G.S.

TRUE ROTARIAN

At the weekly meeting of Evesham Rotary Club on Tuesday, the President

(Rot. R.G. Burlingham) spoke of the club's sorrow on learning of the death of Major Carter who had, he said, played a large part in the formation of the Evesham club. Major Carter, said the president, was appointed contact man by the Stratford-on Avon Club and sponsored the Evesham Club.

Rot. Burlingham added that Major Carter was to have been chief speaker at the Rotary District Vocational Assembly which is being held in Evesham this spring. ''He was a true Rotarian and he loved Rotary'' said the President. His ideals of Rotary and it's aims were his aims. He was the true friend of everyone he met and we mourn his passing most sincerely and extend to his wife, his mother and the Stratford Rotary Club our deep sympathy.

~~~~~~~~~~~~

For the past six years Major Carter acted as question-master at the annual Town and Country Quiz organised by the Tewkesbury Chamber of Trade and the Alderton and Ashchurch Discussion Group. This year's quiz, due to be held on Wednesday, was cancelled.

~~~~~~~~~~~~

The Industrial Life Offices' luncheon which was to have been held at the Crown Hotel, Evesham on Thursday was postponed until March 5. Major Carter was a member of the committee of the Society.
Footnotes and pictures
(1) Sidney Benjamin Carter's birth was registered in the Barton Regis District of Gloucestershire in the second quarter of 1896. This District covered the northern part of Bristol. In early records his name is spelled 'Sidney'. For the 1901 census his family were in Swanage, Dorset where 5-year-old Sidney's father, Albert (29), worked as a dairyman. Albert Carter had been born in Fiddington, Hampshire, the son of Benjamin Carter, who was later to run Field Farm, Longdon Hill, Wickhamford. Mary Carter, aged 30, was Sidney's mother.
By 1911, the Carter family had moved to Chippenham, Wiltshire. Albert Edward Carter was now 39 and was recorded in the census that year as a dairy farmer. Mary Louise Carter (40) ran the farmhouse and looked after three boarders. The census form shows that the couple had been married for 16 years and, sadly, that Mary had borne four children with only Sidney then surviving. He was 15 and it was recorded that he worked on the farm.
(2) Sydney Carter's obituary states that he joined the Royal Flying Corps in 1914. However, some of his service record survives and this shows that he joined the Royal Flying Corps on 9th October 1915 and served as a motor-cycle despatch rider in France and later became an observer. He was promoted to flight-sergeant on 1st January 1917 and was transferred to the R.A.F. on its formation on 1st April 1918.
(3) Syd Carter and men of the Home Guard Training Battalion at Wickhamford Manor.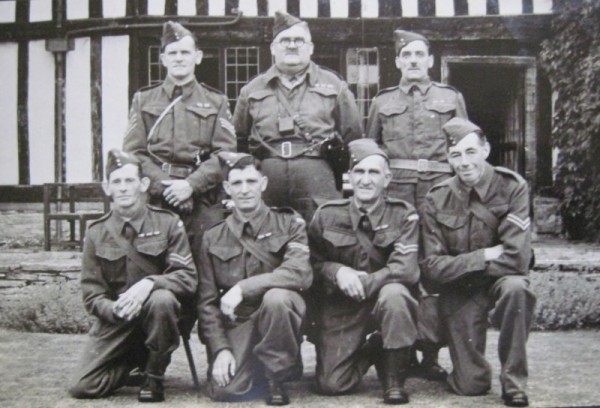 (4) Syd Carter and his wife Doris outside of Buckingham Palace in 1943.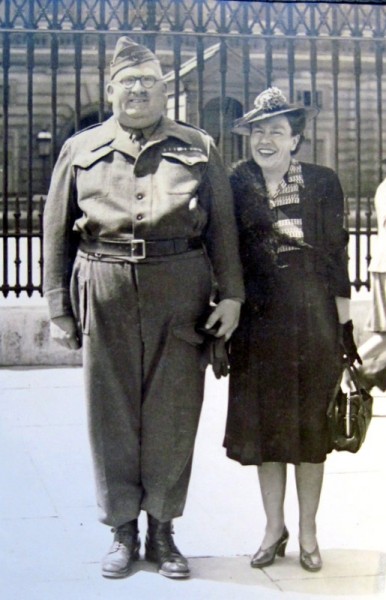 (5) Major Syd Carter giving a commentary event at a Y. F. C. at Madresfield in May 1949, accompanied by his wife, Doris.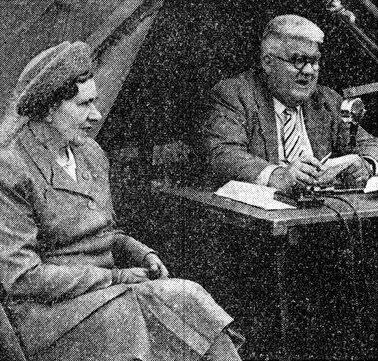 (6) Sidney B. Carter married Doris Scott in the Upton on Severn District of Worcestershire in the second quarter of 1926. The couple had no children. Doris had been born Doris Bridgwater on 17th February 1890. Harry Walter Scott, Doris's first husband died of wounds in France on 6th April 1918, when he was a Private in the Royal Warwickshire Regt.  They had only been married for a few months.
The Badsey Parish Magazine of April 1974 reported that -
" Doris Carter who died in March will be remembered by many people of Wickhamford and Badsey.   Until about five years ago she used to live in 'Shire End', one of the last houses in the village.  She had been a prominent person in local life, being a J.P., a school manager, and for many years President of the Badsey W.I  "
She died in the Malvern area.
---
Val Harman and Tom Locke - February 2014