A settlement certificate dating back to 1789 has recently come to light in the loft of Badsey Vicarage.  This has now been placed in The Badsey Society Archive, but here is the story about the young couple whom it concerns.
* * * * *
What is a Settlement Certificate?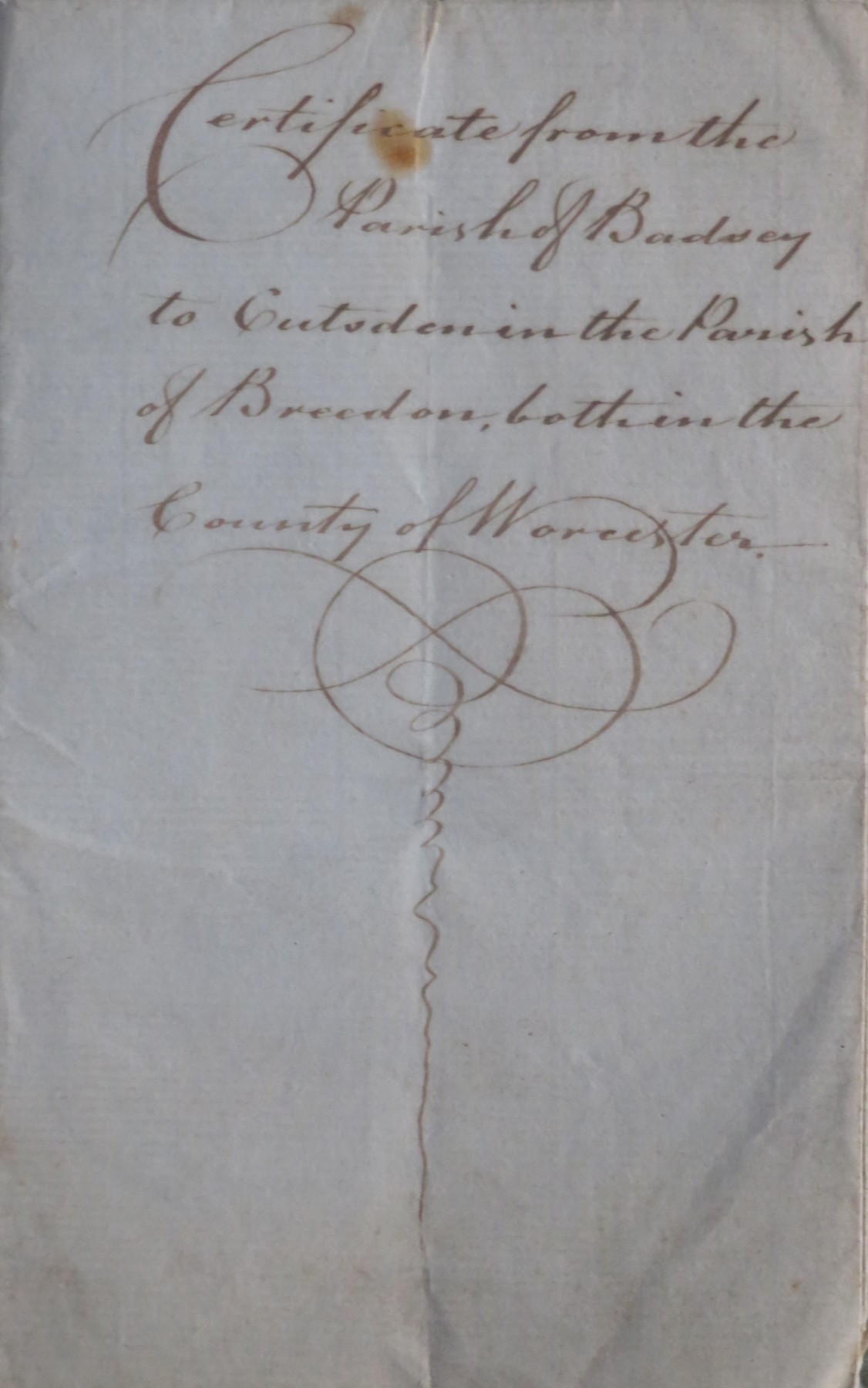 For centuries, the task of caring for the poor in England and Wales was assigned to the local parish.  Because responsibility for indigent residents fell to the parish, authorities kept close tabs on who had a right to claim the parish as a legal place of settlement. People who could not legally claim the right of settlement could be sent back, or "removed," to their last legal parish of settlement.  Right to settlement could be established by birth, residency for a prescribed period of time, marriage, renting property for at least £10 and paying the poor rate, or completing an apprenticeship, among other ways. 
The settlement certificate was dated 27th November 1789 and was from the Churchwardens and Overseers of the Poor of Badsey to the Churchwardens and Overseers of the Poor of Cutsdean in the parish of Bredon.  It was concerning a couple named William Higgins and Elizabeth Smith who had married at St James' Church, Badsey, just the previous month.  The Badsey Churchwardens (Thomas Byrd and John Simpson) and Overseers (John Simpson, Joseph Byrd, Thomas Smith and William Smith) promised to accept responsibility for them as their legal place of settlement.
The next day, Reginald Wynniatt and P Snell, Justices of the Peace, confirmed that Thomas Smith made oath that he had seen the Churchwardens and Overseers sign and seal the document.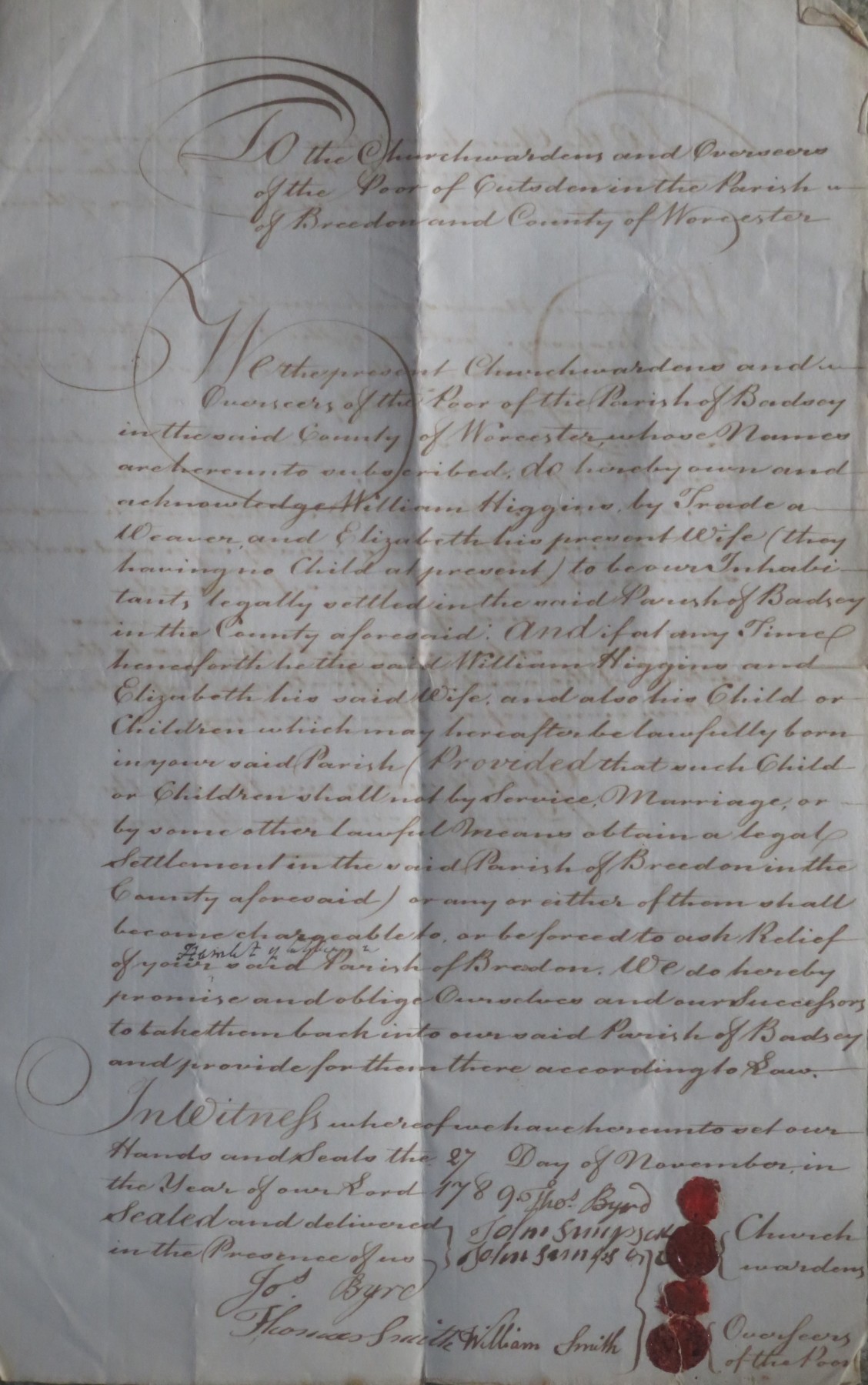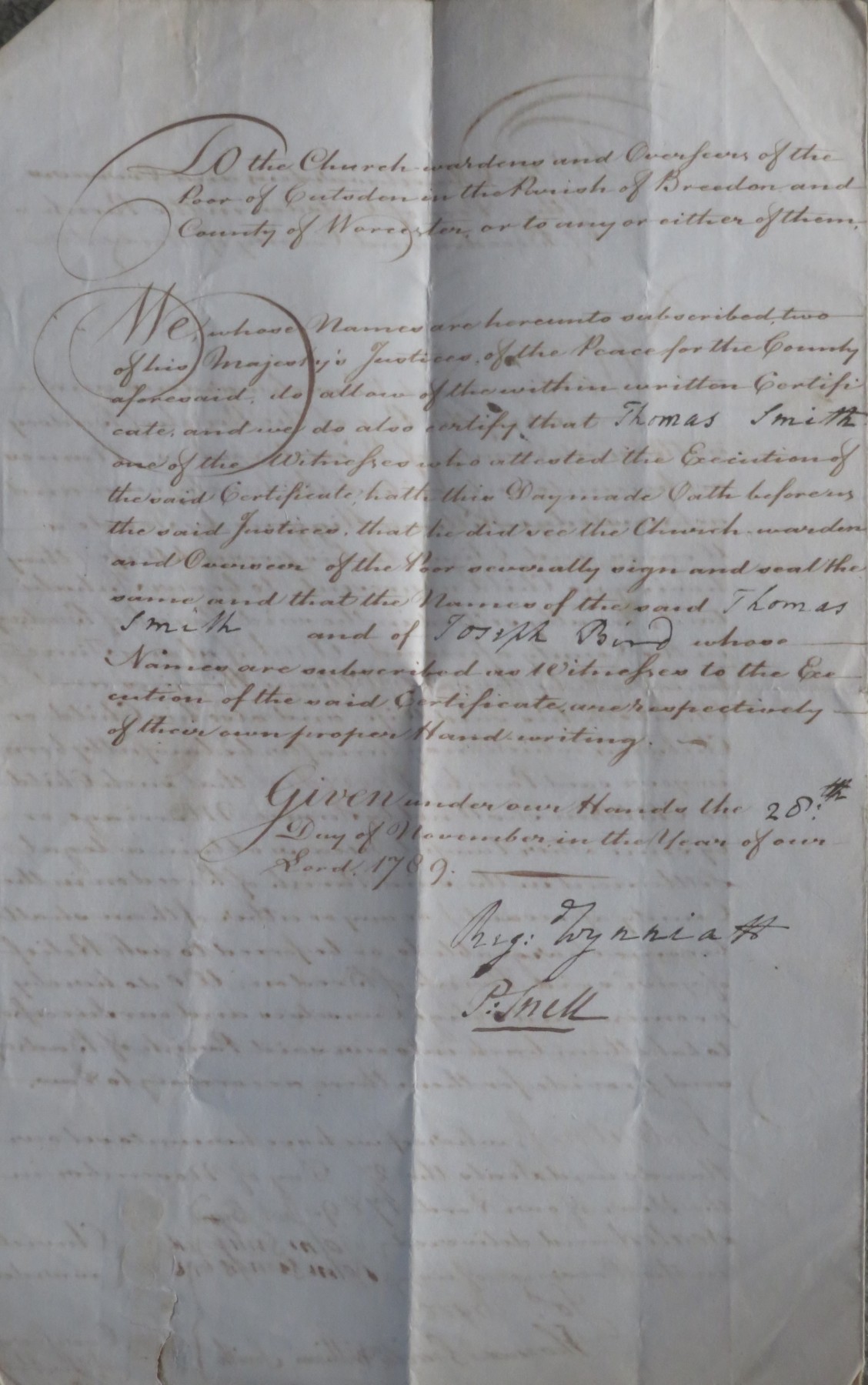 William and Elizabeth Higgins
William and Elizabeth Higgins married in St James' Church on 15th October 1789.  
William was living in Cutsdean at the time of his marriage and Elizabeth in Badsey.  There were a number of Smiths living in Badsey at that time, but Elizabeth is not thought to have been born in Badsey; it's possible that she was working in service in the village.  According to the age given at time of death, William was born about 1761 and Elizabeth about 1767.  According to the 1841 census, they were both born in Worcestershire, which was probably Cutsdean (Cutsdean is now in the county of Gloucestershire but was a part of Worcestershire until 1931).  
William, as indicated in the settlement certificate, was a weaver.  They went on to have three sons and six daughters, all baptised at Badsey:  Jane (1792-1801), Ann (1794), William (1797-1807), James (1799-1871), Jane (1803), Mary (1805-1808), William (1808) and Elizabeth (1811).  
At the time of the 1841 census they were living at what is now known as Vale Cottage, 29 Old Post Office Lane; William was by now described as a labourer.
William and Elizabeth (or Betty as she was sometimes known) remained in Badsey for the rest of their lives.  William died in November 1846, aged 85, and Betty died in February 1850, aged 83.  Both were buried in the churchyard of St James.
Of their children who survived to adulthood, only James remained living in Badsey, dying there in 1871.  Two of James' children remained in Badsey.  George Higgins married in 1848, but died in 1892 without children.  Emma Higgins married Moses Hardiman; the name of Higgins was kept in the family when a grandson was named George Higgins Hardiman in 1882.
Maureen Spinks, July 2023