Edmund Thomas Ladbrooke Huxley was born in Wickhamford in 1901, the son of a former soldier of the Worcestershire Regiment.  He went on to become a soldier himself in his father's old regiment.  Here is his story.
* * * * *
Family Background
Edmund Thomas Ladbrooke Huxley (1901-1974) was born in Wickhamford on 1st September 1901, but not baptised in the village church.   Named after his father, he was the eldest of five children of Edmund Thomas Huxley and Rose Ellen (née Bradley).  Edmund and Rose had married earlier that summer.  Edmund's village of birth was given as Wickhamford in the 1911 census. 
Edmund's father, Edmund Huxley (1872-1929), was the eldest of eight children of Edmund Huxley and his wife, Mary (née Sharp).  The Huxleys, who had moved from place to place in the 1870s, had settled in Wickhamford by the early 1880s; Mary Huxley hailed from the neighbouring village of Badsey.  By 1890, family life had been disrupted as, when the youngest child, Rose, was baptised in October, the note in the register said "married woman living apart from her husband".  Edmund Huxley by this time was not at home as he had enlisted in the Worcestershire Regiment in 1889 and served in India from 1892 until 1896. 
The move to Evesham
Some time in the first decade of the 20th century, Edmund Thomas Ladbrooke Huxley moved with his parents from Wickhamford to Evesham.  Edmund enrolled at Swan Lane Infant School, Evesham, in 1906.  At the time of the 1911 census the Huxleys lived at Fleece Yard, Evesham, by now with four sons and a daughter.  Edmund's parents were eventually to have eleven children, the last in 1925.  Edmund Senior (aged 38) was a general labourer.  
Army career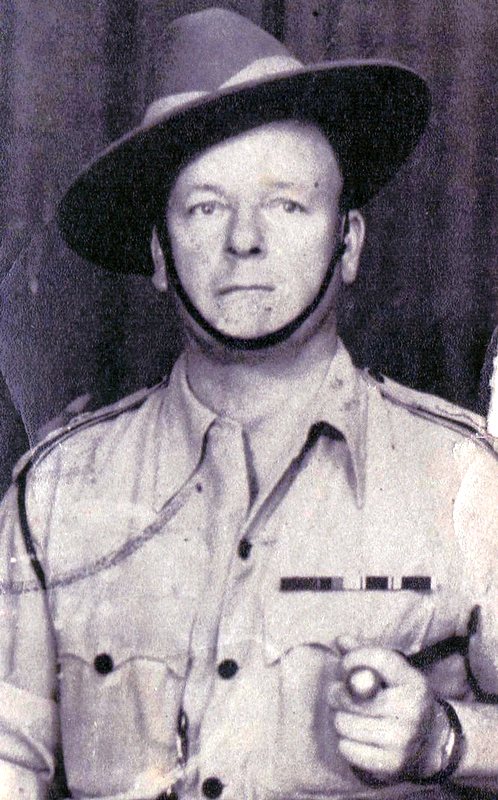 Edmund Junior was just too young to have served in the Great War, but joined the Army in 1919 (No. 5240537), in his father's old regiment.  He was promoted to sergeant in 1921 and served throughout the inter-war years.  He had become a Colour Sergeant in 1937 and then a Regimental Sergeant Major by 1940, by which time he had been drafted into the Indian Army. Whilst in India, he was a member of the Quetta Lodge of the Freemasons.  In 1943, he was commissioned as a Lieutenant and according to the limited information available at present, was on the 'Special List'.  The London Gazette of 24th September 1943, mentions his promotion from R.S.M. to Lieutenant in a section headed "Spec List" of QMS (I.A.) to be Lts
Edmund Huxley had married Louisa Taylor, in March 1930, and they had three daughters and a son between 1930 and the mid-1940s.  A war-time newspaper item referred to his Army Service and also stated the he attended Evesham Council Schools.  He was said to be a keen footballer, whose prowess had earned him a number of medals.  He played for the Army on a number of occasions and was a member of the Royal Antediluvian Order of Buffaloes (R.A.O.B.).  This article gives his name as "Edmund (Pat) Thomas Huxley".
Final years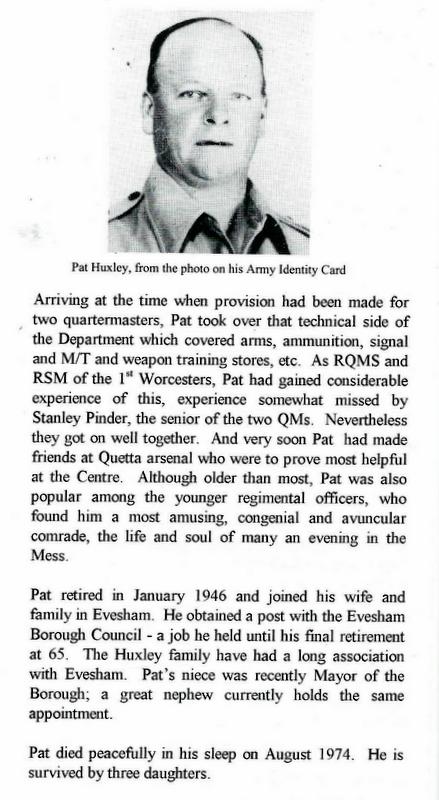 Edmund retired from the army in 1946.  After the Second World War, his name appeared in the press once more, in 1958, following some damage at Evesham Town Hall. He was the caretaker of the Public Hall and lived at 18 Battleton Road, Evesham, at that time. A gang of youths without tickets had been trying to gain admittance to a dance, but were prevented from doing so by Edmund Huxley.
He died on 13th August 1974, aged 73, his wife, Louisa having died previously, on 8th July 1970, aged 60.  Part of an obituary is shown below and it uses the name "Pat Huxley".  This gives a little more insight into his Army career and character.
Acknowledgement : Thanks are due to Edmund Huxley's daughter, Christine Canning, for her help with this article.
Tom Locke – October 2020