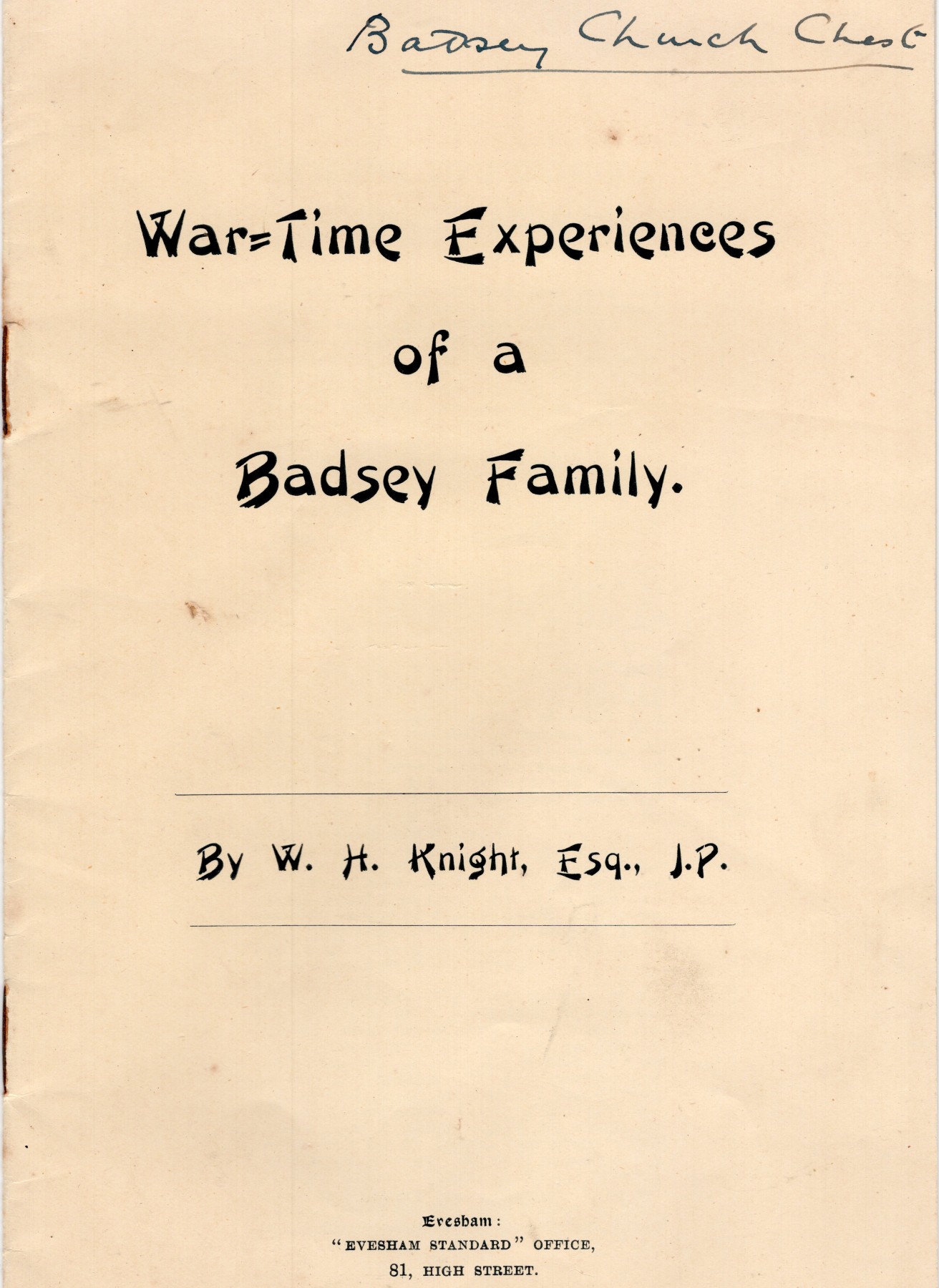 More gems from the Badsey church chest recently deposited in the Badsey Society Archive reveal the fascinating story of a Badsey family.  They consist of two printed booklets written in 1933 by William Henry Knight – "War-Time Experiences of a Badsey Family" and "Evesham Girl's Unique Career in the Cookery World" – and a 1921 booklet of diagrams for the teaching of hygiene and sanitation together with two letters written in 1933.
The Knight family had long been resident in Badsey and William Henry Knight was from the sixth generation to be born in the village.  Despite leaving the village as a young man in his late teens, he obviously maintained a strong affection for his childhood home which led him, in old age, to write the booklets.  Here is his story.
* * * * *
William Henry Knight's Childhood
William Henry Knight was born at Badsey on 9th June 1850, the eldest of 13 children of Samuel Knight, a domestic gardener, and his wife, Emma (née Haines), who had married in 1848.  (In the booklet, he refers to his father being the parent of 12 children, but he was not including Winifred Emma Knight who died in 1859 aged five days.)  
Since 1854 there had been a National School in the village and it was this that William attended for a number of years followed by two years at the National School in Bengeworth.
The Knight Family's Move from Badsey
By 1868, Samuel and Emma Knight and their large family had left Badsey to move to Cropthorne.  Their last child, Kate Ellen, was born there in 1868.  Samuel was no longer a domestic gardener.  Instead, he had become a market gardener and was innkeeper of The Farmers Arms at Cropthorne.  All their children were living there at the time of the 1871 census, with the exception of their eldest, William (the writer of the booklets), and Frederick, the fifth child.
Samuel and Emma spent the rest of their days in Cropthorne, Samuel dying there in 1886 and Emma in 1910.
William Henry Knight's Later Life
After leaving school, William Knight initially found work as a grocer's assistant in Shipston on Stour.  He then moved to Evesham to be the grocer in Bengeworth.  In 1878, he married Susannah Elizabeth Rice.  They were still living in Evesham when their daughter, Rose Ellen (1879-1980), was born the following June, but later that year they moved to Gloucester.  William had a new job as assistant to Dr F T Bond, Medical Officer for Gloucester and Monmouthshire.  At the time of the 1881 census they lived at 24 Conduit Street, Barton St Mary, Gloucester and had one servant.  Two sons were born whilst they lived in Gloucester:  Raymond Rice (1881-1968) and Elton Harker (1883-1969).  Dr Bond, who was an enthusiast on questions of health and domestic economy, recruited William's wife, Susannah, to give cookery demonstrations in order to illustrate certain principle he was going to talk about.  This launched a domestic science career for Susannah, which is detailed in Evesham Girl's Unique Career in the Cookery World – From Cottage to Albert Hall.
In 1887, the Knights moved to London and were living at 10 Bury Road, Tottenham, in 1891.  William's occupation was given as sanitary expert.  He presumably worked for the Sanitary Institute which had been established in 1876 following the landmark Public Health Act of 1875.
In 1901, they were living at 12 Ferrestone Road, Hornsey.  William was described as curator of the Parkes Museum.  The Parkes Museum was founded in the same year as the Sanitary Institute, and commemorated the life and work of Edmund Alexander Parkes (1819-1876), who was the first Professor of Military Hygiene at the Army Medical School and one of the pioneers of the public health reforms of the 19th century.  The Museum was a multi-disciplinary institution which aimed to teach an awareness of public health matters to the general public and members of the building trade, thereby encouraging healthy design of living accommodation.  In 1888, the Parkes Museum and the Sanitary Institute had amalgamated.
There appears to be no record of the Knights in the 1911 census, but they were living in Letchworth, Hertfordshire, by the start of the First World War.  Letchworth was where their married daughter, Rose Ellen Jarden, lived with her family.  By 1920, the Jardens and Knights had moved to 18 Rothsay Road, Bedford.  They do not appear in the 1921 census as they were visiting their son in Canada at the time.
William Henry Knight died at his home, 18 Rothsay Road, Bedford, on 27th June 1940, aged 90.  He had come a long way from his childhood in Badsey, but it is clear from the booklets written in his eighties that he never forgot his native village.  A notice in The Bedfordshire Times and Independent of 5th July 1940 said:
THE LATE MR W H KNIGHT – TRIBUTE TO BOROUGH MAGISTRATE
Before the business of the court began, the Mayor (Mr A Braggins) paid a tribute to the memory of Mr William Henry Knight of Rothsay Road, Bedford.  Mr Knight, who died on the previous Thursday, had been a Justice of the Peace for the Borough since 1925.  He was a well-known resident, a local Liberal leader, and by profession an organiser of successful exhibitions.  To the last, although 90 years of age, Mr Knight retained his mental vigour.  One of his oldest friends, Mr Rowland Hill, said of him:  "He was always a noble-hearted man and by a patient and artistic career had secured a position which few could attain."  Magistrates, the Clerk, police officers, and Press stood for a moment in silent tribute.
The Booklets
For five weeks in May and June 1933, instalments of an article, "War-Time Experiences of a Badsey Family" appeared in The Evesham Standard, specially written for the newspaper by William Henry Knight, JP, of Bedford.  The last instalment appeared on 10th June which was the day after Mr Knight's 83rd birthday.  These articles were put into a printed booklet of the same name and it was this which was deposited in the church chest.  In addition, "Evesham Girl's Unique Career in the Cookery World" (about the career of his wife, Susannah) was deposited.
W H Knight's Introduction to "War-Time Experiences of a Badsey Family"
Samuel Knight was a Badsey-born man whose life and influence in his native village were of no mean importance.  He took a most active part in village life and held many positions of a public and local character, including:  tenor singer in the choir, chimer, churchwarden, constable, fiddler leader in all village festivities and an exponent of such sports as were then popular, viz, wrestling, sparrow and pigeon shooting, and dancing.  His reputation as a gardener, however, gave him a big list of admirers, and these were not confined to Badsey, for with his speciality of floral designs, with which he competed at all shows within a radius of 20 miles, he never failed to obtain the highest awards.

He was the parent of a family of twelve – seven sons and five daughters – and it is of this family, the descendants of this Badsey man, that the following war-time services and experiences are written.

In 1914 when war broke out, the youngest member of the family was exempt from service by age limits, but as the following account will show, several of them had experiences of risk and excitement, but the principal actors in the actual war drama are the grandchildren by direct descent or by marriage, and these constitute such a large contingent that few families could exceed the display of loyalty or produce a finer list of services for King and Country.  

It is proposed in this record to take the various members of this family in order of age and give a very brief account of their own services or that of their husbands, wives, sons and daughters.  The names of many of these will recall memories to friends in a much wider area than their native village.
The War-time Experiences of William Henry Knight
William Henry Knight (1850-1940), the eldest child, was too old for actual service but accepted a post as Assistant Inspector to the Coal Control Department, London.  He also organised and managed 29 branches of War Savings at Letchworth and was a member of the Military Advisory Committee for the Division which held its meetings at Hitchin.  His wife, Susannah, was commandeered by the Government, given the rank and pay of a Captain and put in charge of three counties (Hertfordshire, Buckinghamshire, and Bedfordshire) and, for two years, lectured and demonstrated to Women's Institutes and other women's organisations the best methods of making the most of scarce and necessary foods.  Both of his sons served in the war.  William Knight also gave a lengthy description of his "adventurous" trip at the start of the First World War:
In March 1914 I was appointed Managing Director of the British Empire Exhibition which was proposed to be held at the Crystal Palace in 1915, and as an exhibition manager's job includes obtaining the latest novelties, and as all the novelties originate on the Continent, a programme was arranged, under which I should visit three exhibitions then running, one at Christiana [present-day Oslo, Norway], a second at Malmo [Sweden], and a third at Cologne [Germany].  The Christiania Exhibition offered a special attraction, in that on August 1 of that year (1914) a grand reception was arranged for three potentates, viz, the King of Denmark, the King of Sweden, and the Emperor of Germany.  My visit, too, was to be made more welcome by the hospitality of two of the biggest firms of novelty purveyors, one a Hungarian and the other a German.  I and my wife sailed from Hull, and our first war alarm occurred on entering the harbour at Christiania, when we were deafened by the booming of great guns on all sides, and this, we were informed by Captain Bean, was a Royal Salute, which was being given to the Kaiser's yacht, which he pointed out was in full sail in the distance.

We learned on getting ashore, that this hurried return was due to serious political and State happenings, the seriousness of which we were shortly to realise.  Of course the grand reception had to be cancelled and another shock was given when we learned that the Bavarian Band, which was engaged at the Exhibition, had received orders to return home at once.

Every day brought its tale of brewing troubles and increasing restlessness prevailed.  Under these circumstances we decided to leave Christiania and complete our programme for even up to August 4, the day we resumed our journey, the full seriousness of the situation was unrealised.

On this fatal day, however, we had the full truth brought more clearly at every stopping place on the way to Copenhagen where we were purposed spending Sunday before proceeding to Berlin.  Before we reached Copenhagen we had heard how England had declared war and it required no special sense to decide that our journey must end and our best policy was to get home as soon as possible.

We arrived at our destination in Copenhagen late on Saturday August 4 1914, and put up at the King Edward Hotel and spent the Sunday amidst growing excitement.  Our first business on Monday was to visit Cook's Office, where we were promptly told that all bookings were off and no hope of any could be given.

We next went to the British Consul, who promised all possible help, but expressed himself helpless and hopeless.  This state of affairs continued for a week when a message from Cook's came to the hotel ordering us to at once proceed to Esberg, where a vessel would be in readiness to take us across the North Sea.  No second notice was necessary and the journey was made under the most trying circumstances.  Night travel, many stoppages and changes, and not a single porter to assist with baggage.  On our arrival at Esberg, yes, the vessel was there and about 400 other passengers, all of whom were anxiously pressing to get on board, and never shall I forget the struggle I had with two portmanteaus and other luggage.  Others less encumbered got in front.  A long time was taken to pass a single passenger and it is scarcely believable, but no less true that after an hour's efforts in that queue I had not been able to move three yards.  My wife, less encumbered, got on board and arranged all the preliminaries, and was able to look down and encourage my efforts.  Those efforts would, I fear, have resulted in failure had not a young Danish gentleman come to my rescue and took my various articles of baggage.  He threw them up to my wife over the taff rail of the ship.  I could then move, and did so, and finally, with great relief, reached the gangway.  I now thought we were all right, but no!  After hours of waiting and watching preparations for departure, every moment speculating how long it would be, we (the whole of the passengers) were surprised and astounded to hear from our Captain that statement that "The boat would not start today, and he did not know when or whether it would start at all", and we were ordered to at once leave the vessel.  We learned afterwards that the crew had made excessive demands for insurance both as regards themselves and their families against the risks of the voyage, which the company could not grant, and that in consequence they refused to go.  Here was a sad disappointment.  What was to be done?  About 400 strangers stranded in a small port of about 3,000 inhabitants.  What many of them did I do not know, and we felt ourselves exceedingly fortunate to find accommodation at a small coffee house which was overcrowded and compared very squalidly with the sumptuous hotels we had previously enjoyed.  The worst of the situation, however, was its hopelessness.  The prospect of leaving seemed remote, and day after day we gathered in the centre of the town to learn any scrap of news, and console ourselves.  On Sunday we attended the English Church and tried to keep our courage up.  On the second Sunday at the commencement of the service the Minister gave out that the service would be a short one, as he had a special notice to give the visitors.  This notice turned out to be one of great interest, and was that a vessel had been chartered and would b ready to take any volunteers who would take the risk, and we were instructed to be at the dock at four o'clock that day.

Elated at the news, we readily made all haste and was at the starting-place on time.  This time we were more fortunate and quite a number, but not so many, were received on board a vessel named the SS Bernstorf.  Excitement reached a very high point, as the event was of national importance.  Thousands of Danes came to bid us a safe journey and kept the port alive with ringing cheers and songs.

Eventually we left.  Our Captain had sealed orders, to be opened at midnight, and was escorted from the port by a Danish cruiser.  As far as we could tell, our course was directed due north, and we must have travelled a considerable distance before daring to cross over to the British coast.  It was a journey of great anxiety and never to be forgotten, although very little of incident occurred on the way.  It was a calm moonlit night, and well I recall how, standing at the rail on a strict look-out, we seemed suddenly to have lost the moon, for, quite unobserved by us, our vessel had turned completely round in answer to the challenger of a British warship, who turned a strong flashlight on us to read the name on our ship's side, which was painted white in four-feet letters.  The answer must have been satisfactory, for after a visit by a ship's boat, we were allowed to proceed, and eventually reached Harwich with feelings of relief and thankfulness.  Thus ended a not-to-be-envied journey, briefly here stated, but full never-to-be-forgotten incidents which would fill pages to relate, and might have included facts such as how our German friends at Christiania, hearing of our situation, cabled £20 to carry us on, fearing we may be short of cash; or how a Danish artisan who discovered our predicament in Copenhagen, came and voluntarily offered him home as sanctuary; or how some American millionaires who were at the same hotel had to take steerage passage in a boat which took them to New York, etc.  The most serious matter to me, however, was the fact that this War put a stop to the proposed Exhibition, and involved very considerable loss to both myself and my son.

The London Press made much ado of the matter, giving a complete list of names of the passengers, and treated it as a voyage of risk and courage.
The War-time Experiences of William Henry Knight's Siblings
Fanny Matilda Knight (1851-1951), the eldest daughter, was born at Badsey in 1851.  She moved with her family to Cropthorne in about 1868.  In 1877 she married William Henry Kedwards and had two sons and five daughters.  The eldest son died in infancy.  In his booklet, W H Knight refers to the war-time service of the remaining son, William James Kedwards, who joined the Canadian Army.  He also refers to a son-in-law, William Vigar.  Fanny died at Hay, Breconshire, in 1951.
Albert Edward Knight (1853-?), the second son, was born at Badsey in 1853.  He moved with his family to Cropthorne in about 1868.  Alfred was still living at home in Cropthorne, working as a shoemaker journeyman in 1871 and as a market gardener's labourer in 1881.  No more is known about him after this date and he e is omitted from W H Knight's booklet.
Ralph Blomfield Knight (1855-1942), the third son, was born at Badsey in 1855.  He moved with his family to Cropthorne in about 1868.  Owen married Annie Sharp in 1880 and had five sons and two daughters.  From the time he left school, Ralph always worked on the railway, initially as a porter, then as a ticket collector and latterly as station master.  His railway career took him to the Birmingham area.  Ralph married Simiramis Caroline Price in 1876; they had one child who died.  Ralph was too old to serve in the war but, in his booklet, W H Knight says that he was on the point of retiring from the Midland Railway Company on account of age, but was commandeered to remain at his post at Five Ways, Smethwick, during the war.  Ralph died at Drybrook, Gloucestershire in 1942.
Frederick Theodore Knight (1856-1917), the fourth son, was born at Badsey in 1856.  He moved with his family to Cropthorne in about 1868.  Frederick had left home by 1871 and was living in Evesham.  By 1881, he had moved to Lambeth, Surrey, and was working as a grocer.  Frederick married Florence Herridge in 1892 and had a daughter and two sons.  In his booklet, W H Knight says that Frederick had died before the war, but in fact he died early in 1917.  Mr Knight refers to the war-time service of his two sons and that of his widow, Florence, who joined QMAAC after her husband's death, seeing service in northern France.
Owen Haines Knight (1858-1927), the fifth son, was born at Badsey in 1858.  He moved with his family to Cropthorne in about 1868.  Owen married Annie Sharp in 1880 and had five sons and two daughters.  He worked on the railway, initially as a porter, then as a guard; by 1911 he was working for a tram company.  In his booklet, W H Knight refers to the war-time service of three of the sons, in particular, his namesake, William Henry Knight, whose health was undermined by the war and had to return home, dying in hospital some years later.  He also refers to a son-in-law who had been taken prisoner and came home after the war a physical wreck, and died some years later as the result of harsh treatment.  "Thus the War was responsible for two tragedies in this family," wrote Mr W H Knight Senior.  Owen Haines Knight died at Birmingham in 1927. 
Herbert Rupert Knight (1860-1949), later Herbert Rupert Cromey-Buck, the sixth son, was born at Badsey on 5th December 1860.  He moved with his family to Cropthorne in about 1868.  By 1881, Herbert was working as a grocer's assistant and living in Melcombe Regis, Dorset, in the home of Jeremiah Cromey Buck who was said to be his uncle.  No family connection has been found, but perhaps he was an adoptive uncle as Jeremiah, a banker's clerk who never married, was lodging in Worcester at the time of the 1860 census, so may possibly have crossed paths with Herbert's parents.  Whatever the truth, by 1885 when he married, Herbert had changed his name from Knight to Cromey-Buck.  His "uncle" died in 1888 and Herbert was executor of his will.  By 1891, Herbert and his wife, Elizabeth, were living in Weymouth; Herbert was now described as "living on own means" and employed a servant.  They later moved to Bournemouth where they remained for the rest of their lives, Elizabeth dying in 1925 and Herbert in 1949.  W H Knight writes in the booklet about his brother's war-time experiences as follows:
Next, in order of age, comes the experience of the sixth son, and as these experiences were his own and not as in many cases those of his son or son-in-law, it perhaps would have been more proper to have placed his name first on the list.  Certainly his sacrifice merits all the sympathies that can be expressed, as will be gathered from the following record.

Herbert, the sixth son of Samuel Knight, at an age which exempted him of any responsibility – he was 45 [he was actually 54] – joined as an ordinary soldier (when by position and influence he might have easily obtained a commission).  It is noteworthy that nothing but enthusiastic loyalty to the cause compelled him to forego a life of ease and influence at his age and undertake such strenuous service.  He joined the Devon Regiment in May 1915.  After being stationed at Maidenhead, he was removed to Alton camp where he volunteered for foreign service.  He passed the 10 miles marching test with weights on his back and was transferred to the Rifle Brigade and sent to Egypt with 10,000 others by SS Olympic.  The citadel Cairo was the HQ and also the base for the Battalion, whose duty consisted of guarding the Suez Canal,  From here he was sent to Cyprus, where a mixed population of Greeks and Turks made things anything but pleasant.  After Cyprus, he was stationed at Lagoss, the Salonica base.  Here he contracted malaria, and had to be left behind in hospital when the battalion went into the fighting line.  He was removed to hospital at Malta and from there to Monmouth, eventually reaching HQ of the Battalion in Cornwall, where he was discharged in 1917.  Thus ended the military career of one who to gain access to the Army falsified his age, stating that he was 35, not 45 [54], and who today, though never recovered from the effects, can say that "I do not regret it, I should have been miserable at home doing nothing."  His name on the Memorial Cartoon accompanying this record, H R Cromey-Buck, is an assumed name.
Eliza Elizabeth Knight (1862-1932), the second daughter, was born at Badsey in early 1862.  She moved with her family to Cropthorne in about 1868.  She married Sidney Brookes in 1886 and had three sons and two daughters, all born at Cropthorne.  In his booklet, W H Knight refers to the war-time service of two of her sons and a son-in-law.  Eliza remained in Cropthorne for the rest of her life, dying there in 1932.
Rose Emma Knight (1863-1942), the third daughter, was born at Badsey in 1863.  She moved with her family to Cropthorne in about 1868.  On leaving school, Rose worked as a barmaid, possibly first of all in Cropthorne.  By 1881 she was a barmaid in Stoke-on-Trent and by 1891 in Stourbridge.  She married Henry Kelly in Yardley in 1892 and had one son, Frank, born in 1894.  Rose was widowed in 1905 and married again in 1912 to William Wooldridge.  In his booklet, W H Knight refers to the war-time service of Frank, who was killed in action in France in April 1917.  Rose died at Drybrook, Gloucestershire, in 1942.
Alfred Ernest Knight (1865-1933), the seventh son, was born at Badsey in 1865.  He moved with his family to Cropthorne in about 1868.  Alfred was still living at home in Cropthorne, working as a market gardener's labourer.  He married Sarah Ann Meredith in 1894; they had two daughters, both born in Cropthorne.  In 1901 they were living in Hill Hamlet Fladbury, and by 1911 they had moved to Gresford, Denbighshire, where they remained for the rest of their lives.  Alfred died at Gresford in 1933.  He is omitted from W H Knight's booklet, presumably because neither he nor his daughters did war-time service.
Alice Helena Knight (1866-1956), the fourth daughter, was born at Badsey in 1866.  She moved with her family to Cropthorne in about 1868.  Alice married Henry Parker in Yardley in 1888 and had a daughter and two sons.  In his booklet, W H Knight refers to the war-time service of the two sons.  Alice died at Frimley, Surrey, in 1942.
Kate Ellen Knight (1868-?), the fifth daughter and youngest child, was born at Cropthorne in 1868, so cannot properly count as a Badsey person but is included here for the record.  Kate married Frederick Tolley in 1895 and had a daughter and three sons (one died after just a few days).  In his booklet, W H Knight refers to the war-time service of her eldest son, Frederick Theodore.
Conclusion
W H Knight concluded by saying:
This brief sketch should suffice to show the far-reaching effects of war on an obscure family in a remote village, and doubtless there may be others who could testify to similar sacrifices.  The author, whilst making no claim to distinction on this account, has compiled this brief summary to remind his immediate relations and their descendants of the services rendered by their own, and to show how the devastating effects of war affect the humblest of homes.
Maureen Spinks, October 2023