On 8th November 2021, Patrick Sparrow lost his battle with cancer.  Born in Badsey, he spent the majority of his life in the parish and took a great part in village affairs.  At his funeral in St James' Church, Badsey, his brother, Terry, and grandson, Will, gave the eulogy.
* * * * *
Eulogy given by Terry Sparrow, Patrick's older brother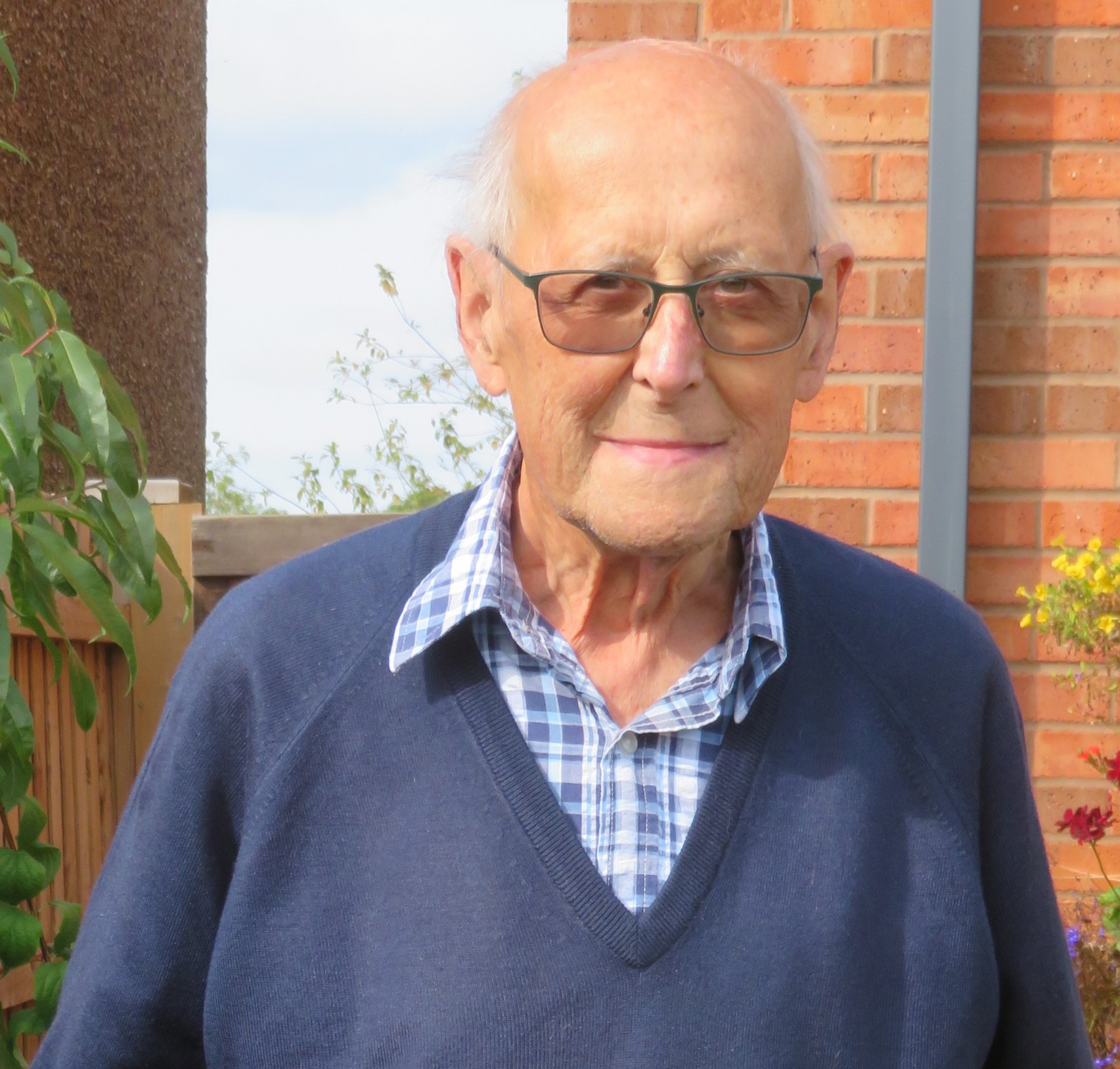 Patrick Sparrow, my brother, was born at Rosslyn, now No 36 Brewers Lane, Badsey, on 11th July 1936.  He was the second son of Alfred William Sparrow, a self-employed market gardener, and his wife, Doris.  Ours was a happy childhood, growing up within a close-knit family community, with two grandparents, an uncle and two aunts all living in various parts of Brewers Lane.  
Of course, much of that childhood was overshadowed by war, with what were to us children quite harsh restrictions, such as 5th November without bonfires or fireworks and a severe rationing of sweets.  But we were content to play football and cricket in the middle of the road, albeit fearful of retribution when the ball went into the front garden of retired police constable, Frederick Hill.  We were a little gang of six boys in Brewers Lane; sadly, however, only one is still left.
Patrick began his formal education at what was then Badsey Council School.  He soon established himself as a bright pupil and passed the 11+ examination when he was only nine years old.  A few weeks after his tenth birthday he went to Prince Henry's Grammar School in Evesham, where he continued to do well.  In due course he was appointed as captain of Lichfield House and he achieved A level passes in Pure Mathematics, Applied Mathematics, Physics and Chemistry, with a distinction in each one.  Also, by examination, he was awarded a State Scholarship to study civil engineering at Kings College, London.
At sport, too, he excelled, and was a member of the school first eleven at both hockey and football.  Also during that period he played for the very successful Badsey Junior teams of 1951-52 and 1952-53.  Although his usual position was full back, I recall one occasion when he was pressed into playing centre forward and scored nine goals in the match.
At university, Patrick twice won the prize for top engineering student of the year, and when the course ended it was, I suppose, inevitable that he achieved a first class Honours degree.  This result enabled him to claim exemption from National Service and thus avoid the army.  Personally, at the time, I thought that was rather unfair.
It was at Prince Henry's Grammar School that Patrick first met Judith Weaver and they were married at St Peter's Church, Bengeworth, on 28th March 1959.  In those days it was advantageous, from an income tax point of view, to have a wedding shortly before the end of the tax year on 5th April, so that a useful wedding present for the couple was an income tax refund.  By then Patrick was employed by Sir Lindsay Parkinson, a firm of consultant engineers, later Mott, Hay & Anderson.
During the first couple of years of their married life, Patrick and Judy lived in a number of rented properties before moving to their own house in the Gloucestershire village of Tytherington.  Patrick worked on a variety of projects, including the Forth Road Bridge, the Severn Bridge, Oldbury Power Station, the M5 motorway and Bristol sewers.
Soon after their move to Gloucestershire in April 1961, Patrick and Judy's first son, Alan, was born, followed by Marcus in 1963 and John in 1967.  But after about eight years there Patrick left the private sector to take new employment as consultant engineer with Worcestershire County Council.  The family moved to Fladbury in 1969.
So, with Patrick and Judy back in the Vale of Evesham, I will hand over to Will, who will continue the story of Patrick's life.
Eulogy given by Will Sparrow, Patrick's grandson
In 1972 the family moved to Elm Cottage in Aldington and Pat and Judy designed Middlebank which was built in the garden of the cottage.
In December 2019 they moved to 38 Brewers Lane, Badsey, to a house they had again designed which was built in the garden of Pat's childhood home.
On his retirement, Pat became even more involved in the village life of Badsey and Aldington.  He was the treasurer of Badsey Flower Show for 40 years as well as being a frequent exhibitor, which reflected his love of gardening.  He was a member of Aldington Residents' Association and the Badsey Society.  His contribution to village life was recognised when he won the Society's Tony Jerram award in 2018.
Pat was also a sidesman at St James' Church.  He was a member of Probus and Evesham Bridge Club as well as being a trustee of the Workman Award at Prince Henry's.  Pat and his son, Alan, are the only father and son to have won the award.
Pat had three grandchildren and two great-grandchildren and when Leo, his oldest great-grandson, started at Badsey School, he became the sixth generation of the Sparrow family to attend the village school.
His family, football, gardening and the village were the great constants in Pat's life.  He was a very modest man, more likely to tell you he was in charge of the hooter at Oldbury-upon-Severn to warn of the incoming tide, than his work on two of this country's great suspension bridges.
Pat was proud to be a civil engineer and always felt that engineers were under-valued in this country compared to other graduate jobs.  As he said, "Doctors bury their mistakes.  If I make a mistake with a bridge, it will be front page news."
Pat didn't set out to make a million, or to travel the world.  He set out to do the things he cared about, to the very best of his ability.
With a great sense of humour, even in his last days, he was still able to make the district nurses smile with a quiet quip.
My Grandad meant a great deal to me and I have an enormous amount of respect for him.  I will remember him as a quiet, wise presence, always in the garden, or his shed.  I love him, and he made an excellent bean pickle.