The recent post of a postcard on ebay, described as a Badsey military funeral, led to a descendant of the deceased (not the seller) giving background information explaining the occasion.  As the postcard was written in 1916, it was probably assumed that it was a WWI funeral, but in fact the reality was quite different.  The funeral was for Charles Henry Stewart, aged 77, who had served with the Hampshire Regiment from c1860-c1880.
* * * * *
Who was Charles Henry Stewart?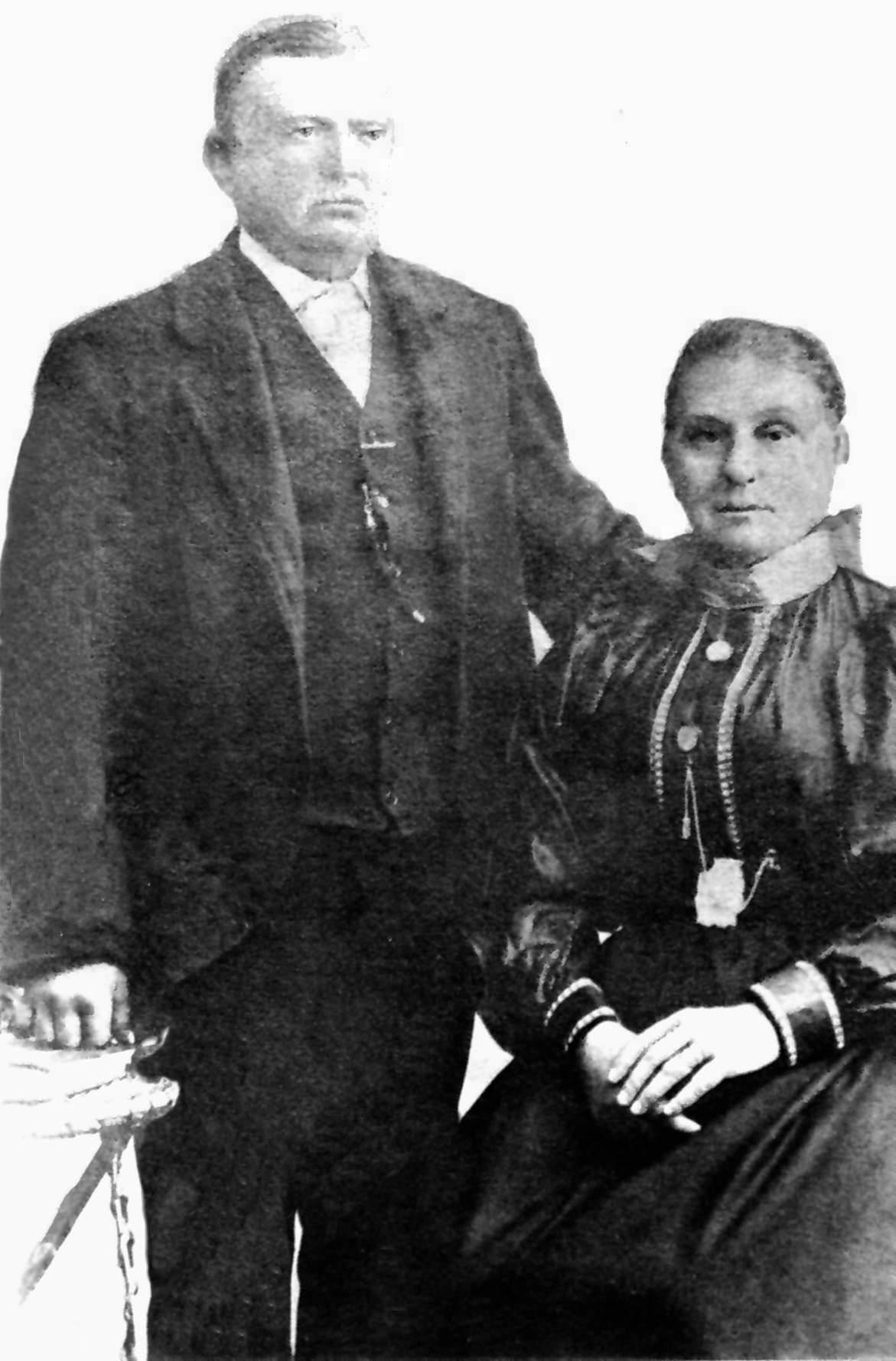 Charles Henry Stewart, known as Henry, was born at Bretforton in 1837, the third of four children of William and Harriet Stewart. His father, William, a waggoner by trade, had been born in Badsey, the son of the above William Steward (1800-1866), but had moved to the neighbouring village of Bretforton.  Henry was baptised as Henry, but buried as Charles Henry.  Note that the surname variously appears as Stewart or Steward.
Henry grew up in Bretforton where, aged only 19, he married Eliza Geden on 23rd June 1856 in St Leonard's Church.  Mary Anne (1856-1922), the first of their children, was born there in 1856 and William Henry in 1859 (1859-1943).  The children were both baptised at St Leonard's on 6th September 1956 and 3rd June 1860 respectively.
Henry's Army Career
Henry joined the 37th Foot Hampshire Regiment in about 1860.  Whilst he was baptised as Henry Stewart, throughout his army career, his name appears variously as Charles Henry Steward, Charles Steward or Charles Stewart. Henry was at Aldershot Army Camp at the time of the 1861 census, whilst his wife and two children were living at New Row, Bretforton, with Eliza's widowed mother, Sarah Geden. 
Henry served at the following depots:  Aldershot, India, India, Gosport, Winchester, Fort Tregantle at Devonport and finally at Pembroke Dock where he was discharged from the army on 14th October 1879, having attained the rank of Lance Sergeant.
It was whilst in India that his daughter, Mary Anne, married Colour Sergeant Frederick Cockerton in 1873.  Henry and Eliza had suffered the deaths of several children born in India but their last child, born shortly after Mary Anne's marriage, was given the name Frederick Cockerton.  According to his obituary, however, Henry had 11 children in total, but there is no trace in the Army records of any of the names of the other eight children, though a further three have been found in the family Bible, all dying young.
Retirement to Hampshire
On retiring from the army, Henry moved to Down Farm, Headbourne Worthy, Hampshire, where he was found at the time of the 1881 census under the name of Charles Steward, living with his wife, Eliza, and son, Freddy, and two lodgers.  The Farm Bailiff at Down Farm, and their next-door neighbour, was Henry Blake, whose eldest daughter, Sarah Ann, had married Eliza's younger brother, Henry Geden, in 1876.  It was obviously through this connection that Henry was able to get a job as a labourer on leaving the army.
Return to Worcestershire
At some date in the 1880s, the Stewarts moved back to Worcestershire, settling in Badsey where Eliza Stewart's mother, Sarah Geden, now lived.  Badsey was beginning to become prosperous as a market gardening area and Henry now took the opportunity to take up market gardening
In 1891, Henry, a market gardener, and Eliza, described as a "sick nurse monthly", were living at The Leys, Bretforton Road, with their youngest son, Frederick.  Also living there were two of their grandchildren, 14-year-old Elsie Cockerton and her 9-year-old brother, Victor Henry.  They were two of the older children of the Stewarts' daughter, Mary Anne Cockerton, who had been widowed the year before.  Mary Anne was still in Suffolk with her three youngest sons but, later in the decade, moved her family to Badsey to be near her parents. The Stewarts lived just two houses away from Sarah Geden, and Eliza's brother, Henry; Eliza's brother, George, lived further along the Bretforton Road, at a grand new house, Wickliffe House, built in 1890.
Henry and Eliza were attenders at the Quaker Chapel which had been built in the village in 1894.  From the records of the Religious Society of Friends in London, his name first appears as a member of the Badsey meeting in the Western quarterly meeting printed list of members, 1897; Eliza is shown as an attender, not in membership.  Both names continued to be printed up to and the year of their deaths, respectively 1914 and 1907.
By 1901, Henry and Eliza had moved to Gladstone Villa (now Lanesfield, Old Post Office Lane); Henry was still a Market Gardener and Eliza was described as a midwife.  Henry had bought the land from James Brewer in 1899 and built a house on the land.  In the Quaker records, his address is given as 22 The Leys in 1897 and 1899, but from 1901 to 1907 it was Gladstone Villa.
Eliza Stewart died at Badsey in 1907.  Following her death, Henry went to live in Evesham.  At the time of the 1911 census he was boarding with the Hallam family at 58 Kings Road, Bengeworth; he was described as an army pensioner and his surname appears as Steward.  
The Society of Friends records reveal that he was a member of the Evesham meeting from 1911-1912, living at 58 Kings Road; in 1913 he was at 15 Mill Street, but in 1914, he was listed as a member of Badsey meeting.  
Death and Funeral
On 9th February 1914, Henry died at Vicarage Cottage, Badsey, which was the home of his daughter, Mary Anne Cockerton.  He was buried on 12th February 1914 at Badsey with full military honours.  His obituary in The Evesham Standard appeared under the title, "Death of an Old Soldier".  This article explains what can be seen in the photo.  A firing party of the Worcestershire Regiment from Norton Barracks was present. Peter Stewart, whose wife is the great-great-granddaughter of Henry Stewart, explains that the photo is slightly deceiving in that the firing party is way back from the grave.  The actual grave party is to the right which is cut off, with just the figure of a woman facing right.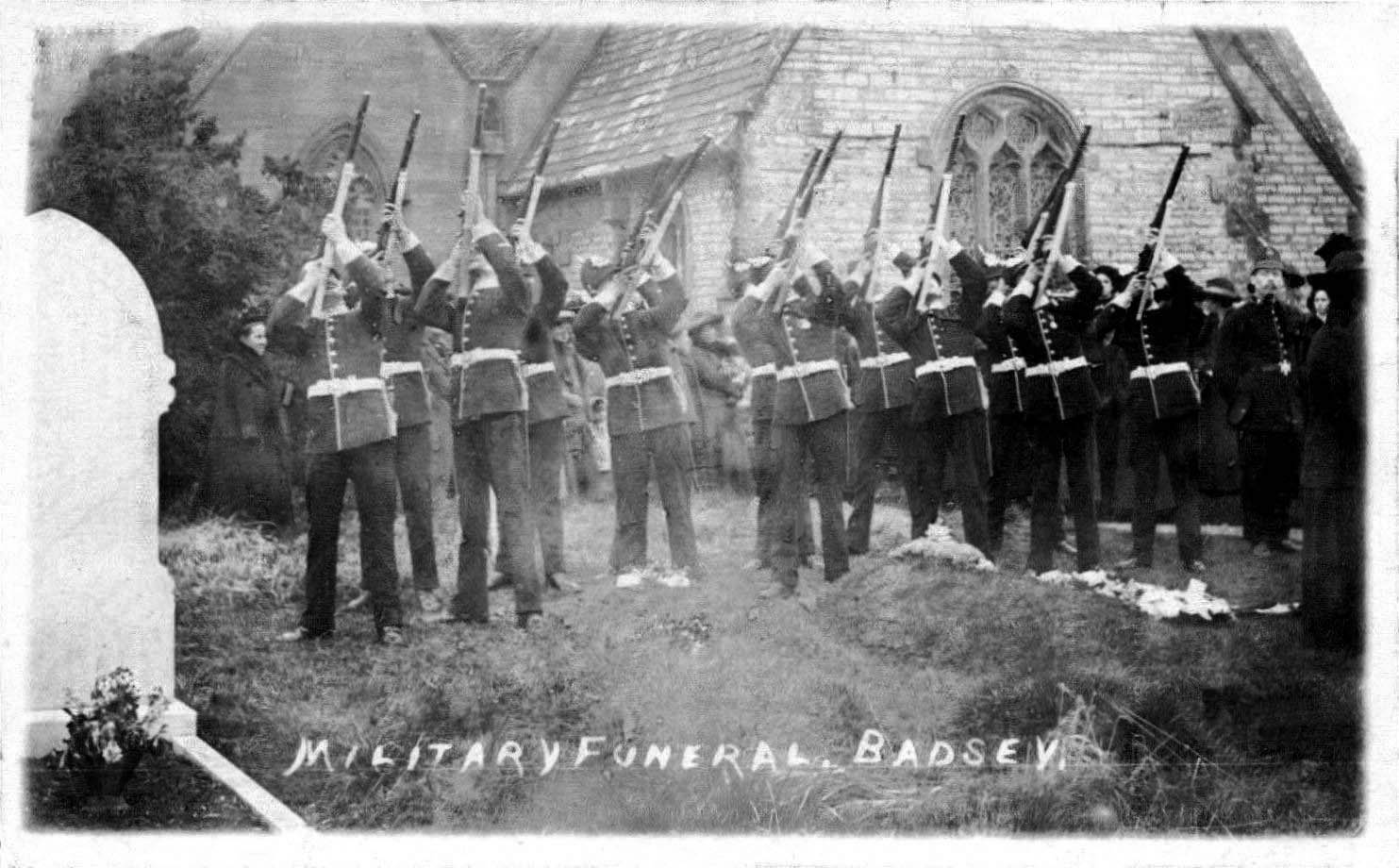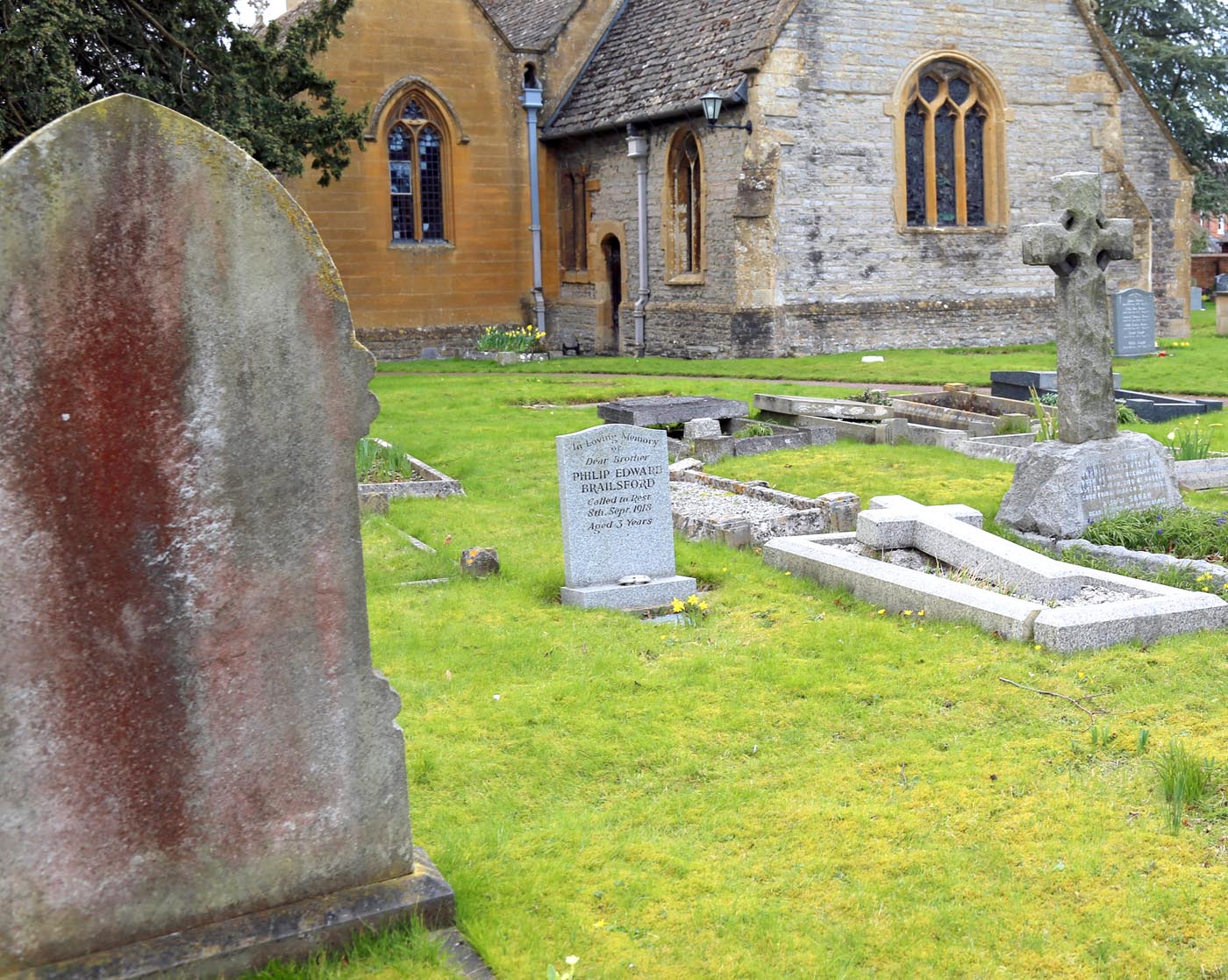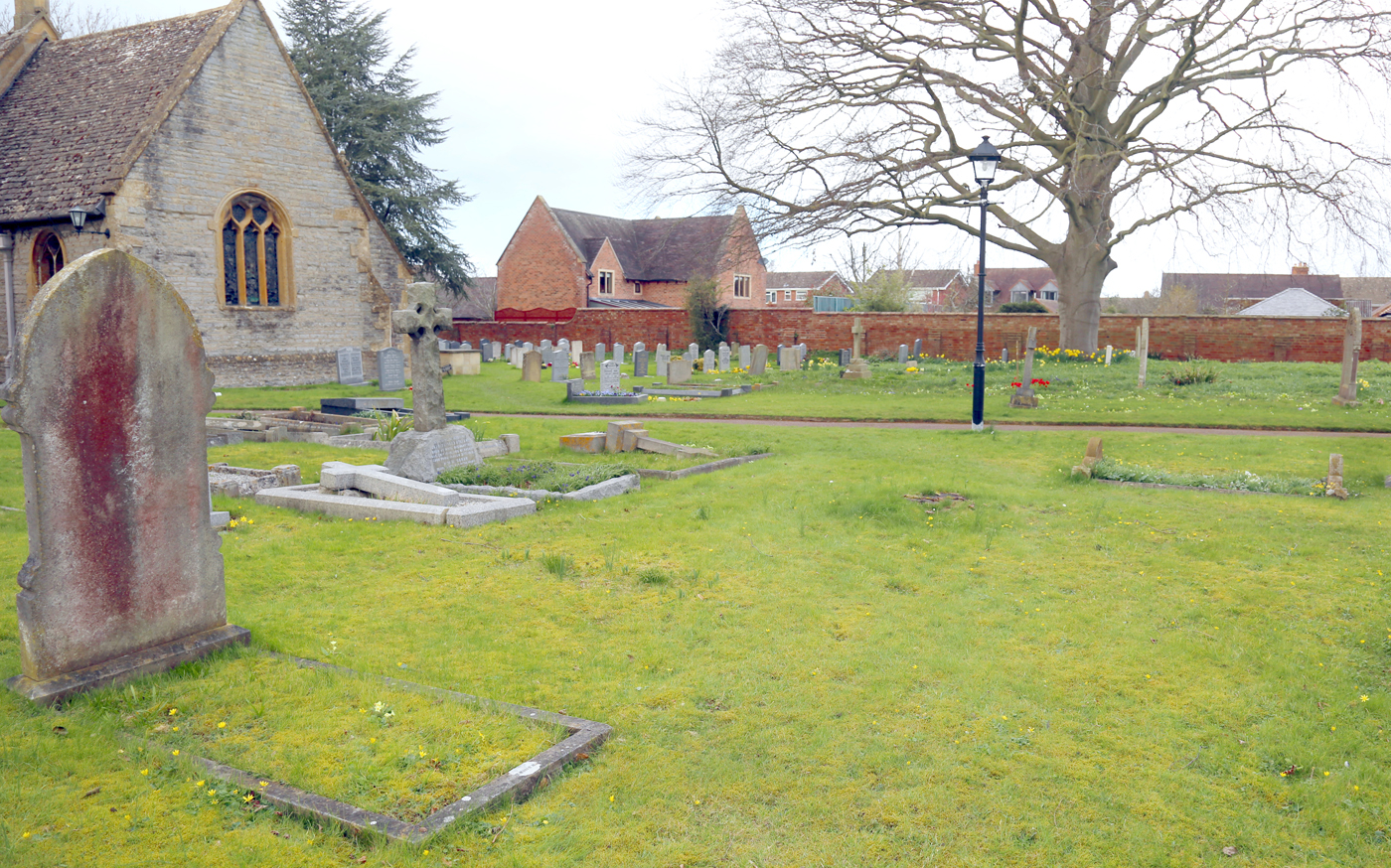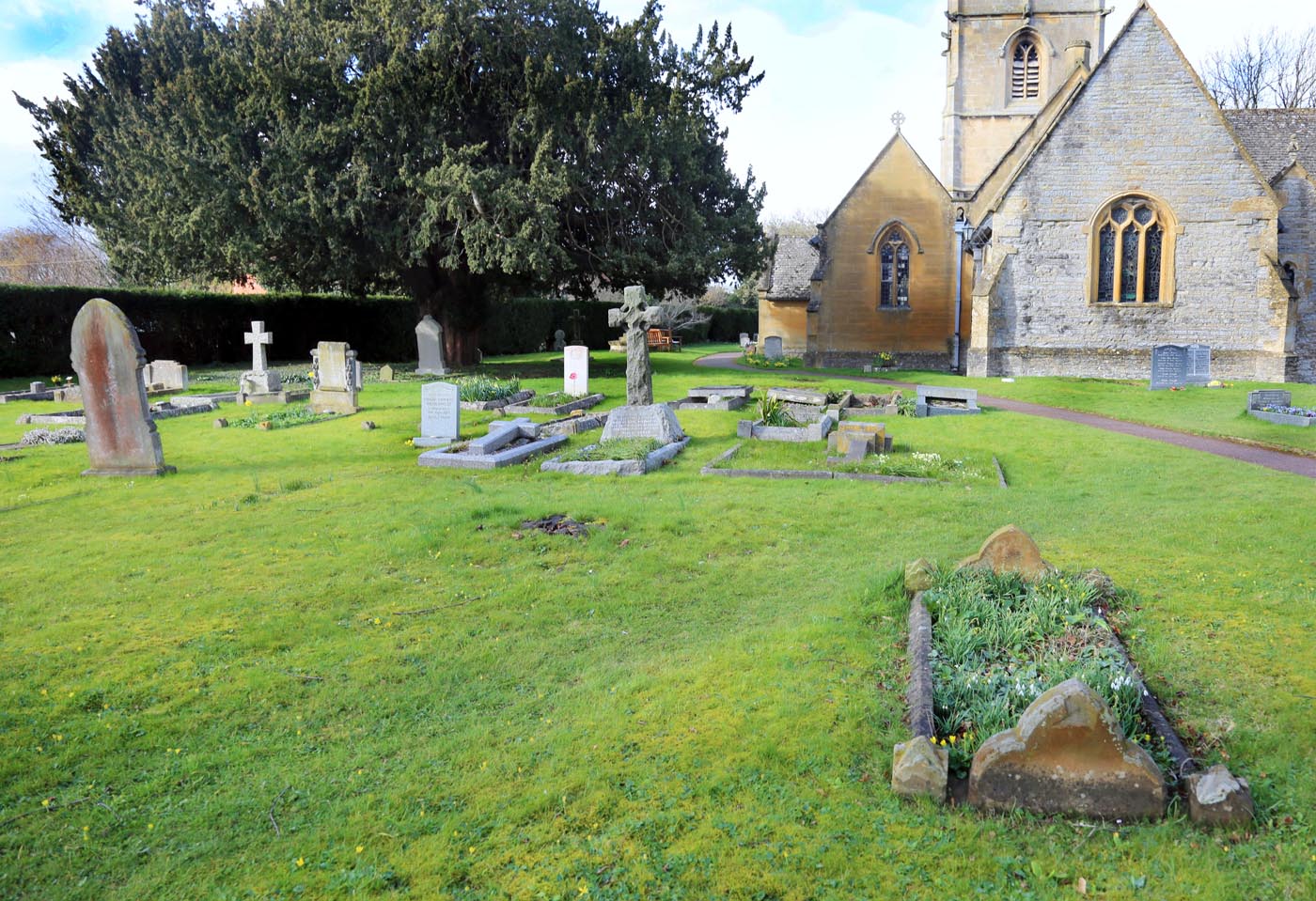 For a village as yet untouched by the Great War which was soon to affect everyone's lives for the next few years, it is assumed that a local photographer took the opportunity of such a significant funeral to create postcards of the occasion to sell in the village shop.  The postcard for sale on ebay was sent to Maggie Perkins (1899-1972) by her cousin, Constance  Lilian May Perkins (1912-1975), known as Connie.  Badsey-born Maggie, the daughter of James Frederick Perkins and his wife, Hannah (née Crump), was then living in Edgbaston; she married William George Knight in 1924.  Connie, who married Ronald Percy Rouse in 1933, was the daughter of Thomas Perkins and his wife, Ellen Elizabeth (née Chamberlain).  Connie was only four at the time the postcard was written in November 1916, so it is clear that someone wrote the card on her behalf.  
Maureen Spinks and Peter Stewart, March 2021
Acknowledgements
All photographs courtesy of Peter Stewart.