On 14th January 1717, Samuel Sandys leased Wickhamford Manor for 16 years, at £200 a year, to Thomas Timbrill, yeoman of Wickhamford.  The deed stated – " all that the manor or dwelling house wherein the said Thomas Timbrill doth now inhabit and dwell, with all barns, stables, outhouses, pigeon-houses, courts and fothering-yards thereunto belonging, and also one ground called the Great Ground with the Great Meadow, thereupon adjoining to Broad Meadow and Cow Pasture Grounds, the Church Yards, Little Meadow and Leys, Town Leasow, Baker's Leasow, Shepherd's Leasow, Swanpool Leasow, Bully Brook Leasow and Fisher's Ground."  (Foddering-yards were small grass enclosures near the house).
There were provisos that the fish-pond near the Manor House and some hedges and tree tops – for wood - could be used by the servants and agents of Samuel Sandys.  He also retained the right to hunt, hawk and fish on the premises.  The fields mentioned in the deed were those on either side of the present Manor Road and some on the Badsey side of the Manor.
Thomas Timbrill (1652-1737) married Elizabeth Smith (1674-1752) in Preston-on-Stour, Warwickshire, on 20th October 1695.  Both were recorded as 'of this parish' and he is also recorded in the register as a churchwarden.  As stated above, they were living in Wickhamford before becoming tenants of the Manor and some of their family members are recorded in the parish registers in the early eighteenth century.
The Timbrill family had lived in Preston-on-Stour, Gloucestershire, for a number of generations before Thomas's family moved to Wickhamford in about 1703.
The Timbrill Family Background
In the book 'A Transcript of the Register of the Parish Church of Bretforton' by Shawcross, there is a genealogy of the Timbrill family - see appendix below.  (In different documents that surname has a number of spelling variants but, to save confusion, 'Timbrill' is used throughout this article).   Many generations of the family baptised a son with the name 'Thomas', and , for clarity, these are numbered in the following paragraphs.
The family were living in Preston-on-Stour, not far from Stratford-upon-Avon, in the late 1500s when Thomas Timbrill (1) married Elizabeth Yeate or Yates on 27 July 1563.   Thomas died on 27th January 1607.    Their eldest of four children was John Timbrill (1566-1622) who married Frances Tailer in 1596.   This couple had eight children, of whom the eldest was another Thomas Timbrill (2) (1597-1637), who married Joane Collins in 1625.
The Family move to Wickhamford
The next generation starts to link the family to Wickhamford, as Thomas and Joane's eldest surviving son, of three, was also named Thomas Timbrill (3) (1628-1695).  This Thomas married Ursula Plestre at Stratford-upon-Avon in 1651 and she was buried in Wickhamford in January 1709.    Their first-born child, yet another Thomas Timbrill (4) (1652-1737), married Elizabeth Smith in Preston-on-Stour on 20th October 1695.  They had nine children, the eldest two – Elizabeth (1696-1774) and Thomas Timbrill (5) (1698-1731) were baptised in Preston-upon-Stour.   The next child, a son named John, was born in 1702, but the location of his baptism is not known.  By the time the rest of the children were born Thomas (4) and Elizabeth Timbrill had moved to Wickhamford.
The Wickhamford registers record the baptisms of Anne (28th March 1704), William (5th October 1706), Mary (3rd August 1709), Edward (30th April 1712), Theodosia (27th October 1713) and Lucy (13th June 1716).   Edward survived only a few days and was buried on 19th May, but the others reached maturity and details of their marriages and offspring are given in book by Shawcross referred to above (see Appendix for a genealogy of the family copied from this source).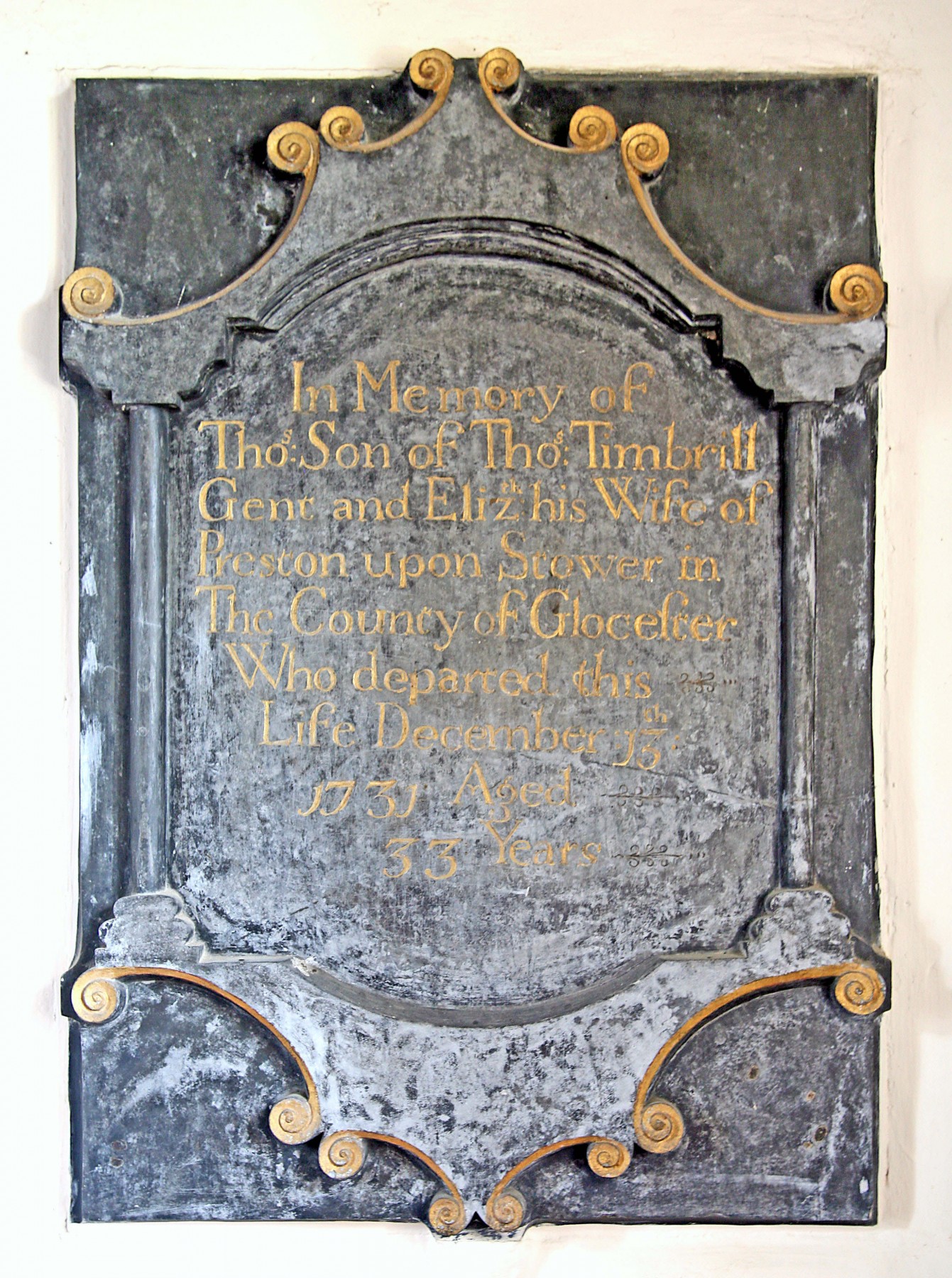 Thomas Timbrill (4) lived at Wickhamford Manor from before 1717 but is recorded as paying a land tax of £3 11 9d at Bretforton in 1715, where he purchased the Loggin Estate and also farmed land owned by William Lutwych.  Apart from the burial of his mother, Ursula Timbrell, in 1709 – she was widowed in 1695 and accompanied the family to Wickhamford – and baby Edward in 1712, the only other family burial was that of Thomas Timbrill (5) in 1731, as recorded on a splendid memorial in the Church, on the wall between the nave and the chancel:
In memory of
Thos, son of Thos Timbrill
Gent, and Elizth his wife of
Preston upon Stower in
The county of Glocester
Who departed this
Life December 15th
1731 aged
33 years
Thomas Timbrill (4) was buried in Bretforton on 12th April 1737 and his wife, Elizabeth died on 10th February 1752.   Headstones for both were in the Churchyard at Bretforton, but his has now been lost, although the inscription was recorded and once read: 
In Memory of THOMAS
TIMBRILL Gent of this parish
He departed this life
April 10th 1737
Aged 85
A kind husband a father dear
A neighbour good, a friend sincere
A lover of industry
of temperance and sobriety
By which he
died in health survive
Unto the age of Eighty-Five
In 1737, the will of Thomas Timbrill (4) was proved on 22 June when his place of residence was given as Wickhamford.  The beneficiaries were his wife, Elizabeth, sons William and John, daughters Mary and Lucy as well as three married daughters, Elizabeth Ashwin, Ann Corbett and 'Theodoria' Baldwin.  
Their son, John (1702-1768) became High Sheriff of Worcestershire in 1760 and is buried in a vault at the church in Bretforton.  He married three times, firstly to Ann Wheatley in April 1727 but she died only four months later.  He then married Mary Kingston, by whom he had five children.   Mary died in 1741, aged 40, soon after the birth of her last child.   John Timbrill lastly married Susanna Hornsby of Lower Quinton, the ceremony carried out in Wickhamford on 15th December 1748.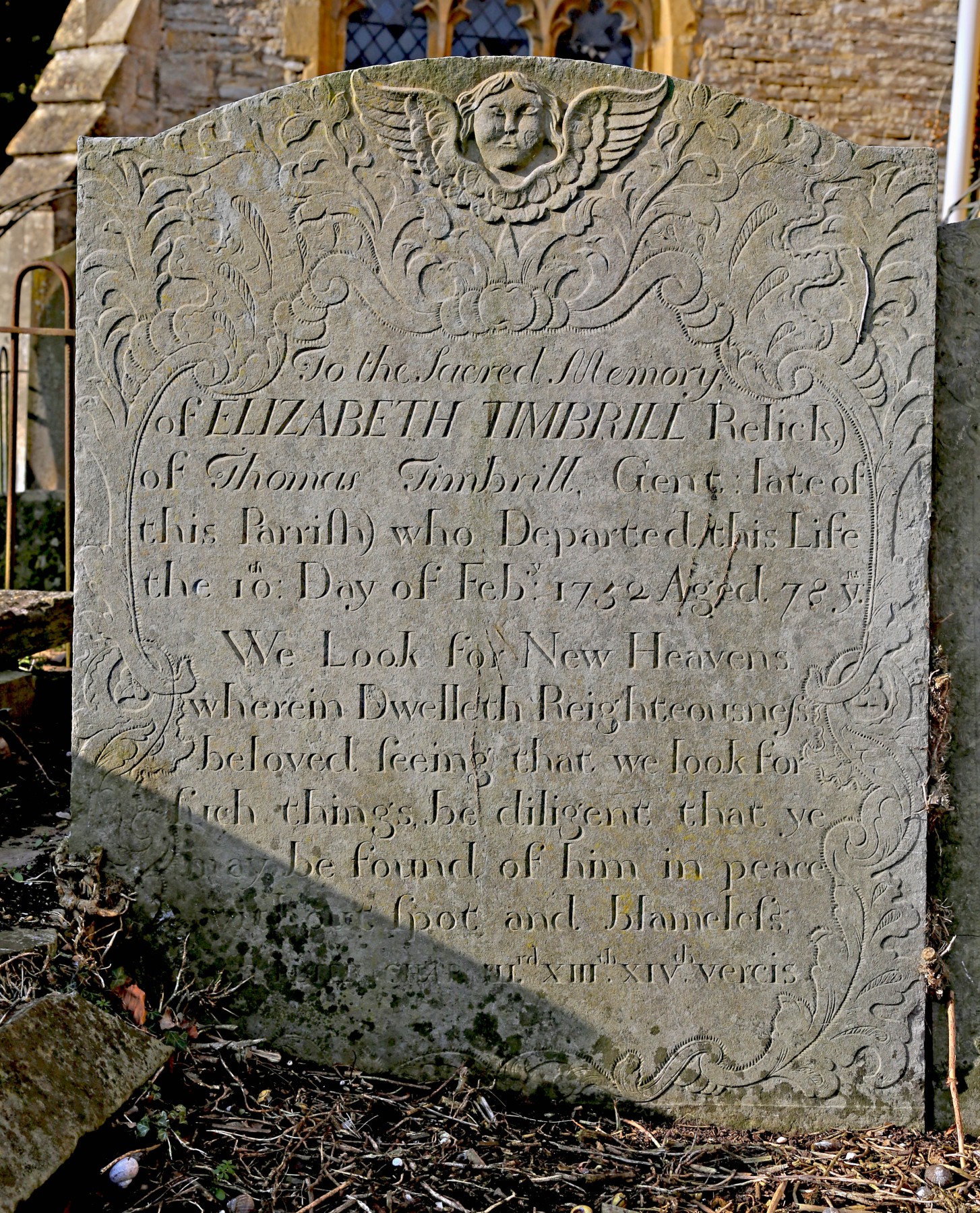 The only other connection to Wickhamford at this time is the marriage of the elder sister of Thomas Timbrill (5).  Elizabeth Timbrill married John Ashwin of Bretforton in Wickhamford Church on 28th January 1717.
Elizabeth Ashwin died at Bretforton in February 1752 and is buried in the churchyard there:
To the Sacred Memory
of ELIZABETH TIMBRILL (Relick
of Thomas Timbrill, Gent, late of
this Parish) who departed this life
the 10th day of Feb 1732, aged 78 years
 
Notes
The information on the deed, that places Thomas Timbrill (4) in Wickhamford Manor, comes from an article by local historian E. A. B. Barnard, written in the 1930s, entitled Old Days in and Around Evesham.  He had access to the original document, lent to him by George Lees-Milne of Wickhamford Manor.  The mention there that Thomas Timbrill (4) was already inhabiting the Manor may indicate that he had been there on an earlier lease and that this was being renewed.  If such a deed existed, it has now been lost.  He was certainly resident in the village from 1703, which may mean that there was an earlier deed from c1703-1717.  
Appendix
A Timbrill genealogy reproduced from the book 'A Transcript of the Register of the Parish Church of Bretforton'.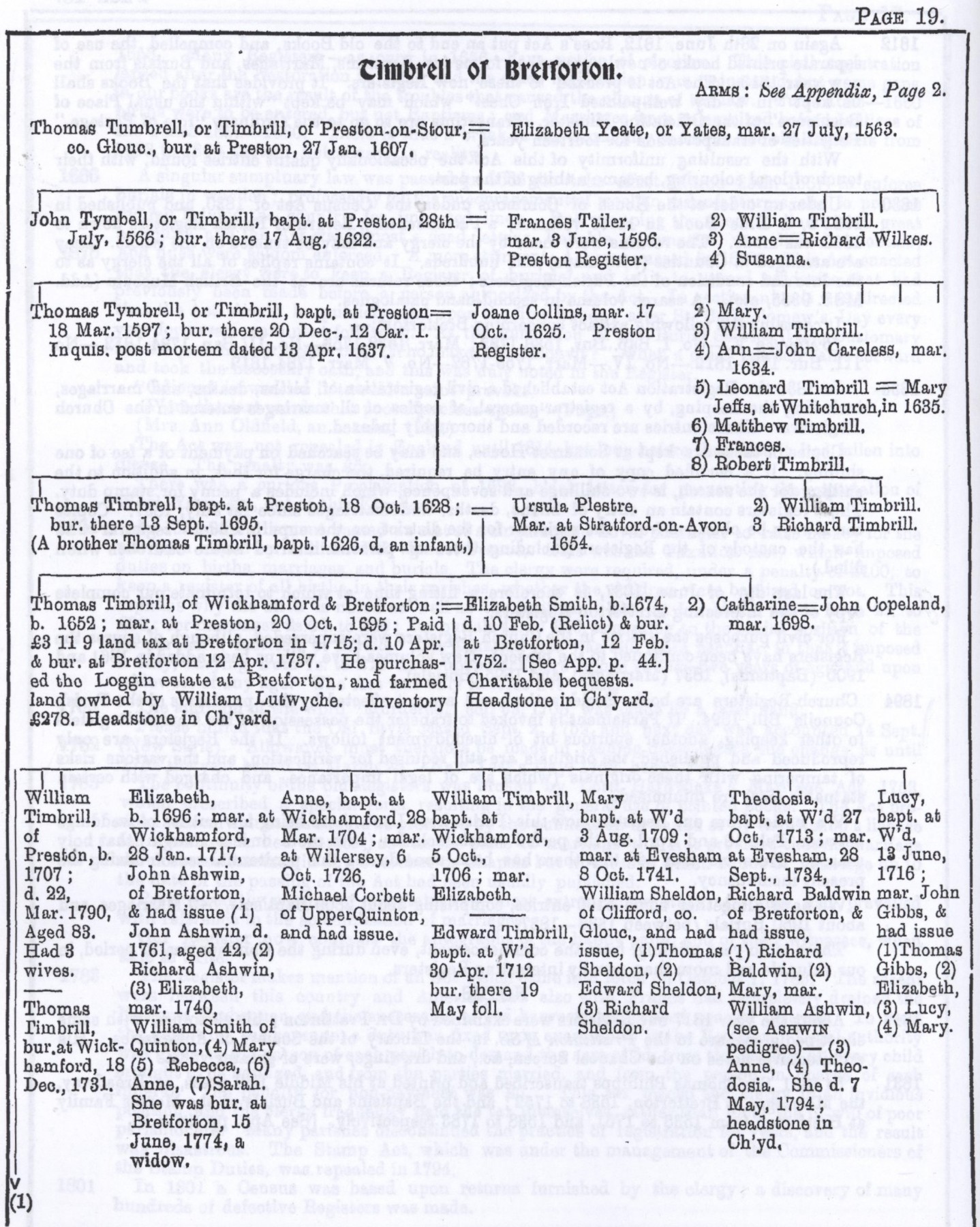 N.B. William Timbrill is recorded twice as a child of Thomas and Elizabeth nee Smith.  He was baptised in Wickhamford on 5th October 1706 but also as 'of Preston, b. 1707'.   Other sources give this later date as 1st January 1707, so it is likely that Thomas had the birth recorded in a register at his old parish church as well as at Wickhamford.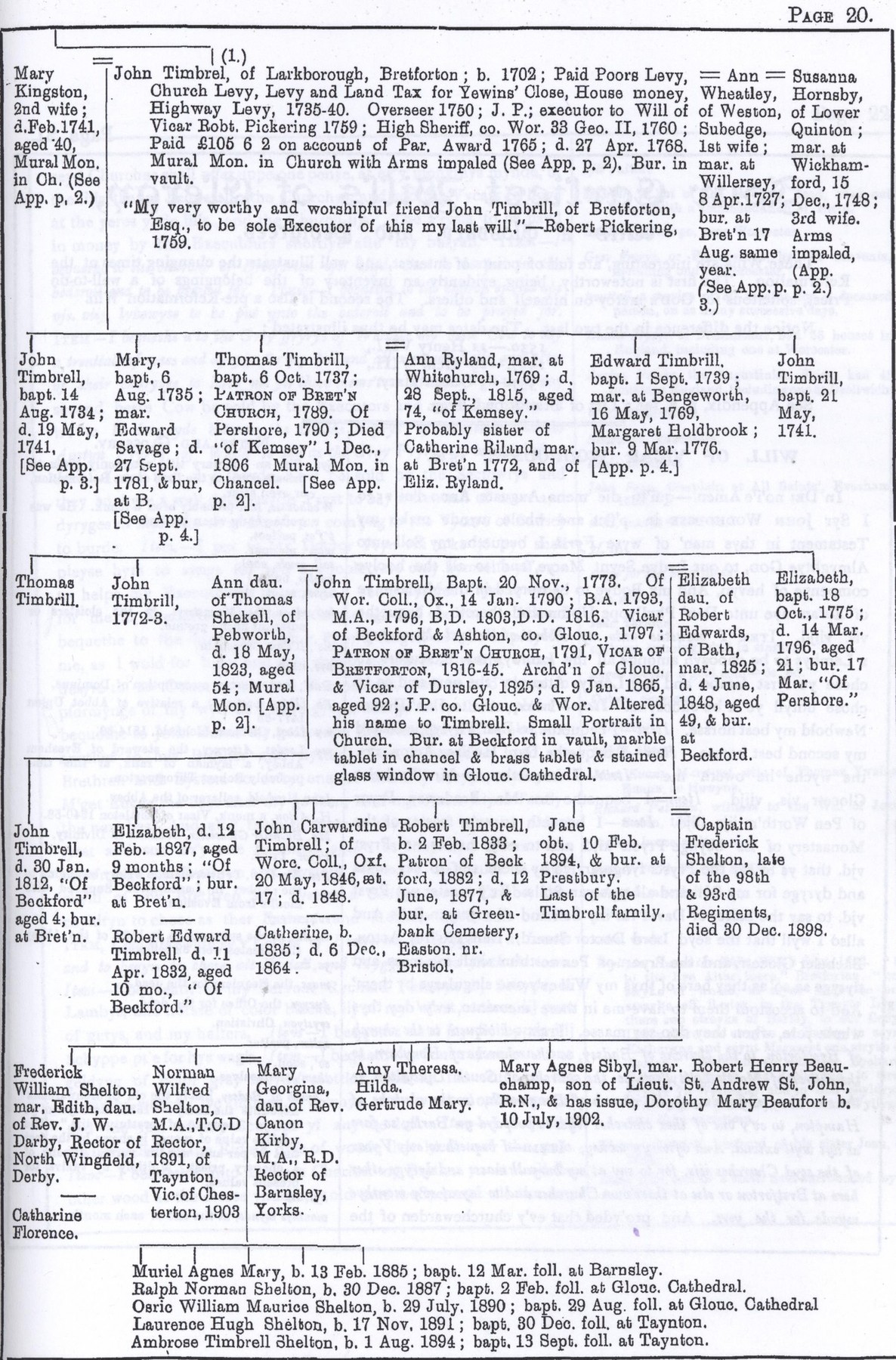 Acknowledgement
Thanks are due to Peter Stewart for supplying the photograph of the memorial tablet and the pages on the Timbrill genealogy. Also, for the photograph of Elizabeth Timbrill's gravestone and the information on Thomas Timbrill's now missing gravestone.
Tom Locke – June 2013 (updated September 2020)