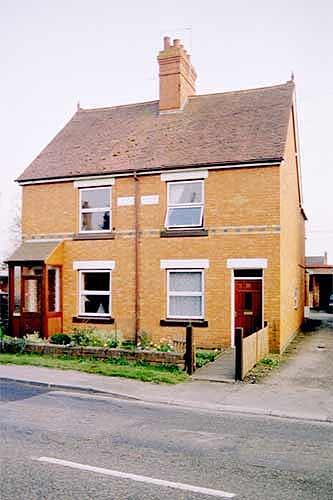 Hopyard Villas are a pair of semidetached houses on the Bretforton Road in Badsey. They are a good example of homes built during a building boom in the village between 1890 and 1915 when market gardening was at its peak.
The deeds show that the houses were built about 1908 on a plot of land covering 1134 square yards, part of a field called the Hopyard. The plot was on the northeast corner of land owned by Thomas Byrd, a wealthy Justice of the Peace living in Aldington. The land on the east side of the plot belonged to Mrs E Pethard and the north side was bounded by the road.
The first sale was dated May 1908 and the deeds named Edward Grantham Righton, a local estate agent, Geoffrey New, perhaps the builder, and Thomas Byrd, the landowner. Both houses were bought by John Sears of Badsey, a market gardener. In 1915 he sold both houses to George Hambler Field of the Talbot Inn, Bengeworth, a licenced victualler for £395. The sale included the land, dwelling houses, stable and out buildings.
It is unlikely that either John Sears or George Field lived in the houses but instead rented them to tenants. The 1924 electoral register showed two families living at Hopyard Villas – John Richard and Ellen Green, and William Thomas and Mary Emily Stanford. The Stanfords had married in Badsey on 29 Jun 1897 and both are buried in Badsey churchyard.
In 1941 the owner, George Hambler Field, died and his brother and two sons acted as executors. They were all market gardeners and none of them appear to have been living at Hopyard Villas. They sold the two houses to Hector Smith, an omnibus driver.
In 1957 Hector Smith, who was by then an agricultural mechanic, seems to have been living in one of the houses (14 Bretforton Road) and sold the other house (16 Bretforton Road) to Phillip Basford of Close Cottage, Bretforton, who was also an agricultural mechanic. Some time during the 1950s Hector Smith ran a small grocery shop from 14 Bretforton Road.
This was probably the first time that the two houses had been sold separately and the agreement included right of access along a path from the main road to 'the yard at the rear of the adjoining dwelling house now or formerly owned by Hector Smith.' This right was passed on in later sales.
The house at 16 Bretforton Road changed hands several time after that. In 1960 it was bought by Albert Edward and Florence Mary Sears, who sold it to Janet May Horton in 1962. On her death it was bought by Robert and Pat Lake, the present owners.
The houses once stood in 'a field called the Hopyard' - the field is shown on the 1812 enclosure map for Badsey. In Worcestershire and Herefordshire hops are grown in 'hopyards'. In other parts of England they are called 'hop gardens'. Arthur H. Savory, who became tenant of the Aldington Manor in 1873, was an enthusiastic hop grower. He employed about 300 people, mostly women and children, during the picking season and the hops were dried in kilns which he constructed from existing buildings adjacent to the Manor House. Writing in 1920 in his book Grain and Chaff from an English Manor he estimated £30,000 worth of hops were produced during his time at Aldington.
Richard Phillips – with thanks to Pat Lake and Terry Sparrow.
John Bird who lives on Synehurst passed on some information about a policeman living at 16 Bretforton Road. He writes -
"I know through my parents and sisters a Police Constable Debney lived in Robert Lake's house in the 1920s or 1930s. He had a wife and two daughters Josephine and Elthea. We only lived three doors away. The police never had a phone there and my parents were always taking messages round for one thing or another. Also PC Debney was always coming round to use our phone. Quite often my father was called out to fetch a body that had been got out of the river or brook by the police and taken on his lorry to the mortuary. I can remember my mother often telling us, it was nearly always on a Sunday dinnertime when he had a call to go out. Just as dinner was being served. Of course no one wanted any dinner."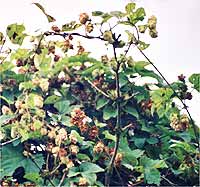 No hops are grown in the area today, but if you walk along the footpath opposite Hopyard Villas, you can still find hops growing wild in a hedgerow.     
---
We would like to publish the history of other houses in Badsey and Aldington. If you are willing to write a brief history of your house, do please contact us. Your house does not have to be particularly old. We are very happy to include histories of twentieth century houses.
---