This painting by local artist, Cyril John Bird (John), dated December 2002, is a picture of Bird's Garage which used to exist on Bretforton Road, but has now been demolished. John's father started the garage in the late 1920s. The painting was done from a photograph taken in the late 1930s; the price of petrol was 1s 2d a gallon.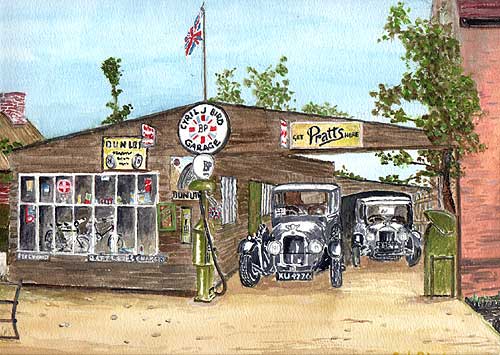 John is also trying to recall from memory, how the area surrounding the garage looked like in the 1930s and early 1940s. He has produced the sketch below.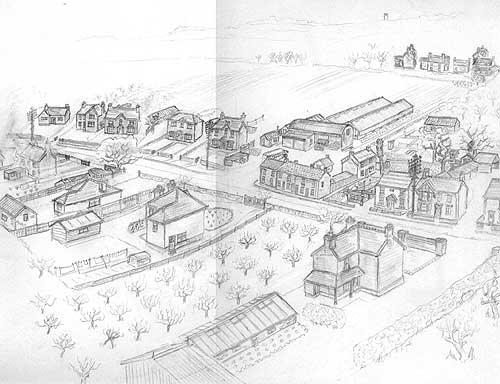 The picture shows the Bretforton Road, with houses on the south side (top half of sketch) being as follows, from left to right:
Now No ? – the Cranes lived there
Now No 32 - Nellie Hall lived there.  [In 2006 we were contacted by Patricia Day, daughter of Evelyn Crane. She told us No. 32 was known as 'Theadellen' and belonged to her great aunt - Mrs. Nellie Hall. The house was named after her late husband and herself. He being Theodore Hall and she had been Lydia Ellen Crane. The bungalow next door to 32 was occupied by the Cranes but was not there in the 1930s.It was probably built during the 1950s.]
Now No 30 - Fred Dore lived there
Now No 28 - Fred Stewart lived there
Now No 26, Highmead  - Mrs Stewart lived there
Entrance to Stewarts' Yard
The Leys – a row of cottages demolished post-war, then lived in by Mrs Knight, Sid Smith, Bert Stewart, Charlie Whiting, Sarah Agg; behind was The Hollybush Inn (with the tall holly tree beside), also demolished (Hither Green is now on this site)
Bird's Garage – demolished (the entrance to Hither Green is now on this site)
Now Nos 22 & 20 – a pair of semi-detached cottages dated 1886, known as Teacle's Cottages, or Thomas Cull's Cottages (Tom Cull built them, but they belonged to Stewart). Cyril Bird and family lived in what is now No 22, next to the garage, and the Hatcher family lived in what is now No 20.
Now No 18 - Polly Addis lived there
Now No 16 (Hopyard Villas) - Francis Street lived there
The houses on the north side (bottom half of sketch), from left to right, are as follows:
Now No 31 (Tower View) – Bert Merrett lived there
Now No 27 (Benlea) – Frank Reeves lived there (Kudos, No 29, has since been built in between)
Now No 25 (San Remo) – "Ponto" Stanley lived there
Orchard where two new houses (Nos 23A and 23B) have since been built
Now No 23 (Hollycroft) – Fred Sears lived there
In the distance can be seen the cottages at the far end of Old Post Office Lane: Westlea (Nos 24 & 26), Vale Cottage (Nos 27 & 29), small cottage (No 25), Blenheim Cottage. Note that the footpath that runs from Blenheim Cottage in Old Post Office Lane, to Hither Green, now coming out by No 22 High Street, was diverted and now turns the corner, whereas in the past it used to run straight, into Stewarts' Yard.
In the far distance, Broadway Tower can be seen.
---
Here is another painting of Badsey by John.