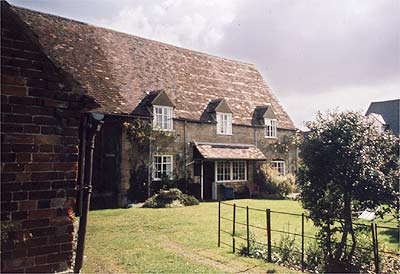 This barn, formerly part of the buildings attaching to Seward House (possibly originally part of the Home Farm of the property) is an interesting example of a so-called "Threshing Barn", the southern end of which was sympathetically converted to residential use in the early 1970s. The modern photograph shows part of the present west elevation of the building.
One expert, on examining the structure in 1975, considered that it was built between 1600 and 1620. Evidence for this dating would have come from the use of massive tie-beams, the pattern of the masonry courses – much of the stone being local grey lias (locally known as "Littleton stone"), but interspersed with Cotswold limestone – and several previously worked stones in the vicinity which almost certainly came from Evesham Abbey. By the mid-nineteenth century additional animal housing had been built, in brick, across, and adjoining, the north end of the barn.
One feature of the unconverted part of the barn is the grey lias threshing floor, set between the great doorways which lie opposite each other in the east and west walls of the building, deliberately aligned thus to catch the prevailing winds when the doors were open during threshing, as well as providing a "drive through" facility for laden wagons at harvest time.
At the beginning of the twentieth century the barn, access to which is now from Seward Close, was a feature of the well known Sladden rose garden – Mr, later Sir, Julius Sladden of Seward House being a rose grower of some renown. The barn at that time was often used for village functions like celebratory suppers, fetes and flower shows; today it still serves as the venue for church cheese and wine parties on a summer's evening.
Ownership of the barn remains with a branch of the Sladden family, thereby providing a link between Seward House and the family for a continuous period of 125 years.
Tony Jerram
See also Sladdens Barn photographs.