Wickhamford Mill, now called Mill House Farm, stands beside Badsey Brook. On the Brook and its tributaries there were 13 mills in total. These were at Broadway (3), Saintbury, Childswickham (2), Buckland, Murcot, Wickhamford, Badsey, Aldington (2) and Offenham.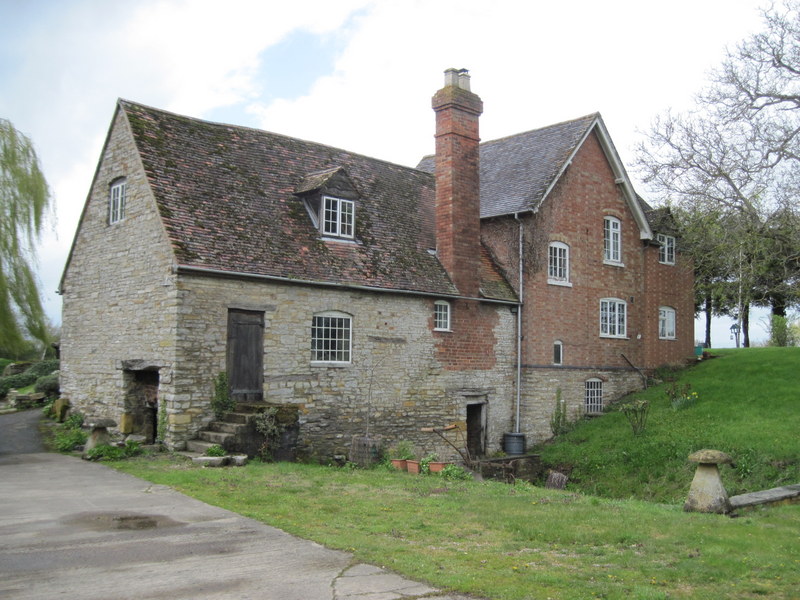 Early history of milling in Wickhamford
This section is based on notes that were prepared by local historian Benjamin G. Cox. A mill at Wickhamford was in existence prior to the Norman Conquest but its precise location cannot definitely be stated as being on the site of the existing mill. The Domesday Survey, completed about 20 years after the Conquest states that "there is a mill there worth forty pence and ten acres of land".
The whole village at that time belonged to the Abbey of Evesham, having been given to the Abbey soon after its foundation in the early eight century. When a schedule was prepared for Abbot Randulf between 1213 and 1229 of the dues and payments to which the Abbey was entitled, reference was made to Wickhamford Mill as follows:-
Also a mill at Wikewane from which it receives but eight shillings and the tithe of the mill to be put towards pickled herrings for the monks at Quadragesima.
Most of the mills in the Vale had to supply eels to the Abbey, but perhaps the brook at Wickhamford was not very productive of eels and the Abbot took the money instead.
Further reference is made to the mill in the Evesham Abbey Chronicle (Rolls Series p.276) referring to the activities of Abbot Thomas de Marleberge, who was Abbot after Randulf, as follows:-
He also retained for his own use the mill at Wykewane whose occupier died at the time when the King had charge of the Abbey.
There is a deed of 1815 giving particulars of the mill at Wickhamford. It is referred to as being an overshot mill and dwelling house. Another record of 1842 shows that some land associated with the mill were occupied by Alice Sawyer and that Samuel Smith owned the mill and three small plots of land.
The plots were listed as follows:-
| | |
| --- | --- |
| Mill House garden and 2 plots | 2 acres 1 rood 17 perches |
| Part of Mill Meadow | 2 acres 1 rood 9 perches |
| Part of Mill Ground | 2 acres 3 roods 30 perches |
| Part of Lower Ground | 1 acre 3 roods 12 perches |
| Part of Mill Dean | 6 acres 1 roods 16 perches |
| Part of Mill Meadow | 5 acres 0 roods 16 perches |
The Smith family of Wickhamford Mill
In the first detailed census, in 1841,  Samuel and Sarah Smith were in the village with their infant son, Wingfield John, and Samuel was recorded as a miller at this time.
The census record confirming that the Smiths as millers in Wickhamford came in 1851. At this time Samuel Smith, aged 40, was the miller. His wife was Sarah, aged 39, and they had two sons –Wingfield John (also recorded as John Wingfield in some records) (12) and George (5). Both sons had been baptised at Wickhamford church, in 1839 and 1846 respectively.
Samuel had been baptised in the village church on 20th August 1809, having been born in June. He was one of at least nine children of Anthony Smith and his wife Catherine, nee Calvert, who had married in Badsey on 29th March 1792.
Anthony and Catherine had three sons and six daughters baptised in Wickhamford between 1793 and 1812. Benjamin was their eldest son (1797-1837), Samuel was their second and Francis (1812-1856) the last. Francis was buried in Wickhamford, but resided in Aldington at the time of his death, where he lodged with his sister, Catherine and brother-in-law, Thomas Byrd, a farmer. Benjamin was also buried in Wickhamford. Although all of their children were baptised in Wickhamford, there is no evidence that Anthony was the miller in the village. Anthony and Catherine Smith were not buried in Wickhamford graveyard.
By 1861, Samuel and Sarah Smith were still operating the mill and their son, George, was still at home. John Wingfield Smith was unmarried and lodging with a grocer's family in High Street, Evesham at this time: his occupation was given as "miller".
In 1871, Samuel and Sarah Smith were at the mill, but George was recorded as a visitor at Hampton mill and his occupation was given as "miller". Samuel Smith died in 1879 and was buried in Wickhamford churchyard on 22nd August and two years later, in 1881, Sarah was operating the mill together with her still unmarried son, George. George died in 1888 and was buried on 4th April and in 1891 Sarah, by then 78, was running the mill with her elder son Wingfield John Smith and his wife Jane (nee Hundy), who he had married in Worcester in 1867. Also in the household was the couple's only son, Albert Wingfield Smith (33).
Earlier, in the 1871 census Wingfield J. and Jane Smith lived in Badsey where he was described as a miller, but no details of the location of the mill are given. They had a 3-year-old son, Albert W., who was described as dumb from birth. By 1881 the family had moved to 'Lower Murcott Farm, Childs Wickham' and 'John W. Smith' was the miller there. Albert is described in this census as dumb and lame from birth.
Sarah Smith died in 1894 and was buried in Wickhamford on 18th July. This left Wingfield John and Jane Smith in charge of the mill and they are recorded there on the 1891 census, together with their still unmarried son, Albert. No mention is made of Albert's' disabilities in this census. According to the census returns, the three members of the Smith family were still corn milling in 1901 and in 1911. Although no record of Albert's condition is recorded in the 1901 census, in that of 1911 an entry of 'Spinal from birth' is entered in the disabilities column.
The end of the Smith era as millers in Wickhamford came tragically at the very end of 1916. On 30th December, Wingfield John Smith died in the morning, aged 77, and in the evening his son, Albert Wingfield Smith, 48, also died. The father was described as a Grist Miller and he died of chronic bronchitis and syncope (fainting). The son was stated to be of no occupation, so presumably his disabilities were severe enough to preclude him working in the mill, and he succumbed to acute pneumonia. They were both buried in Wickhamford churchyard on 3rd January 1917. The Badsey Parish Magazine recorded the event as follows:-
MR WINGFIELD JOHN SMITH

Much sympathy is felt for Mrs Smith of Wickhamford Mill, who suffered a double bereavement on the last day but one of the Old Year, her husband passing away in the morning and her only son in the evening. The double funeral took place the following Wednesday. With Mr Smith's decease a long chapter in the history of Wickhamford Mill closes, the premises having been in the occupation of Mr Smith's family for several generations.
It is not known if Jane continued the run the mill, but she was over 70 years of age by this time and the entry above suggests that she did not. She died in 1922, aged 77.
The Smith family definitely ran Wickhamford Mill from 1842 to 1916 and probably for some time earlier.
Smith Family background
Tracing back the Smith family is complicated by the fact that two men of similar ages by the name of 'Anthony' were living concurrently.
However, 'our' Anthony Smith (I) and his wife Catherine (nee Calvert; m. Badsey 29 March 1792) lived in the Wickhamford from 1793 onwards and at least two of their sons became millers, so it is quite possible that Anthony was also the Wickhamford miller at some stage. This man died on 17th December 1814, leaving his widow, Catherine, £900, a considerable sum in those days.
This Anthony Smith was probably the son of Benjamin and Elizabeth (nee Roberts), who married in Badsey on 21st February 1758. They had five children, but were non-conformists, so there are no baptismal records for them in the Church of England registers. They were – Mary (b. ca 1758), Elizabeth (b. ca 1761), Anne (b. ca 1765), Anthony (b. ca 1771) and Samuel (b. ca 1773). When Benjamin Smith died in 1819, his will mentioned these grandchildren as being those of his deceased son, Anthony.
The parentage of Benjamin Smith has not been definitively confirmed, but he could have been the son of Anthony (II) and Ann (nee New), who married in Badsey in 1716. Anthony Smith (1694-1747) was a miller in Harvington and then he inherited the mill in Badsey in 1725 from his father Joseph Smith.
Joseph was born around 1660 to Anthony Smith (III) (1615-1692) and his second wife. This Anthony was the earliest of the Smith line that may have been a miller, but the family can be traced back four more generations to Robert Smith who died in 1549.
An aside – the other Anthony Smith
A map of land owners in Badsey of 1812 shows that the land at the bottom of Mill Lane was occupied by an Anthony Smith, so he probably ran the mill in Badsey at this time. He is the signatory of a long Conveyancing document of 2nd May 1818, concerning land and a mill in Badsey. (The Wickhamford Anthony Smith had died four years prior to this document's date). The text mentions that he has a son, Benjamin, and that this Anthony was one of the sons of the late Joseph Smith of Harvington (d. December 1793). The Harvington records show that Joseph and Mary Smith had at least four children – John in 1745, Anthony in 1757, Mary in 1761 and Hannah in 1764.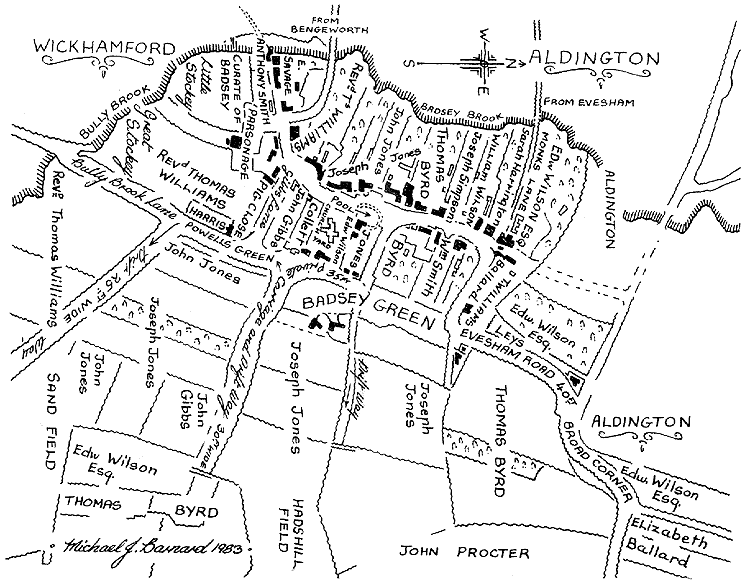 Wickhamford Mill in the post-Smith era
Following Jane Smith's death in 1922, a number of different families lived at the Mill House. For nine months in 1923, James Taylor lived there, his three daughters attending Badsey School. William C. Manners then lived there for a few years, then James Gosling, Francis Wiggins from 1936-1937 and George Tustin from 1945-1946. These occupants were probably only renting the accommodation in the house and not operating the mill.
The last person to operate the mill was Clifford Summers who had been working for Ted Carter as an agricultural labourer until about 1933. He contracted dermatitis and was no longer able to milk cows, so had to find other work. It was then that he was employed by Mr Carter to work the mill and when he left, the mill ceased operation. Clifford Summers died in 1977, aged 78.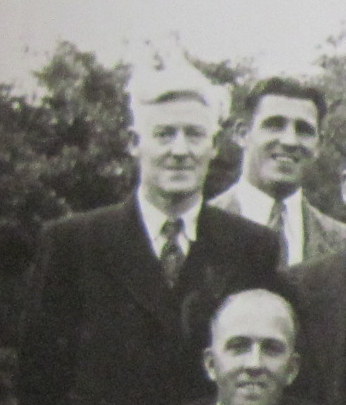 The Carter family had lived at Field Farm, with Benjamin Carter recorded there in the 1891, 1901 and 1911 censuses. He and his wife Emily both died in late 1926; he was 84 and she was 74. Their son, Edward Albert (Ted), ran Wickham Farm (also known as Pitchers Hill Farm) in Manor Road at some time and his cousin, Ella Margaret Carter sold the mill to Austin Llewellyn Daffurn in May 1952.
John Poulter bought the mill in 1964 from Austin Daffurn, who moved to Devon and died in the Plymouth area in 1989. Following repairs to the weir, leat and other parts of the water system, John Poulter was able to get the wheel turning again but it remains disconnected from the rest of the machinery.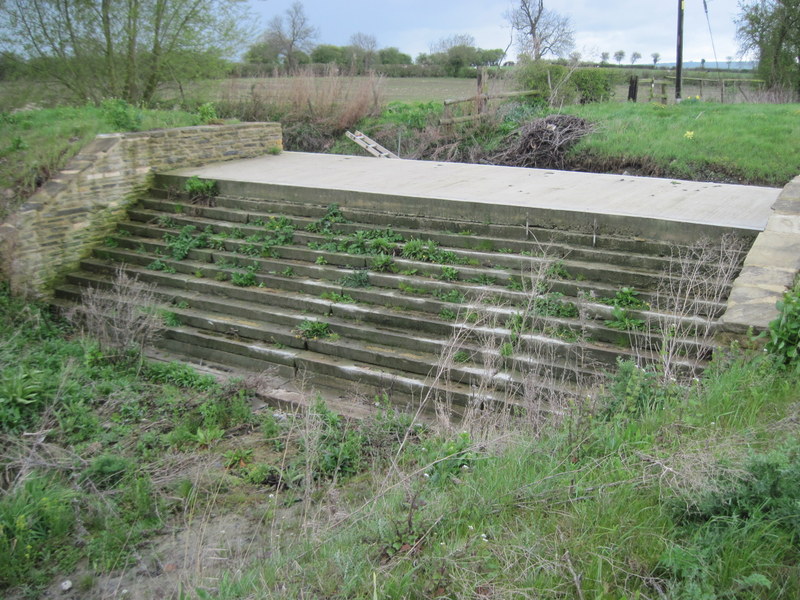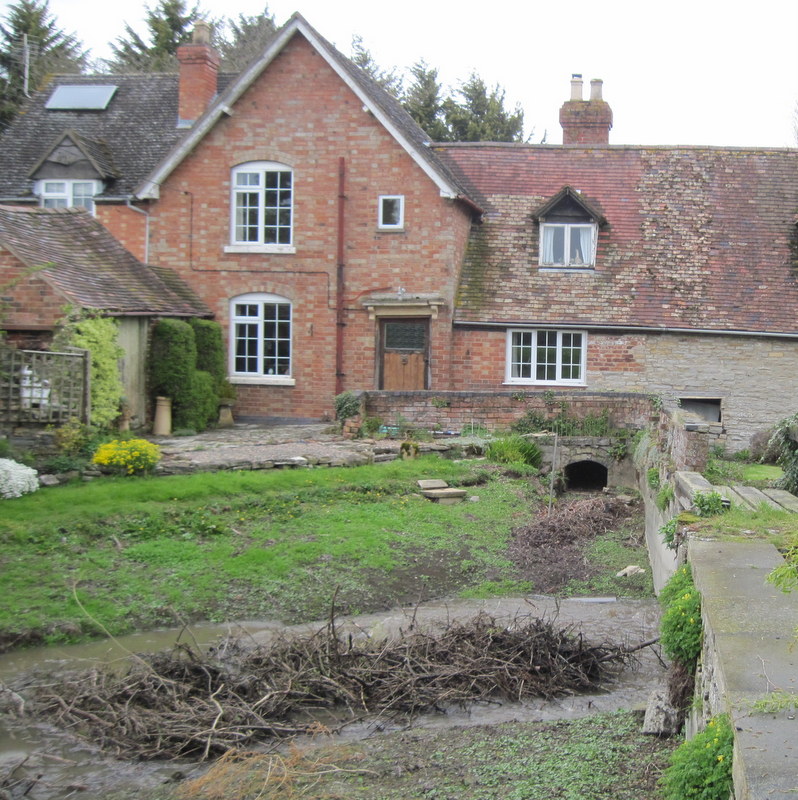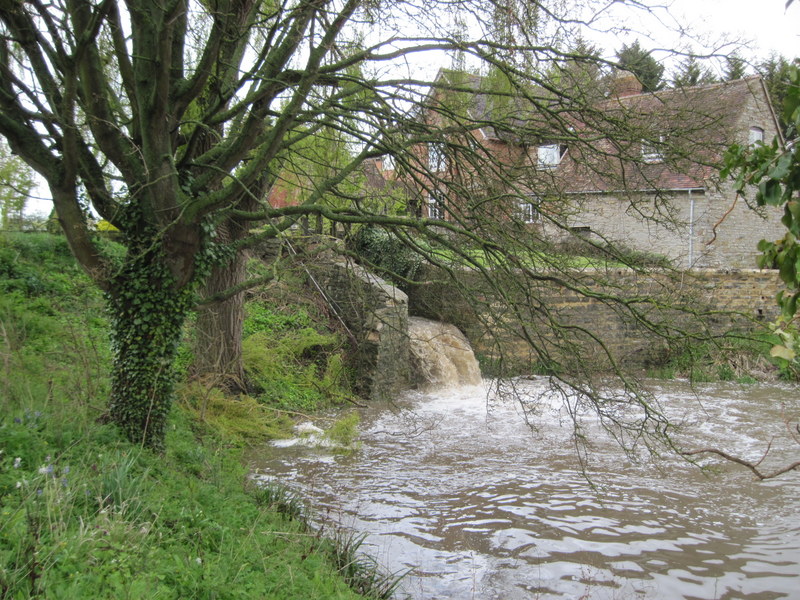 Wickhamford Mill (Mill House Farm) descriptions
The listed building is described by the British Listed Buildings website as follows:-
House and water-powered corn mill. C18 with late C19 house. Mill of lime-stone rubble; house of brick. Tiled roof. On the east side the mill has a window with segmental head. To its left is a doorway with plain reveals and external stone steps. To the right at a lower level is a doorway above the brick culvert of the tailrace. The upper part of the wall is rebuilt in brick and has a window with segmental head and a brick chimney. One gabled dormer. The house, at the right, is of brick on a stone plinth and is gabled. It has three casement windows with segmental heads, including one lighting a stair. Within the stone plinth is a window with glazing bars and plain reveals. Interior: not accessible at time of survey (January 1987). When previously listed in 1973 the machinery was largely intact and included a cast iron wheel with elm buckets, and timber and cast iron cogs and wheels.
[See illustrations from this time at end of the article].
Earlier, the Valuation Survey assessed the property on 12th February 1913 and the buildings were described as follows:-
Brick and tile cottage, poor repair and very damp: 3 bedrooms, kitchen, living-room, pantry, cellar, larder, outside wash-house and privy; tap water. Old stone and tile mill with 2 pairs grinding stones, loft over, overshot water wheel. Old brick and thatch stable; brick timber and tile shed. Fair pasture field; 15 fair elms; public footpath to Murcott.
The acreage of the property was given as 7 acres, 2 roods and 12 perches. Its gross value was £565. The Trustees of the J. P. Lord Estate owned it and the freehold was held by "J. W. Smith".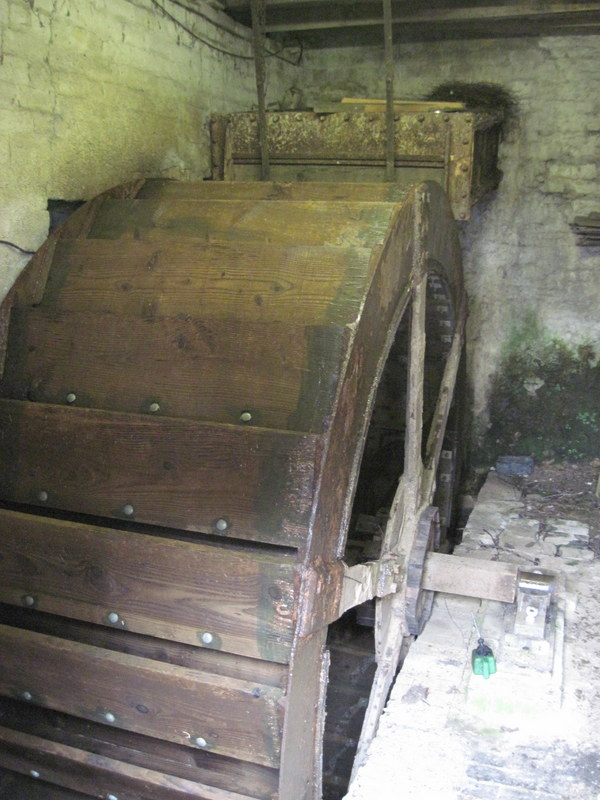 Acknowledgements
Special thanks are due to John Poulter for his help in the preparation of this article and to Mike Lowatt for his helpful comments. Some of the illustrations were from the Almonry Heritage Centre. Very useful information on the Smith family was supplied by John Smith of Telford, who contacted us when the first version of this article was put on the web-site.
Tom Locke and Val Harman, June 2012.
Illustrations
The following pictures were deposited in the Almonry Heritage Centre and probably date from 1987.