Over the centuries the place names for Wickhamford have changed many times.  The list below, from The Place-Names of Worcestershire by Mawer and Stenton (1993), shows where and when these have appeared in various documents.  The sources for each version are given.
Wicwona (AD 709) in Cartularium Saxonicum
Wigorne (AD 714) in Cartularium Saxonicum
Wycweoniga gemaere (ca AD 860) in Codex Diplomaticus Aevi Saxonici
Wiquene (AD 1086) in Domesday Book
Wichwana (ca AD 1086) in Early Worcestershire Surveys
Wikkewan (AD 1251) in Calendar of Charter Rolls
Wike Waneford (AD1275) in Lay Subsidy Rolls
Wikewone, Wikewane, Wykewane (AD 1327 & 1332) in Subsidy Roll; (AD 1397) in Calendar of Patent Rolls
Wykeword (AD 1346) in Feudal Aids
Wyk(e)wansford (AD 1389) in Patent Rolls; (AD 1545) in Letters and Papers Foreign and Domestic
Wikewanford (AD 1471) in Inquisitions post mortem 1806-1828
Wycanford (AD 1550) in Calendar of Patent Rolls
Wikenford (AD 1577) in 1577 County map
Wic(k)hamford (AD 1593) in Calendar of Worcestershire Diocesan Wills and 17th Worcestershire Fines
Wicconford (AD 1634) in Calendar of Quarter Sessions papers
Wickwanford (AD 1657) in Worcestershire Fines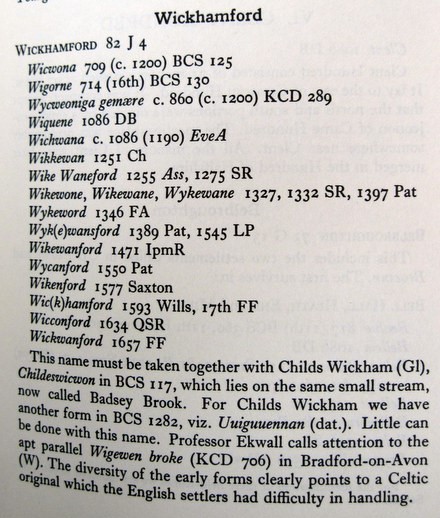 Knowledge of these earlier names can sometimes pinpoint individuals from the village who are mentioned in early sources.  For example, during a 13th century ecclesiastical dispute concerning a Benedictine house, Great Malvern Priory, a certain William de Wykewane, was elevated to the role of Prior from the second most important position in the Priory, that of Cellarer.   Unfortunately, when he went to visit the Abbot of Westminster, in 1283, to get his position confirmed, he was imprisoned.  He is buried at Malvern Priory Church.  
Tom Locke – March 2018