Anti-vaccination theories and protests are very much in the news, particularly with the current Covid-19 pandemic. It may come as a bit of a surprise to learn that the movement has been around for 150 years and was very active in the Evesham area between 1893 and 1896. 
Whilst researching the family of Charles Knight (1862-1944), I came across a newspaper article of October 1895 which reported that Charles was one of 56 people who appeared before Evesham Petty Sessions for not having his child vaccinated.  Many of those summoned stated that they were unable to pay, so their appearance in court was more likely to be on grounds of economic necessity rather than ideological objection. What was the background to these proceedings?
* * * * *
History of Vaccination
Vaccination as a way of preventing disease was first pioneered by Edward Jenner in 1796 with the development of the first smallpox vaccine, and by 1870 Louis Pasteur had developed the first vaccine against chicken cholera. He followed this with a vaccine against rabies in 1885 and against typhoid in 1896. By the 1900s a vaccine against cholera in humans was also widely available. The Vaccination Act of 1853 introduced mandatory smallpox vaccination in England and Wales for infants up to three months old. This Act was consolidated and updated the 1853 Act and gave control of vaccination districts to the Poor Law guardians, and authorised vaccinators to be paid between 1s and 3s per child depending on how far they had to travel. In 1871 another Act was passed appointing a Vaccination Officer, and authorising a defendant or his representative to appear in court if summoned. This Act confirmed the principle of compulsion, which led to hostility and opposition, and led to the growth in support for the Anti-Vaccination League, which became a national organisation in February 1896. The organisation was active until its dissolution in 1972, and revived in August 2020 to oppose compulsory vaccination during the Covid-19 epidemic. 
The anti-vaccination movement
The anti-vaccination movement began in June 1867 when the publication "Human Nature" campaigned against "The Vaccination Humbug". It reported that many petitions had been presented to Parliament against Compulsory Vaccination, and many from parents who alleged that their children had died as a result of the procedure, and complained that these petitions had not been made public. The journal reported the formation of an Anti-Compulsory Vaccination League "to overthrow this huge piece of physiological absurdity and medical tyranny", and quoted Richard Gibbs, who ran the Free Hospital as stating, "I believe we have hundreds of cases here, from being poisoned with vaccination, I deem incurable, with one member of a family dating syphilitic symptoms from the time of vaccination, when all the other members of the family have been clear. We strongly advise parents to go to prison, rather than submit to have their helpless offspring inoculated with scrofula, syphilis, and mania."  
The movement grew, and in February 1896 became the National Anti-Vaccination League, gaining support to the extent that the 1900 Labour Party General Election Manifesto contained a commitment to "No Compulsory Vaccination". As well as taking the ideological view, the Labour Party, being the party of the working man, was also mindful of the cost in real terms to its members.  This was well before the advent of the National Health Service, so the cost of vaccination had to be borne by the parents, a not inconsiderable financial burden when large families were commonplace and many families were living on the breadline due to the Great Agricultural Depression.  
Formation of an Anti-Vaccination League at Evesham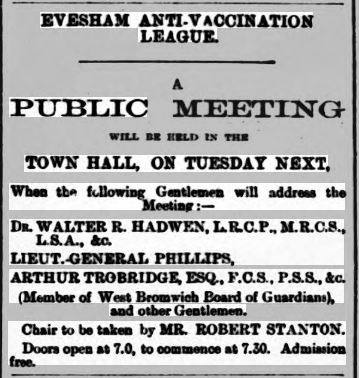 Four months prior to the formation of the National Anti-Vaccination League, an Anti-Vaccination Society was formed at Evesham.  The Evesham Standard of 19th October 1895 had an advertisement for the inaugural meeting of the Anti-Vaccination League at Evesham Town Hall, and the following notice: 
PROPOSED ANTI-VACCINATION SOCIETY – It is proposed to form an Anti-Vaccination Society for Evesham and the district, which society shall have for its object the abolition of compulsory vaccination. There has been a liberal response to a canvass for subscriptions to meet the preliminary expenses and, as will be seen by our advertising columns, next Tuesday a public meeting will be held in the Evesham Town Hall, when addresses will be given by an eminent London doctor and others.
This meeting was to take place three weeks after 56 people, including Charles Knight, had appeared in court for not vaccinating their children, so was obviously in response to that occasion.
On closer inspection of articles in the British Newspaper Archive between 1893 and 1896, it appears that there was already a thriving anti-vaccination movement in the Evesham area, coming to a head with the record number of summonses on 30th September 1895. 
The first court appearances for Badsey folk
The Worcestershire Chronicle of 25th March 1893 reported that, at the County Petty Sessions the previous Monday, 29 anti-vaccinators appeared in court, including the following residents of Badsey:
Francis J Wakefield, labourer, Aldington, 5s or 7s costs
Thomas Marshall, market gardener, Badsey, 9s 6d costs
Thomas H. Figgett, ostler, Badsey, 9s 6d costs
The following year, The Worcester Journal of 24th March 1894 reported more cases of anti-vaccinationists appearing at the County Petty Sessions in Evesham the previous Monday.  They included:
Decimus Agg, market gardener, Badsey, vaccination order issued and costs of 9s 6d
William Wheatley Crisp, bricklayer, Badsey, 5s or 7s costs
Harry Jinks, market gardener, Badsey, 5s or 7s costs
Francis John Wakefield, labourer, Aldington, 5s or 7s costs
The defendants all objected to vaccination.  John Henry Butler, a saddlers' ironmonger of Pebworth, thought vaccination "a dangerous, useless and filthy operation".  Countering this, Mr Anthony Herbert Martin (one of the magistrates at the Petty Sessions and an Evesham doctor) instanced a case at the Birmingham Workhouse, where a smallpox patient was imported, and of the whole of the nurses, two objected to being re-vaccinated, and they took the disease and died.  
James Barnard, market gardener, Badsey was summoned and did not appear, so received a fine of 10s and 9s costs.
Later that year, The Worcester Journal of 1st December 1894 reported two more summonses for Badsey families:
Thomas Sadler, market gardener, Badsey - vaccination order issued and 9s 6d costs
John Salter, market gardener, Badsey – fined 5s and 7s costs
30th September 1895 – A Busy Day at Evesham County Petty Sessions
Matters came to a head in September 1895.  The Worcester Journal of 5th October 1895 and The Evesham Standard of the same date gave a lengthy report of the Petty Sessions at Evesham, which had taken place the previous Monday, 30th September.  No fewer than 56 people were summoned to appear before Messrs Tomms, Adkins & Hunt for not having their children vaccinated. In cases where this was the first time proceedings had been taken, orders were made to have the children vaccinated and the defendants were ordered to pay the costs; while in other cases where such orders had been made and not complied with fines were imposed. 
It was at this Petty Sessions that Charles Knight was summoned.  Charles Knight and his wife Mary Ann had nine children altogether, of which six had been born by 1895, and the family were living at Sharps Cottages at the time of the 1891 census. Charles was a market gardener. In court, an order to have his child vaccinated was made, and he was ordered to pay the cost of 9s 6d [about £38 in today's money, so quite a considerable amount of money]. When this was put to him, Charles said that he did not intend to have any more of his children vaccinated, and pointed out the bad prices he was getting for his produce, and said he could not pay. He was allowed a fortnight to do so, and the Magistrates' Clerk told him that if he did not pay, he would have to issue a distress warrant [authorisation for a court officer to distrain or seize property]; in other words to send in the bailiffs.  Charles obviously felt strongly about the situation, because he replied, "You will only be taking the bread out of my children's mouth, and perhaps somebody else will have to help to keep them."
He was not alone in his spirited response – several of the other defendants made similar comments. The wife of William Smith Folkes, baker of Broadway appeared, and said she had had quite enough of vaccinations. She had had 10 vaccinated, and that was quite enough. This made absolutely no difference to the case; an order was granted and she had to pay costs of 9s 6d! 
Thomas Marshall, market gardener of Badsey who was fined 5s and costs 7s had quite an exchange with the Magistrates' clerk:
Defendant:  "I shan't pay it sir."
Magistrates' Clerk:  "You understand the consequences."
Defendant:  "I don't care what the consequences are."
Magistrates Clerk:  "In default of distress 14 days' imprisonment."
Defendant:  "I don't care."
In addition to Charles Knight and Thomas Marshall, other residents of Badsey who were summoned that day were:
James Porter, baker - Order made and to pay costs of 9s 6d.
James Brewer, baker – Did not appear and service of summons was provided by P.C.Meek. An order to have the child vaccinated was made, and to pay costs, which amounted to 11s 6d.
Albert Edward Evans, market gardener, Badsey, was similarly dealt with.  Defendant refused to pay, and the Clerk said he should have to issue a distress warrant.
John Nightingale, market gardener – Order made and costs to be paid, and allowed a fortnight.      
Harry Jinks, market gardener – fined 5s and 8s expenses
Alfred George Jinks, market gardener, Blackminster, case adjourned for a month as the child was very delicate and had whooping cough. He was summoned again the following month and stated the same. The Prosecutor did not appear, and the case was dismissed.
The final prosecutions
The final report was in The Worcester Journal of 16 May 1896, headlined VACCINATION PROSECUTIONS AT EVESHAM – HEAVY FINES, when 35 people were summoned for not having their children vaccinated. This is the most detailed report in terms of describing the objections of the defendants:
"Mr E H Wadams and Mr R R Smith (vaccination officers) prosecuted on behalf of the Board of Guardians.  Many of the defendants based their objections on the fact that relations had suffered through vaccinations, and in some cases stated their children had been injuriously affected.  One man, (Thomas Crane of Badsey) held up his child to the view of the magistrates. The child was healthy looking, but defendant stated it suffered from erysipelas [a bacterial infection of the superficial layer of the skin causing redness, fever and pain], the effects of vaccination. The defendant stated that he should not pay the fine. He would 'work it out'."
Mr W. J Warmington, of Badsey spoke eloquently and at length about a child of his who had been vaccinated seven years ago and suffered from phthisis (tuberculosis) as a result and therefore was not in favour of vaccination. The child had cost him £20 or £30 for medical attendance since vaccination.  [This was an enormous amount of money, equivalent to 60-90 days wages at the time, and between £1,565 and £2,345 in today's currency, an enormous amount for a working man.  William John Warmington was a builder.  He was obviously referring to his first-born child, John Joseph Warmington, who was born in April 1888.]  The Journal report went on to say:
"He [William Warmington] had not got a certificate showing that phthisis was caused by vaccination as the doctors got their living partly by vaccination and what was the good of asking them.  Then if he went away and got the opinion of a doctor who was not biased, there would be a great expense and he could not afford it.  He asked what animal suffered more from phithisis, cancer and tumours than the cow, and said it was no wonder that children suffered from these diseases.  These things were ten times worse than small pox.  Mr Warmington incidentally mentioned that he did not belong to the Anti-vaccination League."
Other residents of Badsey and Aldington who were summoned and fined were:
Thomas Crane, market gardener, Badsey – fined £1 and 7s costs
William Wheatley Crisp, builder, Badsey – adjourned
J. Barnard, market gardener, Badsey – order made, costs 9s 6d
William John Warmington, market gardener, Badsey – fined £1 and 7s costs
Sarah Jane Hutchings, widow, Badsey Fields – defendant did not appear and fined £1 and 7s costs
Valentine Knight, market gardener, Badsey – fined £1 and 7s costs
John Collett, market gardener, Badsey – defendant did not appear, fined £1 and 9s costs
Decimus Agg, market gardener, Badsey – fined £1 and 7s costs
Edward John Pethard, wheelwright, Wickhamford – fined £1 and 7s costs.
The decline in anti-vaccination protests
In 1898 a new vaccination law was passed, in some respects modifying, but not superseding, previous Acts, giving conditional exemption of conscientious objectors, (and substituting calf lymph for humanised lymph). It removed cumulative penalties and introduced a conscience clause, allowing parents who did not believe vaccination was efficacious or safe to obtain a certificate of exemption. The Vaccination Act of 1898 purported to give liberty of non-vaccination, but this liberty was not really available. Parents applying for a certificate of exemption had to satisfy two magistrates, or one stipendiary, of their conscientious objections. Some stipendiaries, and many of the magistrates, refused to be satisfied, and imposed delays. Unless the exemption was obtained before the child was four months old, it was useless.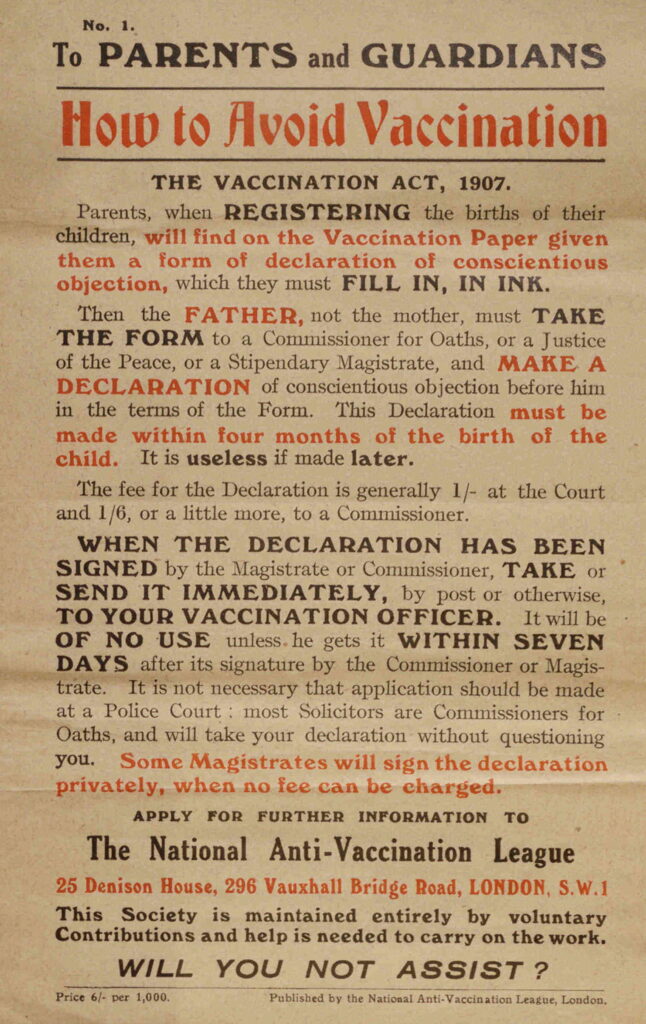 Unless the exemption was obtained before the child was four months old, it was useless. Consequently, in 1906, only about 40,000 exemptions were obtained in England and Wales. In passing the Vaccination Act, 1907, the Government recognised that the magistrates had practically declined to carry out the law of 1898. The improvements brought about by the 1907 Act meant that the parent escaped penalties for the non-vaccination of his child if, within four months from the birth, he made a statutory declaration that he confidently believed that vaccination would be prejudicial to the health of the child, and within seven days thereafter delivered, or sent by post, the declaration to the Vaccination Officer of the district.
So, by 1907, improved understanding of how diseases spread, coupled with the improvement efficacy of vaccination, refinement of the "conscientious objection" clause in the 1907 Vaccination Act, plus the compulsory notification of infectious diseases led to a dramatic fall in smallpox cases. Whilst the Anti-Vaccination League continued to inform people of their right to object, as in the poster (left), the number of organised protests declined, and anti-vaccination protests were no longer big news. It cannot be denied, however, that Charles Knight and his contemporaries had played their part locally in raising the profile of a matter of national concern in late Victorian England. 
 
Shirley Tutton, February 2021