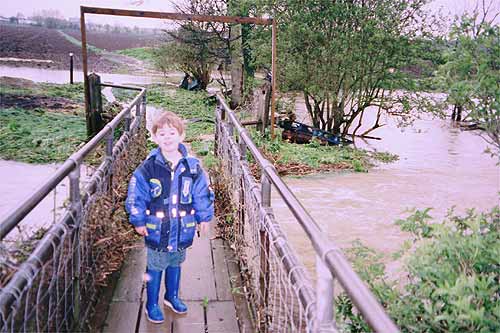 Serious flooding occurred throughout Britain on Maundy Thursday, 9th April 1998. Badsey was affected and was briefly cut off from the outside world by road. For some time, the only way into the village was from the top road, the B4035.
The photograph above and the two below were taken early on Good Friday from the Monks Path bridge over Badsey Brook. The brook flows into the River Avon which also flooded seriously as the next photograph shows.
The name Badsey is said to mean "Baeddi's Island". The village does lie a little above the level of the surrounding land protecting it from floods. For a couple of days the village came very close to being an island.
As a personal footnote, I was unable to take photos on the Thursday, due to having to abandon my car in Broadway, on a journey back from Cheltenham. At the point where Badsey Brook crosses the B4632, the road was totally impassable to cars, but people were able to wade knee-deep through the swirling water. A final obstacle occurred at The Sandys Arms turn-off; the Brook had completely flooded at this point, and it was quite impossible to walk through Wickhamford, so there was no alternative but to hitch a lift with the next car that tried to pass that way, and go back along the by-pass and into Badsey that way. Four and a half hours after leaving Cheltenham, I arrived home in Badsey!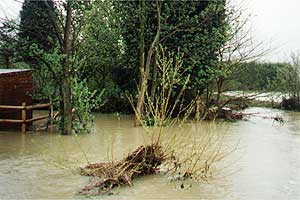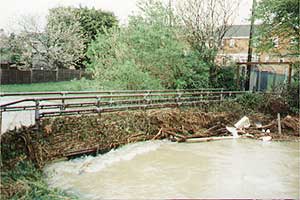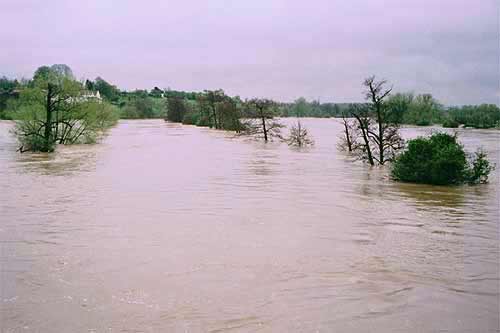 Just over two weeks after the floods, we walked down Monks' Path, over the bridge and along the footpath by the Brook. We noticed the debris that was left behind and the clearing-up process. The height of the flood waters was painted on a shed in the field at the back of The Mill. The photo of Jonathan Spinks, then aged almost 5, and friend, gives an indication of the height. At the Mill Cottages, the drying-out process was going on in earnest!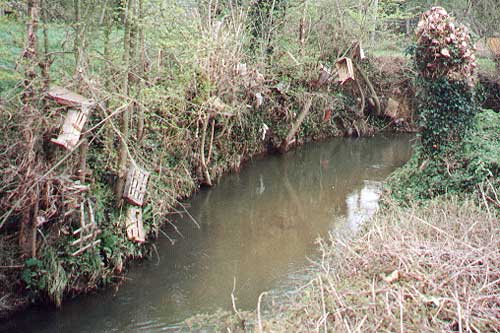 Maureen Spinks, 2008