The death of Douglas Harrison of Pitchers Hill, Wickhamford on 25th May 2020 at the age of 101 years has aroused an interest in the longevity of the village inhabitants in days gone by.   This short article looks at the residents of the greatest age at each of the censuses from 1841 onwards, to see if life expectancy has changed much in the 160 years since.
* * * * *
Before the 1841 census, ages were recorded in the Burial Register of the Church of St John the Baptist and four residents who lived to be over eighty can be found there.  Thomas Oldaker was 82, when he died in 1814, Sarah Taylor, 84 in 1821, John Viner, 81 in 1829 and Ann Provis, 83 in 1837.  In that census year, the deaths were recorded of Phoebe Steinton at 83 and Thomas Taylor at 82.
In the 1841 census ages were usually rounded to the nearest five years, but one villager has an age given of 87.  This was Thomas Barnes, who had married Mary Wilkes in 1778 and had three children baptised in Wickhamford – John (1778), Nancy (1790) and Mary (1793).  Even at the age of 87 he was recorded as a labourer, but had not been born in Worcestershire.  He lived a few more years, finally dying in the Spring of 1847 in Bretforton.  He was buried in Wickhamford and his age was recorded in the Parish Burial Register as 95.  The two ages for him do not quite tally, but he would have been born in the period 1752/1754.
The oldest person recorded in both the 1851 and 1861 censuses in Wickhamford was Elizabeth Cook.  Again, ages given for this woman in different sources vary.  She was down as 75 in 1851, but 89 in 1861 and when she died in late 1863 the Burial Register states 88 years.  She was born in the village, so an accurate age can be determined.  Her baptism was recorded on 7th July 1776, as Betty Clark, a daughter of Edward and Ann Clark.  She married Joseph 'Cooke' in Wickhamford on 27th December 1797.  She gave birth to eight children between 1798 and 1816, five registered with the surname spelled 'Cooke' and three with the spelling 'Cook'.  With this baptism date known, she would have been 87 when she died.  She died in Willersey, but was buried in Wickhamford.
At the 1841 census she was living at what is now 'Robin Cottage' in Manor Road and she was a shopkeeper.  She was at the same cottage in 1851 and then recorded as a grocer.  By 1861, still in the same cottage, she was recorded as 'unable to work'.
By 1871, the oldest inhabitant lived at Elm Farm.  This was occupied by Francis Taylor and his wife Lettitia, but living with them was his widowed mother, Sarah Taylor, aged 77.  She had been born in Ashby-de-la-Zouch, Leicestershire and then moved to Wickhamford.  Her late husband was John Taylor and this family were at the farm by the time of the 1841 census. Sarah Taylor died in 1878, aged 83, and was buried on 1st April.  She outlived her husband by 26 years and their headstone is in the churchyard, though badly weathered.
Henry Walters, an 84-year-old widower, was the oldest inhabitant at the 1881 census.   He lived in one half of what is now 'Grey Gables' in Manor Road, and he had been born in Bretforton and was still working as an agricultural labourer.  What became of him after this census in not known, but his death was registered in the Evesham District in the December quarter of 1884, aged 88.  In December 1888, another octogenarian, Judith Tomlinson, was buried, aged 87. She was followed by Elizabeth Glover, aged 85, in March 1889.
Still at 'Grey Gables', at the 1891 census, the doyen of the village was to be found here again.  Hannah White was 82, widowed, and recorded as the mother of the head of the family, Elias Charles Walters, a market gardener and employer.  She was actually Elias's mother-in-law, as he had married Diana White in 1885, after the Banns had been read in Wickhamford.  They married elsewhere.  Hannah White, who had been born in Grafton, Warwickshire, lived another eight years, her death in the Evesham District being registered in the June quarter of 1899, aged 90.
In 1899, Hannah Finch, 84, and Charles Hardiman, 88, were buried in March and August respectively.  They just failed to survive for the 1901 census.
Remarkably, for the 1901 census, the oldest person in the village was only aged 65.  He lived in one of the houses that were situated on the opposite side of Manor Road to the Sandys Arms, but were soon after demolished.  He was Wickhamford-born Richard Winnett, a market gardener on his own account, living with his wife, Rebecca and daughter Lizzie.  He had been baptised on 25th September 1836, a son of Richard and Elizabeth Winnett.  Richard Winnett (jnr) ended his days, aged only 76, in the infirmary of Evesham Union workhouse and was buried in Wickhamford on 13th May 1913.  Rebecca had died in 1906 and in 1911 Richard was living in New Street, Evesham with a family member, but within two years had entered the workhouse.  He was buried in Wickhamford churchyard in a plot next to his wife.  Neither grave has a headstone but the location of both is recorded on a plan of the churchyard in 1946.
In 1911, the census recorded a few villagers in their early seventies, but the oldest was 75-year-old widow, Mary Ann Archer.  She was living with her son-in-law George Albert Agg, his wife, Catherine and their two young children, at 46 Pitchers Hill. She had been born in Church Lench and had 'Private Means', according to the census.  She lived until 1920 and died while living at 'The Driffold' on the corner of the Murcot Turn, just across the Wickhamford boundary, in Childswickham.  Nevertheless, she was buried in Wickhamford on 28th December, when aged 85.
The next comprehensive list of Wickhamford inhabitants is the 1939 Register, taken at the outbreak of the Second World War.  A number of villagers were born in the 1860s, but by far the oldest was Diana Walters, who had been born on 6th May 1845, so was aged 94.   Family genetics were playing a part here as she was the daughter of Hannah White (see above for 1891).  She died a little over a year later and was buried on 26th November 1940, aged 95.
In January 1984, Elsie Jane Walters, daughter-in-law of Diana Walters, died only one week short of her 97th birthday.  This age was probably not surpassed until Douglas Harrison reached 101 in December 2019.  He was the oldest known resident of Wickhamford.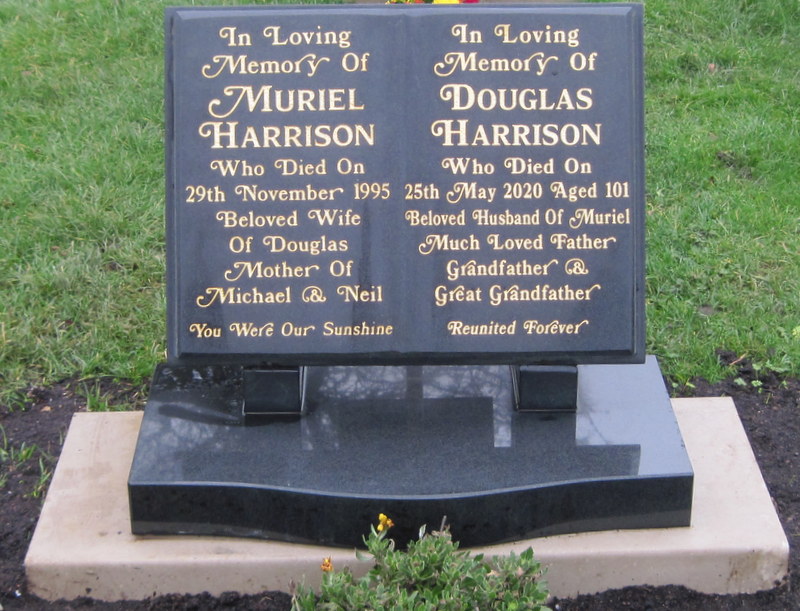 * * * * *
The following websites give some indication as to how life expectancy has changed over the years:
Tom Locke – November 2020