James Mapstone was killed in an incident at Bowers Hill Farm in March 1895, and a man named Dawson was convicted of his manslaughter. These notes by Stan Mapstone and Maureen Spinks fill out some of the details and Terry Sparrow tells us how the story ended.
Allegations Against A Bailiff

An adjourned Inquest was held on Tuesday, on the body of James Mapstone, a farmer, living at Badsey, near Evesham. The evidence showed that the deceased had had dealings with money-lenders, who sent a bailiff named Dawson, of Bristol, to take possession of his goods, and several witnesses stated that they saw this man strike Mapstone with a heavy stick. (March 14th 1895) There was a severe wound on the deceased's head, and one of his fingers was also seriously injured, the nail being almost torn off. Dr. Golpin testified to death being due to lockjaw, the result of the injury to the finger. Dawson denied striking Mapstone at all, and said the injury to the finger was caused by the deceased getting his hand entangled in the harness of a horse he was holding. After a very long hearing the jury returned a verdict of "Manslaughter" against Dawson, who was thereupon committed for trial at the Worcester Assizes on the coroner's warrant.

The Trial

Synopsis of the report in "The Evesham Journal and Four Shires Advertiser", Saturday, June 29, 1895.

On Tuesday morning, 25th June 1895, Mr. Justice Hawkins opened the Worcester Summer Assizes. He proceeded to the Shirehall to open the commission for the county.

Among the true bills found by the grand jury were those for manslaughter and assault against William Dawson.

Before any of the cases came on for trial, Mr. R. H. Amphlett rose and said that in the case of Dawson there was a witness (Mrs. Mapstone, the widow of the deceased man) who was unfortunately unable to attend on account of illness.

Mr. R. Harrison Gilpin, physician and surgeon, gave evidence that Mrs. Mapstone was about to be confined and that it would be dangerous for her to attend.

The case was therefore stood over.

On the court assembling on Wednesday morning, the indictment against William Dawson came on.

He was indicted for feloniously killing and slaying James Mapstone at the parish of Badsey, on March 14th ; and there was a second indictment for manslaughter on the Coroner's commitment. He pleaded not guilty.

The Judge read Mrs. Mapstone's depositions taken before the magistrates. They were to the following effect:-

She said that the age of her husband at the time of his death was fifty-one. They had lived at Badsey about two years. Her husband's health was very good, and prior to March she never knew him ill in bed one day. They had been married thirteen years. She said that in consequence of what Mrs. Croft told her, she went to the field where her husband had been ploughing. When she was entering the field she saw her husband just getting up from the ground. As her husband was getting up she saw Dawson strike him with a stick and knock him down again. She also saw prisoner kick her husband. Dawson knocked her causing her to fall down. When she got up she saw that her husband's head and a finger on the right hand bleeding. Dr. Gilpin saw him on Saturday March 23, and attended him till the time of his death, which occurred on the 25th. Dawson and Evans came for the purpose of seizing goods. Her husband had borrowed some money, and there was £7 10s. still owing.

Mr. Carmichael, on behalf of the Crown, examined Thomas Croft, who said he was till lately a labourer living at Bower's Hill, Badsey. He was now living at Honeybourne. He was in the services of the late Mr. Mapstone, and on March 14, he was bean-setting in one of Mr. Mapstone's fields. As a result of a message from his wife Mr. Mapstone went to the house and returned in about five minutes. He began to unhook the horses from the plough, Dawson and Evans followed him and a struggle took place between Mr. Mapstone and Dawson, who said he would have possession of the horses. Mr. Mapstone said he would not. Dawson had a kind of ash walking stick, with which he struck Mr. Mapstone on the head knocking him down. Witness went up to the horses and told Evans that it was not right to take property in that manner. Evans told Dawson to be civil, then left the field followed by the witness.

Mr. Amphlet, on behalf of the Crown, examined Owen Phipps, who said he was a market gardener living at Bretforton, who gave evidence, about Mr. Mapstone's injuries, he saw no blow struck.

Mr. Carmichael, on behalf of the Crown, examined Geoffrey Jones, who said he was a market gardener living at Badsey, who gave evidence that on hearing a great disturbance, he went to see what was the matter and saw Mapstone leading a horse into the yard. He was bleeding from the head and right hand.

Elizabeth Look said she was Mrs. Mapstone's sister and lived at Walsall. She went to Bower's Hill Farm on Friday March 15th. Mr. Mapstone met her at Evesham Station, his right forefinger was bandaged and he had a cut on the right side of his head. She assisted in nursing him. On March 21st Mapstone complained of his neck and throat, and difficulty in swallowing. Dr. Gilpin was called, but Mr. Mapstone died on March 25th.

Police Sergeant Yarnold testified that on March 14th Mr. Mapstone came to his station and made a statement about his wounds. He and Mr. Mapstone's wife bandaged the finger.

P.C. Meeks, stationed at Bretforton, said that on March 14th he went to Bower's Hill and saw Dawson. On the following day Mapstone made a complaint to him. He afterwards saw Dawson and asked him for his name and address, because Mapstone was going to summon him. Dawson denied assaulting Mapstone.

Robert Harrison Gilpin, a physician and surgeon, practising at Evesham, stated that on March 23rd he was called to see Mapstone at Bower's Hill Farm. He had an incised wound on the scalp, and a contused and lacerated wound on the right forefinger, and he showed symptoms of a serious state of health. Mapstone eventually died of acute tetanus, which he should say was due to the injuries to the finger, though he could not swear to it.

There then followed a discussion as to the probable cause of the wound, and whether a microbe usually present in horse manure caused tetanus. Dr. Gilpin said he was certainly of the opinion that the injury to the finger caused the lockjaw.

Mr. Vachell stated that he was not calling any witnesses for the defence, and then addressed the jury at considerable length. He said that this was not manslaughter of the fist water or magnitude; it was not one of those cases where such an amount of violence had been used that it was almost certain that death must result. He went on to argue that the injury to the finger was caused by a broken ring of the bridle, and that the prosecution had wholly failed to prove that Dawson struck Mapstone on the hand. He commented on the fact that the prosecution had not called Evans, who saw all that took place.

In summing up, the Judge said there was not a particle of evidence before them to justify the violence, and they might take it as unlawful; and if by an unlawful act of violence, the death of another was caused, that person who so caused his death was guilty of manslaughter. He then reviewed the evidence somewhat in detail. He said that there was nothing to prevent the prisoner calling Evans if he thought his evidence would put a different complexion on the case. Motive and intention were altogether beside the question. The question was, did the prisoner strike an unlawful blow upon the finger of the man (which undoubtedly was injured in the way described), and was it that injury which ultimately caused tetanus?

The jury without, leaving the box, returned a verdict of guilty. Sentence was deferred. So what happened to Dawson? It has taken us several years to find the answer. But thanks to research by Terry Sparrow for his chapter about Bowers Hill in the book Aldington and Badsey: Villages in the Vale. A Tapestry of Local History, we can now finish off the story.

"On his return to the court, the judge said that Dawson let his temper get the better of what ought to have been his judgement. A sentence of eight months in prison, with hard labour, was imposed. James Mapstone was buried in Badsey churchyard on 30th March 1895. His widow Sarah, who left Badsey soon after his death, was buried with him on 3rd February 1933; the burial register gives her address as Chew Stoke, a village in Somerset. When the Badsey church bells were dismantled, repaired and re-hung in 1950, the board which records the event shows that one of the bells was restored as a memorial to James and Sarah Mapstone. It is perhaps surprising that a couple who lived in Badsey for less than two years, more than half a century before the bells were restored, should be remembered in this way."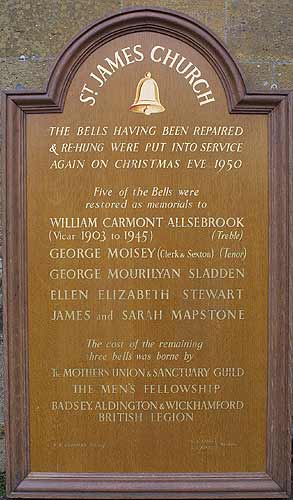 James and Sarah Mapstone moved to Bowers Hill Farm, Badsey in 1894 (when Ellen and Jessie enrolled at Badsey School in April 1894); prior to that they had lived in Studley.
James Mapstone was born 1 December 1842, in Wookey, Somerset and was buried at Badsey on 30 Mar 1895 "aged 51". His wife Sarah, nee Stott, was buried with her husband on 3 February 1933. She was aged 75 years, and stated to be from Woodford House, Chew Stoke, Avon. This is just south of Bristol. Sarah is the only other Mapstone mentioned in the burial registers after 1909. In Badsey church a wooden plaque erected in 1950 is a memorial to James and Sarah Mapstone.
James and Sarah Mapstone had four children: Ellen or Helen born 25 Jan 1883, Jessie born 2 Aug 1885, Frederick James born 16 Dec 1892 (who had a son Frederick, who had a son Michael, the great grandson of James) and Sarah Ann born 18 Aug 1895.
One intriguing aspect is that of the monumental inscription dated 1950. One assumes the Mapstones had only a very brief sojourn in Badsey, so why do their names appear on a wooden plaque over 50 years later? One possibility is that it may have been done by James's son, Frederick James Mapstone who died in 1954.
James was the uncle of George Mapstone, Mayor of Glastonbury 1922-1923, and was also the granduncle of Reginald George Mapstone, Mayor of Glastonbury circa 1952, so they could also have been responsible for the memorial. One little anecdote is that James's father, George Mapstone, was a farmer and cattle dealer, and fought the King of the Gipsies, at Priddy Fair, Somerset. He was accidentally drowned in 1859, when he fell drunk from a pony trap. He had 14 children, and James was the youngest.
Stan Mapstone of Runcorn, Cheshire Stanmapstone@aol.com runs the Mapstone, Mabstone and Mapston One Name Study. Maureen Spinks is an historian living in Badsey. With thanks to Peter Stewart for the photograph and for additional information. Also to Arnella Barris for her message to the Visitors Book.