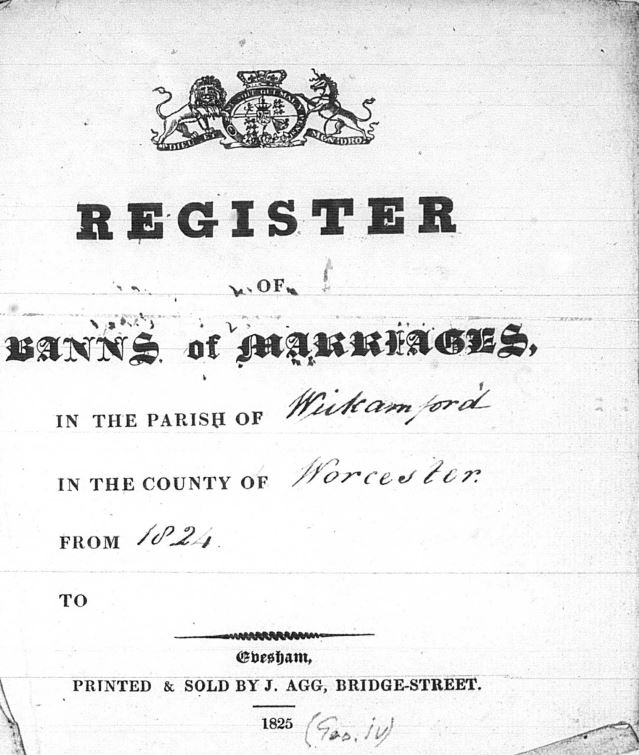 The Register of Banns of Marriages for Wickhamford, for the period 1826-1945, still survives.  Whilst the title page of the register says that it commenced in 1824, that was obviously an error as the register was not printed until 1825.  
During this nearly 120-year period, there were 174 entries, three of which were abandoned at the third time of reading the banns.  Let's take a look at who these couples were.
Joseph Steward and Hannah Clark
It was the very first entry in the register that had an issue.  This was for the proposed marriage of two Wickhamford residents, Joseph Steward (bachelor) and Hannah Clark (spinster) in 1826.  The first reading of the Banns, by Charles Bloxham, Curate, was on the 9th of July.  His second reading was on 16th July, but at the third reading, on 23rd July, the marriage was forbidden by the Overseer of Badsey.  The reason given in the Register was that 'Imbecility of the mind' was being alleged.  This entry does not indicate which of the parties was considered of unsound mind.  At the time of the proposed marriage, Joseph Steward was aged 28, having been born in Bretforton in 1797.  Hannah Clark was born in 1786, in Wickhamford, so was aged 40 in 1826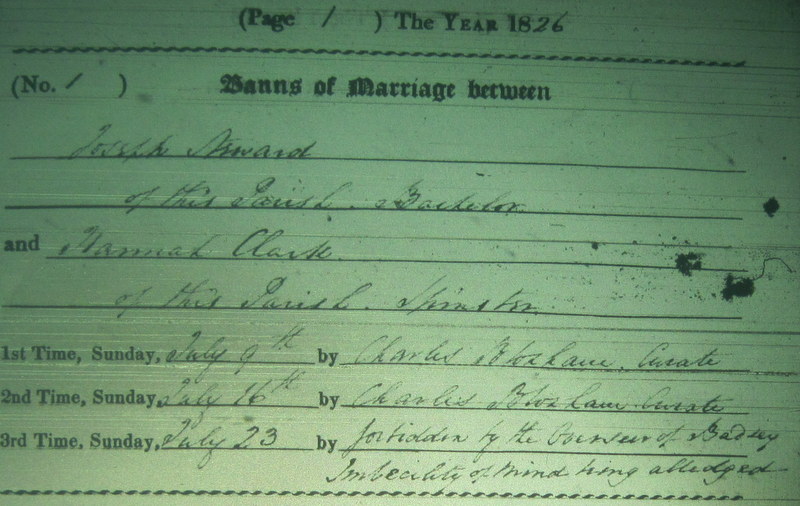 Joseph Steward was baptised in Bretforton on 12th November 1797, the son of Thomas and Sarah Steward.  Sarah Haynes had married Thomas Steward on 4th June 1795 and Joseph seems to be their first child.  They moved to Badsey and had nine further children baptised in the parish, between 1800 and 1821.  Sarah died in 1839, aged 66, and was buried in Badsey on 27th July.
Joseph was living in Wickhamford when the 1841 census was taken.  He was a lodger, living with William and Sarah Shillom, and his age was given as 45.  Also, lodging with the Shillom family was Joseph's father, Thomas Steward, aged 70.  Ten years later, at the 1851 census, Joseph Steward was living at The Elms, Wickhamford (now Elm Farm, Manor Road).  The tenant was John Taylor and Joseph was employed as a shepherd.  His age was incorrectly given as 48 and his place of birth, correctly, as Bretforton.  (His father, Thomas Steward had died in 1853, aged 82, and was buried in Wickhamford on 14th June.)
By the time of the 1861 census, Joseph 'Stewart', aged 67 and unmarried, was in the Evesham Union workhouse.  His occupation was an agricultural labourer and his place of birth incorrectly given as Badsey.  The next reference to Joseph appears in the records of the Evesham Union.  On 28th October 1866, Joseph 'Stewart' died, aged 73.  He had entered the workhouse from Badsey and his body was taken there for burial, which took place two days later, under his correct surname of Steward.
Hannah Clark was a daughter of Richard and Mary Clark and she was baptised in Wickhamford on 23rd April 1786.  This couple had seven children baptised there between 1774 and 1792.  They had a liking for unusual names and their other girls were called Lydia, Lettice, Sabra and Temperance.  (The latter married James Huband, in Wickhamford, in 1799, having had an illegitimate daughter, Ann, baptised in 1796.)
Hannah Clark was unmarried by time of the Banns being read in Wickhamford Church in 1826 and no further records of her life have been found. Two women of this name died in the Evesham District in 1838 and 1839, but no ages were given in the National Death Registers at that time.  There are Hannah Clark entries in the 1841 census in the Evesham area, but none fit the criteria for the woman discussed in this article.  She may have eventually entered the Evesham Union workhouse, which opened in 1837, but their records from this period have not survived.  This would have been the only institution to have taken in the mentally ill and mentally handicapped.
Who was the 'imbecile'?
Joseph Steward seems to have been employed on the land throughout his life, as a shepherd and an agricultural labourer.  He may have been the party to the proposed marriage who was of low intelligence, but if so, this did not stop him from being gainfully employed throughout his life.  He tried to marry a woman twelve years older than himself, but the Curate did not object to this, as he read the Banns twice.  The conclusion must be that it was Hannah Clark who was considered by the Badsey Overseer to have been not intelligent enough to know what she was undertaking.
  
 'Imbecile' would now be regarded as a term of abuse, but even 100 years ago when IQ testing started it referred to people with scores in the range 25-50.  Those scoring under 25 were classified as 'idiot' and those with IQ scores of 51-70 were classified as 'moron'.  The 1911 census forms had a column asking for details of a person headed -  If (1) Deaf and Dumb (2) Blind (3) Lunatic (4) Imbecile, feeble-minded.  This question was not included in the 1921 census form. In 1826, the term 'imbecile' just meant someone with very low mental capacity.  
Job Winnett and Emma Norman
The next abandonment of a marriage was in 1890.  Entry no. 59 gives details of a proposed marriage between Job Winnett and Emma Norman, both of Wickhamford.  It was 'cancelled due to the notice having been forged' on 5th October after the first reading of the banns.  The Reverend Charles Granville Gepp was then the Vicar of Wickhamford.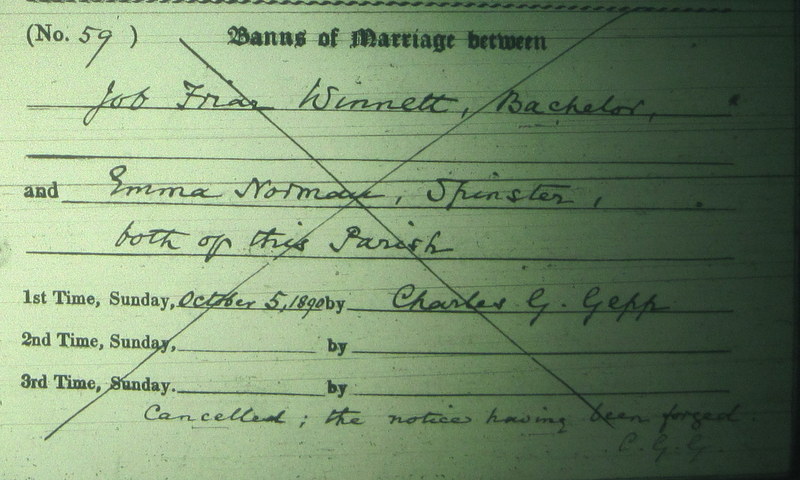 Job went on to marry a Warwickshire woman, Annie Louisa Hall, in 1899 in the King's Norton district.  They lived in Solihull where he died in 1940.  Nothing more is known of Emma Norman.
Charles William Halford and Lizzie Maud Winnett
In 1905, for entry no. 75, were Banns for the marriage of Charles William Halford and Lizzie Maud Winnett, both of Wickhamford, published on 19th February. The following week, the comment was made 'Forbidden Feb. 26th by C.W. Halford, the Banns having been published without his knowledge.'  Lizzie was the youngest sister of Job Winnett above.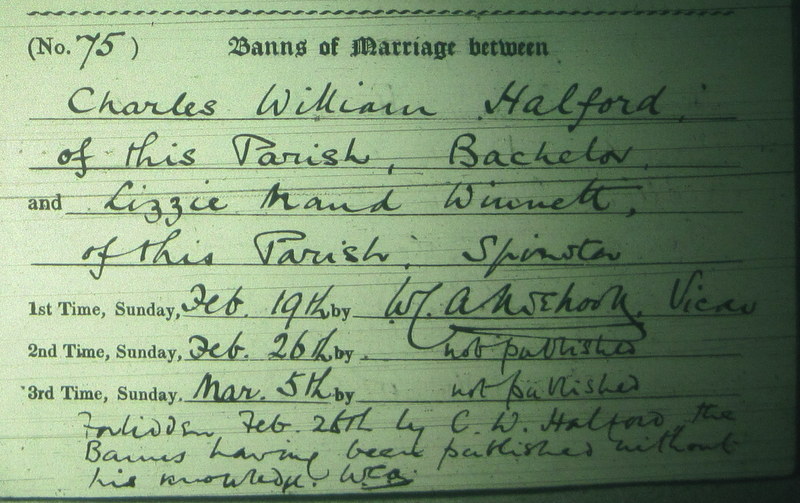 Charles and Lizzie did ultimately marry, though not at Wickhamford.  According to the register of civil marriages, they married in the first quarter of 1907 somewhere in the Evesham area.  A son, Samuel Charles (or Charles Samuel as he was baptised) had been born on 17th February 1907 at Wickhamford and was baptised at Wickhamford on 31st March 1907, by which time Charles and Lizzie were married.  Lizzie died in April 1909 and was buried at Wickhamford.  Her widowed husband later married Edith Florence Moulbery.
Tom Locke – December 2022