Private William Albert Copling (1899-1972) moved to Wickhamford after his period of service in the war.  He was a son of Thomas and Elizabeth Copling and he was born in Plaistow, Essex.  His father was a potman living in Canning Town in 1911 and when William enlisted he was a cellarman.
William joined the Royal Marine Light Infantry (No 19075) on 18th July 1916, having just turned seventeen.  He was posted to the Plymouth Division and during his service spent periods on HMS Foresight (April 1918-June 1919) in the Aegean Sea, HMS Highflyer (September 1919-April 1921) and HMS Comus (April-May 1921).  William Copling was demobilised on 19th June 1922 and was awarded the Victory and British War Medals.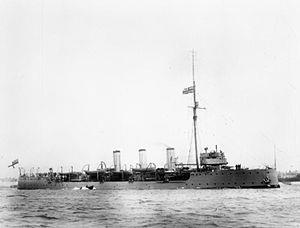 He married Rose Copling in Camberwell in 1923 and their first children, Rose and Dorothy, were baptised in Wickhamford in 1924 and 1926.  William appears on the 1924 Electoral Roll in Wickhamford, whilst living at Wickhamford Manor, where George Lees-Milne employed him in the role of butler.  Two further children were born in 1928 and 1937 in Camberwell and Lewisham respectively, so his stay in Wickhamford was relatively short.