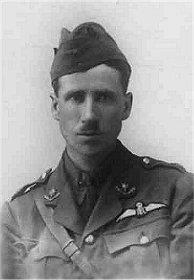 Captain Henry Taylor Horsfield (1889-1980), known as Harry, was a key figure in drawing up plans for the defence of Wickhamford during the Second World War.  He also lived briefly in Wickhamford when he married Helen Lees-Milne.
He was the son of Lancashire Chartered Accountant, Thomas Horsfield.  By 1911 his family were living at 2 Leicester Gables, Evesham and Henry and his older brother Thomas were fruit growers.
Harry Horsfield served as a 2nd Lieutenant in the 13th (Reserve) Battalion of the Worcestershire Regiment.  He is mentioned in a letter written by May Sladden of Seward House, Badsey, on 15th November 1914, to her sister, when she described seeing the Evesham Territorials in Evesham when they were home on leave.  He was appointed to the General List in December 1914, but did not see active service in the Army.
Harry was in the Worcesters on 27th April 1916 when he obtained his Royal Aero Club Aviators Certificate (his index card gives his Battalion as the 10th).  He transferred to the Royal Flying Corps and was posted to France with No 34 Squadron, an Army co-operation unit, in July 1916. He saw air-to-air combat over the coming months and was involved in a dog-fight over Walencourt on the afternoon of 16th October 1916, when his BE2e was damaged and his Observer, Lt C.K.M. Douglas, wounded.  By early 1917, Horsfield was serving as a Flight Commander, but in July was posted back to the U.K. to No 9 Squadron for employment as an instructor in 'artillery or contact patrol work'.  It was for this work, which continued until the Armistice that he was awarded the Air Force Cross on 3rd July 1919. (This medal was awarded to officers and warrant officers of the R.A.F. for gallantry on non-operational missions and for meritorious service on flying duties.)
Harry was transferred to the Royal Air Force on its founding in 1918 and moved to the Unemployed List in October 1919.  He appears on the 1919 Absent Voters' List as from the parish of Evesham St Peter, Bengeworth, but no service details are given on this list.
His medal record shows that he received the Victory and British War medals, by which time he was a Captain in the R.A.F.  It also records service in the 13th Battalion, Worcestershire Regiment.  At the time that he received his medals, in 1921, he was living at Knowle Hill, Badsey.
Harry married Florence Mary Muir in 1920 and they had six children.  During the Second World War Harry, whilst still living at Knowle Hill, he was in command of the 6th Platoon of the No 2 Broadway Company of the 4th Worcestershire (Evesham) Battalion, Home Guard, commanded by George Lees-Milne.  He was responsible for drawing up the plans for defending Wickhamford if there was a German invasion. 
After the death of his first wife in 1945, Harry married Helen Lees-Milne, widow of George, in 1953.   The marriage was not a success, the couple separating after only a few months.