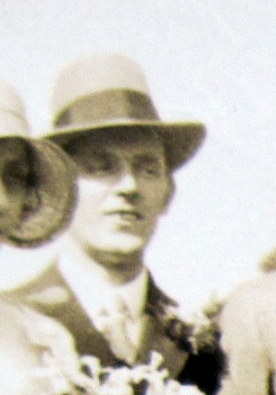 Lance Corporal Joseph Thomas Perks (1894-1959) was born in Birmingham in 1894, the son of Mary Jane (née Hodgkins).  By 1901, Mary Jane was the wife of George Robbins.  Young Joseph Perks and his half-brother, George, lived with their parents at Rowley Regis, Staffordshire.
Joseph joined the 8th Battalion, Worcestershire Regiment on 15th September 1909 (No 1065), when he was a labourer and was then residing at Bowers Hill, Badsey.  This was a Territorial volunteer battalion, so Joseph continued to work as a labourer.  At the time of the 1911 census, he was to be found living with George and Mary Jane and four half-siblings on Brewers Lane, Badsey; his name was given as Joseph Robbins rather than Joseph Perks.
Joseph was discharged on 11th February 1913 and re-enlisted again on the same day with the 8th Battalion, Worcestershire Regt (No 13285).  At that time he was a gardener.  Soon after the outbreak of war, he went to France, on 12th August 1914, joining the 3rd Battalion on 29th May and returned to England on 21st August 1915.  He was transferred to the 6th Battalion on 10th December 1915.  He was promoted to lance corporal on 10th January 1916, but discharged from the Army as physically unfit on 24th January 1917.  He was suffering from eczema that had begun during his time in France. His medical records also show that at one point his symptoms were thought to be 'favus', a type of ringworm caused by a fungus, but this was eventually ruled out. He was issued the Silver War Badge at the time of his leaving the Army.
For the early years of his war service, his mother lived in Wickhamford and she was his next of kin.  (At that time the house number, on Pitchers Hill, was '22', but it is now '46').  On discharge his address was given as '44 Wickhamford', now 42 Manor Road.
On 4th December 1915 Joseph married Annie Elizabeth Holdway in Hurstbourne Tarrant, Hampshire and, after he left the Army, they lived in Bengeworth, Evesham.  He was awarded the 1914 Star, Victory and British War medals.