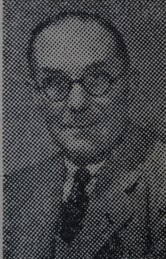 Corporal Henry Leonard Tigwell was born in Reading, a son of brickmaker Henry Charles Tigwell.  By the age of 19, at the 1911 Census, he was already in the Royal Army Service Corps and based at Colewort Barracks, Portsmouth.  He had enlisted, at Aldershot, on 3rd April 1910. No service record remains for this man but was initially a driver (No. T/29103) and then a corporal (No M/29103) and he served in France, where he won the Military Medal.  His unit was attached to the Canadian Field Artillery.  
He was an 'Old Contemptible', according to his obituary, and was awarded the 1914 Star, Victory and British War Medals.  The London Gazette of 17th October 1919, lists his award of the Military Medal.  An Army document of 28th June 1938 records that he served a total of seven years, 9 days with the colours plus four years, 356 days in the Army Reserve.  He was discharged from the Army on 2nd August 1922 when his number was M/14464.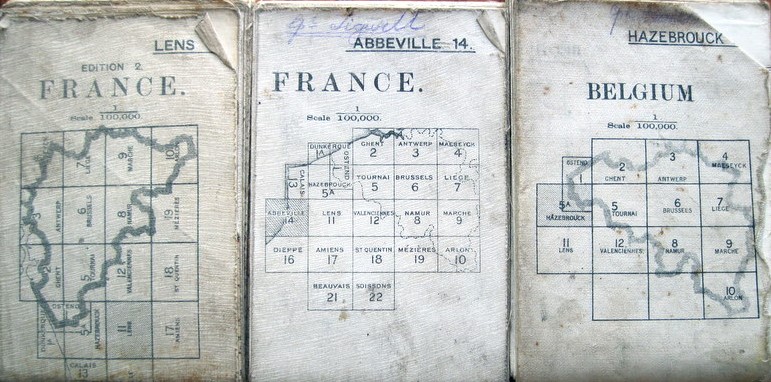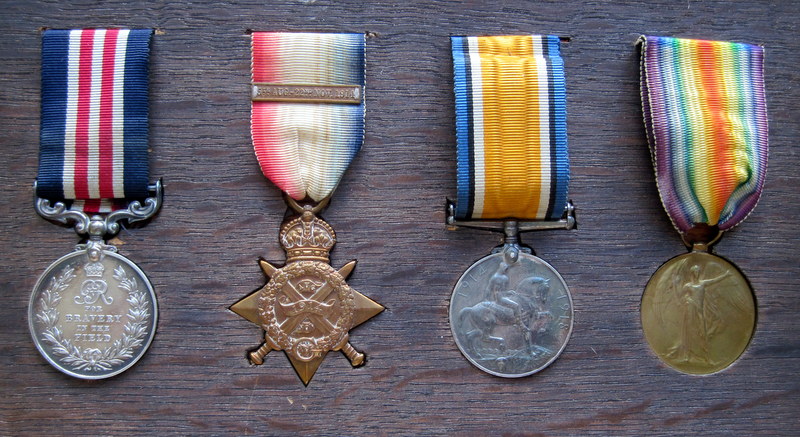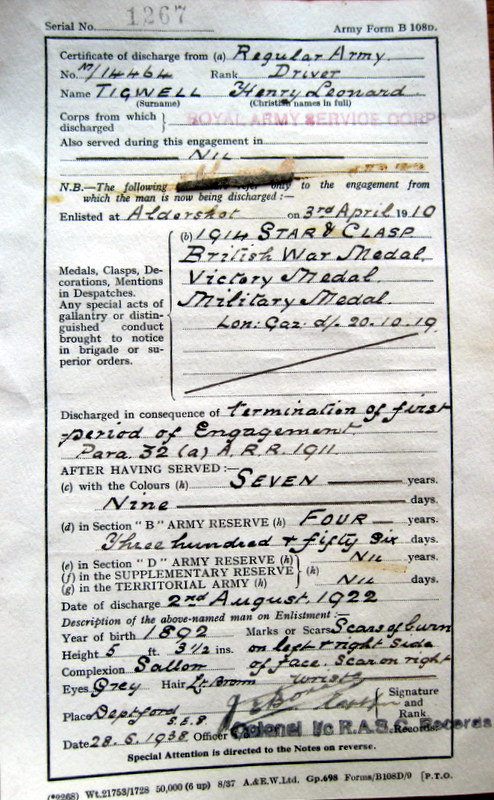 Post-War, he was a member of The Old Contemptibles - Men of the British Expeditionary Force of 1914, and his entry in their records states that he was in the RASC, attached to 2nd Cavalry Field Ambulance, Royal Army Medical Corps.
He married Edith Mary Hill, in Evesham in 1923, and, after a time working for Espley & Co Ltd, became manager of the Railway Hotel, Evesham, in 1934.  Soon after the end of the Second World War, he became licensee of The Sandys Arms in Wickhamford.   He died on 8th July 1951 and his widow took over the running of the public house.  
* * * * *
We are grateful to Henry Tigwell's daughter-in-law, Norma Tigwell, for allowing us to take photos of his war medals, maps and army record.