Private Reginald Luke Turner (1896-1983), the son of Luke and Julia Turner, was born in Shropshire.  He is not related to the other Turner listed in this article and never resided in Wickhamford, but his final resting-place was in Wickhamford Cemetery.  In 1911 he was a 15-year-old fitter in an iron foundry and living with his family in Aston, Birmingham.
Reginald joined the Royal Warwickshire Regiment (No 200548) and a partial service record still remains.   He was described as a leather worker in papers that place him in the 7th (Reserve) Battalion in May 1918. This battalion was formed in May 1915 as 3/7th Battalion and the title was changed to 7th  (Reserve) Battalion in April 1916.  It did not see overseas service but moved to Ludgershall and then, in March 1917, to Northumberland until the end of the War.  It was here, at Horton Hutments, Cramlington, that Private Turner went absent without leave on 30th October 1917.   A Court of Inquiry into his absence was held on 16th April 1918, when he was still missing.  He was also deficient of articles (his full kit) valued at £10 14s 91/2 d - see below.  There is no surviving record of his sentence for this offence, but he was discharged from the Army on 13th July 1918 as physically unfit for further service.  He was awarded the Victory and British War medals, and one further document shows that, in 1920, he successfully applied for the 1914-15 Star.  This indicates that he must have served overseas before the end of 1915 with another battalion.  (The Army records refer to 'Reginald L. Turner' but a clerk wrongly entered his name on one document as "200548 Private Luke, T.R.", which was then crossed out, thus confirming that this is the correct soldier.)
Reginald Turner married Ivy Clara Addison in Birmingham in 1919 and by the 1960s they were living in Badsey.  They moved to Lower Moor, but wanted to be buried in Badsey Churchyard. This was not possible, so they were interred in the parish-owned Wickhamford Cemetery.   Technically, this soldier had no strong connection with Wickhamford during his lifetime, but is now permanently in the village.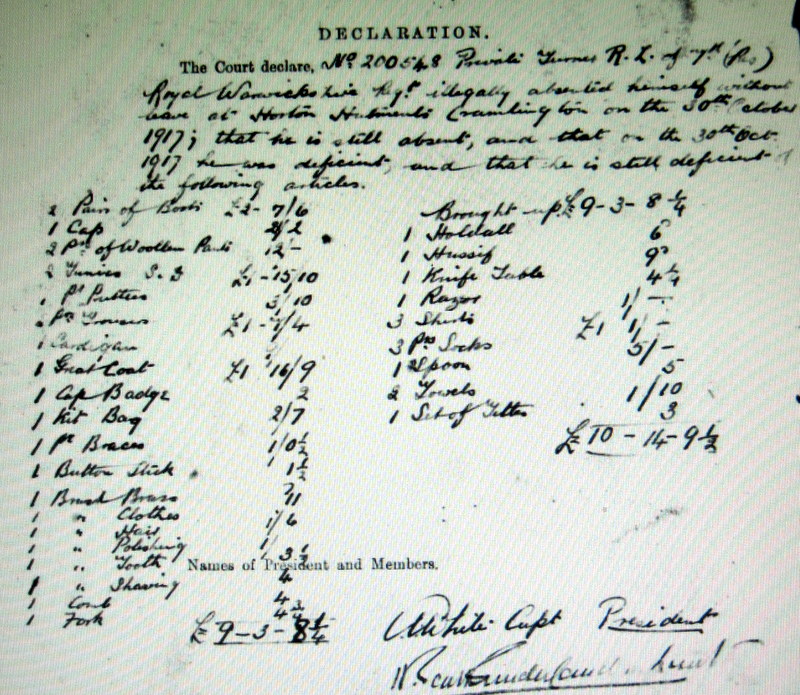 1 pair of Boots                      £2/7/6

1 Cap                                          2/2

2 Pairs of Woollen Pants          12/-

2 Tunics                             £1/15/10

1 Pair Putties                            3/10

2 Pair Trousers                      £1/7/4

1 Cardigan                                 9/-

1 Great Coat                        £1/16/9

1 Cap Badge                                 2d

1 Kit Bag                                    2/7

1 Pair Braces                              1/01/2

1 Button Stick                               11/2d

1 Brush Brass                                7d

1 Brush Clothes                            11d

1 Brush Hair                                  1/6

1 Brush Polishing                         1/-

1 Brush Tooth                                31/2d 

1 Brush Shaving                             4d

1 Comb                                           4d

1 Fork                                            43/4d

1 Holdall                                         6d

1 Hussif                                           9d

1 Knife Table                                  4¼ d

1 Razor                                           1/-

3 Shirts                                        £1/1/-

3 Pair Socks                                     5/-

1 Spoon                                             5d

2 Towels                                          1/10

1 Set of Tethers ?                              3d

 

                                                £10/14/91/2

(A 'Hussif' is a mending kit)