In the autumn of 1915 Charles Mason, who lived on Pitchers Hill, was in receipt of a letter from 'Somewhere in France' dated October 1915 from A. Robert Parry.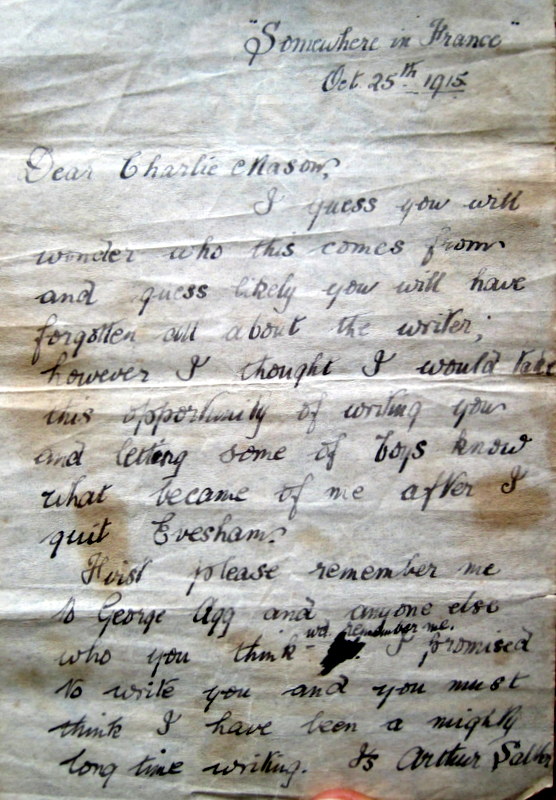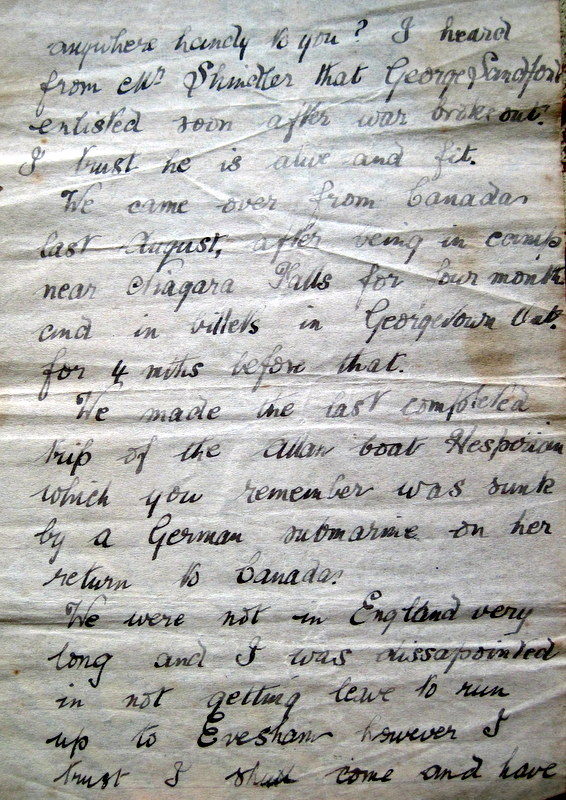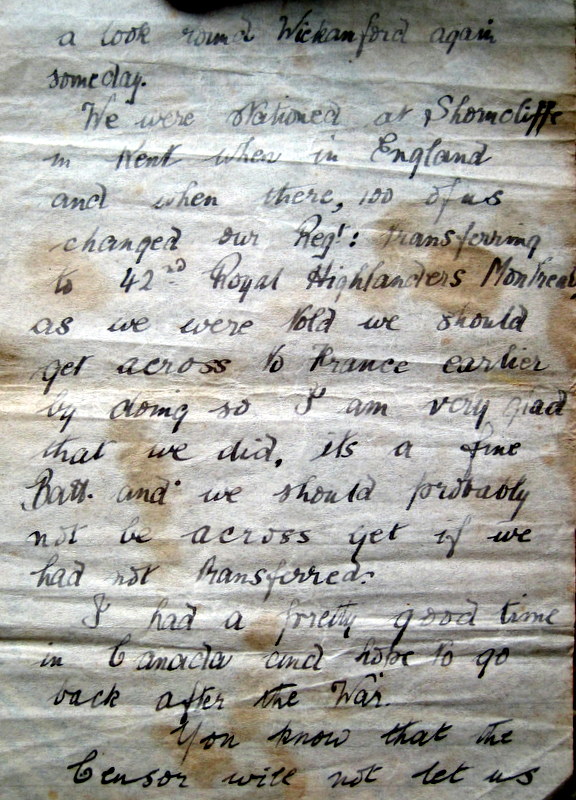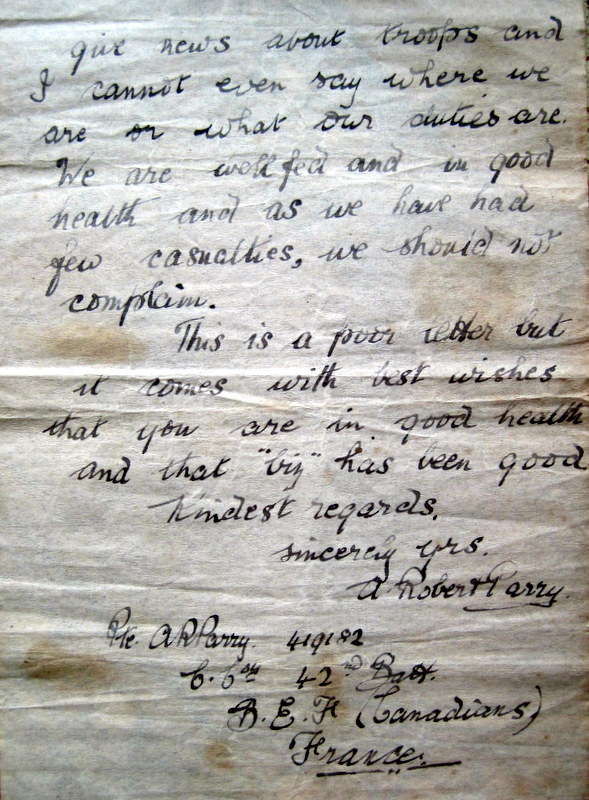 Anthony Robert Parry was born on the 22nd April 1893 in Todmorden, Yorkshire the third son of Edward Parry and his wife Lucy, the daughter of Dr Anthony Martin a General Practitioner living in High Street, Evesham. A wall table in the Unitarian Chapel, Evesham, commemorates Dr Martin's life (see Appendix).
On the 1901 census, the family are living at Ilminster, Somerset and Edward is aged 49 and his occupation is shown as a Unitarian Minister; he was born in Battle, Sussex and his wife Lucy was aged 42 and born in Evesham. Robert, the name I believe he preferred to be called, was aged 7 on the census had two older brothers Edward H. aged 10 and Rex M. aged 9 and a younger brother Gordon H. aged 4, all born in Todmorden, and a sister Helen aged 3 months who was born in Ilminster.
On the 1911 census, Robert is living in Evesham with his mother's brother Anthony Herbert Martin and his wife Mary Emma at 72 High Street, Evesham. Anthony Martin is aged 65 and his occupation is Medical Practitioner. Robert's occupation is Market Gardener's Pupil.
From details in the letter it is obvious from names mentioned that Robert had worked on the land in the Wickhamford and Badsey area. He may well have worked for Mr Shindler who had a market gardening business in Wickhamford as his name is mentioned, as are George Agg, Arthur Salter and George Sanford, all local lads. This was certainly how he met Charlie Mason as he worked all his life on the land in Wickhamford.
Like many other young men around the Vale of Evesham, Robert must have decided to emigrate to Canada and on the 26th March 1914 he sailed from Liverpool on the Cunard Steamship Andania bound for Portland, USA. On the passenger list Robert is aged 20 years, his occupation is shown as a gardener and he is intending to take up permanent residence in Canada.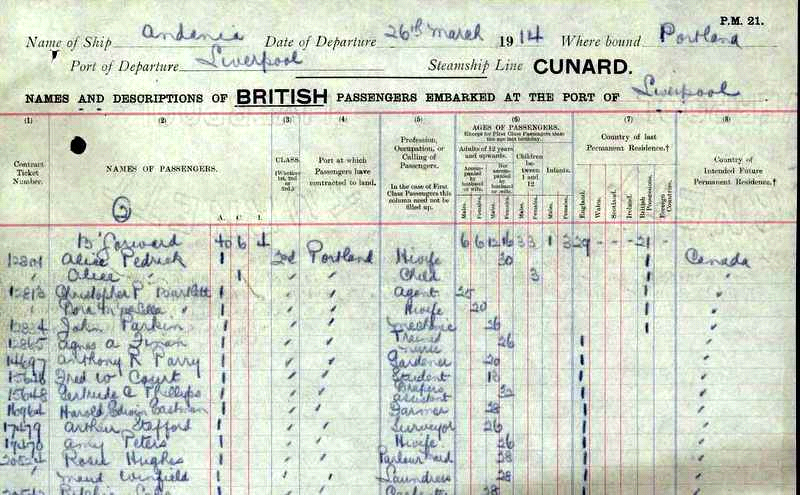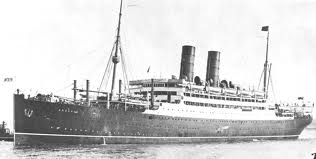 From details in the letter to Charles Mason, within 18 months Robert was returning to England with the Canadian Expeditionary Force to join the War effort.
On his enlistment paper Anthony is described as 5' 10 ½ ", of fresh complexion, with brown eyes and black hair. The fourth toe on his right foot and the little toe on his left foot had been 'amputated from operation'. His religion is Unitarian. His Attestation Paper is reproduced below.
He sailed from Canada in August 1915 after being in camp near Niagara Falls for four months and prior to that in billets in Georgetown for four months.
Robert was on the last complete crossing of the Atlantic by the R.M.S. Hesperian which was sunk off Fastnet by German submarine U.20 on 4th September 1915 on her return voyage to Canada. This U-Boat later sank the Lusitania.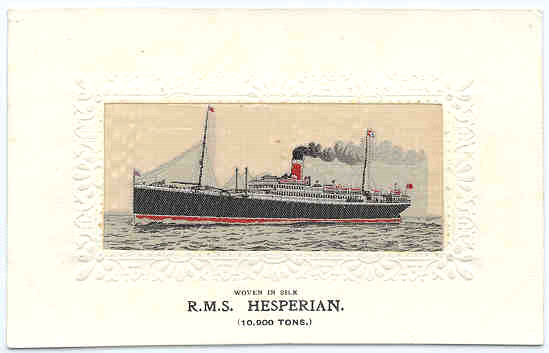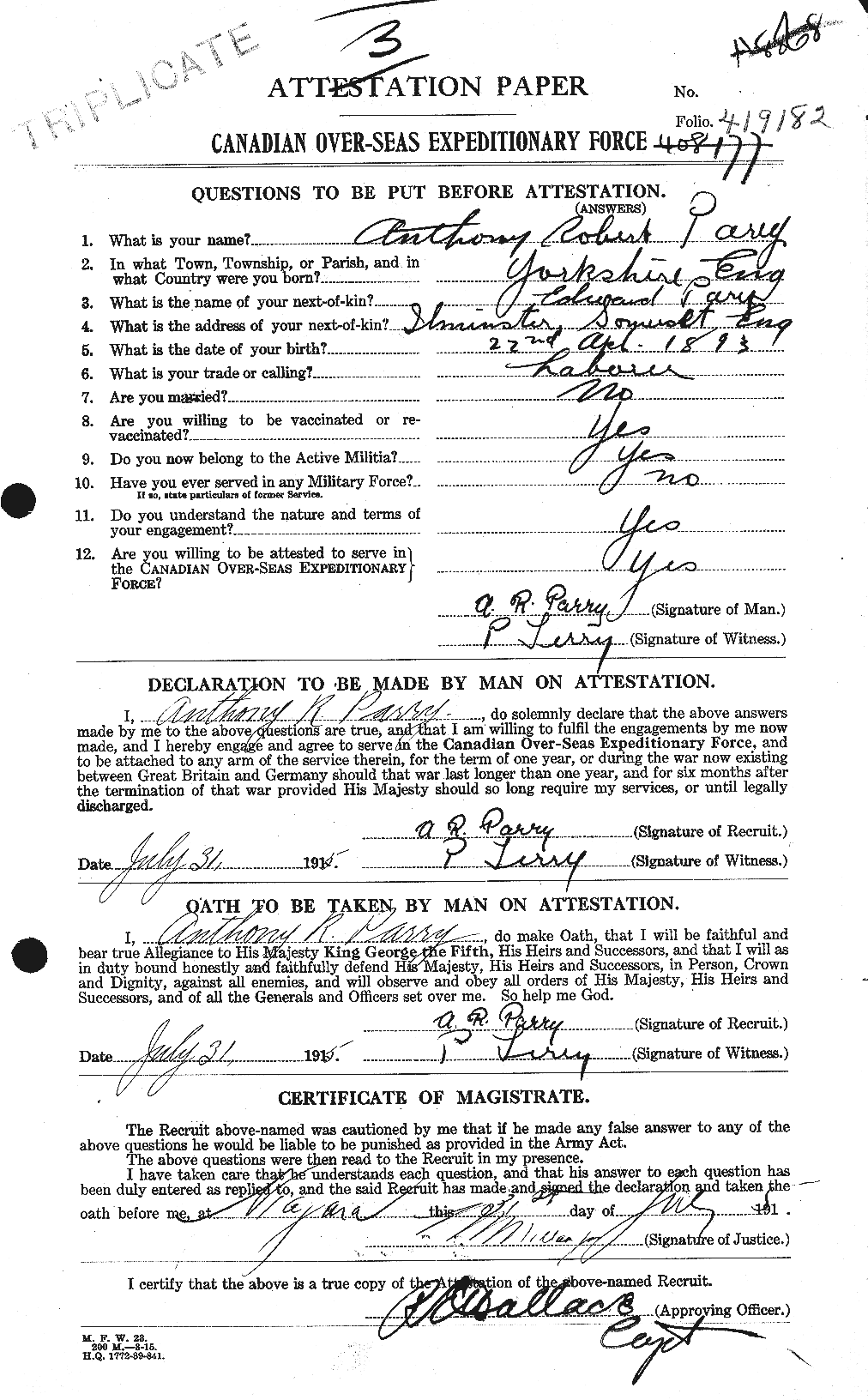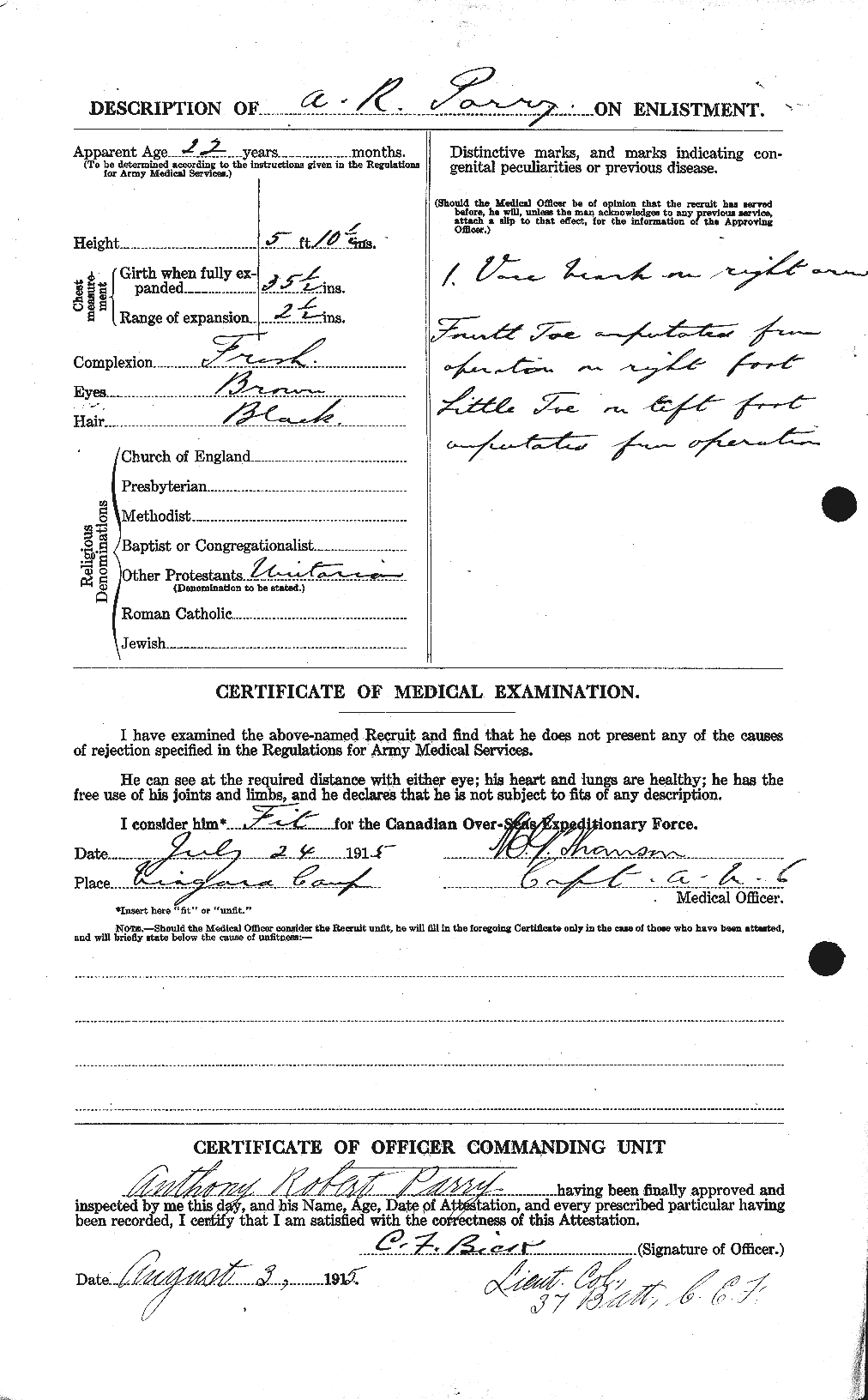 On his arrival in England he was stationed in Shorncliffe, Kent and whilst there a hundred men including Robert changed regiment to the 42nd Royal Highlanders Montreal as they were told they would get to France sooner. In the letter he says it is a fine regiment and glad he transferred as he would probably still be in England. He says he cannot say anything about his duties or where they are but says they are well fed and in good health and the regiment has few casualties.
'We were not in England very long and I was disappointed in not getting leave to run up to Evesham however I trust I shall come and have a look around Wickhamford one day'.
It's doubtful whether Robert ever returned to Wickhamford as he was killed on 15th September 1916 and is remembered with honour on the Vimy Memorial, France.
His body was never found, but his death must have been witnessed, as a notice about it appeared in the Evesham Journal on 7th October. It mentioned that he was the third son of Rev. Edward and Mrs Parry of Ilminster and nephew of Dr A. H. Martin of Evesham and that he had been killed in action.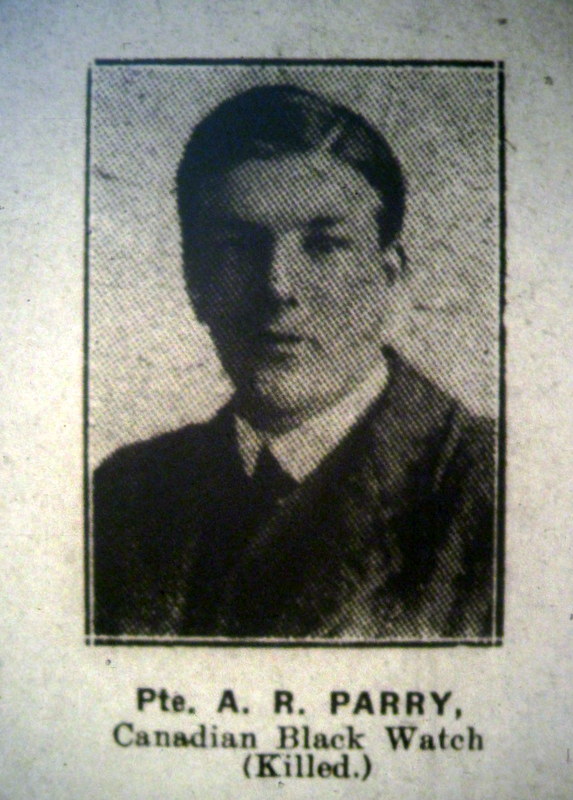 A brass plaque in Robert's memory was erected on the north wall of the Unitarian Chapel, Oat Street, Evesham.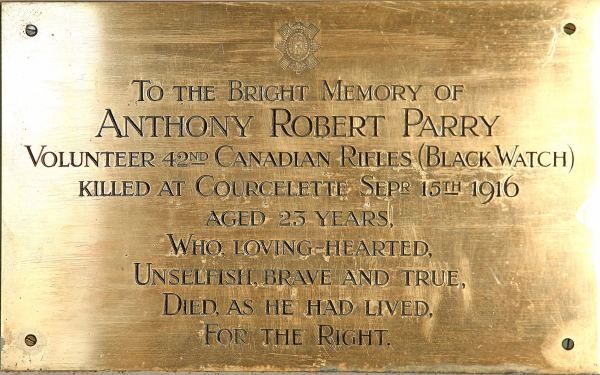 The following quotation is taken from the book, written by Lieutenant-Colonel C. Beresford Topp, D.S.O., M.C. (1931), The 42nd Battalion, C.E.F. Royal Highlanders of Canada in the Great War.
The memory of Private R.A.Parry, Battalian Runner, will long remain with the 42nd. During the past year Private Parry again and again had given evidence of his trustworthiness and courage as a bearer of messages, and in the operation of the 15th inst., he gave final proof. Having on that day come and gone through continuous fire with frequent reports, he was ultimately mortally wounded. Just before he died he raised himself on his elbow and said "tell the Adjutant I delivered his message but could not get Back'' and his 'faithful unto death' Private Parry passed on to receive his 'crown of life'
In the Unitarian Chapel there is also a stained glass window in memory of his maternal grandparents Anthony and Maria Martin and also to their servant of 48 years Mary Dunn (see Appendix). On the 1891 census Mary Dunn was living with Roberts' parents, Edward & Lucy Parry, and his eldest brother Edward, aged 6 months, in Todmorden and is described as housekeeper and domestic servant and obviously cherished by the family.
For Robert there was a strong link to the Unitarians. His paternal grandfather, Edward Parry was also a Unitarian minister at Kidderminster as well as being the headmaster of the local grammar school. He also founded the local newspaper, The Kidderminster Shuttle, that is still in print today.
Robert's brothers Rex and Gordon served in WW1 and both survived. Rex served in the Hampshire regiment and Gordon the Northumberland fusiliers.
A message on the Great War Forum at www.1914-18.invisionzone.com and dated 4th May 2008 stated that the medals of the three Parry boys were in the possession of a gentleman in Surrey and his friend Roger Lunt has kindly photographed the three medals. They had apparently been purchased in 2008 at a house clearance sale in the Epsom area of Surrey.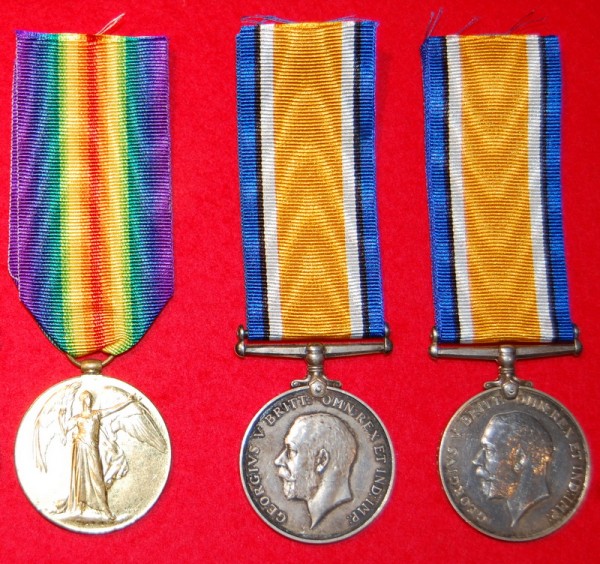 Acknowledgements
Thanks are due to Peter Stewart for the photograph of the Unitarian Chapel plaque and to Roger Lunt for the photograph of the medals.
Valerie Harman and Tom Locke, December 2013; additional material January 2014
Appendix
Memorials to Anthony Robert Parry's maternal grandfather in the Unitarian Chapel.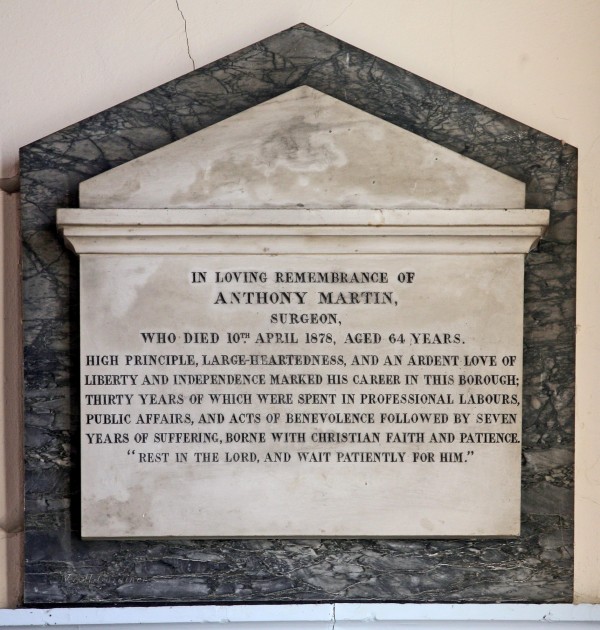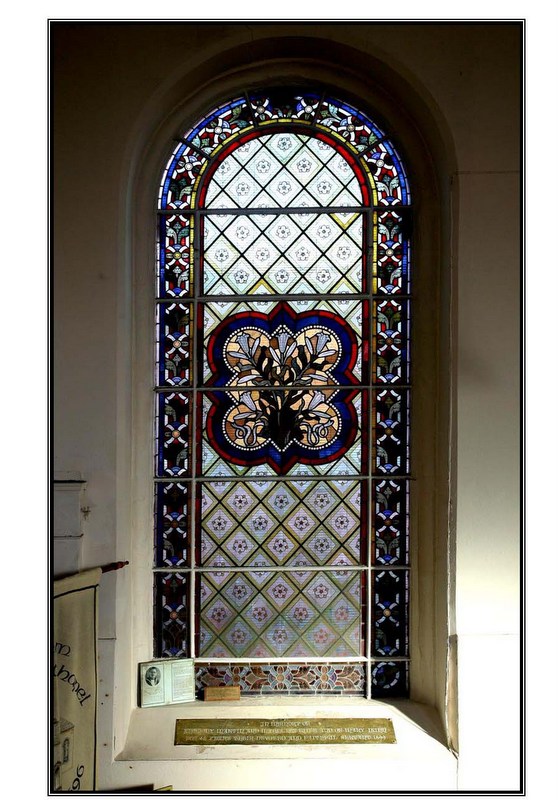 Anthony Martin window and brass plate in the Evesham Unitarian Chapel