The following report is from The Evesham Standard of 2nd September 1916, two years after the outbreak of the Great War. The event concerned took place on Monday 28th August 1916.
A Police Court case
At Evesham Borough Police Court, on Monday afternoon, before Mr A.H. Martin and Mr E.D. Lowe, Thomas Butler, Benjamin Biddle and Sidney Biddle, all gypsies, of no fixed abode, who have been working in the Evesham district for a long time past, were brought up in custody charged that, being reservists under the Military Service Act, they failed to report themselves.  Four or five gypsy women, relatives of the prisoners, were in Court.
In answer to the charge, Benjamin Biddle said he knew nothing about it.  He did not know the meaning of it now.  Sergeant Knott said at 5.30 that morning he and P.S. Wall went to Wickhamford Lane, where they saw the prisoners.  They appeared to come under the Military Service Act, and he asked them their ages.  They replied that they did not know what their ages were.  He also asked them if they had presented themselves to the Military Authorities, and they replied that they had not done so.  He arrested them and brought them to Evesham Police Station, where they were seen by Supt. Hill, and detained. Supt. Hill said there were posters throughout the district regarding the Act.  The prisoners had travelled about the country, and were the first to evade the Act. 
The prisoner, who was growing a beard - Sidney Biddle - had said that he was about 45 years of age, but that morning admitted to Supt. Hill that he was not 40 yet.  Lieut. Shelmerdine said there were posters throughout the country regarding single men up to 30 years of age and also up to 41 years of age, and about married men between the age of 18 and 41.  The prisoners pleaded guilty and Mr Cox asked Butler his age.  He believed he was about 39.  Benjamin Biddle said his age was 39 or as near as he could remember, and his brother, Sidney, said he could not exactly say what his age was.  He did not know the year that he was born in, but he knew he was older than his brother.  The prisoners were each fined 40s, and remanded to await a military escort.
The Military Service Act
This came into force on 2nd March 1916 and introduced conscription in the services. Men who objected to Military call-up could apply to a Military Service Tribunal.  Posters of this time refer only to single men, but none of the prisoners protested that they were married.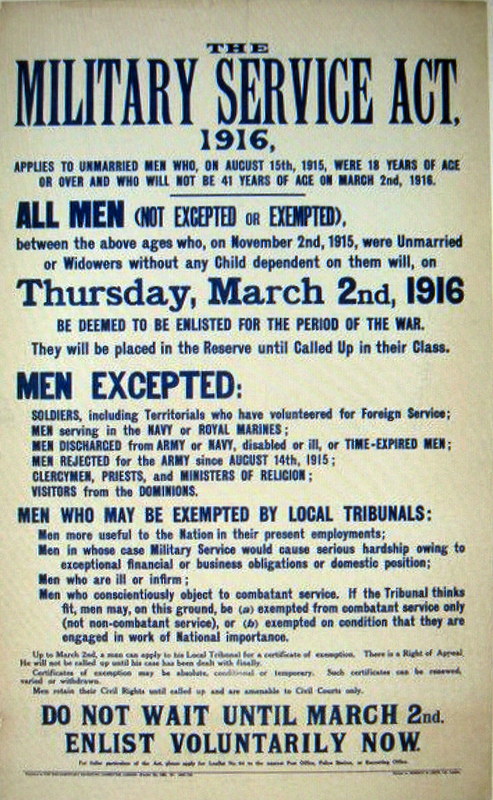 The Baptism of Sidney Biddle's daughter in Wickhamford
On 10th September, within a few days of the Court case, Sidney Biddle had a daughter baptised in Wickhamford, claiming his wife was called Alice.  Two days previously he had been arrested in Bedworth, Warwickshire, again for failing to register, and was in Court in Coventry on the 9th September (see below). 
He had 'Coralina' baptised in the Church in Wickhamford on 10th September 1916. Therefore, he had either been released from custody, escaped, or more likely, was absent from the baptism, with his wife giving details for the Register.  The girl had been born on 4th August 1914, according to the parents.  In the Parish Baptism Register his occupation was entered as "Traveller (at present serving in the AVC)".  This would have been the Army Veterinary Corps, but this claim is highly unlikely and no service record has been found for this man.  Because of this Register entry he was been given a place in the list of men connected with Wickhamford who served in the Great War.  
Other Court cases
The Coventry Standard reported that on Friday 8th September 1916, Sidney Biddle was one of three gipsies charged with being an absentee under the Military Service Act.  It was found that Biddle had not registered and was fined 5s and remanded to await a military escort.  The Birmingham Daily Post then reported, under the heading "Gypsies and Military Service", that on Saturday 9th September at Coventry, Sidney Biddle and two others, who had been arrested at Bedworth "on their failure to show cause why they should not be available for the army", were brought before the magistrates.  It was confirmed that Biddle had never registered and was fined £5 and, on the application of Lieutenant James, they were handed over to the military authorities.  (The next day his daughter, aged 2 years, was baptised in Wickhamford.)
Sidney Biddle was back in the Coventry area the following month as, on Wednesday 25th October 1916, he appeared at a special petty sessional court held at the County Hall, Coventry, charged with being an absentee under the Military Service Act of 1916.    According to The Coventry Evening Telegraph, the reason Biddle had failed to register or report was because he had been ill.   The Coventry Standard noted:
"Superintendent Drakeley said the prisoner had been leading an idle life since the beginning of the year, passing most of his time in dodging the police to avoid military service.  The prisoner was with three or four other men who were apprehended in March, but he escaped.  Lieutenant James (representing the Recruiting Officer at Coventry) said he did not ask for the man to be imprisoned as he was wanted for the army."
The Magistrates fined Biddle 40 shillings and handed him over to a military escort.
Did Sidney Biddle ever serve or register or did he continue to evade the authorities?  We shall probably never know.  What we do know is that Sidney Biddle survived the war.  He was in trouble again in October 1919 for allowing three horses to stray at Kenilworth and, 20 years later, at the time of the 1939 Register, 'Sydney' Biddle was living with his wife and, possibly, six children in a caravan in a field at Martley – he was a farm labourer and she was a hawker.  All his life he appeared to avoid the authorities.  According to the 1939 Register, he was born on 25th November 1875, and there is a death registered, in Pershore, for a Sidney Biddle in 1962, which was probably the man concerned. His age was given as 77, but if the date of birth mentioned is correct, he would have been around 87 years of age.  He has not been found in any census returns.  He had married Alice Fenner, in Cowley, Oxfordshire on 7th February 1909, so he could have rightly claimed to be married when detained in 1916. 
Tom Locke – March 2021