Campaign medals were given to individuals who saw service in the First World War. An individual, male or female, could be issued with a maximum of three medals, although there are a small number of exceptions to the rule.  Service medals were issued automatically to other ranks, but officers or their next of kin had to apply for them. Medals were impressed with the name of the recipient and usually included some or all of the following: service number, rank, first name or initial, surname and military unit (Regiment or Corps). This was either on the rim of the medal or in the case of a star, on the reverse.  In addition to the campaign medals, a badge was available to officers and men who had been honourably discharged or had retired as a result of sickness or wounds from war service.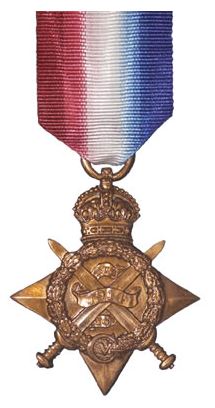 1914 Star
This bronze medal award was authorized by King George V in April 1917 for those who had served in France or Belgium between 5th August 1914 to midnight on 22nd November 1914 inclusive. It was popularly known as the "Mons Star".  As far as we know, Private William Capener, Colour/Sergeant Charles Robbins, Private John Bennett, Sergeant James Thomas Cox, Sergeant John Henry Cox, Lance Corporal Joseph Thomas Perks, Private Alfred Porter, Private Thomas Morton Taylor and Private Frederick Smith were the only local men to be awarded the 1914 Star.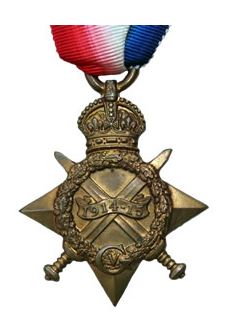 1914/15 Star
This is very similar to the 1914 Star but it was issued to a much wider range of recipients. It was awarded to all who served in any theatre of war against Germany between 5th August 1914 and 31st December 1915, except those eligible for the 1914 Star.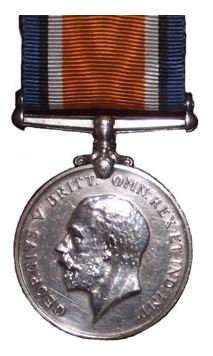 British War Medal
The silver or bronze medal was awarded to officers and men of the British and Imperial Forces who either entered a theatre of war or entered service overseas between 5th August 1914 and 11th November 1918 inclusive.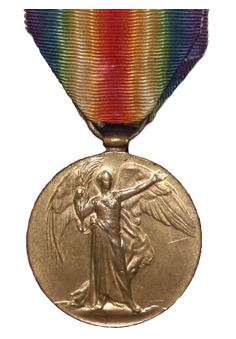 Victory Medal
Each of the allies issued their own bronze victory medal with a similar design, similar equivalent wording and identical ribbon.  Eligibility for this medal was more restrictive and not everyone who received the British War Medal also received the Victory Medal.
The Star, British War Medal and Victory Medal were affectionately known as "Pip, Squeak and Wilfred" after well-known cartoon characters of the time in The Daily Mirror.  If only the British War Medal and Victory Medal were awarded, they were known as "Mutt and Jeff", from an American comic strip in The San Francisco Chronicle.
The Silver War Badge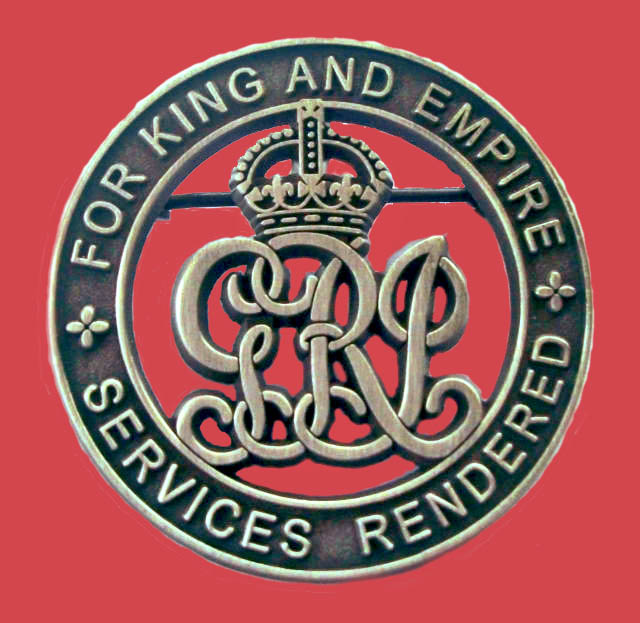 This was issued in the United Kingdom to service personnel who had been honourably discharged due to wounds or sickness during World War I. The badge, sometimes known as the Discharge Badge, Wound Badge or Services Rendered Badge, was first issued in September 1916, along with an official certificate of entitlement.  The badge bears the royal cipher of GRI and around the rim, "For King and Empire; Services Rendered". Each badge was uniquely numbered on the reverse.  It was to be worn on civilian clothing, not military uniform.  See which men from Badsey, Aldington and Wickhamford were recipients of the Silver War Badge.
The Memorial Plaque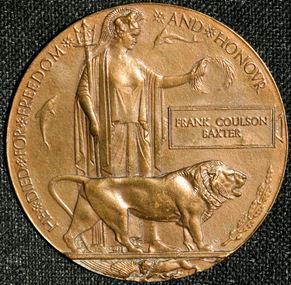 This was issued after the First World War to the next-of-kin of all British and Empire service personnel who were killed as a result of the war.  Each had the name of the individual on the obverse. Early plaques did not have a number stamped on them but later ones have a number stamped behind the lion's back leg.  The plaques were made of bronze, and hence popularly known as the "Dead Man's Penny", because of the similarity in appearance to the somewhat smaller penny coin. 1,355,000 plaques were issued from 1919 and continued to be issued into the 1930s to commemorate people who died as a consequence of the war.