Badsey Society member, Jane Thompson (née Ellison), has recently donated to the Archive a letter which was sent from Germany in 1948 to her parents, Ken and Peggy Ellison.  The letter was written by Henry Oehme who had been a German prisoner of war and worked on the land in Badsey.  Jane's parents had been very fond of him and corresponded with him after his return home.
A little-known fact is that prisoners of war were unable to return to their homeland until nearly three years after the war had ended.  This was in contrast to the First World War when prisoners of war left Badsey nine months after the fighting had ceased. 
* * * * *
Henry Oehme's letter
The letter, typed on thin paper and dated 18th March 1948, was written soon after Henry Oehme arrived back in Saxony, in what was to become East Germany.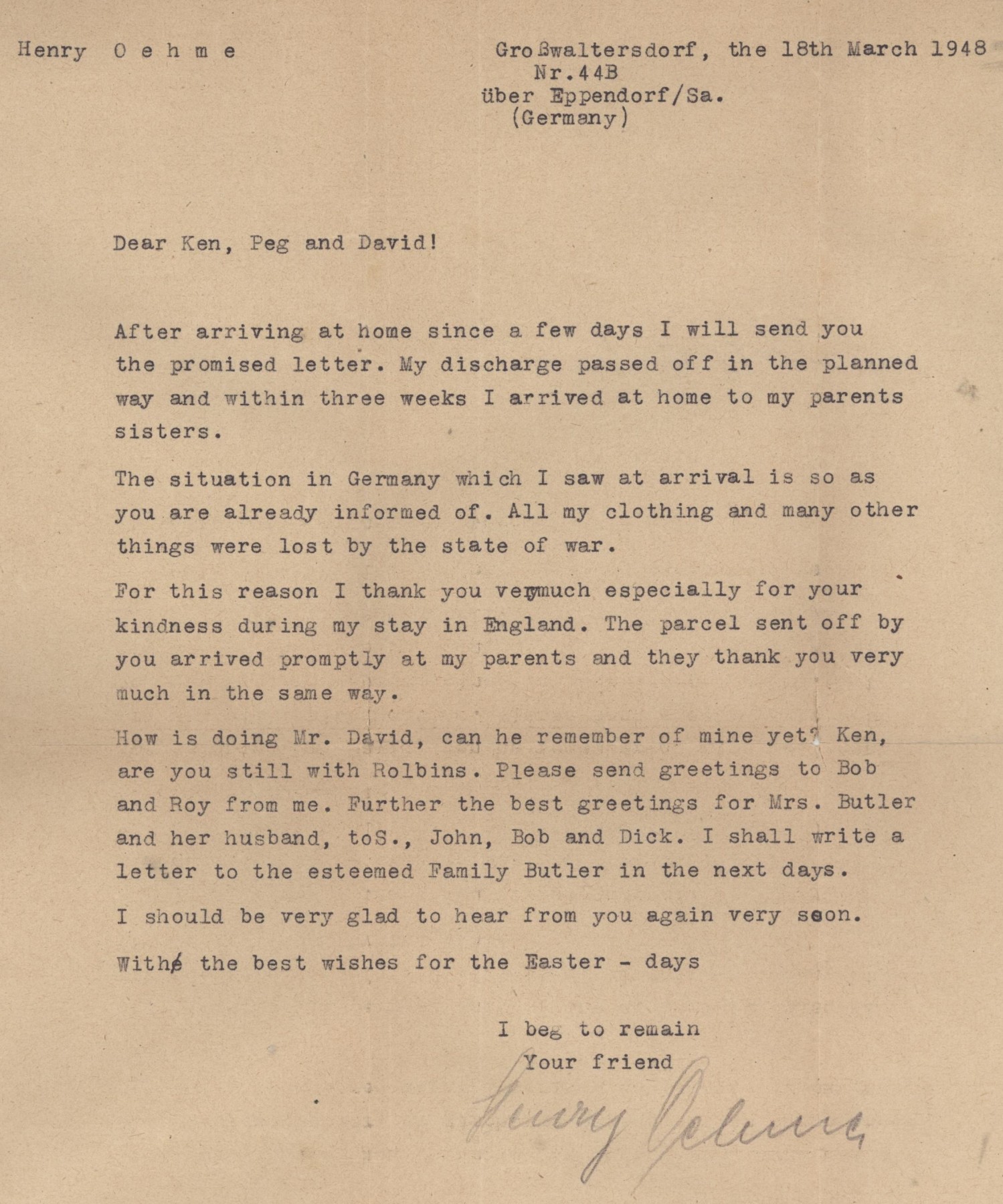 Grosswaltersdorf
Nr 44B
Über Eppendorf/Sa
Germany
18th March 1948
Dear Ken, Peg and David!
After arriving at home since a few days I will send you the promised letter.  My discharge passed off in the planned way and within three weeks I arrived at home to my parents and sisters.
The situation in Germany which I saw at arrival is so as you are already informed of.  All my clothing and many other things were lost by the state of war.
For this reason I thank you very much especially for your kindness during my stay in England.  The parcel sent off by you arrived promptly at my parents and they thank you very much in the same way.
How is doing Mr David, can he remember of mine yet?  Ken, are you still with Rolbins.  Please send greetings to Bob and Roy from me.  Further the best greetings for Mrs Butler and her husband, too, John, Bob and Dick.  I shall write a letter to the esteemed family Butler in the next days.
I should be very glad to hear from you again very soon.
With the best wishes for the Easter days.
I beg to remain
Your friend
Henry Oehme
The recipients of the letter – the Ellison Family
The recipients of the letter were the Ellison family who, by 1948, were living in a new home at Horsebridge Avenue, Badsey.  Ken was Kenneth Austin Ellison (1920-2002) who had married Thelma Lorraine (known as Peggy) Butler in 1941; they had a baby son, David, born in 1944.  In the first years of married life, they lived in a building in the grounds of Chalcroft, Old Post Office Lane, where Peggy's parents lived.  In 1947, when the council houses at Horsebridge Avenue were built, they had the opportunity to move into a new home which seemed luxurious.  Other people referred to in the letter are Peggy's relatives:  her parents, Arthur and Zillah Butler, and her brothers, John, Bob and Dick.
The donor of the letter, Jane, who was born shortly after Henry returned to Germany, recalls that, for years afterwards, her parents talked very fondly of the young German lad they had befriended.  "He was just a boy," they said.  Henry was only 15 when he joined up towards the end of the war, and was captured almost straight away; he told them he was so frightened.  He would have been a prisoner either at the camp at South Littleton or one up in the Cotswolds.  Along with other prisoners of war, he was bussed in daily to Badsey to work on the land.  Mrs Butler felt very sorry for the lad who was younger than her own children and invited him regularly to Chalcroft for meals.  When Ken and Peggy moved into their new council home, Henry gave Ken a lot of assistance with moving in and working in the enormous garden which was just a bare patch of land.
Early in 1948, Henry and other POWs were repatriated.  Soon after arriving home he sent the letter to the Ellisons.
Prisoner of War camps in the Evesham area
In the First World War, Badsey Manor House had been used as a prisoner of war camp but, in the Second World War, the nearest camp was at South Littleton (2½ miles distant from Badsey), listed as Camp No 277 in Prisoner of War Camps (1939-1948) Project Report.  It was located on what is now the Recreation Ground at South Littleton and was described as a German working camp in 1945.  It comprised 24 huts sited along the eastern and northern boundaries of the ground.
Terry Sparrow, a schoolboy at the time, recalls that the Churchill family of Badsey employed prisoners of war.  He remembers the prisoners of war being driven in from the Cotswolds; a lorry dropped them off in the village.  This could possibly have been from Bourton Camp at Bourton-on-the-Hill, Camp No 157.  This was a Base Camp, described as a large complex comprising six prisoner compounds, each compound enclosed by a double wire perimeter and guarded by watchtowers; as at 2003, the site was under forestry. Another camp was at Blockley; this was Springhill Lodge Camp, Five Mile Drive, Camp No 185.  This too was a Base Camp, described as a large complex of huts within a roughly octagonal double wire perimeter fence guarded by watchtowers.  Chipping Campden History Society have conducted research and display photos of the camp as it is today.  Their research has shown that it was used for German POWs until 1947 and then used as a Polish settlement.  As we know that Henry Oehme was in England until March 1948, it is unlikely that he was at that camp, unless perhaps he was relocated.  
We do not know whether Henry Oehme was based at South Littleton or one of the ones in the Cotswolds. During the harsh winter of 1947, as reported in The Evesham Standard, German prisoners of war helped to clear snow from the roads.  Whether Henry was based at Littleton or in the Cotswolds, he would undoubtedly have been involved in that type of work.
There was much controversy in the UK about the delayed repatriation of prisoners at the end of the war, as explained in this article, What happened to German prisoners of war in Britain after Hitler's defeat.  The POWs were proving useful as a labour force.  A note in The Evesham Standard of 3rd January 1948 said:  "From the point of view of labour, the position during the past year has been easier than was anticipated 12 months ago but with the steady repatriation of German prisoners of war the future outlook is anything but hopeful."
Who was Henry Oehme?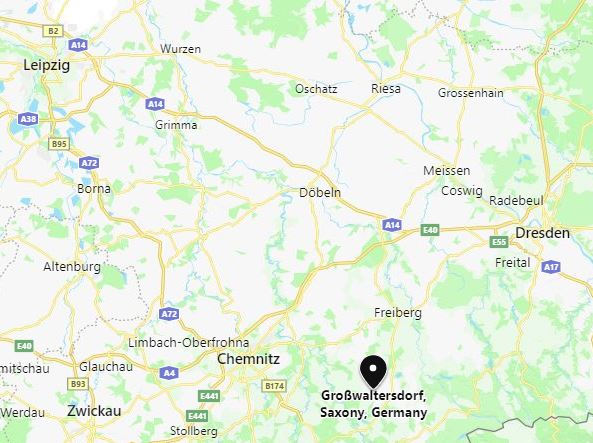 The main fact that we can glean of the life of Henry Oehme was that he was a native of Grosswaltersdorf, a town in Saxony about 150 miles south of Berlin.  The nearest major cities are Leipzig to the north-west and Dresden to the north-east.  We know that his parents were still alive in March 1948 and that he had sisters.  He told the Ellisons that he was 15 when he joined up towards the end of the war, so he was probably born 1929-1930.  
Jane recalls that there were other letters which told of hardships.  The Ellison and Butler families sent out food parcels from time to time.  Sadly, the Ellisons lost touch with Henry.  Ken Ellison did try to find out what had happened to him, but it was difficult trying to get information from behind the Iron Curtain.  
One wonders if Henry is still alive; he would be an old man in his 90s by now.
Maureen Spinks, November 2020
Acknowledgements