The Southern family moved from Honeybourne to Claybrook, Bretforton Road, in August 1915.  By 1917 they had moved to Wickhamford.  During the Second World War, this family of 13 children (nine sons and four daughters) had a remarkable record of service.
Family background
Charles Henry Southern (b. 1865) married Annie Maria S. Thornborough (b. 1877) in the Stratford area in mid-1896.   The couple were to have thirteen children over the next 27 years.  The first was Maria whose birth was registered as Maria Thornborough shortly before her mother married.  At the time of the 1901 census, she was five years old and the couple had two more children, William, 3, and Harold, 1.  Annie was recorded as being born in Alveston, Warwickshire.
At the 1911 census, Harold, now called 'Harry' was 11 and there were now five more family additions – Ernest (9), Frederick (7), John (6), Leslie (4) and Charles (1).   Charles was to become known by his middle name of 'Edgar' in later life.  John was known as 'Jack'.
Then, Cynthia was born in 1912, followed by Frank in 1914, Gladys in 1916, Violet in 1919 and lastly Howard in 1923.
World War 2
The Evesham Standard & West Midlands Observer of 12th August 1944 gave details of the service given by the eight of the sons of Maria Southern (her husband had died earlier in the year).  Some grainy pictures accompanied the article.  A ninth son was not mentioned in this article, but apparently is noted as serving in the Home Guard in an earlier, 1942, newspaper article (see Footnote).
Evesham Men and Women in the Forces
HER EIGHT SONS
FIVE ON ACTIVE SERVICE:  THREE IN THE HOME GUARD
A fine record is that of Mrs. C. H. Southern of 29 Pitchers Hill, Wickhamford, near Evesham, who has eight sons, five of whom are serving with the Army or R.A.F. and three are in the Home Guard.  In addition a son-in-law is in the Army and another in the Home Guard.  Altogether a family record that will take some beating.
The eldest son on active service, LAC [Leading Aircraftman] Jack Southern, aged 40, was born in Honeybourne and educated at Honeybourne and Badsey Schools.  Before he was called up for the R.A.F., he owned a milk round of his own.  He married Miss M. Boswell of Hampton 18 years ago and they have two children.
L.A.C. Leslie Southern, age 38, was also born in Honeybourne and educated at the same schools as his brother.  He was called up two years ago, prior to which he carried on his own grocery business in West-street, Evesham.  He was stationed in England until he was sent to France about a month ago.  His mother has received frequent and cheerful letters from him.  At the present moment he is driving the artists who are appearing in "Gang Show" in France to the different centres where their show is being produced.  His wife, whom he married about 18 years ago, was formerly Miss Z. Marsh of Evesham.  They have five children.
Another son, Lance Corporal Edgar Southern, aged 35, has seen plenty of overseas service.  Born and educated in the same villages as his brothers he was called up about 3½ years ago, previously working at Leicester's, the bakers, Port-street, Evesham.  His wife was formerly Miss G. Diston of Snowshill, Broadway.  Lance-Corporal Southern became a member of the Pioneer Corps, and after six months service in England he was drafted to Iceland.  There, to quote his words, he found it much too cold, and he was rather pleased when after four months he was transferred to Africa, after another short spell in England. As one of his relatives laughingly remarked to a "Standard" reporter, the reason must have been to get him warmed up after being in Iceland.  After fighting in Tunisia and Italy he came back to England about three months ago.  But this was not the end of his travels as about a fortnight ago his wife and mother heard from him to say he was in France.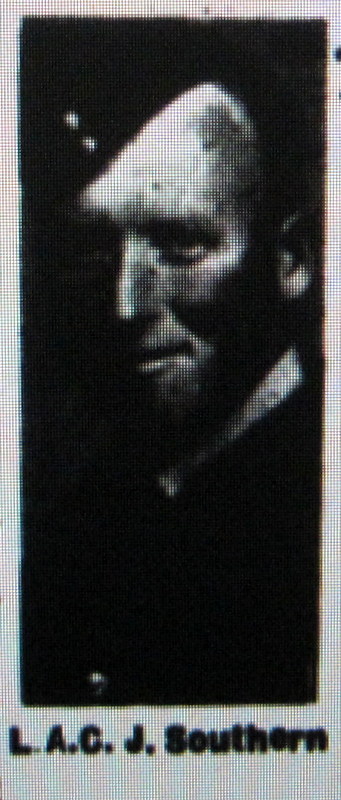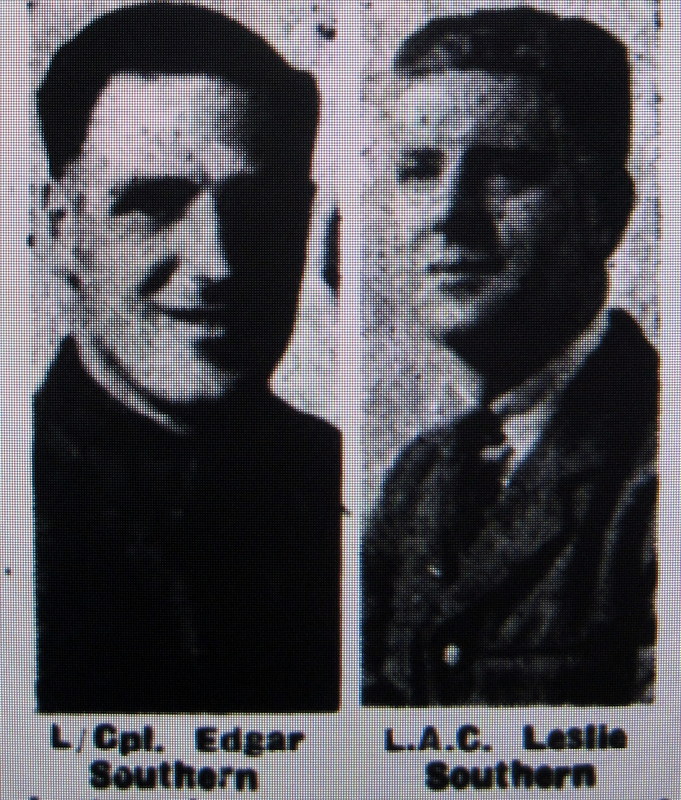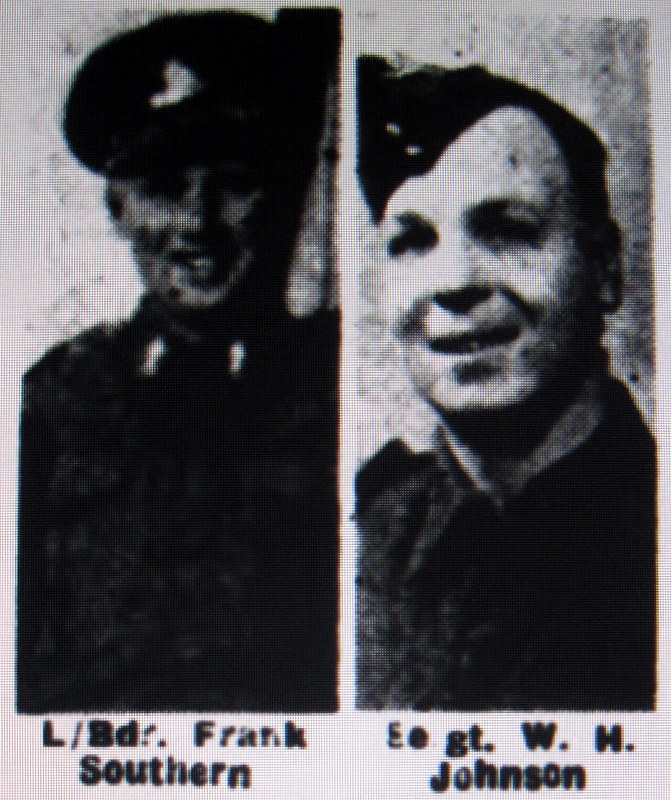 Unlike his brother, Lance-Bombardier Frank Southern, aged 30, has been in the North of England ever since he volunteered for the Royal Artillery four years ago.  He was born in Honeybourne and educated at Badsey School.  Before joining the Army he was a long-distance driver for Spiers, market gardeners, Church-street, Evesham.  He is now a mechanic in charge of the workshop where fresh recruits are trained.
The youngest son, Trooper Howard Phillip Southern, aged 21, went to France on "D" Day.  Trooper Southern was born at Wickhamford and educated at Badsey Schools, after which he became a lorry driver for the Littleton and Badsey Growers' Association.  He was called up two years ago but previously he had served with the Home Guard since its inception.  His mother heard from him a fortnight after he had arrived in France and has heard regularly since.
Sergt. W. H. Johnson, who married Miss Gladys Southern at Wickhamford, has also been in the Army for four years.  He is the son of Mrs Edith Johnson of 48, Deacle-place and was educated at Bengeworth Schools and Prince Henry's Grammar School.  Prior to joining the Royal Artillery he was assistant manager to the Pearl Assurance Company, Kidderminster.  For a time he was on active service in the south of England manning anti-aircraft guns, but 18 months ago was sent abroad to India, and was at the re-opening of the vital Dimapur-Imphal road on the Manipur front.
Mrs. Southern's eldest son is Mr. William Southern, who is a market gardener.  He is a sergeant in the Home guard at Clent, where he lives with his wife and two children.
Mr. Ernest Southern is also a market gardener and a member of the Home Guard, holding the rank of corporal.  He resides in Willersey, is married and has three children.
Mr. Frederick Southern, who works at Espleys, Evesham is a corporal in the Home Guard and specialises in first aid.
The husband of Mrs Horace Griffiths (née Miss Cynthia Southern) is also a member of the Home Guard at Wickhamford where he and his wife and daughter live.  Mr. Griffiths is employed by Wheeler & Mansell, builders, and has just volunteered for service in London, where he will help to re-construct houses which have been damaged by enemy action.
Two photographs of members of the Southern family were taken at Frank's wedding and these are shown below.  He married Jane Scott in Northumberland in mid-1946.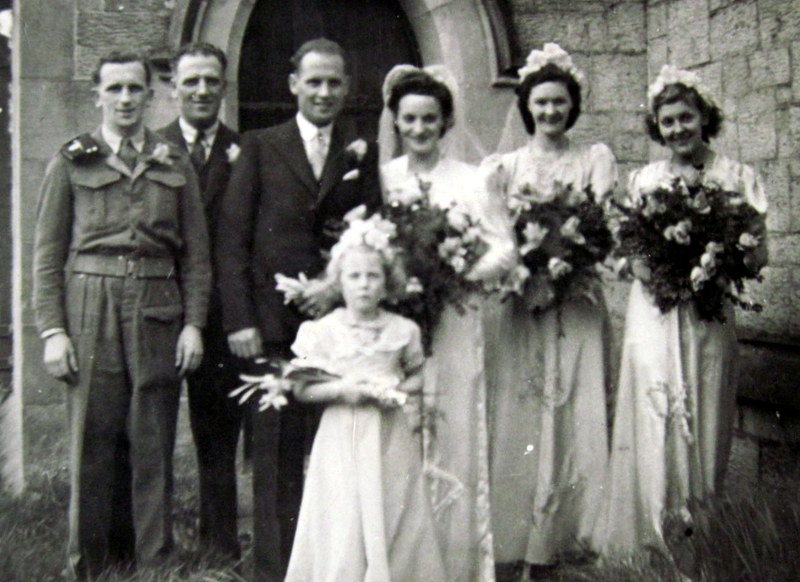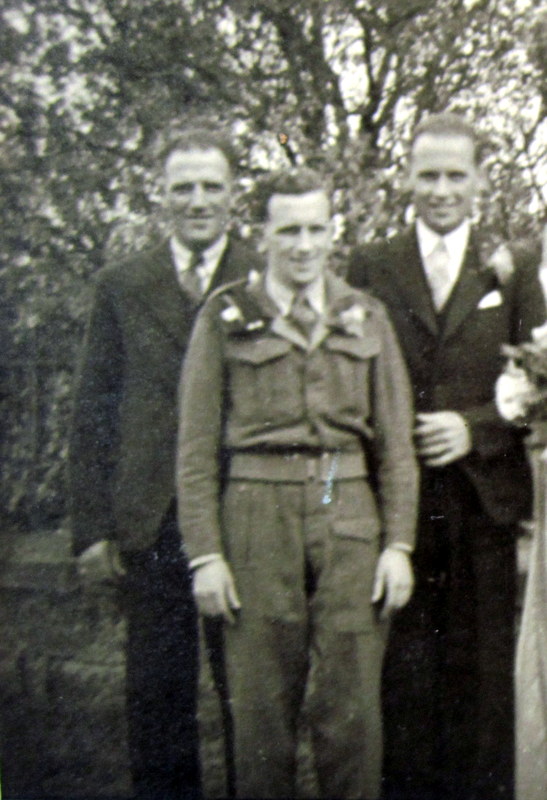 Maria Southern died in 1966, aged 88, and was buried in Wickhamford.  Her husband, Charles, had died 22 years before, in 1944.  They are buried in the churchyard in an unmarked grave.  It is located between those of Bertha Drysdale and William Bennett by the rear wall of the churchyard.
Footnote:  In the Birmingham newspaper, the Evening Despatch,  of 25th August 1942, two years before Evesham Standard article, above, the Southern family War contribution was also mentioned.  In a very brief summary it records Mrs Southern's family service as - Army, three sons and one son-in-law; R.A.F. two sons; Home Guard four sons and one son-in-law; Civil Nursing, two daughters and one daughter-in-law.  The additional son in the Home Guard would have been Harold or 'Harry' Southern.  It would seem that he had left the Home Guard by the time the 1944 article was written.
Acknowledgement:  Thanks are due to Trevor Southern for the loan of the photographs of his parents' wedding day.
See also:  Wedding of Les Southern  and Wedding Guests
Tom Locke – January 2020