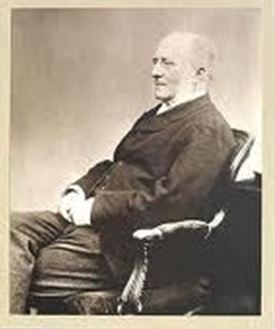 Thomas Henry Hunt was born at West Felton, Shropshire, in 1826, the third child and first son of Thomas Hunt, rector of West Felton. The Hunts were a Shropshire family, from the Baschurch and Boreatton region. Thomas Hunt attended Eton School and then studied at Christ Church, Oxford, from 1847-1853 where he gained a BA in 1849 and an MA in 1852. He was ordained in 1851, and was Vicar of Badsey and Wickhamford from  21st April 1852 until 1887, and Rural Dean of Evesham from 1881-87.  A questionnaire on the state of the church in Wickhamford in 1868 is in the archives at Christ Church.
Reverend Hunt married Charlotte Hamilton, a Scottish woman, in Ayr in 1857. They had six children, all born in Badsey. After retiring from the ministry, Thomas Hunt lived at Ruyton Park, Ruyton-Eleven-Towns, Shropshire; he died there in 1896.
Just under a century later, the Reverend Peter Braby (Vicar of Badsey and Wickhamford, 1958-1973), wrote an article in the Parish Magazine about his predecessor.