The following sale notice appeared in The Worcestershire Chronicle of Wednesday 30th June 1858.  It was from the estate of Miss Esther Laugher who had inherited from Piercy Jones.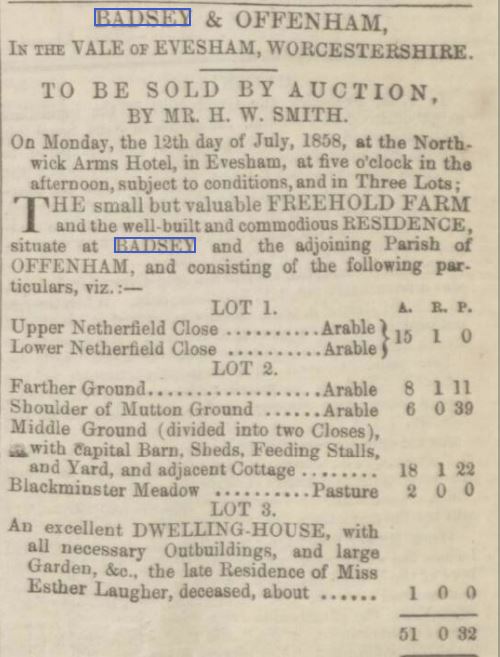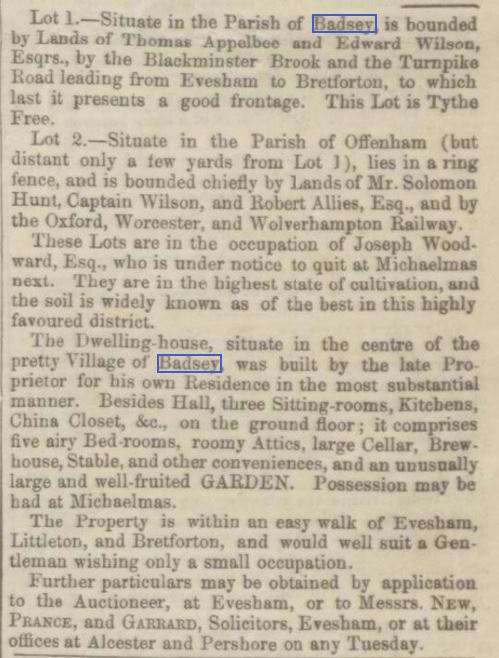 BADSEY & OFFENHAM
IN THE VALE OF EVESHAM, WORCESTERSHIRE
TO BE SOLD BY AUCTION
BY MR H W SMITH
On Monday, the 12th day of July 1858 at the Northwick Arms Hotel in Evesham, at five o'clock in the afternoon, subject to conditions, and in three lots:
The small but valuable freehold farm and the well-built and commodious residence, situate at Badsey and the adjoining parish of Offenham and consisting of the following particulars, viz:
LOT 1
Upper Netherfield Close and Lower Netherfield Close, arable, 15a 1 r 0p
LOT 2
Farther Ground, arable, 8a 1r 11p
Shoulder of Mutton Ground, arable, 6a 0r 39p
Middle Ground (divided into two closes), with capital barn, sheds, feeding stalls and yard and adjacent cottage, 18a 1 22p
Blackminster Meadow, pasture, 2a 0r 2p
LOT 3
An excellent dwelling-house with all necessary outbuildings and large garden etc, the late residence of Miss Esther Laugher, deceased, about 1a 0r 0r [This is the house known today as Pool House & The Dower House, Nos 23 & 25 High Street, Badsey]
TOTAL 51a 0r 32p
Lot 1 – Situate in the parish of Badsey, is bounded by lands of Thomas Appelbee and Edward Wilson, Esqrs, by the Blackminster Brook and the Turnpike Road leading from Evesham to Bretforton, to which last it presents a good frontage.  This lot is tythe free.
Lot 2 – Situate in the parish of Offenham (but distant only a few years from Lot 1), lies in a ring fence, and is bounded chiefly by lands of Mr Solomon Hunt, Captain Wilson and Robert Allies, Esq, and by the Oxford, Worcester and Wolverhampton Railway.
These lots are in the occupation of Joseph Woodward, Esq, who is under notice to quit at Michaelmas next.  They are in the highest state of cultivation, and the soil is widely known as of the best in this highly favoured district.
The dwelling-house, situate in the centre of the pretty village of Badsey, was built by the late proprietor for his own residence in the most substantial manner.  Besides hall, three sitting-rooms, kitchens, china closet etc on the ground floor, it comprises five airy bedrooms, roomy attics, large cellar, Brewhouse, stable and other conveniences, and an unusually large and well-fruited garden.  Possession may be had at Michaelmas.
The property is within an easy walk of Evesham, Littleton and Bretforton and would well suit a gentleman wishing only a small occupation.
Further particulars may be obtained by application to the auctioneer at Evesham or to Messrs New, Prance & Garrard, solicitors, Evesham, or at their offices at Alcester and Pershore on any Tuesday.