The following notice appeared in The Worcester Journal: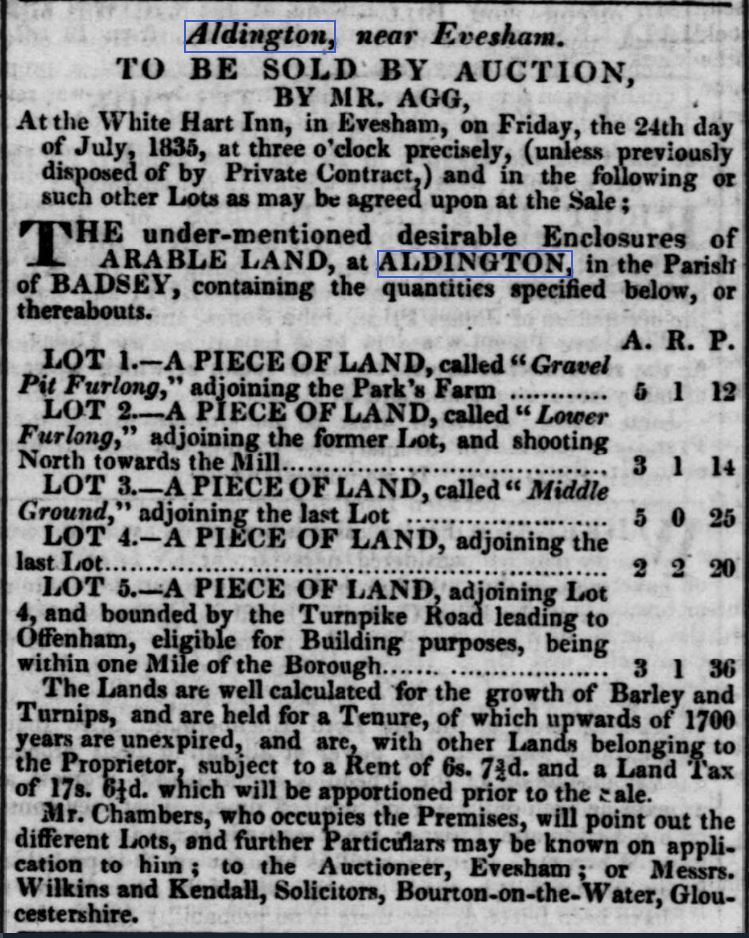 Aldington, near Evesham
TO BE SOLD BY AUCTION
BY MR AGG
At the White Hart Inn in Evesham on Friday, the 24th day of July, 1835, at three o'clock precisely (unless previously disposed of by Private Contract), and in the following or such other Lots as may be agreed upon at the Sale:
The under-mentioned desirable Enclosures of ARABLE LAND at ALDINGTON in the Parish of BADSEY, containing the quantities specified below, or thereabouts.
LOT 1 – A PIECE OF LAND, called "Gravel Pit Furlong", adjoining the Parks Farm, 5A 1R 12P
LOT 2 – A PIECE OF LAND, called "Lower Furlong", adjoining the former Lot, and shooting North towards the Mill, 3A 1R 14P
LOT 3 – A PIECE OF LAND, called "Middle Ground", adjoining the last Lot, 5A 0R 25P
LOT 4 – A PIECE OF LAND, adjoining the last Lot, 2A 2R 20P
LOT 5 – A PIECE OF LAND, adjoining Lot 4, and bounded by the Turnpike Road leading to Offenham, eligible for Building purposes, being within one Mile of the Borough, 3A 1R 36P
The Lands are well calculated for the growth of Barley and Turnips, and are held for a Tenure, of which upwards of 1700 years are unexpired, and are, with other Lands belonging to the Proprietor, subject to a Rent of 6s 7¾d and a Land Tax of 17s 6¼d which will be apportioned prior to the sale.
Mr Chambers, who occupies the Premises, will point out the different Lots, and further Particulars may be known on application to him; to the Auctioneer, Evesham; or Messrs Wilkins & Kendall, Solicitors, Bourton-on-the-Water, Gloucestershire.